Julian Applebome
Nigerian native Moses Kingsley had a breakout junior season that put him on the radar for the 2016 NBA Draft. After testing the draft waters without hiring an agent, Kingsley ultimately got the feedback he needed, and chose to return to Arkansas for his senior season where he will have the chance to solidify his name as an NBA prospect.
Having not come over to the United States until the 10th grade, Kingsley is a bit of a late bloomer who finished off his high school career at powerhouse Huntington Prep in West Virginia where he played alongside Canadians Andrew Wiggins and Florida State guard Xavier Rathan-Mayes.
As a freshman and sophomore, Kingsley was largely overshadowed by Bobby Portis at Arkansas, and mainly relegated to a bench role, but with the departure of Portis to the NBA, Kingsley saw a highly increased role and was a major piece for Mike Anderson and the Razorbacks last year. He was invited to attend the Nike Skills Academy in California this summer with 20 of the other top returning college players in the country, but struggled to separate himself from the pack.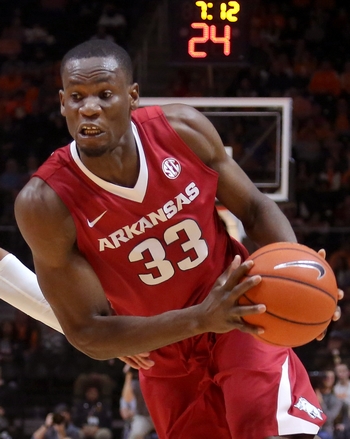 Kingsley's physical profile, strength, and athletic ability are major factors in allowing him to impact the game the way he does. Measuring in at 6'9" and 236 pounds, he is somewhat stuck between the Power Forward and Center positions, but has the length (7'2.5" wingspan) and play up at his natural center position. He has a mature, developed frame, and a ripped upper body which he uses well to not give up ground defensively in the post and to box guys out on the glass. Kingsley has solid mobility and is a fluid athlete for a player his size. He gets up and down the floor very easily and has the explosive vertical ability to finish above the rim in space, but hasn't shown that same consistency finishing in traffic.
Kingsley's overall offensive skill set took a step in the right direction last season, but still remains a major work in progress. He was featured heavily as a back to the basket option for the Razorbacks, but really only showed some rudimentary moves. He has decent touch within five feet and has a solid right-handed hook that he likes to get to, but doesn't look nearly as comfortable turning over his left shoulder where he will still use his right hand or try to bully his way to the rim rather than using advanced footwork. He has strong hands and is a solid secondary option as a dump off finisher where he does a good job catching and immediately attacking the rim.
While he does struggle to finish consistently in traffic, he has a knack for using his size and strength to initiate contact and gets to the free throw line at a productive rate. He attempted over nine free throws per 40 minutes last season (converting 63.7%) and found nearly a third of his offense from the line.
Kingsley was not featured heavily as a screen and roller, but should have potential in that aspect of the game given his mobility, hands, and finishing ability. Perhaps his most effective offensive skill is what he can do as a rim runner. He is dynamic in transition and does an excellent job running the floor and being the first one down the court, looking for easy scoring options. He can be an effective passer out of the post, and shows occasional flashes of strong straight line drives, but still has a great deal of room for development as a shot-creating threat.
A positive development for Moses Kingsley last season was his ability to step out and knock down a mid range jumper. He shot 47% on 36 attempts between 17' and the 3-point line, somewhat forcing defenses to respect his ability to shoot outside the paint. He doesn't display the same consistent mechanics on each shot which results in some bad misses, but his percentages on a decent sample size show that his ability to hit a mid range jumper is trending in the right direction.
His release isn't the quickest, but he releases his shot from above his head making it difficult to contest. Seemingly knowing his limits, he attempted zero shots from beyond the arc last season, so it will be interesting to see if he can add that into his repertoire going into his senior year.
Where Kingsley can rely on being an effective and consistent contributor is on the defensive end of the floor and on the boards. He was named to the All SEC Defensive team and was one of five players in the country to average at least 1.5 steals and 3.0 blocks per 40 minutes.
With his strength and mobility, Kingsley has some versatility on the defensive end of the floor. He uses his size well to defend bigger players in the post and has the agility and length to be a factor as a perimeter defender particularly in ball screen situations.
He is an elite rim protector with excellent timing who is quick off his feet and has the length to recover from difficult vantage points. In 31 of Arkansas' 32 games, he recorded at least 1 block, including a game against Tennessee Tech in which he had 8.
Kingsley is also a high level rebounder on both ends of the floor. He does an excellent job getting a body on his man, but can also go and get a rebound outside of his area. He has solid instincts, especially on the offensive glass where he averaged 4.4 offensive rebounds per 40, and found the second highest percent of his scoring opportunities.
Moses Kingsley will be the most important piece of an Arkansas team that will look to bounce back from a season in which they finished with 16 wins and 16 losses. He is a high energy, blue collar player who showed last year that he has some budding skills to match up with his motor.
There are several players in the NBA in a similar mold to Kingsley who have been able to find a role as a rebounder and rim protector, but at 6'9" it will be vital for him to show that he is more than just an energy guy. If he can continue to develop his offensive game and show the same prowess on the defensive end of the floor he'll earn plenty of looks come next years' draft.