We continue our coverage on the top NBA draft prospects in the SEC with part ten, players ranked 10-13:
Marcus Lee
,
Damian Jones
,
Jordan Mickey
and
Moses Kingsley
.
The Top 20 NBA Draft Prospects in the Pac-12 Conference
The Top 20 NBA Draft Prospects in the Big 12 Conference
The Top 10 NBA Draft Prospects in the AAC Conference
Top NBA Prospects in the SEC, Part 1
(#1) Karl Towns (Scouting Video)
Top NBA Prospects in the SEC, Part 2
(#2) Willie Cauley-Stein (Scouting Video)
Top NBA Prospects in the SEC, Part 3
(#3) Chris Walker (Scouting Video)
Top NBA Prospects in the SEC, Part 4
(#4) Bobby Portis (Scouting Video)
Top NBA Prospects in the SEC, Part 5
(#5) Dakari Johnson (Scouting Video)
Top NBA Prospects in the SEC, Part 6
(#6) Jarell Martin (Scouting Video)
Top NBA Prospects in the SEC, Part 7
(#7) Andrew Harrison (Scouting Video)
Top NBA Prospects in the SEC, Part 8
(#8) Aaron Harrison (Scouting Video)
Top NBA Prospects in the SEC, Part 9
(#9) Alex Poythress (Scouting Video)
#10, Marcus Lee, 6-10, Sophomore, PF/C, Kentucky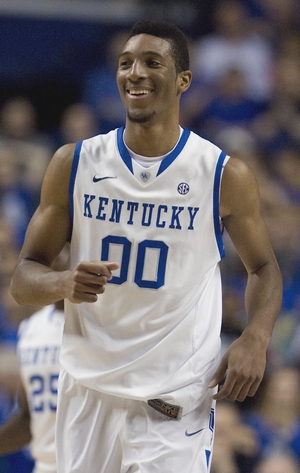 Josh Riddell
Coming into the University of Kentucky as the
16th ranked recruit by the RSCI
, Marcus Lee had trouble finding minutes in an extremely crowded Wildcat frontcourt, stuck behind Julius Randle, Willie Cauley-Stein and Dakari Johnson. Lee averaged just 6.5 minutes per game last season and saw action in only 25 of 40 total games, an extremely rare occurrence for a player as highly regarded as he was coming out of high school. Taking advantage of an injury to Cauley-Stein, Lee had his best game in the NCAA tournament against Michigan, where he scored ten points and grabbed eight rebounds in fifteen minutes, and will look to build on that momentum to carve out his spot in the rotation this season.
Lee has very good size for a big man prospect, measured at 6'10", with a solid 7'2" wingspan. However, he needs to add strength to his frame, as he weighed in at 199 pounds two years ago at the Amare Stoudemire Camp and is now listed as being 220 pounds on Kentucky's website, which is still relatively light. It looks like he added some nice bulk to his frame on Kentucky's recent preseason tour in the Bahamas, particularly in the upper body, but he still has plenty of room to continue to add to his frame. He is a great athlete, moving up and down the floor well for a big man while playing above the rim on the offensive end. Once he adds some strength, which he should be able to as he matures physically in the next few years, he will have ample tools to compete in the NBA.
In his limited minutes, Lee didn't show a great deal of offensive skill, as the overwhelming majority of his touches came off cuts, offensive rebounds and by running the floor in transition. He has great potential to do these things at pretty much any level, as his ability to sprint the court, make quick screen and rolls, and get off the ground in the blink of an eye for explosive finishes from a standstill off two feet are coveted commodities in professional basketball. He has good hands, great quickness, and the type of springy vertical leap you'd expect to find in an ex-volleyball player.
Over 90% of Lee's 42 field goal attempts came inside the paint, and he converted them at a terrific 72% clip, most of them coming on dunks. When forced to do more than just catch and finish, though, Lee seemed to struggle, even if it's difficult to tell too much from the limited sample size at our disposal. He didn't always have a plan on how to get up the best shot attempt when he couldn't just elevate for a simple finish, often throwing up a hurried shot, and got knocked off his path easily due to his lack of strength. Considering his lack of bulk, Lee will likely need to play the power forward position in the NBA, at least early on in his career, but it's difficult to tell if his skill-level is high enough to do some of the things teams ask from their 4-man, such as make plays from the high-post, space the floor, etc.
Lee was an excellent offensive rebounder last season, averaging
5.3 per 40 pace adjusted
, which puts him third among all returning college players in our top-100 prospect rankings. He crashes the glass hard on every shot and uses his length to grab many rebounds or tip them to a teammate. His physical tools let him get offensive rebounds outside his area and many that bounce high off the rim end in Lee dunking the rebound, demonstrating his impressive athleticism.
Unfortunately, this hasn't transitioned to the defensive side of the glass, as Lee averaged a mediocre
3.8 defensive rebounds per 40 pace adjusted
, dead last among all returning collegiate big men in our top-100 prospect rankings. He struggled holding his box out last season due to his lack of strength and was also out of position to rebound due to his aggressiveness of trying to block shots. The sample size from last season leaves a lot to be desired so it will be interesting to see how his numbers look playing a larger role this season. Rebounding will be one of Lee's most marketable skills and he showed an ability to rebound on the offensive end in his freshman season. This year, he will have to put a bigger focus on the defensive side to become a more complete player.
Lee was able to block a ton of shots in his few minutes last year, averaging 3.6 blocks per 40 pace adjusted,
sixth among all returning collegiate players
in our top-100. He pairs his length and mobility with very nice timing, but may have gambled excessively for blocks at times, which put him out of position for the rest of the play.
Elsewhere defensively, Lee can easily be projected as an impact defender as long as he is able to add enough strength to compete with NBA level big men. He didn't always show great defensive awareness, but that will hopefully come with more playing time and experience. His lack of strength allowed him to get pushed around, especially when trying to defend the post. However, the combination of his physical tools should allow him to have a significant impact on this end, as long as he continues to improve. His offensive ceiling isn't that off the charts based on what we've seen thus far, so he will need to work on his defensive skills to help contribute to the team on that side.
Returning for his sophomore season, Lee had originally hoped to play a bigger role in the Wildcat rotation. However, he may be reduced to a supporting role again due to Willie Cauley-Stein, Dakari Johnson and Alex Poythress returning, with incoming freshmen Karl Towns and Trey Lyles also competing for playing time. Minutes could once again hard to come by for Lee, so he will need to make the most of whatever action he gets.
Lee enters his sophomore season in a tough competition for minutes and it will be interesting to see how the Kentucky frontcourt rotation shakes out as the season progresses. Lee will be called upon to finish around the basket, rebound on both ends and defend the rim and will need to take advantage of whatever minutes he is given. From what we saw in his limited freshman season, it is clear that Lee has many traits the NBA covets, but it is too early to make any declarative statements about his potential as we simply haven't seen enough to accurately gauge how good of a long-term prospect he is at this stage.
#11, Damian Jones, 6-10, Sophomore, PF/C, Vanderbilt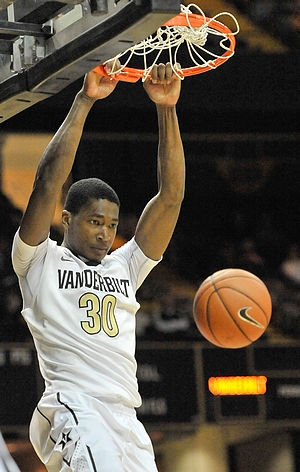 Jonathan Givony
The past two seasons have been difficult for Kevin Stallings' Vanderbilt squad, as the Commodores missed the NCAA Tournament in consecutive years now and struggled to stay competitive in the SEC behind a rash of transfers, suspensions and general upheaval.
One of the few bright spots last year was the play of freshman Damian Jones, a former Top-100 high school recruit who ended up being named to the SEC All-Rookie team. Jones was one of the youngest freshmen to play a major role for a high-major college program, only turning 19 a few months after the season ended. He easily could be going into his freshman year of college right now instead of his sophomore season, as he's younger than five of the players from last year's McDonald's All-American game.
Jones came off the bench for the first three games of the season, but ended up starting every game the rest of the way. He was unable to help Vanderbilt avoid finishing under. .500 in SEC play (and overall as well) for the second year in a row, the first time that's happened to Commodores in over a decade.
Listed at 6-10, 240 pounds, Jones has good size for a big man, to go along with a long wingspan and a solid frame that should fill out nicely in time. He is a good athlete on top of that, quick off feet, and very mobile overall, although not ridiculously explosive.
Jones saw almost half of his offensive possessions with his back to the basket last season, a significant share (certainly for a player his age) that ranked him in the top-30 players in college basketball in terms of sheer volume. He was relatively productive there, hitting 50% of his field goal attempts, as he has a nice skill-level relative to his lack of experience. Jones has solid footwork inside the paint, to go along with soft touch and the ability to finish with either hand. He doesn't have the most diverse post-arsenal at this stage and is limited somewhat by his lack of strength, but he shows flashes of ability knocking down jump-hooks and executing pretty spin moves, even throwing in the occasional turnaround jump-shot.
On the downside, Jones is an extremely poor passer, generating only 7 assists in 784 minutes, last season. His 2.4% assist percentage ranked last among all returning college players in our Top-100 prospects, and he was statistically one of the worst passers in college basketball overall. Jones' feel for the game clearly isn't the best, and he was probably thrust into a larger role than he was ready for as an 18-year old freshman, but it's important to consider what other options he had to pass to on his squad. Vanderbilt really struggled as a team to make outside shots or just score in general, which is likely reflected in Jones' passing metrics and the way opposing defenses game-planned for him.
Jones also saw a good amount of offense playing off the ball, be it as a cutter, roll-man, offensive rebounder, or floor-runner in the open court. He finishes his non-post up attempts at a very solid rate around the basket, converting 61% of his looks in these situations, thanks to his soft hands, nice touch, long arms and solid mobility.
Jones rarely stepped outside the paint offensively, only taking 12 jumpers on the season and very rarely being asked to put the ball on the floor from the perimeter. His skill-level is obviously a work in progress, as the mechanics on his jumper need work (he shoots an awkward one-handed jump-shot) and his ball-handling skills are rudimentary at best. He only converted 57% of his free throws last season, which indicates he has plenty of room to improve still as a shooter.
Defensively, Jones has excellent tools, with his solid size, length and athleticism. He's mobile enough to hedge screens on the perimeter and stay in front of smaller players, and is a major presence rotating from the weakside, blocking 2.4 shots per-40 minutes last season, seventh best in the conference.
With that said, Jones still has a long ways to go before he's ready to step on an NBA floor, as he gets pushed around quite a bit inside the paint and doesn't always offer the type of intensity, toughness or fight you hope to see from a player his size. How much of this was due to his lack of strength and experience as a freshman is something NBA teams will want to learn more about as Jones enters his sophomore year, as he clearly has the tools to be a very solid piece on this end of the floor if he improves his intensity-level and focus.
On a similar note, Jones was just an average rebounder on both ends of the court last season, often looking flat-footed as missed shots came off the rim. He needs to do a better job of boxing out and pursuing loose balls with greater toughness and intensity, even if his awareness here leaves something to be desired, something that's also reflected in his lack of assists and steals.
Jones is somewhat of a tweener, not quite big or strong enough to project as a center—the position he plays at Vanderbilt--in the NBA, but also not really showing some key skills teams like to see from power forwards, such as passing, ball-handling or perimeter shooting ability. Defensively he might actually be better suited at the power forward spot, and he appears to have the mobility to do so, so it will be interesting to see how his skill-level evolves.
Still in an early stage of his development, Jones has a lot of interesting attributes that make him a prospect NBA teams will definitely want to keep track of, even if he's a raw prospect at this stage. Vanderbilt will have a very young squad once again, particularly in the backcourt, so Jones will have to be a major factor on both ends of the floor for them to be competitive in the SEC.
#12, Jordan Mickey, 6'7 ½, Power Forward, LSU, Sophomore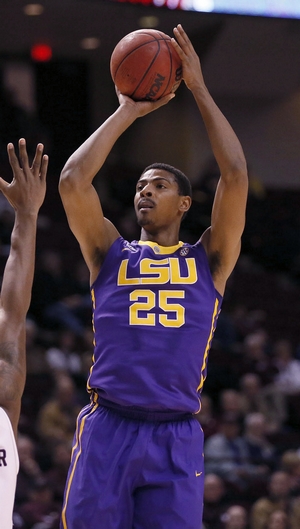 Kyle Nelson
After flirting with the
2014 NBA Draft
and
solid showings
at the Nike Big Man and LeBron James Skills Camps, Jordan Mickey returned to LSU for his sophomore year with very high expectations.
This is because Mickey is coming off of a freshman season that witnessed him being named to both the All-SEC Second and Freshman
Teams
while proving himself to be the most productive shotblocker at LSU since Shaquille O'Neal. Now as a sophomore, Mickey has the opportunity to take the next step in his development and address the question of whether he can become more than merely a shot blocker in the NBA.
Measured at just 6'7 ½ in shoes on two separate occasions, Mickey is undersized for the power forward position, but compensates with a massive 7'2 wingspan and a solid 235-pound frame. He is also a very good athlete, showcasing excellent quickness in the half court and in transition while being very explosive around the basket.
Though his physical profile is intriguing, Mickey is not a polished player on the offensive end of the floor. Accordingly, his 14.5 points per 40 minutes pace adjusted ranked him among the least productive players among those ranked in our
top-100 returning college prospects
.
On film, Mickey shows a raw post game, lacking standout footwork or ball-handling ability and without much in the way of a repertoire of reliable moves. While he does show an effective jump hook and is aggressive trying to back down his man, he lacks the fundamentals to do much consistently once he receives the ball. Along these lines and though his physical profile suggests that he should excel in such situations, he is equally raw in the pick-and-roll, often looking lost and lacking the footwork to capitalize in situations where he has to roll to the basket. Whether he can continue to develop in these areas, however, remains to be seen, as his post-game has been a perpetual weakness in his offensive repertoire.
Mickey is arguably at his best taking his man off of the dribble, where he can utilize his first step, aggressiveness and long strides to drive toward the basket. He also excels at capitalizing on moving without the ball, particularly cutting to the basket and running in transition, and he made an impressive 62.5% of his non-post up looks around the basket.
Mickey also shows semblances of a jump shot, attempting 55 as a freshman, even though he made just 16. Though his mechanics are extremely inconsistent at best and he struggles with excess motion in both his upper and lower body, an inconsistent release point, and squaring to the basket, he does show a quick release and made an impressive 42.3% of his shots from mid-range. It will be interesting to see if he can continue to develop his consistency and range, as his 69.5% FT suggests that, with hard work, this is still possible even though he attempted just three 3-pointers as a freshman. An improved shooting stroke would undoubtedly help out round the rest of his offensive game, not to mention his NBA prospects.
On the defensive end of the floor, Mickey has already distinguished himself as an elite rim protector, to the tune of 3.1 blocks per game, which ranks first overall among prospects in our
top-100
. On film, Mickey displays an ideal combination of excellent timing and elite athleticism, which despite his lack of size, allows him to be a fearsome shot blocker at this level. He also shows potential guarding the pick-and-roll, which is important considering his size, as he'd likely need to spend more time operating outside the paint defensively than he currently does at the collegiate level.
Elsewhere on the defensive end, Mickey is a little less impressive. Outside of the context of his shot blocking, his post defense is just average, as he displays an awkward combination of subpar fundamentals and inconsistent effort. Also of issue is the fact that he is a below average rebounder for his size, grabbing just 8.9 rebounds per 40 minutes pace adjusted despite his athleticism and reputation for aggressive play. Considering the fact that he is a severely undersized power forward, scouts will want to see him prove that he is capable of compensating for his weaknesses with sheer effort and grit guarding the post and on the defensive boards.
For these reasons, Mickey's NBA prospects are mixed. Lacking the size of a Larry Sanders or even a Joel Anthony, Mickey has an uphill battle ahead of him in proving to scouts that he can at least thrive as a shot blocker at the next level if he is unable to develop other areas of his game. Most importantly, Mickey must embrace his role as a defensive stopper as a sophomore and work harder both guarding the post and hitting the boards. Even if Mickey is unable to improve considerably, he will likely remain intriguing to scouts looking for length and athleticism on the defensive end of the floor.
#13, Moses Kingsley, 6-10, Sophomore, Center, Arkansas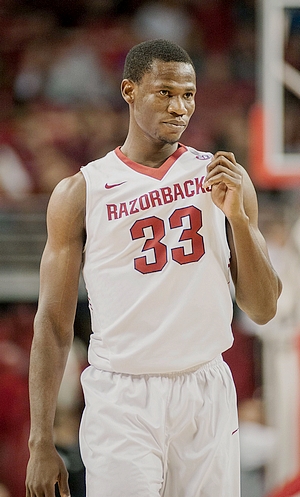 Matt Williams
A consensus top-50 recruit in high school, Moses Kingsley's freshman season was mostly a learning process, averaging just 4 points and 3.2 rebounds over 11.5 minutes per game.
Standing around 6'10, with a 7'2 wingspan and a frame that should fill out reasonably well in time, Kingsley is a mobile, agile big man, who's physical tools give him intriguing upside.
Skill-wise, Kingsley is a fairly limited player at this point, seeing most of his touches around the basket as a complementary option in Arkansas' offense. The Huntington Prep product didn't show much in terms of consistency in the post or as a jump shooter in limited opportunities, but his combination of length and explosiveness made him an efficient finisher in close. His best moments offensively came in the open floor, where his ability to run the floor made for a few easy scoring opportunities.
Where Kingsley did contribute as a freshman was as an offensive rebounder and shot-blocker. He's a useful player to have around the basket because of his size, length and agility, and he impressed with his intensity for stretches as well. A bit mistake prone and still improving his coordination, Kingsley didn't always make the most of his opportunities cleaning up missed shots, and struggled with foul trouble at times defensively, but generally had a positive impact in his limited minutes inside, especially on the defensive end. One of the
top-20
per-40 minute pace-adjusted shot blockers in the country regardless of class, Kingsley's combination of energy, length and quickness allowed him to protect the rim at a high-level despite his somewhat limited skill level.
Like many young, raw big men, Kingsley looked rushed and struggled at times as a freshman, but he nonetheless
ranked 10th
in last year's freshman class in PER, albeit in limited minutes. Players in his mold can make big, sudden jumps in ability, so it makes sense to continue to keep track of his progress to see how he's improving the rest of his game to go along with his already promising defensive presence.