Team: Oldenburg
Physicals
Positions
Salary
Misc
H: 7' 0"
W: 221 lbs
Bday: 04/10/1987
(28 Years Old)

Current: PF
NBA: PF
Possible: PF

Agent: David Bauman

High School:
Hometown: Belgrade, Serbia
Best Case: Keith Van Horn
Worst Case: Antonis Fotsis

Predraft Measurements
| Year | Source | Height w/o Shoes | Height w/shoes | Weight | Wingspan | Standing Reach | Body Fat | No Step Vert | Max Vert |
| --- | --- | --- | --- | --- | --- | --- | --- | --- | --- |
| 2009 | Eurocamp | 6' 10.25" | 6' 11.5" | 223 | 6' 10.75" | 8' 11" | NA | 24.0 | 29.0 |
| 2007 | Hoop Summit | NA | 6' 10.5" | 230 | 6' 11.5" | 8' 10" | NA | NA | NA |
| 2005 | NBA Pre-Draft Camp | 6' 10" | 7' 0" | 221 | 6' 11" | 9' 2" | NA | NA | NA |



Basic Per Game Statistics

- Comprehensive Stats - Statistical Top 25s
| Year | League | Name | GP | Min | Pts | FG | FGA | FG% | 2Pt | 2PtA | 2P% | 3Pt | 3PtA | 3P% | FTM | FTA | FT% | Off | Def | TOT | Asts | Stls | Blks | TOs | PFs |
| --- | --- | --- | --- | --- | --- | --- | --- | --- | --- | --- | --- | --- | --- | --- | --- | --- | --- | --- | --- | --- | --- | --- | --- | --- | --- |
| 2015/16 | Eurocup | Nemanja Aleksandrov | 6 | 25.2 | 8.7 | 3.2 | 7.2 | 44.2 | 1.7 | 3.3 | 50.0 | 1.5 | 3.8 | 39.1 | 0.8 | 0.8 | 100.0 | 0.3 | 3.3 | 3.7 | 0.7 | 0.2 | 0.7 | 1.5 | 2.0 |

Player Page&nbsp&nbsp| Player Stats | Mock Draft History | Related Articles&nbsp&nbsp| Add to My Draft Express&nbsp
&nbsp
Reebok Eurocamp Summary, Part One
June 11, 2009
After sitting out the entire season with yet another knee injury, it wasn't a big surprise to see Nemanja Aleksandrov do virtually nothing over the course of the camp. There may not have ever been a more dramatic fall from grace than the one Aleksandrov has been though over the past five years, going from being considered a potential #1 overall pick to likely going undrafted this June. The combination of injuries and passivity has placed serious question marks about his professional future, and at this point Aleksandrov should be more concerned about getting back to the basketball court than impressing NBA scouts. He did show a nice skill-level in the drills, but once the games started seemed to be a step slow on most of the action and really struggled to make his presence felt on the perimeter.

[Read Full Article]

---
Nike Hoop Summit World Team Player Recap (Part One)
April 11, 2007
Taking history into account, Aleksandrov was one of the more interesting prospects coming into the week in Memphis. Once thought to be a lock for the lottery, he tore his ACL, which lead to a long and tedious recovery. Since he was cleared to play again, Aleksandrov has struggled to get minutes in Europe this season.

During the practices, Aleksandrov sat out the first few days or so due to an unnamed injury. When he first suited up, he shot around the entire practice and took place in one non-contact drill. The first practice he participated in was Thursday, and it quickly became obvious that the knee surgery had taken some athletic ability from Aleksandrov. He struggled to get up and down the floor, and showed very little desire to play in the paint during the practices. While the surgery may have limited him as a player, he can still knock down the open three with great success.

In the game, Aleksandrov struggled to find his shooting stroke, especially while contested. His shooting stroke might be off right now in game situations considering he has logged very few minutes of legitimate playing time over the past 2 years. Inside, he did make a few nice moves out of the post, including a move where he spun towards the baseline and finished on the opposite side of the hoop. The problem here for Aleksandrov is the lack of athleticism in combination with soft play. These weaknesses were totally exposed on a face-up move to the basket, where Michael Beasley emphatically sent his lay-up back the other direction. The move to the basket was nice, but Aleksandrov lacked the lift to come close to finishing it.

The big positive for Aleksandrov in the game came on the glass, where he grabbed 14 rebounds over the course of the game. Two of the rebounds on the offensive end led to a pair of really nice put-backs in the paint. Though he has the tendency for soft play, the 6-11 forward uses his body well on the glass, and seems much less apprehensive towards taking contact in this area.

Aleksandrov seems to be a long way from playing in the NBA right now. The best thing for him would be to find a situation in Europe where he receives enough minutes to polish his skills during in-game situations. The lack of athleticism hurts, and if no progress is made to gain some of it back, it really may cripple the future of Nemanja Aleksandrov in the NBA.

[Read Full Article]

---
Nike Hoop Summit Practices-- World Team (Day 4)
April 7, 2007
It was an average day for Nemanja Aleksandrov, who didn't really stand out much throughout the practices. The movement up and down the floor was a little better for him today, yet he still runs the court at a slower pace than you'd like to see from an NBA big man. In the 5 on 5 scrimmage situation, he displayed surprisingly quick hands by knocking the ball away from smaller and quicker players on a few occasions. Offensively, he hit a few jumpers and made a few solid finishes inside, but didn't do anything that impressive overall. He is one of the more experienced and mature players on the international squad, and his success or lack thereof may be a key factor in the performance of the international team tomorrow.

[Read Full Article]

---
Nike Hoop Summit Practices-- World Team (Day 3)
April 6, 2007
Nemanja Aleksandrov was an interesting guy to watch in his first practice of the week. He looked timid running through the first couple drills as if he either was afraid of injuring himself again or else lacked confidence. In terms of physical attributes, it has appeared that Aleksandrov may have bulked up a bit, but he appears much less athletic than he was before ACL surgery. As he ran through the drills, he knocked down spot-up jumpers from the three point line with ease, but anything near the basket appeared to be awkward and done without effort. He did put in good effort in the half court defensive rotation drill, but he struggled with his recovery speed closing out at times. As the drill turned into a 5 on 5 half court scrimmage, Aleksandrov took advantage of most of the open looks he received on the perimeter by knocking down the jumper, but was unwilling to go inside and make a play.

The afternoon practice for the international team was a scrimmage against the local Memphis high school all-stars, who will be playing in an exhibition game before the Hoop Summit. Against the high schoolers, Aleksandrov was slow getting up and down the court. He took a few jump shots in the first half of the scrimmage, but they weren't falling for him. Instead, his first basket came on an unimpressive dunk in transition, followed by a tip-in of a missed shot at the rim. In the post, he made one move in the first, half, but missed a step-back jumper from about 12 feet. The second half was better for Aleksandrov, as he discovered his shooting stroke. He knocked down numerous spot-up jumpers both open and contest, and was the leading scorer for the U.S. team during the half. He also made a hesitation move going to the basket before finishing with a dunk, and a nice lay-up in transition. Though he appears to be less athletic than he once was, his three point shot remains a good weapon, and it will be interesting to see if he can put it to use in the game Saturday.

[Read Full Article]

---
Roundup: Yi Jianlian Leads Guangdong to the CBA Finals
March 12, 2007
…Nemanja Aleksandrov, who recorded a season-high 12 points in just 12 minutes of action this past week against Real Madrid in the ULEB Cup. The Serbian forward is trying to return to his old form after an ACL injury that had him sidelined for over a season. The first goal is to get consistent playing time, and while he's often starting for Crvena Zvezda (Red Star) in the Adriatic League, he doesn't last much on the court. In the ULEB Cup he had barely played at all. In this week's game, he didn't enter the court until the second quarter, with Real Madrid ahead and the quarterfinals looking ugly for his team (Real Madrid had won the first leg in Belgrade by 11 points).

Nemanja had an inconsistent showing, but left some drops of his talent. Half of his points came from the three-point line, as he scored on back-to-back threes. His team often starts the offense with both bigs offering picks to the point guard on the perimeter, and while Real Madrid focused on stopping the two guys from executing the pick-and-roll play, the other big –Aleksandrov both times- was left open for an easy shot. Earlier in the game, he was the guy setting the pick for the playmaker, and received the ball after rolling out to the perimeter, but missed the shot this time even if he looked good on the release. The highlight of the game for him came when he netted a 13 footer, grabbing the ball in the air and releasing his jumper before landing on the floor. It's early to tell, but his stroke might have improved, which wouldn't be surprising, as injured players often take advantage of their down-time to work on their shot.

We could also see Aleksandrov attacking the basket. He tried twice with his left and both times produced, once getting fouled and the other time releasing a long right-handed layup (after changing directions during the drive) where he displayed a very nice touch. Still, he showed an average first step and perhaps a lower degree of explosiveness than prior to his injury. Also, the second after receiving a ball, he tried a complicated assist from the three-point line to the lane that unfortunately wasn't completed; however, it was a nice evidence of his quick decision making.

On defense, he stayed very solid in pick-and-roll situations, containing the ball-handler with quick vertical moves and recovering his match-up with equal quickness. His lateral mobility is very good, and he can consistently stay in front of his match-ups. He didn't look as devoted when it came to contesting perimeter shots in defensive rotations, showing an inconsistent level of intensity. He's still a bit of a skinny player, and lacks some certain aggressiveness. It becomes obvious in rebounding situations, where he doesn't always tries hard enough boxing out and losses his position against more aggressive opponents.

All in all, he's not a much different player than he was a couple of years ago before the injury, but he's obviously two years older, which makes his case less intriguing. Right now he doesn't look like more than a second-round prospect. He should likely need to become a more dangerous and consistent offensive weapon, or to gain a lot of strength and aggressiveness playing on defense, in order to showcase an intriguing enough package for an NBA team picking in the first round. What seems pretty clear is that he will need at least another year working on his game before he rolls the dice in the draft. For the moment, he has been selected to play the Nike Hoop Summit in early April, a nice chance to regain some of the lost hype with a good performance.

[Read Full Article]

---
Top NBA Prospects in the Adriatic League
April 11, 2005
This was the first season in which Nemanja become a part of his team's rotation and he was quietly disappointing, not just because of his lack of production, but because of his attitude on the court. When he was on the floor he was very passive and in most of the games he was a non-factor.

Still, it's clear that Aleksandrov has tons of potential and he is still just an 18 year old kid, so there's a lot of time to improve his game. After playing his best game of the season against Zagreb (22 points and 8 rebounds), he got injured in the next one and has been out for a while since then, but he could appear at the Final Eight later this month. He was scheduled to play in the Nike Hoop Summit this past weekend in Memphis, but had to pull out because of this same injury. During the season he showed the flashes of brilliance at times that make him so interesting as an NBA prospect. Although still very raw, he is one of the most complete prospects you will find anywhere on the planet. Aleksandrov showed that he can play both forward positions and he has less troubles guarding perimeter players than before. It is clear that he will need at least 2-3 seasons in Europe before making the jump to the NBA and staying in this year's draft would be a big mistake, because he has potential to be the 1st pick in 2007 or 2008. If he goes to the NBA next season he could end up as this year's Darko Milicic. Something that is working in Nemaja's favor and the reason they are insisting on entering the draft, according to his agent David Bauman, is the fact that he'll have no contract once he turns 18, just like any player in Europe under the age of 18 according to FIBA regulations. He would still have to go through FIBA arbitration to decide a reasonable buyout should he leave Reflex, though. They are in the process of negotiating a new contract and buyout sum, but according to Bauman his team was doing everything in their power to sabatoge his draft stock this year, putting him in games and replacing him after 2 minutes, making him guard players that will make him look bad, etc. The situation appears to be very complicated. Fellow Serbian Nenad Krstic from New Jersey has advised him not to come to the NBA next year.

[Read Full Article]

---
Nemanja Aleksandrov: The sure-fire #1 pick?
August 5, 2004
July 22, 2003. Rivas (near Madrid), Spain. European Cadet Championships. A thundering ovation flies throughout the Cerro del Telgrafo Pavillion as a tall, skinny, and shy-looking kid steps off the court towards the bench. The teams from Spain and Serbia and Montenegro are playing, and surprisingly the player does not wear the red Spanish jersey, but the unmistakable blue of the Balkan team. It doesn't matter. The ovation is a tribute from the audience to possibly the best basketball talent they have ever seen play live, a kid in whom they see the future of European basketball. His name is Nemanja Aleksandrov.

July 2004. Zaragoza, Spain. European Junior Championships. Nemanja walks off the court again, but this time no applause rewards his game. The love story has ended. The expectations were logically very high, and he has not been able to live up to them. The future god of Euro ball is now seen as a mortal who is still a long way from success, as the legions of doubters grow and gain ammo.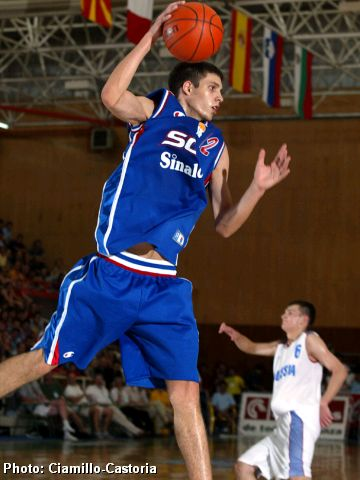 FIBA Europe



What has happened to Nemanja's immense talent? Has he played so badly to warrant such doubt? Why hasn't he been able to shine?

Throughout the year, we had been hearing reports of a season far from the brilliance that the Cadet Championships in 2003 seemed to promise. Averages of barely 10 points—including a painful 19% from three-point range—and 4.5 rebounds per game in the Serbian 1B league (a second division there), numbers that were exceeded by his buddy Dragan Labovic, didn't sound impressive at all. As significantly, he never enjoyed the substantial playing time the Reflex first team expected to give him. A minor injury might have slowed him early in the season, and as Reflex had one of the best Serbian teams in the country (eventually winning the Adriatic League), Nemanja was limited to a couple brief appearances.

It was not the statistical drop that disappointed fans at the European Junior Championships; such a drop was expected as Nemanja battled mostly players a year or more his senior. Rather, it was the feeling of a lost brilliance that hurt him. The once amazing no longer amazed. Most of the audience was considering a repeat of last year's performance a given, and was expecting even more. He failed to match it.

The perception of disappointment should not hide the reality about Aleksandrov. He is the same ultra-skilled and physically very gifted player. But that account of his gifts, as positive as it sounds, carries a negative fact: Nemanja has hardly improved over the last year. He is almost the same player, but a year older, and with almost no professional experience under his belt.

I said 'almost' because there is one aspect where he has actually regressed badly: his perimeter shooting. That 62% from behind the arc he achieved last summer in Rivas looks far away right now. His struggle throughout this season culminated in the 22% he shot on three-point attempts in Zaragoza.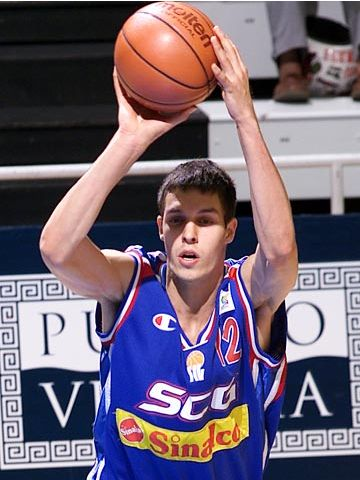 FIBA Europe



His poor shooting has affected his entire game. His confidence seems lost, and he cannot find a way to score consistently. Serbia focuses on playing a team system, and they did so during the tournament. Unlike other teams' offenses, theirs offers little facilitation for the star to shine. Under those circumstances, one of the best options for Aleksandrov to score is to try from the perimeter. When his shot is not falling, life becomes much more difficult, as the spaces to penetrate get smaller and the confidence to try different things disappears.

Aleksandrov looked frustrated and uncomfortable in Zaragoza. For example, last year you could see him leading the Serbian fast break very often, but not so this year. The joy we saw in his game before seems absent. He is a player who refuses to force situations to get good scoring numbers, and that can be a double-edged sword. On one hand, he rarely makes bad decisions and is not selfish on the court. On the other hand, he can disappear and not take enough responsibilities when his team needs him. He does not have the makeup of a go-to guy right now. He can excel while playing in the flow of a team's offense, but he cannot take the weight of it on his back.

Compounding matters, he struggled playing in the paint. This is older competition than he faced last year, and playing in the post has been tougher for him. To score under the basket is not as simple as it used to be, nor to intimidate opponents so easily. His post moves are there, but the physical difference between this competition and last year's represents a greater gap than his level of growth. He was not very aggressive last year in the first place, and he was not this year, either. His defense, at least, was as good as always. I disagree with reports that claim he lacks attitude. If he lacked attitude this year, he lacked it last year, too. No, that is not the problem. The circumstances around him have hurt his game and highlighted that problem. It is true that he is not the kind of player with a strong enough character to keep trying offensively no matter what happens.

Nevertheless, we cannot forget how great a prospect Aleksandrov remains. For instance, he looks quicker than ever, capable of beating small forwards with his great first step. Unfortunately, he had few chances at the tournament to show that, as his team's offense does not afford him the space he needs to work. In fact, I had always thought his future would be at power forward, but his quickness is so impressive that I think he could end up being a full-time small forward. He played both forward positions in Zaragoza, and although he was not stunning in either of them, he looked more comfortable and took better advantage of his skills while playing on the wing. His shot is as picture perfect as ever, released so quickly and high that it is almost impossible to stop. He even tried shooting off the dribble a bit, which is an ability he had not shown last year. I think that sooner or later he will be nailing them again.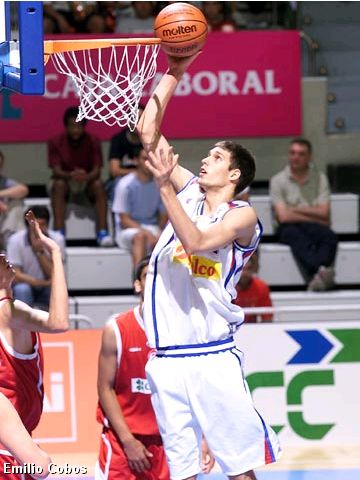 FIBA Europe



He left more hints of his fabulous skills: a great pass here, a complicated dribbling sequence there, even a surprising post move in the mix. He is always smooth, giving us glimpses of the great player he can become. We should not call him a sure-fire number one pick anymore, but the talent is there. Indeed, the buzz about him being the top pick next year might have affected him. That is a heavy load to carry. At any rate, he needs to work hard, to focus on improving his game. I do not think already declaring for next year's draft was a good idea. His goal should be to earn a spot in Reflex's rotation and play some consistent minutes against a higher competition level next season.

He undoubtedly remains one of the most promising young players in the world, but he should try to strengthen and impose his character, to make more decisions on the court. The NBA is a wild jungle where nothing is free. He is a special player, to be sure, and a different one. Whether he will succeed or not remains to be seen. Just don't count him out yet.

[Read Full Article]

---