Reebok Eurocamp Summary, Part Two
June 12, 2009
After a very impressive season in the Adriatic league and Eurocup, Nemanja Gordic didnít really play up to expectations here in Treviso, struggling somewhat to make his presence felt on both ends of the floor. Gordic was fairly turnover prone and didnít make shots at a very good rate, showing average decision making skills while appearing to play too fast and out of control. While Gordic clearly has better potential than most guards here thanks to his good size for either guard spot and above average athleticism, he needs to continue to gain experience and become a more polished all-around player. He is supposedly on the market, but was rumored to have turned down a 4-year, 2 million dollar offer from Tau Vitoria that would have included a 600,000 buyout to his Buducnost team.
[
Read Full Article
]
Roundup: Introducing Nemanja Gordic
April 2, 2008
Weíve been following Nemanja Gordic since early in the season, intrigued by some of his abilities. His excellent last week, right in the most important setting for Buducnost (the Adriatic League playoffs), is a perfect opportunity to introduce him here in DraftExpress. In the three games of the quarterfinal round, of which the team from Montenegro ended up losing 2-1 against Hemofarm, Gordic averaged 19.7 points and 2.3 rebounds while leading his teamís efforts.

A combo guard at this point, Gordic shows a emphasis on his scoring tools over his limited distributing skills, relying on his very nice athleticism to emerge as a very serious slashing threat. Standing 6-4, his body still shows room for development, but he certainly enjoys nice physical tools to play the point.

Gordic is really quick off the dribble, a very difficult player for any opponent to contest. He clearly prefers to drive with his right hand (he needs to improve his left), but if his match-up tries too blatantly to deny him the right side, he wonít hesitate to put the ball on the floor with his left and explode towards the basket. His first step is excellent and his footwork decent. However he sometimes loses control of the situation and finds himself in a dead end. When he attacks his opponents, his first and main objective is the basket, where he can use his athleticism to finish high with both hands, and not very often comes up with a kick-out pass. He also loves to run the floor in transition, catching his opponents off guard.

His athletic exuberance is also showcased in his shooting mechanics. Gordic creates very nice separation from his defender, releasing the ball from a pretty high vantage point both in his spot-up and pull-up jumpers. Already pretty effective with his long-range stroke, he should only improve working on his balance in the air and his shot selection, as he sometimes takes off-the-dribble attempts that are just too wild.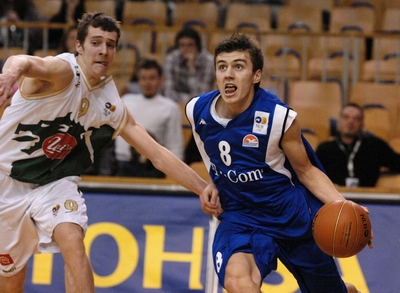 Photo: ABA League
On defense, Nemanja doesnít look nearly as effective. He doesnít know how to translate his quickness into lateral mobility, and suffers staying in front of his opponents (indeed he often ends up running behind them). He needs to start bending his knees and not use his hands so much, as he sometimes ends up in foul trouble.
However, the biggest concern about Gordic revolves about his ability to become a real playmaker. Heís not a distributor by any means, and even his assist average of 1.5 per in the Adriatic League looks ridiculously low for a guy who spends a pretty nice amount of minutes playing the point. Itís probably a combination of his game philosophy and perhaps poor court vision. One characteristic he does clearly show is that he usually needs to dribble before making any pass, which limits his ability to read situations and react quickly. He also fails to control the game, to really dominate the tempo.
Still, itís not that serious when you consider that playing the point involves a long learning curve. At least, he has some excellent gifts to work with, so the potential is there. As a 1988 born, he has the potential and plenty of time to develop and sneak into some future draft. Weíll be watching closely.
[
Read Full Article
]