Jonathan Givony
This wasn't a particularly strong week for Montenegrin
Nikola Ivanovic
, as the young point guard struggled somewhat with the intense pressure of
Dennis Schroeder
throughout the practices, and then played just 8 minutes in the actual game. He was not able to prove himself trustworthy of bringing the ball up the court and getting his team into their offense effectively throughout the practices, as he seemingly lacked the athleticism to create his own shot consistently, but was not a good enough shooter to be much of a threat playing off the ball either.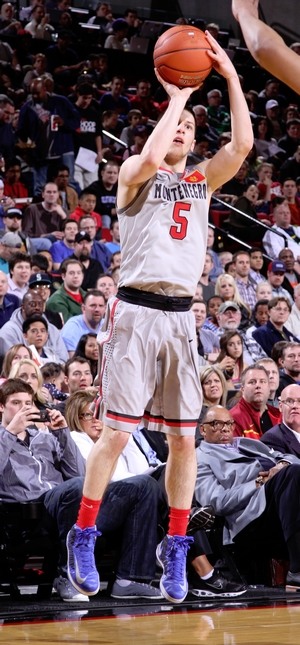 Ivanovic is having a difficult time in general replicating his terrific 2011-2012 season back home in Montenegro, as his efficiency has plummeted in every key category, with his 2-point percentage down from 53% to a mediocre 40%, while his 3-point shooting remains where it was last season, at 26%. Despite his struggles as a perimeter shooter, half of Ivanovic's field goal attempts come from beyond the arc, while his assist percentage has nearly been cut in half this year, so it's clear that he's suffering through many of the same issues he did in Portland on his club team as well.
Despite his intense struggles, Ivanovic remains a talented young prospect with good size for his position and an outstanding feel for the game. He must find a way to regain his confidence in his ball-handling ability and penetration skills, which he appears to have lost this season, as well as improve the consistency of his outside shot.
Another campaign with the Montenegrin senior national team likely awaits him this summer, and possibly a more important role with his hometown team in the Adriatic League next season, so it will be interesting to see if he's able to recapture the promise he showed as a 17-year old playing up three years in the FIBA Europe U20 Championship in 2011.