Scouting reports on
Dennis Schroeder
,
Dante Exum
and
Nikola Ivanovic
.
Dennis Schroeder, 6-2, Point Guard, Braunschweig, 1993, Germany
Jonathan Givony
When we first wrote about
Dennis Schroeder
six months ago
, just as he was beginning to take off as a NBA prospect, few people in his own country even knew his name. Fast forward to today, and Schroeder is one of the hottest prospects in the 2013 draft, fresh off a strong week in Portland where he introduced himself in very impressive fashion to a plethora of NBA scouts and executives who were mostly watching him for the very first time.
Schroeder's work started in the practices, where, as the oldest player on the team, he immediately established himself as the leader of the group. The team's offense was heavily geared towards his strengths, which are very conducive to the setting in which the game was played in.
Featuring terrific ball-handling skills, a lightning quick first step, excellent speed in the open floor, and a penchant for getting teammates involved, Schroeder did an outstanding job in both transition and in the half-court, getting to virtually wherever he wanted on the floor. He executed his team's offense effectively, doing a good job of pushing the ball inside when needed, and finding teammates constantly spotting up on the perimeter or cutting to the rim for a layup after blowing past his man.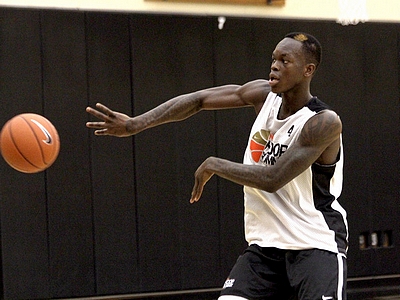 His pick and roll skills looked much improved from the beginning of the season, as he obviously benefited from the increased spacing he enjoyed with so many shooters around him at all times. His patience in the pick and roll has come a long ways from when we first started watching him, as he did an excellent job of reading the floor and knowing when it's time to accelerate or decelerate, sometimes putting his man on his back and making the defense react.
When defenses decided to go under the screen, Schroeder's pull-up jumper was enough of a weapon here for him to punish them, and he generally did a solid job through the week of convincing scouts that the 40% he's shooting from the 3-point line is not a fluke, despite his average mechanics. Schroeder is making a ridiculous 53% of his catch and shoot jumpers on the season in Germany according to Synergy Sports Technology, even if the sample size of 57 shots leaves something to be desired, he was very consistent throughout the week in Portland.
Top Catch and Shoot Jump-Shooters in European Basketball (min. 50 poss.)
Data from Synergy Sports Technology
Combine his jump-shot with his first step, open-court speed and ability to get teammates involved, and you have a pretty complete skill-set for a NBA point guard, even if he still clearly has to work on his ability to finish around the rim, as indicated by the paltry 44% he's currently shooting from 2-point range in Germany. He's a little non-chalant with his finishes, relying too heavily on floaters and struggling somewhat through contact, but this is an area he can improve on in time.
On the other end of the floor, Schroeder did an excellent job as well. He measured a solid 6-2 in shoes with an excellent 6-7 ¼ wingspan, and looked intent on using it every moment he was on the court. Schroeder's lateral quickness might be the best of any point guard in this year's draft class, as he's able to put suffocating pressure on the ball in the full-court, bodying up his matchup and sliding with him every inch he takes up the court. He will need to continue to fill out his slender 168-pound frame, but there is a lot to like here despite his average size.
Schroeder has come a long way in the past year or so, both on and off the court. He appears to have matured with his body language and overall approach to the game, and did an excellent job of leading the World Team by example all week in Portland, which culminated in a big win over the American team on Saturday. He still has a ways to go with his decision making skills, as indicated by the 4.2 turnovers he's averaging per-40 on the season, but he's clearly on the right path now. He has a very good chance of going in the first round now, and could possibly even boost his stock into the top-20 with strong workouts over the next two months.
Dante Exum, 6'6, Point Guard, 1995, Australia
Matt Williams
Leading the 2012 U17 Australian National Team to a silver medal at the FIBA U17 World Championships last summer, which we attended
and documented
in depth,
Dante Exum
emerged as the next great prospect to come through the Australian Institute of Sport. Playing exceptionally well in the 2013 Nike Hoop Summit, the East Melbourne native reinforced his impressive NBA upside with his performance in front of the well over 100 NBA scouts who attended the World Select Team's practices throughout the week.
A 6'6 guard with 6'9 wingspan who appears to have added some 10 pounds of muscle to his frame since last summer, Exum stood out immediately with his speed, fluidity and ball-handling ability. Accustomed to playing the point guard position at the junior level, the strong play of floor general Dennis Schroder required Exum to adapt playing off the ball this week –a challenge he accepted without a second thought in an effort to put his team in the best position to win.
A consummate team player who can do a little bit of everything, Exum still managed to be very effective for stretches in practice and score 16 points on game day despite the significant adjustment he had to make. Perhaps the most impressive thing Exum did throughout the week was get to the rim off the dribble. Without the ball in his hands constantly, Exum wasn't able to create as much on the offensive as we saw last summer, but still managed to make his presence felt attacking from the wing. Showing a very low dribble, an exceptional burst and the ability to finish above the rim, Exum is a very smooth finisher, but is not afraid to elevate in a crowd and draw contact either.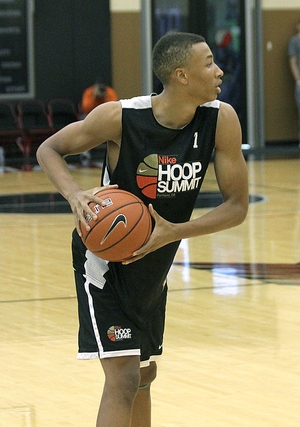 At this stage, Exum's perimeter shooting remains his most glaring weakness. He shoots the ball from the perimeter with better balance than he did last summer, but his confidence and consistency still leave something to be desired. The next step for Exum as a prospect is becoming a more consistent threat from the outside, something that will give him a legitimate claim to being able to play both guard positions.
An adapt passer with speed to burn in the open floor, a great motor and an exceptionally high basketball IQ, the rest of the game comes easy to Exum. He plays with his head up, fills lanes on the break, and rebounds well for a guard. He's a versatile defender with great quickness, improving physical strength, and a team-first mentality.
The question for Exum moving forward is where he will hone his craft and what that means to his draft eligibility. Graduating from the AIS this year, Exum would be eligible to enroll at an NCAA program this winter, allowing himself to become eligible for the 2014 NBA Draft after the conclusion of his freshman year. He could also opt to attend prep school for a half season, let his recruiting ramp up, and enroll at a NCAA program for the full 2014-2015 season, making the 2015 NBA Draft the first he could enter.
At this point, Exum is unlikely to go pro and declare in 2014 as an international early entry prospect from what he told us. Intent on playing in the NCAA and continue to improve on his weaknesses, the question is when will he enroll and what school will make space for him. A coachable and extremely talented prospect with elite intangibles and a promising skill set, Exum is a player NBA teams will track closely regardless of where he ends up. That will start this summer when he leads the Australian U19 National team at the World Championship in Prague.
Nikola Ivanovic, 6-3, Point Guard, Buducnost, 1994, Montenegro
Jonathan Givony
This wasn't a particularly strong week for Montenegrin
Nikola Ivanovic
, as the young point guard struggled somewhat with the intense pressure of
Dennis Schroeder
throughout the practices, and then played just 8 minutes in the actual game. He was not able to prove himself trustworthy of bringing the ball up the court and getting his team into their offense effectively throughout the practices, as he seemingly lacked the athleticism to create his own shot consistently, but was not a good enough shooter to be much of a threat playing off the ball either.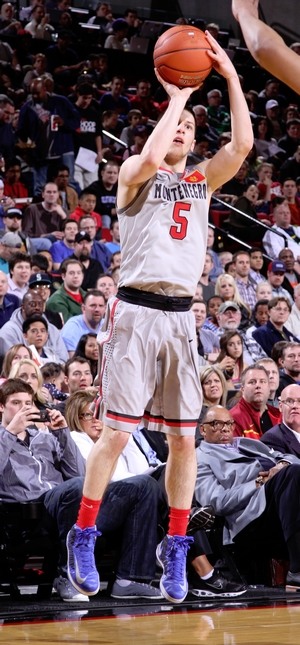 Ivanovic is having a difficult time in general replicating his terrific 2011-2012 season back home in Montenegro, as his efficiency has plummeted in every key category, with his 2-point percentage down from 53% to a mediocre 40%, while his 3-point shooting remains where it was last season, at 26%. Despite his struggles as a perimeter shooter, half of Ivanovic's field goal attempts come from beyond the arc, while his assist percentage has nearly been cut in half this year, so it's clear that he's suffering through many of the same issues he did in Portland on his club team as well.
Despite his intense struggles, Ivanovic remains a talented young prospect with good size for his position and an outstanding feel for the game. He must find a way to regain his confidence in his ball-handling ability and penetration skills, which he appears to have lost this season, as well as improve the consistency of his outside shot.
Another campaign with the Montenegrin senior national team likely awaits him this summer, and possibly a more important role with his hometown team in the Adriatic League next season, so it will be interesting to see if he's able to recapture the promise he showed as a 17-year old playing up three years in the FIBA Europe U20 Championship in 2011.