More Nikola Radicevic Content
Eurocamp Video Interview
---
The last time we wrote about
Nikola Radicevic
, he was just 15 years old, fresh off a solid performance at the 2010 Nike International Junior Tournament in Belgrade. Over five years later, Radicevic is in the midst of a breakout season for Cajasol Sevilla that has put him back on the NBA radar and in the conversation to hear his name called on draft night.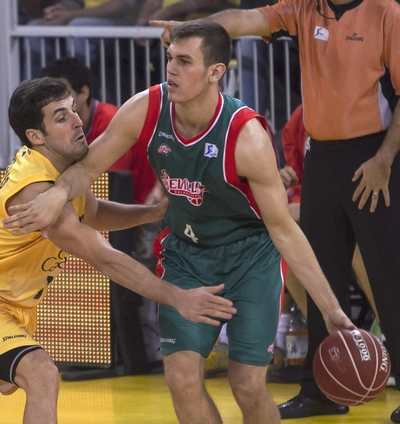 Radicevic emerged as a promising young talent at the tender age of 15, when he made Serbia's U16 National Team. Playing a small role at the 2009 FIBA U16 European Championship, Radicevic's first taste of international success came at the 2010 FIBA U16 European Championship, where he averaged 10.9 points and 3.3 rebounds per game. Spending his youth competing for Partizan Belgrade's junior teams, it wasn't until a big performance at the 2012 FIBA European Championship that Radicevic would take his talents outside of Serbia, when he signed with Spanish club Cajasol Sevilla in 2012.
Making his ACB and EuroCup debut for Sevilla in 2012 while playing primarily for their second team, Castilleja Cajasol in the fourth division, Radicevic's time in Spain got off to an inauspicious start. His second season with the team a year ago wasn't particularly inspiring either, as Radicevic played for Sevilla's first team full time but averaged only 3.1 points over 8.8 minutes per game in a small reserve role behind current Barcelona guard
Tomas Satoransky
. It wasn't until this year that he was given a significant opportunity to showcase his talents against quality competition.
With Satoransky gone, Sevilla, which gets significant contributions in its front court from 2015 NBA Draft prospects Willie Hernangomez and
Kristaps Porzingis
, has given Radicevic the keys to its offense. The 21 year old Serb held down the starting point guard spot early in the season until the acquisition of
Ben Woodside
slid him into a key bench role. Ranking 2nd on the team in assists per-game and 5th in possessions used, Radicevic has been heavily involved in the Andalusian club's pick and roll attack, and the promise he's shown, coupled with his size, has led to a resurgence of sorts for his NBA draft outlook.
Standing 6'5, possibly taller, Radicevic's size for a point guard has always been a key part of his value proposition in the European game and is also significant to his NBA potential. Able to see over the defense, Radicevic can make passes small guards simply can't. Only an average athlete by NBA standards, Radicevic has some quickness, but isn't a great leaper and appears more fluid than explosive making plays with the ball in his hands. His lack of athleticism is somewhat of a concern projecting him to the NBA style of play, but his size does help.
What makes Radicevic intriguing is his playmaking ability. Though he's averaged only 3.1 assists per-game this season, the young guard showed solid vision and a good feel for making plays on the pick and roll when he was on the floor. Considering Sevilla relied more heavily on the pick and roll than any other team in the ACB and that 469 of the 786 possessions Radicevic used or created this season came on the pick and roll, his ability to make plays in the two-man game found a prominent place in the team's offense. Bringing the ball up the floor, controlling tempo, and showing a knack for creating openings and delivering the ball in drive and kick situations as well as making the simple play, Radicevic's passing is one of his best virtues.
More steady than dynamic as a ball handler, the lefty can get a bit wild at times and will dribble into trouble, especially in transition, but a noticeable portion of his turnovers also come on deft passes that either just barely miss their target or simply aren't corralled by his teammates. His assist-to-turnover ratio of 1.75 is good, but not great, and his 1.41 pure point ratio is indicative of his struggles at times with turnovers.
As a scorer, Radicevic is still a work in progress. He does a nice job finding lanes to get to the rim in the pick and roll, and has a little shake to his game, but has struggled to finish this season converting only 52% of his attempts inside, as he lacks a degree of explosiveness and is more effective with his left hand than his right. He's been fairly consistent scoring with his floater, which he's converted at a solid 56% rate on limited attempts. At the junior level, Radicevic was most effective scoring as a slasher and he shot 57% around the rim last season, so it will be interesting to see if he can recapture his efficiency around the rim once he is better acclimated to playing significant minutes at the ACB level.
Away from the rim, Radicevic is an average jump shooter, having made only 30% of his perimeter attempts on the year. Shooting the ball with good elevation but a low release point, Radicevic tends to change his mechanics under duress and is not particularly consistent off the catch or off the dribble. He makes some impressive shots from the midrange, but made just 65% of his foul shots this season and still has a lot of room to grow as shooter and a scorer on the whole, which will play a major role in his ability to carve out a niche at a higher level.
Defensively, Radicevic's size is an asset and though his lateral quickness gives him a better chance at holding his own than many European guards we've seen in the past, he doesn't have a ton of upside on this end of the floor. He plays with solid energy and does a nice job getting over ball screens at times, but also loses track of his man defending off the ball. Considering this was his first season playing significant minutes at the ACB level, another year of seasoning should help him on this end of the floor in terms of fundamentals.
A potential draft and stash candidate,
Nikola Radicevic
is a name to keep an eye on at the early entry withdrawal deadline. Not automatically eligible until the 2016 NBA Draft, he could opt to remove his name from consideration if he doesn't like what he sees. If he doesn't, it wouldn't be at all surprising to see him hear his name called due to his solid showing in what amounts to his first significant action competing at a high level on top of his playmaking ability and size.