Nolan Smith
Recent Tweets
All Tweets
DraftExpress: CT beats DC 171-169. Josh Selby 48 pts, Sam Young 38, Tyreke Evans 38, Nolan Smith 35, Trey Thompkins 26 Wesley Matthews 25 Travis Leslie 25
2011-11-18 09:43:45
DraftExpress: At the I-95 Battle of Bridgeport in CT. In attendance, Tyreke Evans, Hasheem Thabeet, Nolan Smith, Iman Shumpert, Wesley Matthews (cnt'd)
2011-11-18 08:11:39
DraftExpress: RT @daldridgetnt: Nolan Smith Pg insurance in case Blazers can't re-sign Ray Felton, coming for Andre Miller..
2011-06-23 09:55:36
DraftExpress: RT @Hoopdata: He's actually ranked exactly #21 on our board lol http://bit.ly/8FZapc RT @chadfordinsider Nolan Smith at 21. Feels a bit ...
2011-06-23 08:41:02
DraftExpress: No Dick Vitale commentary after the Nolan Smith pick? Fair enough, we can wait for Kyle Singler.
2011-06-23 08:39:20
Top 25s - Full List
Team: Delaware
Physicals
Positions
Rankings
Salary
Misc
H: 6' 3"
W: 188 lbs
Bday: 07/25/1988
(27 Years Old)

Current: PG/SG
NBA: PG/SG
Possible: PG

RSCI: 19

Agent: B.J. Armstrong

High School: Oak Hill Academy
Hometown: Upper Marlboro, MD
Drafted: Pick 21 in 2011 by Trailblazers

Predraft Measurements
| Year | Source | Height w/o Shoes | Height w/shoes | Weight | Wingspan | Standing Reach | Body Fat | No Step Vert | Max Vert |
| --- | --- | --- | --- | --- | --- | --- | --- | --- | --- |
| 2011 | NBA Draft Combine | 6' 1.5" | 6' 3.5" | 188 | 6' 5.5" | 8' 3" | 5.6 | 28.5 | 34.0 |
| 2011 | Deron Williams Camp | NA | 6' 3" | 189 | 6' 6" | NA | NA | NA | NA |
| 2010 | LeBron James Camp | NA | 6' 3" | 189 | 6' 6" | NA | NA | NA | NA |
| 2007 | Hoop Summit | NA | 6' 3" | NA | 6' 6" | 8' 4" | NA | NA | NA |



Basic Per Game Statistics

- Comprehensive Stats - Statistical Top 25s
| Year | League | Name | GP | Min | Pts | FG | FGA | FG% | 2Pt | 2PtA | 2P% | 3Pt | 3PtA | 3P% | FTM | FTA | FT% | Off | Def | TOT | Asts | Stls | Blks | TOs | PFs |
| --- | --- | --- | --- | --- | --- | --- | --- | --- | --- | --- | --- | --- | --- | --- | --- | --- | --- | --- | --- | --- | --- | --- | --- | --- | --- |
| 2014/15 | EURO | Nolan Smith | 1 | 16.0 | 6.0 | 2.0 | 9.0 | 22.2 | 2.0 | 8.0 | 25.0 | 0.0 | 1.0 | 0.0 | 2.0 | 2.0 | 100.0 | 1.0 | 2.0 | 3.0 | 1.0 | 0.0 | 0.0 | 2.0 | 2.0 |
| 2014/15 | DLEAGUE | Nolan Smith | 9 | 25.4 | 11.0 | 4.7 | 10.2 | 45.7 | 4.1 | 8.2 | 50.0 | 0.6 | 2.0 | 27.8 | 1.1 | 1.6 | 71.4 | 0.7 | 2.4 | 3.1 | 3.3 | 1.1 | 0.0 | 1.9 | 2.0 |

Player Page&nbsp&nbsp| Player Stats | Mock Draft History | Related Articles&nbsp&nbsp| Add to My Draft Express&nbsp
&nbsp
NBA Combine Interviews: Josh Selby, Nolan Smith, Shumpert, D. Morris
May 23, 2011
[Read Full Article]

---
Trending Prospects (3/11/2011)
March 11, 2011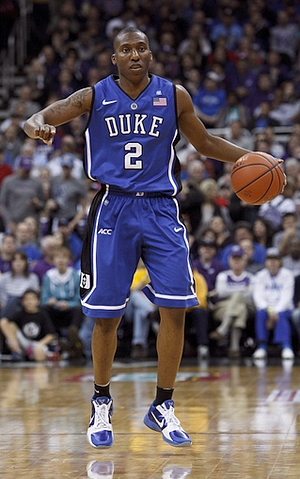 Icon SMI



Derek Bodner

Developing into one of the most well-rounded guards in college basketball, Nolan Smith has answered some questions about his NBA future by filling in for Kyrie Irving on one of the nation's best teams, while leaving some still unanswered. Standing at 6'3", with a solid frame and good length, whether or not teams view Smith as capable of running the point for an extended period of time may determine how high he goes on draft night.

Having played the role of a combo guard in years past, Smith has shown an improved ability to run a team this year. He has edged into the tail end of the top 25 of NCAA point guard prospects in assists per-40 minutes pace adjusted, although his other point guard metrics still look underwhelming since he can be turnover prone at times. This is a problem largely stemming from the increased offensive burden he's asked to carry in the absence of Irving, a role which will likely decrease in the NBA.

As a passer, Smith does a good job of probing from the perimeter, recognizing cutters nicely, as well as finding spot-up shooters. While not great at getting into the lane, Smith does a good job of keeping his head up and spotting the open man when the defense rotates.

As mentioned, Smith has been asked to shoulder a heavier load in Duke's offense than in years past, and his diverse game has largely allowed him to succeed in this role, ranking 5th in scoring (per-40p) among NCAA players in our top 100 prospect rankings, in the 7th most efficient offense in college basketball.

Despite not having a tremendous first step, Smith does a good job of getting into the lane at the collegiate level. He has the ability to go either left or right in isolation sets, and does a good job of using hesitation and a change of direction to create space, showing great craftiness with the ball. Smith's likely an average athlete by NBA standards, limitations that show up a bit when finishing at the rim. He compensates by using his off hand well to shield defenders and showing good body control, with the ability to hit runners and floaters with some regularity. He has also done a better job of drawing contact and getting to the line than in years past, generally becoming a more effective scorer inside the arc this season.

As a shooter, Smith has shown improvement on catch and shoot opportunities, an area he was already strong at, and this is likely his offensive skill most ready to translate to the NBA. He has also been more effective on midrange shots, although he can be inconsistent with his shot overall. Still not picture perfect in form and not getting a ton of elevation, Smith may have more trouble getting his shot off when making the jump to NBA caliber defenders, although his shooting motion is short, creating a fairly quick release.

One area where he has shown considerable improvement is off pick and roll play, showing a little more ability to make shots coming off the pick and becoming more efficient on his midrange and pull-up jump shots. His timing and craftiness helps him quite a bit here, but continuing to make progress scoring off the pick and roll would help him facilitate the offense more, as he does show improving court vision as a passer in these sets.

Smith has good size to defend the point guard position in the NBA and has strong defensive fundamentals, while maintaining consistent effort. He does a good job of moving his feet laterally to close down driving lanes and closes out well on shooters, although he could still stand to improve fighting through the pick and roll. He also does a good job denying his man the ball when playing off the ball, but if asked to defend the shooting guard position with regularity he would be at a disadvantage in some situations.

Not a natural playmaker, Smith's ability to run an offense full time could be the key to whether or not he's seen as a legitimate starter down the line. Smith has a high basketball IQ and is a willing passer, and at the very least should be able to competently run an offense for stretches off the bench as a combo guard. The diversity of Smith's offensive game, even if he may not be dominant in any individual area, combined with his willingness and ability to defend the point should create a fairly limited floor and make Smith a reasonable bet to be a contributor at the next level, which will make him especially attractive to playoff teams picking in the second half of the first round.

[Read Full Article]

---
Top NBA Draft Prospects in the ACC, Part One (#1-5)
October 17, 2010
Jonathan Givony

Fresh off a national championship, of which he was an integral part of winning, Nolan Smith didn't waste much time in recommitting to spending his senior year at Duke.

Smith has been on our radar screen since he was a high school junior playing alongside Brandon Jennings at Oak Hill Academy back in 2006, and all he's done is slowly but steadily round out into one of the most complete guards in college basketball since.
From a physical standpoint, Smith isn't likely to blow anyone away with his athleticism or upside. Showing good size for the point guard spot, Smith is more smooth than he is explosive, relying on his smarts, timing and outstanding fundamentals to get the job done. He's unlikely to test out as anything more than an average athlete, but that certainly doesn't affect the way he plays, and there are certainly some advantages to the terrific pace he plays at.

Offensively, Smith is at his best in the half-court, where his smarts and unselfishness really shine through. Capable of driving left or right and making shots with his feet set or off the dribble, Smith takes what the defense gives him and does a terrific job of executing Duke's offense. He never forces the issue and therefore almost never turns the ball over, managing to cut down his turnover rate gradually every year, to the point that he now coughs it up on just 12% of his possessions.

He can create for his teammates effectively either on the pick and roll or just by trusting the offense and getting them the ball at the right time, never really blowing you away with anything he does, but always being steady, efficient and productive. Not what you would call a pure point guard, Smith nonetheless should have no problems running an NBA offense, as he's an excellent ball-handler, a willing passer and has an exceptionally high basketball IQ.

Where Smith might run into problems is when being asked to go out and create offense for himself on a regular basis. While he can get by players at the collegiate level thanks to his excellent timing and fundamentals, he's not exceptionally explosive and doesn't have a great mid-range game, not really looking all that comfortable creating separation sharply from his defender with his pull-up jumper.

He also is just an average finisher around the basket, often preferring to utilize his floater from 3-5 feet out rather than exploding at the rim, creating contact and finishing strong, a reason he doesn't get to the free throw line an outstanding rate. He converts just 46% of his 2-pointers in turn, which is a fairly pedestrian rate compared with some of his counterparts at the NCAA level.

As a shooter, Smith is effective as his 39% 3-point percentage would indicate, but he has room to improve here as well, particularly with his feet set. His shot remains a bit on the rigid side, as it's fairly quick but loses accuracy significantly when he's forced to rush, is coming off a screen or has a hand in his face, things that may become more of an issue at the NBA level. Increasing his range and improving his ability to shoot under duress are two things he might want to work on moving forward.

Defensively, Smith does not have great physical tools, but he more than makes up for that with the effort, smarts, toughness and fundamentals he brings to the table. He takes great pride in his work on this end of the floor, staying in front of his man effectively and using his length to contest opponents' shots on every possession.

Duke was one of the best defensive teams in all of college basketball, and the work Smith put in shutting down opposing point guards played a big part in that. NBA teams will wonder whether Smith has the size and length to defend shooting guards if called upon, which is something he may need to show during the workout process.

Smith is the type of player who probably won't get many General Managers overly excited on draft night, but ultimately is likely to go on and have a very productive NBA career. He doesn't have any major weaknesses and brings a terrific pedigree to the table, and should be able to step into an NBA rotation from day one and contribute to a playoff team. Other prospects will be deemed to have more upside, but no one will have won more games, and college players with this type of profile very often end up exceeding what's typically expected from their draft spot.

[Read Full Article]

---
adidas Nations Player Profile: Nolan Smith
August 31, 2010
Video, film, and production courtesy of Tad Hathaway of 312 Media
[Read Full Article]

---
Top NBA Draft Prospects in the ACC (Part Four: #16-20)
October 17, 2008
Six points in fifteen minutes per game is hardly the stuff legends are made out of, but considering his versatile skill-set, the program he played for, and his reputation out of high school, we figured it wouldn't hurt to put Nolan Smith towards the very bottom of this list in order to take a preliminary in-depth look. Ranked as high as the sixth best prospect in his class according to analysts such as ESPN's Bob Gibbons—shockingly ahead of players like Michael Beasley and Jerryd Bayless—Smith obviously came into Duke with some extremely lofty expectations. Clearly he wasn't able to live up to them in his first season of college hoops—compared to some of his peers at least (he was rumored to be contemplating transferring this summer)—but he was always considered more of a three or four year prospect to begin with, even though he is a year older than his class.

Solidly built at 6-3, with a great frame and good, but not amazing athleticism, Smith fills the bill for the most part as far as physical attributes are concerned. He spent minutes at both guard spots for Duke last season, but his future clearly appears to be at the point, which will give him a definite size advantage against most of his matchups.

Smith's bread and butter right now revolve around his slashing game, as he has decent ball-handling skills, a solid first step, and a very aggressive mentality stepping into the lane. He appears to be somewhat out of control at times with his forays to the rim, and is excessively turnover prone at this stage, but it's nice to see that insistence upon taking the ball strong to the basket early on.

As a perimeter shooter, Smith saw fairly good results as a freshman, knocking down just under 39% of his attempts from beyond the arc, but his shooting mechanics leave a lot to be desired, as he sports a very awkward and deliberate wind-up before flicking the ball at the rim. He has nice touch on his jumper, and clearly is capable of knocking down shots with his feet set, but he leaves himself very little margin for error due to his unorthodox mechanics, which will become much more of a problem if he doesn't correct these issues once he goes up against bigger and more athletic defenders in the NBA, particularly with his pull-up jumper.

The coaching staff at Duke never saw a reason to correct DeMarcus Nelson's poor shooting mechanics over the course of four years, and he's had to take the long road to making the NBA for that reason. It will be interesting to see if they care enough about Smith's pro potential to sacrifice somewhat in the short-term and help him in this regard over the long-term.

As far as his point guard skills are concerned, we find mostly a mixed bag at this point. Smith looks like a smart, disciplined and unselfish player who is very much capable of executing an offense and showed nice flashes of playmaking ability at times. Too often though those moments were mixed in with mental lapses and out of control play, which resulted in Smith turning the ball over on exactly a quarter of the possessions he used, and left him with a negative assist to turnover ratio.

Defensively is where Smith is obviously at his best at the moment. Intense, fundamentally sound, with a good wingspan, excellent strength, nice lateral quickness and the aggressive mentality needed to want to contest every single shot, Smith was just about all you can ask for from a freshman on the defensive end of the ball, minus some occasional mental lapses at times. He puts good pressure on the ball and has the versatility to guard both guard positions, which is a nice option for a coach to have.

Not showing an incredible amount of upside, Smith regardless has all the makings of a very nice role player down the road, particularly if he can improve his shooting mechanics. Playing at a program like Duke, he'll get all the attention he could ever ask for from NBA types, which could be either a blessing or a curse. There should be plenty of time to evaluate him and see how he continues to develop.

[Read Full Article]

---
Nike Hoop Summit Team USA Player Recap (Part One: the Guards)
April 13, 2007
It wasn't a particularly impressive showing for the Duke-bound combo guard, but is that really a surprise given the amount of talent on the US roster? Smith was invited to be a part of this team to be a role-player, not a star.

As far as positives, Smith scored his four points on a nice slashing move from the wing, and converted a thunderous put back dunk early in the second half. Smith didn't stand out as an athlete in this group, but is going to be Duke's most explosive backcourt performer from day one. He has a mature, muscular frame and the athleticism to effectively break down defenses off the dribble on the Division One level. Smith's outside shot wasn't clicking in this game, but he gets plenty of elevation on his mechanically sound jumper. It should be a serviceable weapon for him at Duke.

In terms of running the offense, there was no opportunity for Smith to show off what he can do here. He was the third ball-handler for the US team virtually at all times, but Smith has proven in the past that he can run a team well enough for what he will be asked to do at Duke.

2007-2008 Outlook: Smith isn't going to be featured on any mock drafts anytime soon, but that doesn't mean he won't have an impact in the ACC next season. In fact, Duke is desperately in need of a player with Smith's skillset. The Blue Devils were missing that athletic, defense-minded ball-handler with the graduation of Daniel Ewing and Sean Dockery the past two seasons. Expect Nolan Smith to play early and often in 07-08.

[Read Full Article]

---
Chicago Simeon vs. Oak Hill Academy Breakdown
January 25, 2007
It was quite clear that Jennings and Legion were coming out with a vengence, leaving very little shots for the third member of the Oak Hill backcourt, Nolan Smith. The Duke bound senior played a solid, but unspectacular game in defeat, completely letting the game come to him and never forcing the issue, despite Oak Hill's need for someone to step up in the third quarter when Simeon was building their lead up.

Smith's transition from combo guard to full time point guard is still surely a work in progress. His ball handling and defense can still use tons of improvement, and he doesn't have the natural playmaking ability that you would like to see out of a player looking to run one of the top college teams in the country next season.





On the bright side, Nolan is very intriguing as a combo guard and should be able to put up nice scoring numbers immediately upon his arrival in Durham. He is a deceptively explosive athlete and is one of the more cerebral players on the high school level, playing with the savvy of a college sophomore. The son of former NBA player Derek Smith has good court vision and passing ability, but again lacks the natural playmaking ability to play point guard full time at this moment. Within a few years however, it is certainly not out of the question for Smith to have emerged as a Daniel Ewing type prospect, one who is better suited for the shooting guard position but has adequate enough playmaking ability to run point when need be.

[Read Full Article]

---
Las Vegas AAU Summer Tournaments: Thoughts from Day Three
July 25, 2006
Nolan showed fans why he will be a coach's pet at Duke with his solid, controlled style of play. He displayed the ability to handle the ball against pressure, make sound decisions, and play great defense. While he is no Derrick Rose or O.J. Mayo athletically, the Oak Hill product showed off his above average athleticism on many smooth takes to the basket.

Although it is a given that Smith will be an excellent college player, he is very tough to project right now as far as the NBA is concerned. With his limited size, he is almost forced to play the point guard position in the NBA unless he drastically improves his outside shot. Nolan is also just an adequate ball handler, and will need to improve upon those skills as well to make the transition to point guard at the next level. With Brandon Jennings' rumored transfer to Oak Hill next season however, there may be few available minutes at the point guard position, hindering Smith's development if he views that as his eventual position in the future.

[Read Full Article]

---
The Unofficial High School National Championship
February 24, 2006
The son of former Orlando Magic player Derek Smith is one of the most consistent players in the nation. There isn't a whole lot not to like about Smith. He's a very cerebral player, extremely sound fundamentally, and plays great defense. Nolan is very underrated athletically, and really blows you away with how smooth of a player he is. Simply put, this kid gets it done each and every time he steps out on the floor and it is easy to see why Coach K fell in love with him.

Nolan's two biggest weaknesses are his size and lack of a true position. If he were 6'5, he would be a great shooting guard prospect, but he is only 6'1. While he has shown flashes of being able to play some point guard, he is still definitely a shooting guard first. With the departure of Tywon Lawson from Oak Hill this year, I'm sure Smith will request to play point guard more next year, and will run the point this summer for his DC Assault AAU team. Right now, while he's a great high school player, it's hard to look at him as an NBA prospect until he has a definitive position.

[Read Full Article]

---