Scouting Report by Jonathan Givony. Video Analysis by Mike Schmitz
Otto Porter
took a major step forward as a player and prospect in his sophomore season, stepping into the role of go-to guy for 25-7 Georgetown and upping his usage rate substantially, while still maintaining excellent scoring efficiency and contributing in every facet of the game.
Even though Porter's season ended in disappointment in a massive upset to #15 seed Florida Gulf Coast in the NCAA Tournament, he had a very good year overall, likely having established himself as a top-5 NBA draft pick when it's all said and done.
Video Analysis
More Video Scouting Reports
Porter's intrigue starts with the terrific size and length he brings to the table at the small forward position, standing just under 6-9 in shoes with a 7-1 ½ wingspan. His frame is very lanky still at just 198 pounds, but should continue to fill out in time considering he only turns 20 years old in June.
Porter does quite a few things on the basketball court, but has likely helped himself most in the past year by improving his 3-point shooting substantially, from 23% as a freshman to 42% as a sophomore. The sample size leaves something to be desired as he attempted only 102 3-pointers in 1100 minutes this season, but it was encouraging to see how confident he became from beyond the arc this season with his feet set in particular as the year went on.
Sliding over to the power forward position full time in mid-January once
Greg Whittington
became academically ineligible may have had something to do with this, but he's clearly improved the quickness of his release and is shooting the ball with more consistent mechanics than he did in the past, which is also reflected in his improved free throw percentages (70.2% as a freshman, 77.7% as a sophomore).
It will be interesting to see how he's able to translate his stroke to the deeper NBA 3-point line, as he will likely need to alter his mechanics even further from his current bunny-hop jump-shooting style as he expands his range.
Porter is not a great off the dribble shooter as this stage, only converting 26% of his pull-up attempts (with just 16 overall makes in two seasons), so it remains to be seen how he'll fare in a system where he needs to create more of his own offense as opposed to being more of a spot-up shooter like he was at Georgetown.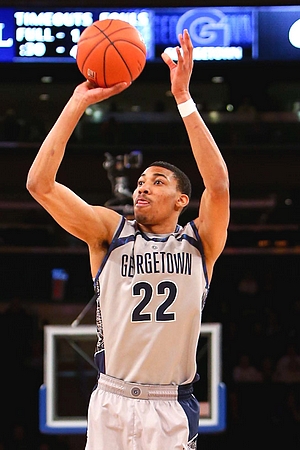 Very little (just 11.4%) of Porter's offense at the college level came in isolation or pick and roll situations, which is partially a product of Georgetown's system, but also likely a reflection of where's he's at as a prospect at this stage of his development.
Not a particularly quick or explosive athlete, and also lacking significant strength, Porter struggles to blow by opponents in half-court situations purely using his first step. He's not an exceptionally creative ball-handler, showing just average ability to change speeds and directions with the ball, and not getting very low to the ground with his dribble which makes it difficult for him to get all the way to the rim against a set defense. His lack of bulk and average leaping ability hampers him as a finisher around the basket in traffic, especially over length. His increased usage this season also coincided in a significant dip in his efficiency as a scorer inside the arc, as his 2-point percentage dropped from an excellent 61% as a freshman to a rather pedestrian 50% as a sophomore.
Porter finds other ways to impact the game, though, as he's one of the smartest and most polished prospects in this draft class, which is impressive considering he's still only 19 years old.
He operated as something of a point forward in Georgetown's offense, executing his team's sets to perfection, constantly reading and probing the defense, and facilitating exceptionally well from the high post. His court vision and passing ability is exceptional for a player his size, and he really sets the tone for his teammates with his unselfishness in always looking to make the right play. He makes simple extra passes to open shooters on the perimeter, finds cutters diving to the rim with perfectly timed bounce passes, and moves the ball ahead in transition decisively to get his teammates easy baskets that don't register in the boxscore as assists.
When the ball isn't in his hands, Porter is seemingly just as effective. He moves off the ball exceptionally well, showing terrific understanding of spacing, timing and angles, cutting to the basket at exactly the right moment to get himself an open layup, or flashing to the perimeter to subtly draw defenders away from the rim. The time he's spent in Georgetown's Princeton-style motion offense will certainly will help him down the road in terms of his understanding of the game, particularly if he lands in a team that runs a disciplined half-court offense.
Georgetown started featuring Porter more in post-up situations this season, something which could translate to the NBA as he adds more bulk. He has very good footwork, excellent touch around the basket and the length to get his shot off in a variety of different ways, which should all help him in time here considering the superior size he brings to the table.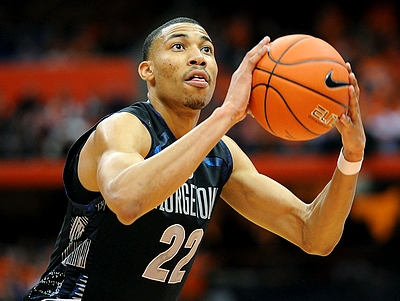 While his offensive game is a plus, Porter's biggest appeal as a prospect likely revolves around his work on the defensive end. At just under 6-9 in shoes, with a 7-1 ½ wingspan, Porter has the size and length of a power forward, which gives him terrific versatility on this end of the floor. He guarded a variety of different positions this season for Georgetown, often playing at the top of their full-court press, or operating as somewhat of a free safety in the half-court, switching out onto guards and forwards alike, and using his terrific anticipation skills to rack up a significant amount of blocks (1.1 per-40) and steals (2.2 per-40). He's also a very good rebounder for his position, as his 6.7 defensive rebounds per-40 ranks #1 among top-100 prospect small forwards.
Porter's length and instincts makes him very difficult to shoot over on the perimeter, as he does an excellent job of contesting opponents' jump-shots. He puts a terrific effort level in on every possession, as he's clearly an extremely competitive player with great awareness and activity level, constantly looking to help out teammates and not being afraid to dive on the floor for loose balls.
With that said, Porter is not the quickest player in the world laterally, at times looking somewhat upright in his stance defensively. He makes up for that at the college level with his smarts, intensity and anticipation skills, but there are some question marks about how he'll fare against some of the most athletic small forwards in the NBA, particularly until he's able to add more bulk to his frame.
Porter appears to be one of the more safe picks in this year's draft, as there's little doubt that he has what it takes to be a very good NBA role-player with his excellent combination of size, length, smarts, competiveness, perimeter shooting ability and defensive prowess, in addition to his strong intangibles.
Some may question whether his upside is high enough to be selected in the top three to five picks of the draft, though, as it remains to be seen whether he can develop into a prolific enough scorer to be more than a team's third or fourth option offensively. Porter compares himself to Tayshaun Price, which shows great self-awareness and is probably a very fair assessment. Others see him as a
Thabo Sefolosha
type prospect. These types of players are extremely valuable assets to have in the right system, but might not be exactly the type of difference maker most lottery teams would hope to acquire so high in the draft. It really all depends on the expectations.
Something that should be mentioned is the fact that Porter is still early in his development at this stage, having played against relatively weak competition hailing from a rural part of Missouri, and never having played AAU growing up. He's also younger age-wise than "freshmen"
Anthony Bennett
,
Ben McLemore
,
Shabazz Muhammad
and
Ricky Ledo
despite being a sophomore class-wise, so there's nothing to say that he can't still improve significantly both physically and skill-wise in the next few years.