Josh Riddell
Patricio Garino
wrapped up an eventful year since the end of his junior season, first playing for the Argentina national team over the summer, before being a key part of the George Washington team that won the NIT. He then started the pre-draft process with an appearance at the Portsmouth Invitational Tournament where he got off to a strong start heading toward the NBA Draft.
Measured at 6'7" with a 6'10" wingspan, Garino has strong size and length for a NBA wing. He doesn't have off the charts athleticism, but he sports a good frame for his size. He's a high IQ player who is always in position to make the right play, which helps him overcome his average athletic tools to be an impact player.
Garino's three point percentage took a huge jump in his senior season as he converted 43% on nearly five attempts per 40 minutes pace adjusted up from 29% on two attempts per 40 minutes pace adjusted in his junior season. He's predominantly a spot-up shooter with over 80% of his jump shots logged by Synergy Sports stemming from catch and shoot opportunities.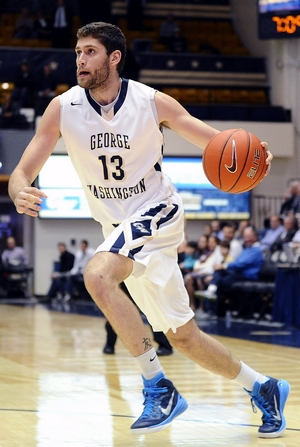 His stroke is somewhat mechanical and he struggled in a small sample from the NBA line in the PIT. His ability to hit the three point shot will be key to his NBA career so he will need to show he is a high level shooter who is able to space the floor. Despite the uptick in 3-point attempts and makes, Garino still tends to pass up too many open looks, as he doesn't appear to be quite as confident in his stroke as his percentages indicate he should.
His main offensive value will come from his three point shooting, but he does have some additional ways to contribute offensively, most notably with his savvy and feel for the game. He makes smart cuts off the ball, both into space and off screens for easy finishes at the rim. He will run to the right spots in transition to get good shots or create lanes for his teammates. He isn't a great shot creator off the dribble, but he can put the ball on the floor in transition or while attacking closeouts, finding teammates when the defense collapses. He does get a little wild while driving which can lead to turnovers and although he doesn't project to be a great off the dribble wing at the next level, he could make some plays from time to time.
Much of Garino's potential is derived from his individual defense, as he is always in his opponent's space, locking his man down on a regular basis. He is an agile defender, sliding his feet and not allowing his man to move freely while also playing the passing lanes, averaging 1.7 steals per 40 minutes adjusted. While he is a good individual defender, he doesn't always react on time in a team defensive concept as he can be a step slow to rotate over on penetration. He can guard multiple positions and can switch onto ball-handlers off of pick and rolls.
If Garino can prove he can be a consistent NBA shooter, his combination of perimeter shooting and defense could allow him to find his way onto a NBA team. His size and ability to fill a role is the type of player every NBA team is looking for to fill out their rotation.