Top NBA Prospects in the Non-BCS Conferences, Part 9: Prospects #21-25
November 13, 2015
Josh Riddell

Patricio Garino had a busy off-season, playing in both the Pan Am Games and the FIBA Americas Championships for Argentina, where he proved to be a useful role player for his national team. He returns for his senior season to George Washington hoping to use the experience he gained from the summer to build his draft portfolio as he begins the next step in his basketball career.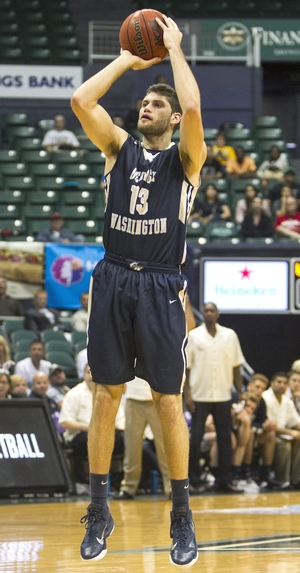 US Presswire
Garino wasn't a very prolific scorer for GW last season, averaging just 16 points per-40 minutes pace adjusted. He is very efficient with the possessions he uses, posting a 61% true shooting percentage after doing the same as a sophomore.
Listed at 6'6", Garino has a matured, filled out frame at 210 pounds. He is already 22 and will turn 23 in May, but he is already ready to compete on a physical level. He has a nice looking wingspan for a player of his size and will rely more on his strength than his speed and length athletically.
A two-time Atlantic 10 All-Conference Defensive Team selection, Garino is one of the most reliable perimeter defenders in the country. He is always locked in defensively and can shut down top wing players. He moves his feet well to stay in front of dribble penetration and uses his strength to stay in position against his opponent, as he rarely gets bumped off balance.
He can shoot the gap to intercept passes with his quick first step or use his length to poke balls away from his man, creating 2.2 steals per 40 minutes pace adjusted last season. While he has the acceleration to get into the passing lanes, he doesn't have the highest top speed in the open court to create separation from his opponents to get easy looks at the rim.
Even so, he is a great finisher at the rim at 65% according to Synergy Sports Technology. He doesn't have a quick leap or get very high in traffic but he has excellent touch around the rim. He is also very proficient at using his strength to finish through contact while drawing fouls for And-1 opportunities. He should be a capable finisher at the next level and at the very least, will draw fouls to get to the free throw line.
He shot 5.5 free throw attempts per 40 minutes pace adjusted last season and was a much improved shooter as he saw his percentage rise from 59% to 73%. This shows he has the potential to be an outside shooting threat but that part of his game hasn't made it onto the floor just yet.
Garino attempted only 145 threes total in his first three seasons and has converted only 30%. His mechanics are solid for the most part although his follow-through can be inconsistent at times which hurts the accuracy of his shot. He also has a slow release which may be a function of his shot fundamentals or his lack of confidence in his shot.
Garino saw his three point usage increase for Argentina this summer with mixed results, as he attempted 3.7 per 40 minutes pace adjusted (25% success rate) in the Pan Am games 2.9 per 40 minutes pace adjusted (42% success rate) in FIBA Americas. If he wants to become a viable NBA player, he'll undoubtedly have to improve as an outside shooter to complement his defensive skills. This season will be key for him to show scouts he has the ability to spread the floor and be a viable shooting threat, something that could really propel him into NBA conversations.
Becoming a better shooter will likely help open up the rest of Garino's offensive game as well. Right now he is a straight line driver that can get loose with the dribble or out of control leading to bad shots or turnovers, as he turned the ball over 3.3 times per 40 minutes pace adjusted last season. He's comfortable when he has an open lane to attack with one or two dribbles but struggles driving into traffic.
Garino has a great feel for the game on both ends of the floor and makes plenty of little plays to help his team win. When he is playing off the ball offensively, he often makes smart, well-timed cuts into space to put himself to receive a pass in scoring position. He also fills the lane in transition properly to give the ball handler space and the option to dump it off for an easy layup. Even though he doesn't have the speed to beat the defense down the floor, he gets easy baskets in transition by running to the right spots. Defensively, he is able to recognize rotations and switches to help his team snuff out possessions. He should be able to pick up NBA defensive principles quickly and could become a very solid defensive player despite not being a top-shelf athlete.
Garino has an intriguing skill-set for a role player at the next level as teams are constantly searching for hard-nosed perimeter defenders. He'll need to show he can be enough of an offensive threat to not be a detriment on that side of the floor and becoming a better outside shooter this year will be a great start. If he does, there is a clearly defined role for him at the next level that could draw the attention of NBA teams.
[
Read Full Article
]
U-19 World Championship Player Evaluations, Part Two
August 25, 2011
Jonathan Givony

Fresh off his first year in the U.S. at well-respected Montverde Academy, Patricio Garino emerged as one of the best shooters at this tournament. His hot shooting fueled some of his team's most important victories.

Garino doesn't jump off the page in terms of pure talent -- he's about 6-5 with average athleticism -- but he is clearly a major competitor with one very valuable skill in his repertoire.

Garino made lots of big shots for Argentina. He's apable of hitting jumpers with his feet set or off the dribble, and he moves off the ball very intelligently.

Garino is a smart player and a good teammate who has all the makings of a good college player. He puts in good energy on the defensive end and plays with spirit, something that bodes well for him down the road.

To improve his professional outlook, though, Garino will need to become a better ball handler and a more capable shot creator and defender. He currently struggles to score consistently inside the arc, and there are some question marks about his lateral quickness.
[
Read Full Article
]