We continue our coverage of the top NBA Draft prospects in the non-BCS conferences with part nine, players ranked 21-25:
David Walker
,
Shevon Thompson
,
Patricio Garino
,
Mamadou Ndiaye
and
Jalen Moore
.
---
More DX Conference Preseason Previews:
-The Top 20 NBA Draft Prospects in the Pac-12
-The Top 20 NBA Draft Prospects in the Big East
-The Top 15 NBA Draft Prospects in the Big 12
-The Top 20 NBA Draft Prospects in the SEC
-The Top 10 NBA Draft Prospects in the AAC
-The Top 30 NBA Draft Prospects in the ACC
-The Top 25 NBA Draft Prospects in the Big Ten
---
Top NBA Draft Prospects in the Non-BCS Conferences
-Top NBA Draft Prospects in the Non-BCS Conferences, Part One
(#1) Stephen Zimmerman (Scouting Video)
-Top NBA Draft Prospects in the Non-BCS Conferences, Part Two
(#2) Domantas Sabonis (Scouting Video)
-Top NBA Draft Prospects in the Non-BCS Conferences, Part Three
(#3) Malik Pope (Scouting Video)
-Top NBA Draft Prospects in the Non-BCS Conferences, Part Four
(#4) DeAndre Bembry (Scouting Video)
-Top NBA Draft Prospects in the Non-BCS Conferences, Part Five
(#5) Ron Baker (Scouting Video)
-Top NBA Draft Prospects in the Non-BCS Conferences, Part Six
(#6) James Webb III
(#7) Kyle Wiltjer
(#8) Joel Bolomboy
(#9) Fred VanVleet
(#10) E.C. Matthews
-Top NBA Draft Prospects in the Non-BCS Conferences, Part Seven
(#11) Patrick McCaw
(#12) Shawn Long
(#13) Maodo Lo
(#14) Paris Bass
(#15) Derrick Jones
-Top NBA Draft Prospects in the Non-BCS Conferences, Part Eight
(#16) Kyle Collinsworth
(#17) Przemek Karnowski
(#18) Corey Johnson
(#19) Alec Peters
(#20) Jameel Warney
---
#21, David Walker, 6'6, Senior, Point Guard, Northeastern
Jonathan Givony
A native of Stow, Ohio, just outside of Akron, David Walker turning down scholarship offers from the likes of Cleveland State, Kent State, Youngstown State, St. Francis (Pa.) and Gardner Webb to attend Colonial conference-based Northeastern in Boston.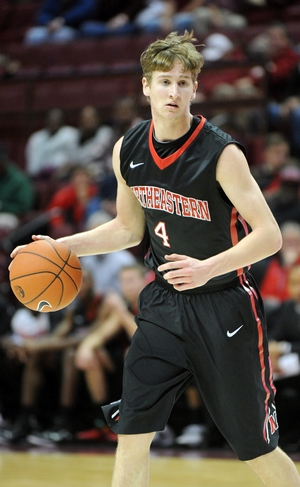 Listed at just 176 pounds going into his freshman season, despite standing 6'6, Walker's skinny frame likely played a role in him not drawing attention from bigger schools despite being an all-state player in talent-rich Ohio.
Walker stepping into a significant role at Northeastern already as a freshman, becoming a starter early in the season and averaging 30 minutes per game in his debut campaign, earning him a spot on the CAA's All-Rookie team. His numbers were fairly modest as a junior, averaging 14.8 points, 3.8 rebounds and 4.0 assists per-40 minutes, but had a number of very impressive performances against ACC opponents (22 points, 4 assists in a win at Florida State, 15 points 7 assists vs Notre Dame) that hint at good things to come in his final season of eligibility.
Northeastern won the CAA conference tournament last year as the #3 seed, making the NCAA Tournament for the first time in 24 years. They gave Notre Dame all they could handle in the opening round, in a dramatic NCAA Tournament game as a #14 seed, being down by two points with under 30 seconds left to play.
Walker has good size for either guard spot at 6'6, and has filled out his frame over the years nicely, now tipping the scales at 196 pounds according to Northeastern's roster. He is a very good athlete on top of that, quick, with nice burst in the open court, and impressive explosiveness, and may not have reached his full potential yet from a physical standpoint.
Walker plays both on and off the ball for Northeastern, even if he is rarely the one tasked with bringing the ball up the floor for them. He serves as both a floor spacer thanks to his strong perimeter shooting ability, and a facilitator in the half-court who can play pick and roll, use dribble hand-offs, and attack in the open court when given the opportunity.
Walker is dangerous in spot-up situations, where he can make open looks (he hit 41% of his catch and shoot jumpers last season), or attack closeouts with strong footwork and a quick first step. He has good range on his jumper and is a confident shooter, often hitting shots from NBA range last season, and converting 39% of his overall 3-pointers. He has some room to clean up his mechanics and become an even more fluid shooter, as he at times tends to contort his body sideways and shoot somewhat of a push shot, something that becomes more of an issue when he's pulling up off the dribble. He has excellent natural touch, though, as evidenced by the 87% he shot from the free throw line last year.
Despite standing 6'6, Walker can also legitimately play the point guard position as well, as he has an excellent feel for the game and is both a highly creative and instinctive passer. He can handle the ball with either hand, will operate at different speeds nicely, has an extra gear he can get to, and shows good potential on the pick and roll, where he can whip the ball to different spots on the court, particularly to the roll man diving to the rim.
While Walker is a good athlete overall, and will come up with some highlight reel caliber plays at times finishing above the rim impressively off two feet, that hasn't translated to being a very efficient scorer inside the arc. He's never hit the 50% mark from 2-point range in his college career thus far, and doesn't get to the free throw line very often (4.2 times per-40) to compensate.
Walker is a very average finisher inside the paint, hitting just 31 of his 67 attempts (46%) on the season. He relies too much on his natural touch here, going up very soft at times with floaters and scoop shots, and seems to avoid contact with his somewhat narrow frame. NBA scouts will wonder whether it's a lack of strength or toughness that prevents him from utilizing his athleticism better inside the lane, as he looks capable of being far aggressive in these situations, particularly considering the level of competition he plays at.
Defensively, Walker has nice versatility, often asked to defend 1s, 2s and 3s for Northeastern, sometimes in the same game. He has good size, solid length, and the quickness to move his feet, close out effectively on the perimeter, and get in the passing lanes, averaging 1.6 steals per-40 in his college career. While he's quite a solid defender at the CAA level, he will undoubtedly have to improve dramatically in a few different areas to effectively make the transition to playing against pros.
Walker's lack of strength is an issue, as he has real trouble getting over the top of screens at times. He lacks a degree of aggressiveness here as well, which is reflected in how shockingly few fouls he's committed over the course of his college career, just 80 in 3449 minutes, or one every 43 minutes he's on the floor. Scouts will certainly want to see a little more nastiness from Walker, as he's not immune to getting pushed around or getting burned off the dribble.
With games against the likes of Michigan State, N.C. State, Miami and Harvard, scouts will have a few opportunities to see Walker competing against strong opposition outside of CAA conference play. 6'6 guards who can handle, pass and shoot are always going to get looks from the pro ranks, and with a strong senior year, Walker has a chance to put himself firmly on the NBA radar screen.
#22, Shevon Thompson, 6'11, Senior, Center, George Mason
Matt Williams
Picking up the game of basketball at age 16 as a junior at Vere Tech HS (Jamaica), Shevon Thompson is one of the more unique prospects in this year's NCAA senior class. Ranking among the top rebounders at the Junior College level before making the jump to Division I, Thompson landed at George Mason last season. Earning All-Conference Third Team honors in the A10, averaging 12 points and 11.4 rebounds per game, Thompson, despite his inexperience, flashed a clear-cut NBA caliber skill with his rebounding ability, and figures to be a player NBA teams keep a close eye on as the year goes on.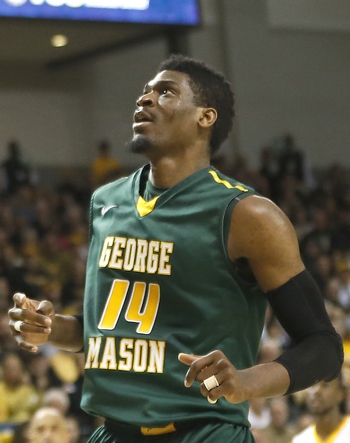 Standing 6'11 with a 245-pound frame, Thompson has terrific size for a center at any level. Moving well for a near-7-footer, Thompson could stand to continue getting stronger, but has a nice combination of physical tools and athleticism.
Thompson's value proposition starts with his tremendous rebounding ability.
Ranking
among the top per-minute and per-game rebounders in all of college basketball, Thompson does an excellent job tracking the ball off the rim, showing the ability to rebound inside and outside of his area in the process.
Offensively, aside from his ability to rebound the ball, Thompson's skill level leaves a lot to be desired at the moment, even if he shows the occasional flash of ability. He doesn't have a strong feel for the game on the offensive end, but nonetheless sees most of his opportunities operating one-on-one in the post creating for himself, often magnifying how raw he is at this point. Appearing very mechanical and turning the ball over frequently, Thompson struggles at times as his lack of finesse and still developing physical strength limits him at times, even when he does create an opportunity for himself with his basic post repertoire.
Thompson appears far more comfortable in catch and finish situations, doing a nice job converting put backs and making himself available for dump passes in the half court and transition. Though his hands appear a bit shaky at times, his ability to finish above the rim resulted in his 77% shooting in transition and 60% shooting as a finisher in the half court. Lacking any perimeter game to speak of, and looking quite uncomfortable putting the ball on the floor at times, the left handed center make 63% of his free throws, and does appear to have some potential away from the paint, albeit in the distant future.
It isn't difficult to see that Thompson has only been playing basketball for a short time watching him operate on the offensive end. He is robotic at times, not always reading the game instinctively, which is reflected in the fact that he dished out only 6 assists over 911 minutes last season, an incredibly poor rate. It will be absolutely fascinating to see how his skill level develops in his senior season and beyond, as he's still clearly early in his learning curve.
Defensively, Thompson is a surprisingly inept shot blocker. Despite his size and athleticism, he averaged only 1.4 blocks per 40 minutes, seeming to lack the instincts to utilize his size as a rim protector, not attempting to contest shots in his area, and often getting in position to rebound the ball instead of helping over to the weak side. Looking uncomfortable and hunched over venturing away from the rim for much more than a soft show and recover, Thompson is a fairly capable interior defender where his physical tools allow him to how his own in one-on-one situations. He falls victim to stronger, craftier post scorers at times, but makes a positive impact and appears to have the quickness to be effective away from the rim too as he gains experience and receives better coaching down the road.
The challenge for NBA scouts in evaluating Thompson isn't what he brings to the table at this stage, but rather just how much more room he has to grow given how raw he is and his lack of high level experience. Players his size with athleticism who like to rebound the ball aren't easy to find, and if Thompson can follow in the footsteps of the late blooming center prospects that have gone before him and smooth over the rough edges of his game as a scorer and defender, he could emerge as a legitimate NBA prospect as a senior. Even if he doesn't make it to the NBA right away, he is someone teams will likely track closely as he moves on to the pro ranks.
#23, Patricio Garino, 6-6, Senior, SG/SF, George Washington
Josh Riddell
Patricio Garino had a busy off-season, playing in both the Pan Am Games and the FIBA Americas Championships for Argentina, where he proved to be a useful role player for his national team. He returns for his senior season to George Washington hoping to use the experience he gained from the summer to build his draft portfolio as he begins the next step in his basketball career.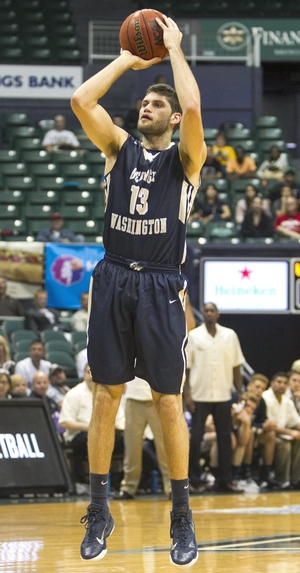 Garino wasn't a very prolific scorer for GW last season, averaging just 16 points per-40 minutes pace adjusted. He is very efficient with the possessions he uses, posting a 61% true shooting percentage after doing the same as a sophomore.
Listed at 6'6", Garino has a matured, filled out frame at 210 pounds. He is already 22 and will turn 23 in May, but he is already ready to compete on a physical level. He has a nice looking wingspan for a player of his size and will rely more on his strength than his speed and length athletically.
A two-time Atlantic 10 All-Conference Defensive Team selection, Garino is one of the most reliable perimeter defenders in the country. He is always locked in defensively and can shut down top wing players. He moves his feet well to stay in front of dribble penetration and uses his strength to stay in position against his opponent, as he rarely gets bumped off balance.
He can shoot the gap to intercept passes with his quick first step or use his length to poke balls away from his man, creating 2.2 steals per 40 minutes pace adjusted last season. While he has the acceleration to get into the passing lanes, he doesn't have the highest top speed in the open court to create separation from his opponents to get easy looks at the rim.
Even so, he is a great finisher at the rim at 65% according to Synergy Sports Technology. He doesn't have a quick leap or get very high in traffic but he has excellent touch around the rim. He is also very proficient at using his strength to finish through contact while drawing fouls for And-1 opportunities. He should be a capable finisher at the next level and at the very least, will draw fouls to get to the free throw line.
He shot 5.5 free throw attempts per 40 minutes pace adjusted last season and was a much improved shooter as he saw his percentage rise from 59% to 73%. This shows he has the potential to be an outside shooting threat but that part of his game hasn't made it onto the floor just yet.
Garino attempted only 145 threes total in his first three seasons and has converted only 30%. His mechanics are solid for the most part although his follow-through can be inconsistent at times which hurts the accuracy of his shot. He also has a slow release which may be a function of his shot fundamentals or his lack of confidence in his shot.
Garino saw his three point usage increase for Argentina this summer with mixed results, as he attempted 3.7 per 40 minutes pace adjusted (25% success rate) in the Pan Am games 2.9 per 40 minutes pace adjusted (42% success rate) in FIBA Americas. If he wants to become a viable NBA player, he'll undoubtedly have to improve as an outside shooter to complement his defensive skills. This season will be key for him to show scouts he has the ability to spread the floor and be a viable shooting threat, something that could really propel him into NBA conversations.
Becoming a better shooter will likely help open up the rest of Garino's offensive game as well. Right now he is a straight line driver that can get loose with the dribble or out of control leading to bad shots or turnovers, as he turned the ball over 3.3 times per 40 minutes pace adjusted last season. He's comfortable when he has an open lane to attack with one or two dribbles but struggles driving into traffic.
Garino has a great feel for the game on both ends of the floor and makes plenty of little plays to help his team win. When he is playing off the ball offensively, he often makes smart, well-timed cuts into space to put himself to receive a pass in scoring position. He also fills the lane in transition properly to give the ball handler space and the option to dump it off for an easy layup. Even though he doesn't have the speed to beat the defense down the floor, he gets easy baskets in transition by running to the right spots. Defensively, he is able to recognize rotations and switches to help his team snuff out possessions. He should be able to pick up NBA defensive principles quickly and could become a very solid defensive player despite not being a top-shelf athlete.
Garino has an intriguing skill-set for a role player at the next level as teams are constantly searching for hard-nosed perimeter defenders. He'll need to show he can be enough of an offensive threat to not be a detriment on that side of the floor and becoming a better outside shooter this year will be a great start. If he does, there is a clearly defined role for him at the next level that could draw the attention of NBA teams.
#24, Mamadou Ndiaye, 7-6, Center, Junior, UC Irvine
Jacob Eisenberg
Mamadou Ndiaye's journey from Senegal to the NCAA Tournament took a number of twists and turns along the way. He left Senegal as a teenager to pursue a career in basketball – a sport he didn't play growing up. Then he had to overcome a pituitary gland tumor, which threatened his life once he got here. Still, last March, it wasn't his backstory as much as his undeniable effectiveness that had Ndiaye trending on Twitter as his UC Irvine Anteaters took the Louisville Cardinals down to the wire in the first round of the tournament.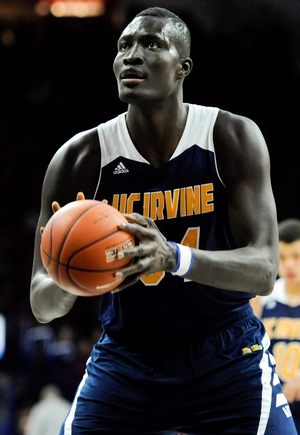 At 7'6 and with an unprecedented 8'1 wingspan, Ndiaye is simply the longest specimen to ever play in the NCAA according to our database. At 300 pounds, he has a big frame, but is still quite a ways away from optimizing his conditioning, strength-level and overall athleticism. Still, at the college level – particularly in the Big West – Ndiaye is able to get by with limited skill and thrive on size and length alone. As a sophomore he was limited to just 14 games with a foot injury, but he still averaged 20.9 points,10.5 rebounds and 3.4 blocks per-40 minutes pace adjusted.
Ndiaye had an extremely promising freshman season in 2014 and that perhaps set expectations unrealistically high for him as a sophomore. What figured to be his calling card as an NBA prospect – elite rim protection – saw a major regression in year two as his block rate dropped from 15.1% to 8.5% as a sophomore. Per-40 minutes pace adjusted, his block averages also dropped substantially from 6.1 blocks to 3.4 blocks. Injuries, always a major concern with players this size, clearly took their toll on Ndiaye last year, so it will be interesting to see how he bounces back in this regard.
UC Irvine plays a zone with Ndiaye anchoring the middle, and rarely leaving the paint, which is ideal considering his limitations. Still things would obviously be very different for him at the NBA level, with the defensive three second rules which prevents teams from utilizing exactly this strategy. Ndiaye's poor conditioning and slow reaction time could be an issue as he transitions to the pro level for that reason, and he already struggles with foul trouble even in the Big West conference, posting an unflattering 6.4 fouls per-40 minutes with pace adjusted last season. Like many players his size, getting up and down the court for any duration of extended time proves to be a struggle for him. He labors with his movements on a full court sprint and often gets winded within a few minutes of court action.
Offensively, Ndiaye feasted against his opponents in the Big West – where there weren't any other players above 7'0 tall. According to Synergy Sports Technology, Ndiaye converted on 49-of-75 (65.3%) field goal attempts around the basket. When he gets the ball in the paint, he's so tall and long that he doesn't even need to jump to put the ball in the basket. The problem is, if there's any obstacle between him and the basket, Ndiaye's unrefined offense usually prevents him from scoring. He has minimal touch on his shot – regardless of how close he takes it from. The shots often clank off of the back rim and out. His awareness is also somewhat of an issue, as he's often a step slow reacting to things occurring on the floor, particularly when it comes to catching the ball with his average hands. He's generated an assist on just 1.8% of his possessions at the college level (dead last in the NCAA), compared with a sky high 20% turnover rate.
Still, with his size, Ndiaye predictably gets fouled often, attempting 7.8 free throw attempts per-40 minutes with pace adjusted. Regardless, his poor touch translates from the line as well, where he converted on just 51.8% of his free throws. To his credit the 51.8% is a step up from the 43% from his freshman year, so that's encouraging.
Ndiaye really hasn't had many opportunities to prove himself against quality opponents. He dwarfed Montrezl Harrell in the tournament en route to 12 points and five rebounds in 30 minutes. Still, having just one block in that game was discouraging. Against Arizona's Kaleb Tarczewski, Ndiaye shot 3-for-5 from the field with nine points and five rebounds (also just one block) in 25 minutes. At the adidas Nations this summer, he really struggled against elite college players, which may have hurt his stock considering how many NBA scouts were in attendance.
Overall, Ndiaye is an intriguing project because of his obvious potential as a rim protector. Still, his injury issues and general decline in productivity was discouraging last season, a trend he will have to rebuke as a junior to ease scouts' worries.
#25, Jalen Moore, 6'8", Junior, SF, Utah State
Derek Bodner
Jalen Moore played a small role during his freshman season at Utah State, seeing only 17.5 minutes per night mostly coming off the bench. While Moore averaged only 5.5 points per contest, he did show a deft shooting touch and an ability to be an efficient off the ball contributor for the Aggies.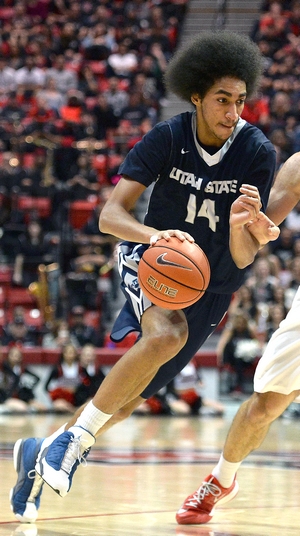 Moore made a huge jump during his sophomore season, a much-needed progression for a Utah State team that lost their three leading scorers – Jarred Shaw, Spencer Butterfield, and Preston Medlin –to graduation. Moore increased his scoring average to 15.2 points per game as a sophomore, while maintaining his excellent efficiency on the perimeter (39.1% on 115 attempts) despite the increased usage.
That perimeter shooting still forms the core of Moore's offensive game. Synergy logs Moore as having shot 39% on jump shots overall, with an excellent 41.9% on catch and shoot opportunities. That catch and shoot role is where Moore is most comfortable, as he does an excellent job with his footwork and can get his shot off quickly, while his form, although perhaps having a little bit of a flair in his non-shooting elbow from time to time, is mostly repeatable and consistent.
Another area where Moore shows ability is as a shooter coming off of screens. Moore does a good job of using picks to free himself from his defender, and has good balance to get the ball up quickly before the defense is able to rotate. This is something that he didn't really show much of during his limited time as a freshman, and being more than just a set shooter is an important development in his game.
Shooting off the dribble comes a little bit more inconsistently for Moore. He does show the ability to use one or two dribbles to set up a jumper, usually the result of a defender closing out and biting on his strong pump fake. He doesn't show a whole lot of confidence pulling up off of dribble drives or shooting when coming off of a pick, though, something which he would benefit greatly from.
Moore also contributes in two other off-the-ball areas: cutting to the hoop and pushing the ball in transition. As Utah State's leading defensive rebounder, Moore did a good job pushing the ball in transition and making good decisions with the ball, maintaining an excellent 4-to-1 assist-to-turnover ratio on the fast break, according to Synergy Sports Technology. He also does a good job of moving off the ball and finding weak points in the opposing team's defense, another good attribute for a Utah State team that went up against a fair amount of zone defenses last year.
Where Moore struggles is creating off the dribble. He's not an explosive athlete, nor is he quick with the ball in his hands, and he doesn't have advanced ball handling moves to compensate. He does have nice touch on a floater in the lane, but overall he's not going to generate very much offense in the half court, either for himself or for his teammates. Improving his ball handling, getting more comfortable shooting coming off of picks, and using that attention to get more looks in the lane will be key for Moore going forward.
On the defensive side of the court, Moore is held back by average physical tools. He spends the majority of the time playing power forward for the Aggies, and he doesn't have the lower body strength to really do that effectively, and struggles to hold his ground down low. Considering he played so much of his time at the power forward position, his averages of 1.4 offensive and 6.5 defensive rebounds per 40 minutes, pace adjusted, were well below average, and contributed to Utah State's struggles on the glass.
Moore should project better as a defender when he makes his transition to the perimeter, as he has good length for the small forward positions, but his average lateral mobility may hold him back from being a true 3-and-D candidate.
Moore played a much bigger role for the Aggies during his sophomore season than he did as a freshman, and his ability to maintain his efficiency while playing that increased role was a very positive takeaway. Still, it would be nice to see Moore expand his skill set just a bit by adding more ball handling moves, an increased ability to shoot off the dribble, and by continuing to fill out his frame. While more playing so much of his time at the power forward spot makes it tougher to gauge his true defensive potential, his shooting will keep teams interested as he rounds out the rest of his game.