Jonathan Givony
Payton Pritchard established early on in the week that he's far more than just a roster throw-in intended to stimulate local fans. Having grown and filled out remarkably in the past three and a half years, from a tiny 5'10 in shoes and 158 pounds to a much more acceptable 6'2 and 202 pounds, Pritchard held his own and then some in the USA practices and scrimmages, and made a barrage of impressive shots in garbage time of the actual game to keep the crowd engaged.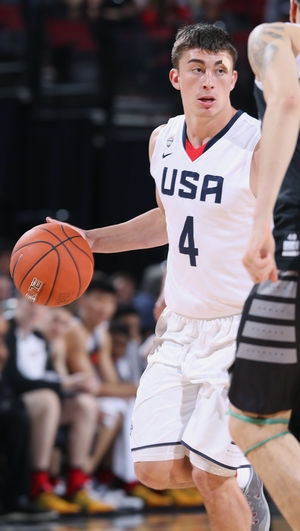 While not possessing overwhelming physical tools, Pritchard has been able to improve his athleticism while adding strength to his frame. He has a quick first step that he used consistently to get by even the staunchest defenders on USA Basketball's roster, also being capable of changing speeds nicely to keep opponents on their heels. He mixes that in with an outstanding jump-shot, which is highly consistent with both his feet set and off the dribble, and has deep range he can utilize to make pull-up 3-pointers if the defense doesn't get out on the pick and roll.
Although prone to overdribbling and settling for tough shots at times in the past, Pritchard did a better job of staying in his lane and finding the open man this week with very solid court vision. He rarely turned the ball over, and was able to find a nice mix between his confident and aggressive style, while not getting out of control.
Defensively, Pritchard doesn't have exceptional tools, but his improved strength, high basketball IQ and competitive spirit allowed him to hold his own and not get taken advantage of by the more physically gifted guards on the roster.
Pritchard had a very strong week playing in his background and is undoubtedly a very important signing for Oregon. He should be ready to come in and make an immediate impact at the college level. Whether he's able to take the next step and emerge as a legitimate NBA prospect as well will depend on how much he's able to continue to improve in all facets over the next few years, but he's certainly at least put himself in the conversation, which didn't seem likely in the past.