Scouting reports on
Markelle Fultz
,
De'Aaron Fox
,
Frank Jackson
,
Payton Pritchard
,
William McDowell-White
and
Andres Feliz
.
---
More DX Nike Hoop Summit Coverage:
-Nike Hoop Summit Interviews: Harry Giles and Jonathan Isaac
-Nike Hoop Summit USA Junior National Select Team Measurements
-Nike Hoop Summit Interviews: DeAndre Ayton + Kostas Antetokounmpo
-Nike Hoop Summit: US Team Practice Day One
-2016 Nike Hoop Summit: World Team Practices Days Two and Three
-2016 Nike Hoop Summit: International Measurements
-2016 Nike Hoop Summit International Roster Breakdown/Preview
-2016 Nike Hoop Summit USA Basketball Roster Breakdown
---
Markelle Fultz, 6' 4.75", PG, Washington, 2016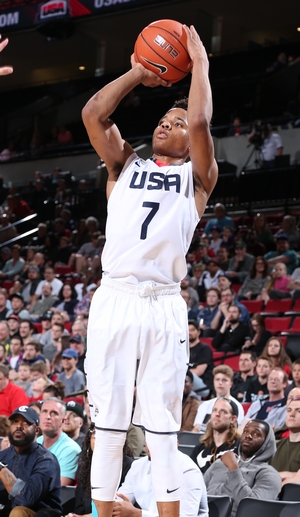 Mike Schmitz
Strengths
-Excellent size, length and frame for a lead guard – 6' 4.75" with a 6' 9" wingspan and 186-pound frame that should continue to fill out in time. Huge hands. Has grown almost an inch in five months. Wears a size 15 shoe. Late bloomer. Not done growing?
-Smooth athlete who naturally changes speeds and directions. Herky jerky style of play keeps defenders guessing. Not an elite athlete but can play above the rim. Glides with the ball.
-Creative ball handler.
-Tremendous vision and feel for where his teammates are going to be. Unselfish player. Sees passes that other guards don't. Finds a way to deliver the ball to shooters in traffic. Fits bounce passes in tight windows. Will make the simple play.
-Impressive blend of scoring and playmaking. Can play on or off the ball.
-Capable spot up shooter. Gets good rotation. Fairly consistent mechanics.
-Tough shot-maker off the dribble. Doesn't need to be perfectly on balance. Able to create space with dribble moves. Gets solid elevation. Backward lean and fairly high release make it tough to block his shot.
-Excellent timing attacking closeouts.
-Has some craft as a finisher. Floater game, same foot-hand finishes, can use his right or left.
-Has the tools to be a very solid on ball defender when he digs in. Able to make plays in the passing lanes.
-Playful demeanor.
Weaknesses
-Streaky shooter. More shot-maker than shooter at this stage.
-Can be a bit loose with the ball. Creative ball handler but can tighten it up a little bit.
-High confidence level can result in contested jumpers early in the clock.
-Not always the most locked in defender both on and off the ball.
Outlook
In a matter of two years Fultz has gone from a junior varsity sophomore to arguably the best guard in the 2016 class and a potential top pick in the 2017 NBA Draft. Despite the USA team being loaded with perimeter players, Fultz's talent was still able to shine through at the Nike Hoop Summit. Although he's a better athlete and not quite the shooter, the future Washington Huskie fits the D'Angelo Russell mold – a lead guard who can both score and create for others with a level of creativity and flare. Fultz's trajectory has been remarkable, and there haven't been signs that the improvement will slow down soon. With the keys to Lorenzo Romar's offense, Fultz should be in position to take the Pac-12 by storm.
De'Aaron Fox, 6'4, Point Guard, Cypress Lake HS, USA, Committed to Kentucky
Jonathan Givony
De'Aaron Fox had a steady Nike Hoop Summit week, culminating in scoring 9 points, with 5 assists, 2 steals, one turnover and a whopping +39 plus-minus rating in just 15 minutes in the actual game.
Fox hasn't changed much physically since he first burst onto the radar a few years back, growing an inch and adding just four pounds since he was first measured as a 15-year old at USA Basketball in 2013. He has good height for a point guard at just under 6'4, with a 6'6 wingspan to compliment his underdeveloped 170 pound frame (with an especially weak lower body). Fox compensates for that with outstanding end to end speed, great quickness and a huge motor on both sides of the court.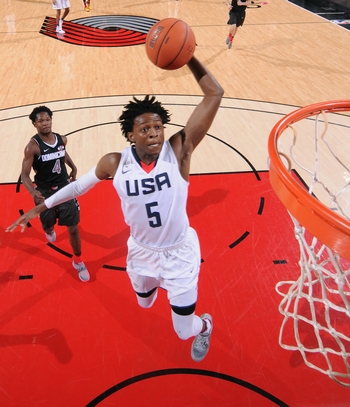 Offensively, Fox has some limitations at this stage of his development, particularly as a scorer in the half-court. He has the quickness and ball-handling skills to create his own shot and get to the rim effectively, but struggled to make shots around the basket in traffic all week long, a product of his average strength, length and just-decent touch, particularly with his off hand. He does not have an innate sense for how to create high percentage looks for himself at this stage, which is compounded by his struggles as a perimeter shooter, as he often settles for difficult floaters around or outside the paint, which he finds mixed results with.
As a shooter, Fox does not have bad mechanics, but struggles to translate that to game settings at the moment. His release isn't lightning quick and he doesn't create a great deal of separation from defenders. He will have to work very hard to continue to round out this part of his game.
While still ironing out the kinks in his decision making ability, Fox is a willing and capable distributor, showing great potential as a playmaker throughout the week. With that said, his struggles as a scorer will make it easier for defenses to game-plan against him if he isn't able to improve as a finisher and shooter, particularly in late-clock situations. Still, his quickness, combined with his court vision, gives him a great foundation to build off if he can continue to add polish.
What will allow Fox to make an impact from day one at the college level is his defensive prowess. He brings tremendous intensity to this end of the floor, to go along with his excellent size and quickness. He has quick hands and terrific instincts for swiping at the ball and creating turnovers, which helped him to wreak havoc on the World Team guards in the actual game and create a ton of easy baskets for his teammates.
Fox's size, athleticism, passing and defense gives him a great platform to build off as a NBA prospect, even if scouts will want to see him progress with his skill-level to project him as a top-flight point guard long term.
Frank Jackson, 6' 3.5", SG, Duke, 2016
Mike Schmitz
Strengths
-Has done a really nice job of filling out his frame over the years. Up to 208 pounds, nine pounds more than when he was measured at USA basketball five months ago.
-Solid length relative to his height – 6' 6.75" wingspan.
-Deep range on his jumper. Good elevation. The ball comes out cleanly. Best off of the catch but can rise up off the dribble as well.
-Explosive leaper off of two feet in space.
-Solid first step. Capable of getting into the paint out of pick and roll situations. Doesn't shy away from contact around the rim.
-Not overly advanced with the ball but isn't sloppy with it.
-Capable passer who can drive and kick or dish.
-Strong base. Can get into a deep stance and pressure the ball.
Weaknesses
-Doesn't have great size for a two guard and doesn't quite have the playmaking skills of a combo.
-Not always the most willing passer. Scoring mentality. Gets tunnel vision on the move. Hasn't shown that he can run a team consistently.
-Settles for deep, contested jumpers early in the clock.
-Not as explosive off of one foot. Isn't always able to use his leaping ability in the half court.
-Can continue to improve his ability to play at different speeds and change directions.
-Doesn't always dig in defensively. Can get deep into a stance but lacks versatility on that end of the floor due to his average tools.
Outlook
Jackson can really score and he showed that throughout the week of practices, with most of his buckets revolving around his jumper. While the 17-year-old should be able to get buckets in the ACC early and often, it's his growth as a playmaker that will ultimately determine his upside. Duke has had success without a "pure" point guard in the past, so it shouldn't be all that difficult for Jackson to fill a role as a scoring guard in Durham.
Payton Pritchard, 6'2, Point Guard, West Linn HS, USA, Committed to Oregon
Jonathan Givony
Payton Pritchard established early on in the week that he's far more than just a roster throw-in intended to stimulate local fans. Having grown and filled out remarkably in the past three and a half years, from a tiny 5'10 in shoes and 158 pounds to a much more acceptable 6'2 and 202 pounds, Pritchard held his own and then some in the USA practices and scrimmages, and made a barrage of impressive shots in garbage time of the actual game to keep the crowd engaged.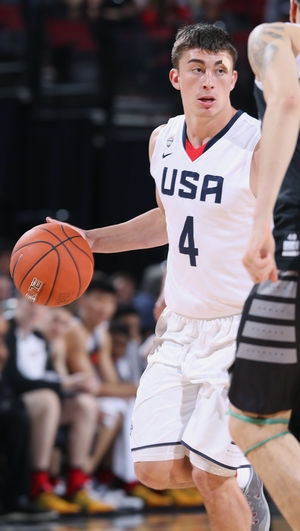 While not possessing overwhelming physical tools, Pritchard has been able to improve his athleticism while adding strength to his frame. He has a quick first step that he used consistently to get by even the staunchest defenders on USA Basketball's roster, also being capable of changing speeds nicely to keep opponents on their heels. He mixes that in with an outstanding jump-shot, which is highly consistent with both his feet set and off the dribble, and has deep range he can utilize to make pull-up 3-pointers if the defense doesn't get out on the pick and roll.
Although prone to overdribbling and settling for tough shots at times in the past, Pritchard did a better job of staying in his lane and finding the open man this week with very solid court vision. He rarely turned the ball over, and was able to find a nice mix between his confident and aggressive style, while not getting out of control.
Defensively, Pritchard doesn't have exceptional tools, but his improved strength, high basketball IQ and competitive spirit allowed him to hold his own and not get taken advantage of by the more physically gifted guards on the roster.
Pritchard had a very strong week playing in his background and is undoubtedly a very important signing for Oregon. He should be ready to come in and make an immediate impact at the college level. Whether he's able to take the next step and emerge as a legitimate NBA prospect as well will depend on how much he's able to continue to improve in all facets over the next few years, but he's certainly at least put himself in the conversation, which didn't seem likely in the past.
William McDowell-White, 6'5, Point Guard, Australia, Uncommitted
Jonathan Givony
McDowell-White had an up and down week in Portland, culminating in a somewhat disappointing in the game, scoring just 5 points with 2 assists and 6 turnovers on 2-8 shooting from the field in 25 minutes.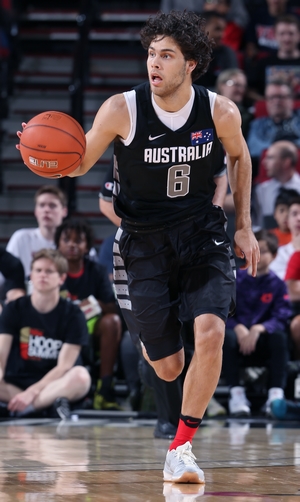 He proved to be a willing distributor in practices, moving the ball utilizing his excellent size and strong court vision. He had a difficult time with the speed and length of the US guards, though, particularly when pressed or trapped, being forced to turn his back to his opponent frequently to avoid having the ball ripped away. While he shows potential as a passer, McDowell-White is still learning the nuances of the point guard position (which he readily himself admits), and he looked overwhelmed at times with the level of competition he faced in the game.
As a shooter, he showed some glimpses of being able to develop into a reliable perimeter threat, especially with his feet set from the corners, but is still fairly inconsistent overall. His mechanics aren't the most conventional you'll find, and he's streaky shooting off the dribble.
Defensively, McDowell-White is willing and active, showing quick hands and instincts getting in the passing lanes. Still, his average 6'5 wingspan mitigates some of the advantage he has as a bigger guard.
At an early stage of his development, McDowell-White is still figuring out how to put all his tools together and become a more consistent player on both ends of the floor. His focus and confidence seemed to waver at times throughout the week, as he didn't always looked as locked in as you might hope, but considering he's yet to turn 18, that's probably not all that surprising.
Andres Feliz, 6'1, Point Guard, Dominican Republic, 1997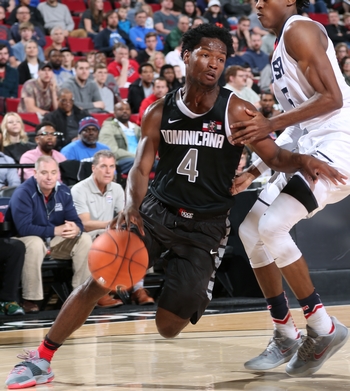 Mike Schmitz
Strengths
-Fairly developed frame for his size
-Quick with the ball
-Has a little floater game
-Pesky on ball defender
-Shot isn't broken
Weaknesses
-Average tools for a PG prospect – 6' 1.25" with a 6' 2.5" wingspan. Doesn't make up for them with freakish athleticism.
-Really struggles as a ball handler vs pressure. Very turnover prone. Too sped up. Telegraphs passes. Overall feel for the game isn't great.
-Not a great shooter at this stage. Footwork is sloppy at times.
-Struggles to finish over length.
-Pesky defender but has limited upside against higher level competition.
Outlook
Feliz struggled throughout the week in practices and in the game as De'Aaron Fox forced him into turnover after turnover. The Hoop Summit should serve as a good learning experience for Feliz, showing him the main areas he needs to improve before heading to South Florida for the 2017-18 season.