Deviating from our usual Rookie Retrospectives, we'll be taking a look at a player from the 2006 draft class who has blossomed into one of the League's top young point guards—and see how we can apply the lessons we've learned to this year's draft class.
Rajon Rondo
was originally tabbed by the Phoenix Suns with the 21st overall pick before being shipped to Boston along with
Brian Grant
for a draft pick. A prospect with unique tools, Rondo was projected by many as more of a defensive stopper who could provide some value as a passer. Three years into his career, he's already been a starter on a Championship team and has become a star in his own right behind three probable Hall of Famers.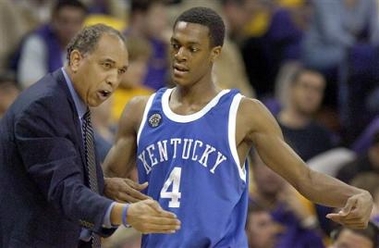 Point Guard, 6'1 175, 1986, Boston Celtics
33.0 Minutes, 11.9 Points, 8.2 Assists, 5.2 Rebounds, 1.9 Steals, 2.6 Turnovers, 50.5% FG, 31.3% 3FG, 64.2% FT
Part One: Shooting Ability
Then:
"The biggest concern about his game revolves around his perimeter shooting ability. Much like with what we see with big men at the free throw line, Rondo's massive hands prevent him from being comfortable in his shooting mechanics and show any consistency in his release. We saw his shooting mechanics change drastically all season long, and more often than not it looked like he was heaving a bowling ball at the basket both aesthetically and in terms of the end result. He only hit 18 3-pointers all season long and did it on a dreadful 27% accuracy from this range."
-
Rajon Rondo
NBA Draft Scouting Report: Weaknesses – 4/17/2005
"Does not look to shoot that often, and for good reason. Possesses a slow, deliberate jump-shot that is extremely inconsistent outside of 17-feet. Struggles with his pull-up jumper and is often not even guarded out on the perimeter by the opposition…Slowly improving the consistency of his mid-range jumper, and is gradually seeing better results."
-NBA Scouting Reports, Atlantic Division (Part One) -11/30/2008
Now:
Rajon Rondo
is one of the least intimidating shooters we've seen at the point guard position. Though he was a bit more aggressive from the perimeter during his second year at Kentucky, Rondo's inconsistent mechanics were manifested pretty clearly in his 57.1% free throw percentage,
ranking him amongst the worst point guards in our database in 2006
. Obviously, his jump shot was a very serious weakness and a legitimate cause for concern in projecting him to the NBA.
Rondo's shooting is still his biggest flaw. He attempted only slightly more than half a three-pointer per game, showing how little his confidence in his range has improved since his college days. Even more concerning is his lack of consistency the foul line, where he
ranks just ahead of Greg Oden and Erick Dampier amongst qualified players
. A friend of the site clued us in to how Kevin Garnett encouraged Rondo to get on a shooting regimen midway through this season, and how the results were mildly positive. Rondo was a better shooter from the line during the last few months of the season, and that spilled over into other parts of his game. However, his best shooting month this season still saw him hit only 75% of his foul shots. Few players are as questionable from the line as Rondo has been historically, and even less are starting point guards.
The problems Rondo had in the Celtics 2009 playoff run were a microcosm of the problems he's had in the past. During their first round matchup with the Bulls, Rondo oozed confidence shooting the ball from the outside; hitting shots at a high rate leading up to the last two games of the series. During those two games and the first few contests against the Magic, Rondo's jumper was abysmal. He bounced back to some extent for stretches, but any shooting rhythm he got into quickly dissipated. At this point in his career, half of Rondo's problems lie in how he runs hot and cold since his mechanics, while unorthodox, have become more consistent over time.
The news on Rondo's jumper isn't all bad. He was noticeably better from the midrange during his second season with the Celtics according to Synergy Sports Technology's Quantified Player Report, roughly doubling his shooting percentage from 17-25 feet to 46.26% during the team's championship run. He took a step back this season on the whole, making only 34.1% of his total jumpers (down from 42.73% in 2008), but he's come a long way from his rookie season when he shot only 29.3%. It wouldn't be a stretch to think that
Kevin Garnett
's time injured contributed to some of Rondo's struggles –he got a little more than half as many open catch and shoot opportunities this season than he did last season. Garnett's ability to draw a double team and find the open man is clearly missed in that regard. That may have been a small factor, but Rondo's reduced efficiency has more to do with defenders giving him more respect than they did during his breakout season.
Though he's still very much a liability as a perimeter shooter, he's lucky enough to be playing next to two excellent foul shooters in
Paul Pierce
and
Ray Allen
who he can rely on late in games. Whether Rondo shoots better next season when Garnett returns to the lineup will be something to keep an eye on, since he's become a rather efficient scorer already. He shot 50.5% from the field this season,
ranking him as the second most consistent shooting point guard in the NBA
. Take into consideration that Rondo isn't half the jump shooter that many of his peers are, and you have to wonder just how much better Rondo could become if he manages to develop into at least a respectable shooter—which is a pretty scary thought considering how good he already is.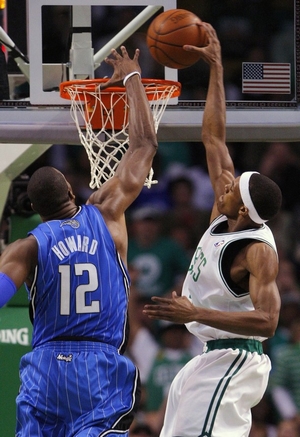 Part Two: Scoring Ability
Then:
" As a slasher, Rondo has plenty of potential, but didn't really get to show off everything he can do at the college level because of Kentucky's slow it down style of play that prefers excessive ball-movement around the perimeter rather than one on one play. If given the green light, Rondo will be an excellent shot creator at the next level, as he is extremely difficult to stay in front of. Once he did get into the lane in college, he showed plenty of creativity finishing around the hoop, particularly with an assortment of runners and floaters. He is capable of stopping abruptly in the paint if the lane is too clogged, and floating a six to eight footer high off the glass. When making his way all the way to the basket, his long arms, terrific leaping ability and excellent body control aid him greatly in finishing creatively around the rim, often with contact. He is generally a tough player who has no problem getting dirty to get the job done."
-
Rajon Rondo
NBA Draft Scouting Report: Strengths – 4/17/2005
" A fairly limited scorer who looks most comfortable distributing the ball to his teammates. Extremely quick off the dribble and an excellent ball-handler with either hand. Unselfish, no frills type point guard with good court vision. Does a good job getting his teammates the ball with crisp passes, and does not make many mistakes. Heady playmaker who plays with great maturity and calmness and rarely forces the issue. Can create his own shot, but is not a great finisher around the rim, and does not get to the free throw line at a great rate."
-NBA Scouting Reports, Atlantic Division (Part One) -11/30/2008
Now:
When we originally evaluated Rondo, we saw a player that was simply too good of an athlete not to be a threat to get into the lane on any level. As our second report shows, it took him some time to prove us right. Initially, Rondo proved more than capable of getting to the rim, but did have some issues finishing. According to Synergy Sports Technology Rondo shot 46.83% on his shots around the rim as a rookie, and as his possessions per game have risen from 5.4 in that season to 9.3 this season, so too has his shooting percentage. Rondo completed 55.95% of his finishing opportunities this season, an excellent percentage for a player his size. As a reference point,
Tony Parker
, widely praised for his efficiency inside the arc, shot 60.1% on 10.9 possessions per game as a finisher this season.
Though Rondo clearly had some issues in certain games during Boston's playoff run this season in terms of scoring the ball, he's made some obvious strides from the first time we evaluated him. The first improvement he's made lies in his decision-making when attacking rim. He's always had the body control and touch around the rim to be effective, but he's become significantly less indecisive than he was earlier in his career. His incredible quickness has always made him a threat to get to the rim, but he would often get caught hesitating in no-man's land in the teeth of the defense –making things more difficult than they needed to be. Rondo no longer second-guesses himself when he gets in the paint, either giving the ball up when he sees a teammate in better position or going straight to the rim once he clears his defenders shoulder. Continuing to gain confidence in his own abilities, coupled with the realization that his team needs him to score in order to be successful will play a significant role in how much more Rondo can improve down the road.
Rondo is somewhat predictable with his drives, going left more than twice as often as he goes right and going all the way to the rim far more often than he pulls up off the dribble. Fortunately for the Celtics, that doesn't limit him in the least. Some defenders catch on to his tendencies in half court settings, but few of them have the quickness to keep up with him even when they have an idea of what's coming. Even fewer can run with him when he chooses to push the ball in transition. Rondo doesn't get to the line at a great rate, which can be partially explained by his tendency to weave around shot blockers rather than going right at them, but is also the result of how often he simply beats everyone to the basket. Coupling Rondo's ball-handling ability and knack for beating his man of the dribble with his length, leaping ability, and body-control, and it is no surprise that improved decision-making has elevated his game substantially.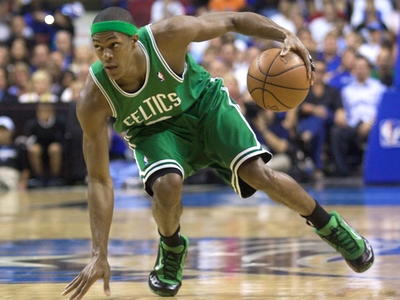 Part Three: Point Guard Skills
Then:
"As a point guard, Rondo is of the pass-first variety, being highly unselfish and featuring excellent court vision and passing ability. Although he didn't always get a chance to show it, he is everything scouts look for in terms of being able to run a team, particularly his intelligence and poise with the ball in his hands, along with his ball-handling skills and natural talent in finding the open man. Rondo is at his best on the drive and dish, being able to get into the lane almost at will thanks to his terrific speed and ball-handling ability, and once he does, being highly creative in finding open shooters spotting up on the wing. He didn't get to show this off too often, but Rondo is a very flashy playmaker who can thread the needle to spectacular lobs from the perimeter or sharp bounce passes to open cutters. Although his assists average isn't incredibly high, his assist to turnover ratio is one of the best amongst point guards in this draft at 2.11/1. Rondo is a very confident ball-handler going either left or right, keeping the ball very low to the ground, and is excellent at breaking the full-court press thanks to his terrific speed and poise."
-
Rajon Rondo
NBA Draft Scouting Report: Strengths – 4/17/2005
Now
A stoic floor general who draws an extra defender virtually whenever he wants to; Rondo was a systematically less prolific passer at Kentucky than he has been in the NBA. However, his assists per-40 minutes in his first two years with the Celtics were strikingly similar to his sophomore season at Kentucky. This season, his passing stats jumped considerably. His 8.2 assists in 33.0 minutes per game
ranks him sixth in the NBA
in assists per-40 minutes adjusted. Despite the rise in his assist numbers, Rondo hasn't subsequently turned the ball over too much more often. His 2.6 turnovers per game are very solid for how much he handles the ball.
Ranking 9th in A:TO ratio
, Rondo is the type of guard the makes the smart pass, and is able to create passing lanes so that he seldom has to force anything.
One of the biggest challenges the young point guard has had to overcome is distributing the ball to three All-Star players with Hall of Fame pedigrees. While Rondo was expected to have some growing pains keeping everyone happy, things couldn't have worked out better. The relationship between Garnett, Pierce, Allen, and the unsung Rondo has been more mutually beneficial than anyone could have imagined. There was certainly a period where Rondo had to earn the respect of the veterans around him; he quickly rose to the occasion. Not only did he do a better job setting them up, but they helped overshadow his weaknesses and put him in position to reach his potential as a player.
Rondo's deferential nature was helpful during the Celtics championship run, but the confidence he gained from that experience was abundantly obvious this season. He's learned how to take over games, how to play off of his teammates in half-court sets, and when and where deliver the ball on the pick and roll. One of the better drive-and-dish players in the NBA, Rondo's improvement as a finisher has forced defenders to cheat to his side of the floor, giving his teammates more time and space when he delivers the ball. His recognition of when to shoot and when to pass has improved in each of his seasons, but can still get even better over the next few years. The fact that Rondo's offensive efficiency has improved along with his assist numbers speaks to that end, and leaves great room for optimism about his future, particularly when you consider that he is still only 23 years old.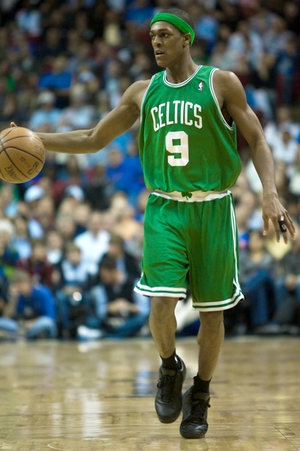 Part Four: Defense & Rebounding
Then:
" Defensively is where Rondo really made a name for himself as a high school player and initially in college. He has excellent lateral quickness and superbly quick and incredibly big hands. These two things together combined with his length make him a terror getting in the passing lanes, and Rondo indeed has league leading potential in this area if playing for a coach that doesn't mind him gambling for steals on occasion. He's extremely smart and confident in his defensive ability, and has the potential to develop into a smothering perimeter defender thanks to all of his outstanding physical attributes and the skills he already shows here. He's not afraid to step in the lane and take a charge if the situation calls for it. Due to these same physical attributes (length, superb quickness and leaping ability, outstanding hands) Rondo is also a terrific rebounder who indeed led his team in this area from the point guard position. His toughness helps him out greatly in this area, and his Kentucky team would likely have been in very bad shape without his 6+ rebounds in 31 minutes per game. He managed to pull down 19 rebounds in 33 minutes in one extremely impressive performance against Iowa early on in the year."
-
Rajon Rondo
NBA Draft Scouting Report: Strengths – 4/17/2005
"Small, skinny player with great length and lateral quickness. Closes out extremely fast on shooters and does a terrific job contesting shots. Tough-minded, aggressive defender who is very effective on this end of the ball. Does an outstanding job getting in the passing lanes, freakish wingspan allows him to wrap his arm around and poke balls loose even after getting beat. Excellent defensive rebounder for his position as well. Size and lack of bulk makes him susceptible to being posted up, but does a nice job fighting back. A big part of why Boston is such a strong defensive team."
-NBA Scouting Reports, Atlantic Division (Part One) -11/30/2008
Now:
Little has changed for Rondo on the defensive end since his days at Kentucky, except instead of making SEC point guards miserable a few times a week, he's causing problems for some of the best point guards in the League on a nightly basis. The only tool Rondo lacks of the defensive end is significant overall strength, which limits him only in the post and occasionally fighting through screens. According to Synergy Sports Technology, Rondo gets posted up less than once a game. Obviously, that's not enough to detract from his overwhelmingly positive contributions on the defensive end. Even when someone does take Rondo down low, his ridiculous wingspan allows him to defend like a much larger player, which makes a difference against most guards.
On the perimeter and in the open floor, Rondo displays possibly the best lateral quickness in the NBA. He's a nightmare for the virtually anyone, and although
Derrick Rose
got the best of him on a couple of occasions, Rondo still made his impact felt. His quickness to the ball when he sees the opportunity to force a turnover is unparalleled, and in the games where Rose posted great numbers, Rondo still came up with a handful of steals, and rebounded the ball at a fantastic rate—ranking among the playoff leaders at all positions in that category. Even when he's not shutting his man down, Rondo is still a great defender within the Celtics team concept. His length allows him to contest shots, his quickness lets him prevent penetration extremely well, and he shows great discipline.
Rondo's focus when defending isn't entirely surprising. Considering how questionable he was on the offensive end as a rookie, his constant activity on the defensive end was one of the things keeping him on the floor. It was one of the big reasons he was put in position to complement the 'Big Three' initially. Despite his improved offensive game, Rondo remains one of the most intense defenders at his position in the game –evidenced by his All-Defensive Second Team selection.
Part Five: Intangibles & Outlook
Then:
"In terms of intangibles, it's hard to get a great read because of all the chaos surrounding Kentucky's program this year, but it appears that Rondo will test out just fine. He by all accounts has a good attitude towards the game and a strong character, being a bit on the quiet side (particularly with the Kentucky media who he never seemed very fond of), highly unselfish, and probably not a trouble-making type. His work ethic is reportedly very strong and as we saw all season long, does exactly what he's told by his coaching staff."
-
Rajon Rondo
NBA Draft Scouting Report: Strengths – 4/17/2005
"Just try to run the show," Rondo advised Westbrook. "Never try to do too much. You pick your spots when to attack. And just do the intangibles on the court. Offense will come."
-
Celtic's Rajon Rondo offers up advice on Russell Westbrook
, by Darnell Mayberry -3/30/2009
Now:
Based on that second quote, it isn't surprising to see how Rondo has come as far as he has. Understanding what he's good at and realizing what he needs to work on, Rondo is mature beyond his years. He's not a vocal leader that is going to get in someone's face to fire than up, but he's going to do everything in his power from a competitive standpoint to help his team win. After averaging roughly a triple double during the playoffs, there is no question that he's willing to step up when it matters and lead by example.
Rondo's strong work ethic is clear in how he handles his business on the floor and off it. He's already put in countless hours developing his jump shot, and there's no doubt he's going to spend hundreds more. At this point, that's the one of the only obstacles between him and stardom. Focused on getting better, Rondo's improvements may not be easy to gauge next season if the Celtics stay healthy, as his usage is bound to stay roughly the same with their current roster. Regardless, Rondo isn't going to stop working.
Heading into draft season, there's no question that teams are doing their research on each prospects intangibles and work ethic. A late first round draft pick, Rondo is a prime example of what hard work and the right situation can do for a player. There's bound to be a number of players from this class that enjoy the same kind of success. They may have huge holes in their game like Rondo does in his perimeter shooting, but some players have the physical tools, talent and intangibles to become more than that.