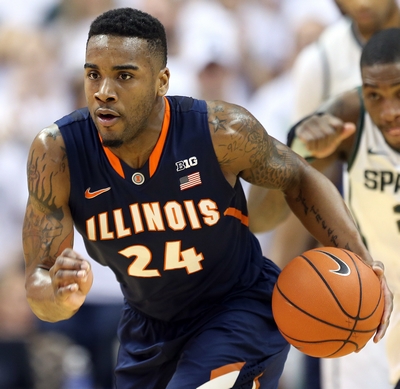 Jonathan Givony
After spending his first two seasons at Drake, where he was named to the Missouri Valley All-Conference Second Team as a sophomore, Rayvonte Rice decided to return to his hometown of Champaign by transferring to Illinois, and was named to the Big Ten All-Conference Honorable Mention team this past season. Rice was not recruited by former Illinois coach Bruce Weber, but was pursued by John Groce at his previous job at Ohio, which helped seal the deal in favor of the hometown school.
Rice is slightly undersized for a shooting guard at 6-4, but makes up for that somewhat with a chiseled 230 pound frame, a long wingspan, and big hands. Athletically, he's not a high flyer, but is extremely powerful with his style of play, which helps him tremendously on both ends of the floor.
Illinois' go-to guy last season, Rice saw a significant amount of time with the ball in his hands, with 46% of his offense coming via the pick and roll or in isolation situations according to Synergy Sports Technology. His 28% usage rate was one of the highest among BCS-conference guards, as Illinois possessed little in the way of shot-creating prowess besides him to score effectively in the competitive Big Ten.
A powerful slasher in both the half-court and in transition, Rice has a strong, quick first step driving either left or right, not needing a screen in order to create his own shot effectively. He's a good ball-handler who can operate at different speeds and has low, long and rangy strides, doing a good job creating separation by knowing how to use his body effectively to keep his defender off balance.
Once inside the paint, Rice has good body control and the strength needed to finish plays or get to the free throw line, showing good touch off the glass with either hand, and the ability to handle contact effectively, despite not being incredibly explosive. He was especially good in the open court, making 66% of his field goal attempts in transition situations, while also drawing fouls on 25% of his possessions.
Rice's propensity for overpowering defenders, and the lack of alternative shot-creators on Illinois' roster made him somewhat single-minded in his approach at times, leading to plenty of difficult shots inside the paint that hampered his percentages.
Despite the fact that he handled the ball a good amount for Illinois, few would mistake Rice for being a point guard, as he dished out a paltry 2 assists per-40 minutes last season. To his credit, he turns the ball remarkably infrequently relative to his usage, generating a turnover on just 9.5% of his possessions, one of the lowest rates in college basketball for a featured scorer at the BCS-conference level.
In spite of that, NBA scouts would probably like to see Rice improve his ability to make teammates better when playing alongside better talent, as his court vision appears to be average at best at the moment.
With that said, the part of Rice's game that needs the most work from an NBA standpoint is clearly his outside shot. He made just 27% of his jumpers last season, a very poor rate, and was just as ineffective with his feet set as he was shooting off the dribble.
His shooting mechanics leave a lot to be desired, as they are very inconsistent, sometimes solid, and occasionally very poor, as he tends to contort his body at times, getting too much elevation on his jumper and releasing the ball on the way down.
Shot-selection is obviously a major culprit here as well, as Rice attempts far more off-balance, contested shots early in the offense than you would expect considering his percentages, clearly overestimating his shot-making prowess at times.
Becoming more consistent with his mechanics could help, but simply taking better shots would likely go a long ways in helping his percentages. Rice made 46 3-pointers last season, showing that he's not a non-shooter, but he obviously has a ways to go to make this a consistent part of his game, which will be a major key for him at the professional level when he's forced to play a smaller role than he did his first three seasons of college basketball.
Although offense was a major struggle for Illinois last season (177th nationally KenPom), they were one of best defensive teams in college basketball (11th KenPom). Rice showed a lot of versatility on this end of the floor, sliding between the 2-4 spots thanks to his terrific combination of length and strength, which makes him a major asset on this end of the floor at the college level.
Rice's long wingspan helps him contest shots successfully on the perimeter, making him very effective on closeouts. His strong frame aids him in navigating his way through screens as well.
Rice has good instincts on this end of the floor, which shows up in his ability to get in the passing lanes effectively, where he averaged an impressive 2.2 steals per-40 minutes pace adjusted. He also rebounds extremely well for a player his size, at 7.3 per-40p, as he's extremely physical.
Fatigue can be an issue that shows up on the defensive end at times, as Rice has a tendency to lose his focus late in games, and become susceptible to biting on pump fakes and getting blown by off the dribble. With his length and strength, he has the potential to be a very strong defender at the pro level if he puts his mind to it.
With another strong season, Rice will certainly get some looks from the NBA level, particularly if he can help the Illini get back to the NCAA Tournament. Players who can create their own shot aren't that easy to come by, and Rice has strong potential on the defensive end as well. His average size, coupled with his low percentages from beyond the arc are hurting his draft stock at the moment, and the fact that he'll be a fifth year senior doesn't help matters much either (even if he's around the same age as most fourth year players).