Team: NON-NBA College Team: Zalgiris
Physicals
Positions
Salary
Misc
H: 6' 6"
W: 185 lbs
Bday: 07/23/1985
(30 Years Old)

Current: SG
NBA: SG
Possible:

Agent: George Bass

High School:
Hometown: Palanga, Lithuania
Drafted: Pick 50 in 2007 by Mavericks

Predraft Measurements
| Year | Source | Height w/o Shoes | Height w/shoes | Weight | Wingspan | Standing Reach | Body Fat | No Step Vert | Max Vert |
| --- | --- | --- | --- | --- | --- | --- | --- | --- | --- |
| 2007 | NBA Pre-Draft Camp | 6' 4.75" | 6' 5.75" | 185 | 6' 8.75" | 8' 5" | 6.1 | 24.0 | 32.5 |



Basic Per Game Statistics

- Comprehensive Stats - Statistical Top 25s
| Year | League | Name | GP | Min | Pts | FG | FGA | FG% | 2Pt | 2PtA | 2P% | 3Pt | 3PtA | 3P% | FTM | FTA | FT% | Off | Def | TOT | Asts | Stls | Blks | TOs | PFs |
| --- | --- | --- | --- | --- | --- | --- | --- | --- | --- | --- | --- | --- | --- | --- | --- | --- | --- | --- | --- | --- | --- | --- | --- | --- | --- |
| 2015/16 | EURO | Renaldas Seibutis | 7 | 21.9 | 7.6 | 2.7 | 6.0 | 45.2 | 2.3 | 4.6 | 50.0 | 0.4 | 1.4 | 30.0 | 1.7 | 2.0 | 85.7 | 0.1 | 2.3 | 2.4 | 1.9 | 0.3 | 0.3 | 2.3 | 2.6 |

Player Page&nbsp&nbsp| Player Stats | Mock Draft History | Related Articles&nbsp&nbsp| Add to My Draft Express&nbsp
&nbsp
Orlando Pre-Draft Camp: Day Three
June 1, 2007
Seibutis continues to quietly impress here with his all-around package of toughness and maturity. He fought, kicked and scraped his way to six hard-earned rebounds, one an offensive rebound tip-in, and played very unselfishly facilitating the ball-movement and being a good teammate in the huddle. He showed some shooting touch (a must for him) by pulling up off the dribble for a 16 foot jumper, although this probably isnít the strongest part of his game.

[Read Full Article]

---
Orlando Pre-Draft Camp: Day Two
May 30, 2007
Renaldas Seibutis is an intriguing prospect from Lithuania, though he played professionaly in the Greek League this past season, averaging about a good amount of points per game for his team, which made the playoffs. Seibutis looked very strong in the 2-on-2 drills earlier in the day, fighting hard through screens and making very nice reads with the ball, showing the patience to wait for passing lanes to open and making good, hard passes to his teammates. In the game, Seibutis did more of the same on the defensive end, playing aggressive, pressure defense on the perimeter and showing a strong fundamental base in moving his feet and beating his man to the spot. He also was very attentive with his off-ball defense, keeping his eye on his man and the ball and trying to cut off passing lanes when possible.

On the offensive end, Seibutis hit a few shots from the outside, though heís been inconsistent with his shooting throughout the first few days here, and scouts more familiar with his game say his long-range shooting is one area that needs the most work, though heís consistent from mid-range. Seibutis hit a spot-up three-pointer and a long two-pointer, and also hit on a pull-up 15 footer in transition. Seibutis scored his other field goal on a putback attempt where he attacked from behind the arc, getting right amidst a crowd and going up strong for a lay-up off the glass that he was also fouled on.

Seibutis is a player who could get drafted late in the second round and stashed in Europe for a year or two, as heís definitely a player with something to potentially contribute in the NBA, especially if he can improve his consistency on his outside shooting, where he seems to have the potential to get better. With his defense and feel for the game, he could be a solid glue guy coming off the bench in the not-so-distant future.

[Read Full Article]

---
Orlando Pre-Draft Camp: Day One
May 30, 2007
Seibutis stuck out right off the bat with the attitude he showed around his teammates, constantly cheering them on from the sidelines and always looking to congratulate with a high-five after one of them made a big play. It doesnít appear to be an act, though, as he looks like a pretty fiery kid with the way he plays as well. He made some smart plays moving off the ball and finding the open man, and hit an extremely difficult fade-away 3-pointer at one point plus a foul as he was knocked to the ground. Even though the reports from the other two courts werenít as encouraging, you have to give a European kid like this credit for having the guts to show up in such a challenging setting considering the learning curve involved. He did not seem to look out of place in day one.

[Read Full Article]

---
Roundup: Seibutis makes a Post-Season Appearance
May 1, 2007
It was a crucial week for Maroussi, and a victory was desperately needed to seal the last ticket for the playoffs. The first opportunity was considered extremely difficult, going on the road against Panionios. Regardless, it still had a chance of actually happening, as Maroussi fell only two points short of the victory. Already there Seibutis delivered a strong game, with 15 points, 3 rebounds and 2 assists. Anyway, he took over on the weekend against Makedonikos, with 20 points, 4 rebounds and 3 assists to secure the victory for his team and a post-season audition against the almighty Panathinaikos, who will participate in the Euroleague Final Four this weekend right in front of the watchful eyes of DraftExpress.

The very least you can say about Seibutis is that he has emerged as arguably the steadiest performer for Maroussi this season. He leads the team in total scoring (averaging 13.5 points) and you can always count on his effort and activity on the court while delivering good decision making. Heís constantly cutting and playing without the ball in the set offense, he doesnít hesitate to attack his opponents, he loves to run the floor in transition, and heís aggressive on defense, both in individual match-ups or team rotations. Despite that intensity, heís a guy that plays under control, takes good decisions and commits few mistakes. Indeed, his 1.3-turnover average is a very reasonable amount for a player who takes so actively part in his teamís game.

So far, this isnít anything we didnít already know about Seibutis (letís recall, a former MVP in the U-21 World Championships a year and a half ago). Although there hasnít been any dramatic improvement in his game, the added consistency heís achieved with his three-point shot is very good news. Not that we ever doubted his ability to become a reliable perimeter shooter given his very nice mechanics and excellent accuracy from the mid-range area, but for a shooting guard like him, it was imperative to solidify an effective three-point shot to better contest elite defenses, and he seems to be on the right track. Seibutis credits a terrific 47.2% accuracy this season from behind the arc in the Greek League, not really very different from last season in Olympiacos, but displaying significantly more shot attempts (he went 5/8 from the arc this last week, for example). Still, itís mostly spot-up jumpers, but you can feel the improved confidence in his stroke.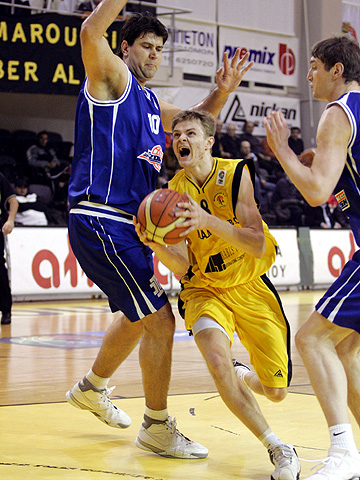 Photo: FIBA Europe



Most of his flaws NBA-wise are still there, though. Seibutis is not particularly gifted physically, with average size and a skinny body. However, heís visible stronger now, but still has a ways to go working on his frame. His athleticism is not on par with what you want for a NBA shooting guard. Among other things (some defensive limitations or poor ability to create his own shot), it limits his effectiveness in slashing situations, as heís not that explosive and doesnít enjoy the leaping ability to comfortably finish near the rim against opposition. Indeed, Seibutis often uses his drives as just part of his teamís offensive flow, passing the ball after a couple of dribbles. He displays good criteria sharing the ball, but heís not an outstanding passer to create assists (averaging just 1.5).

Renaldas is already a nice player in Europe, and he will surely become a very good one, but the NBA looks a long shot right now, which obviously donít help his cause come draft night. Heís on loan in Maroussi, as his rights still belong to Olympiacos, where he might return next season, having the chance to play in the Euroleague again.

[Read Full Article]

---
Euroleague Stock Watch Part 1 (Stock Down, Neutral)
December 21, 2005
In his rookie Euroleague season and despite playing for a team with plenty of experienced and skilled guards, Seibutis has been an excellent choice off the bench for Olympiakos, clearly showing that he is one of the most promising guards in Europe.

A fantastic scorer and shooter, Seibutis has all the offensive moves he needs to display for the future. But even today, he is skilled and more than willing at his age to take over a game. Being a fine long-distance shooter, he can also slash aggressively, while his passing skills are not bad at all. He is smart and alert, being a team player that can emerge as the team leader in key moments if the opportunity arises. He was of course a rookie in this first round, but when his coach trusted him he was ready most of the time to get in the game and compete with the best Europe has to offer.

Defensively, he struggles at times. His frame is small, though improved over the past couple of months. His legs are not so quick and he showed in many games that he cannot guard more athletic guards. However, he also shows plenty of smarts, coming up with steals at times and helping the run and gun style that Olympiakos tries to impose.

Overall, he seemed to reach the expectations and is already among the best players of his team. If he manages to play at this level until the end of the season, then he will definitely be starting next year at the shooting guard spot. What does that mean about his NBA potential? It helps because whatís clear is that Seibutis not the type of guard that is blessed with unlimited upside or NBA caliber athleticism, and will therefore have to endear himself as a heavy producer for his team.

[Read Full Article]

---
Renaldas Seibutis NBA Draft Scouting Report
March 29, 2005


Strengths


Another example of the seemingly endless pool of Lithuanian wing shooters, Renaldas Seibutis also features other intriguing characteristics that make him worthy of another look. We're talking about a rather complete shooting guard here, who's still very young but has a good feel for the game.

Starting with his shot, he's really an awesome gunner from the mid-range area. Of course, he also enjoys three point range, but prefers to step in and secure the two points. He shows excellent mechanics, whether in static fashion or off the dribble. One of his favourite moves is to penetrate from behind the arc and then pull up and release a jumper a couple of strides later, taking advantage of his defender's unbalanced position, and showing a fairly quick first step and good handles in the process. Of course, if he has the chance, he will go all the way to the basket and deliver a layup, preferably using his right hand. He looks like a promising slasher.

On defense, he shows the right attitude. He's intense and takes care of both his man and the team defense. In general, he's a player that transmits a hard working and team-oriented attitude, not saving effort and not being selfish. Indeed, Renaldas is quite a nice passer. More than just delivering definitive passes, though, he's an excellent cog in his team's ball movement, thinking and delivering quickly, usually to the right man. He can execute some point guard duties as well, such as bringing the ball up the floor and distributing it, although he's no playmaker. He has a pretty good basketball mind, he knows the game and it seems that he loves to play it.




Weaknesses


Renaldas isn't particularly tall for a shooting guard. At 6-5 (perhaps on his way to 6-6), he has enough size, but you would like to see it matched with better-than-average athleticism, and that's not the case. The Lithuanian has decent physical attributes, but that's it. He's a player that will have to survive off his skills.

Also, even if Seibutis is a great shooter, he's still inconsistent from the three point range. To solve this problem is a must for him in order to gain value. It wouldn't be as easy for him to get mid-range shots in a superior level as it is for him right now in the weak Lithuanian League.

Regarding his slashing abilities, he's not always capable of beating his matchups. He lacks a little bit of footwork to drive in heavy traffic, the strength to do it and his first step could be better. He could use another degree of explosiveness and strength, but it's something he can get with the proper work, as he's still physically underdeveloped, rather skinny. He won't probably be able to add a lot of weight (and he probably shouldn't), but he will likely have a more developed body as he matures.

He would also use that extra strength and explosiveness in his defense. He shows problems working his way through screens and his lateral defensive movement looks average, although his intensity makes up for it.





Competition


After playing the 2002/03 season for Palangos Naglis in the LKBL league, Seibutis made his debut in the LKL, the first Lithuanian league, at the age of 17 playing for Sakalai. In that season (2003/04) he already averaged 7.6 points, 2.1 rebounds, 0.9 assists and 1 steal per game.

For this season, he has increased his minutes from 17.6 to 31.8 per game, while his stats have grown to 18.1 points, 3.7 rebounds, 2 assists and 1.5 steals. His percentages are remarkable, as Renaldas nets 58% of his shots from the field, and that includes a large amount of jumpers. From the free-throw line, he shoots 87.9%, the kind of accuracy that a shooter usually enjoys.

Those are impressive numbers for a guy that's still 19 years old, but it's important to realize that the Lithuanian league is a pretty weak competition despite producing so many good players, as there are only two good teams in terms of the international European level, Zalgiris Kaunas and Lietuvos Rytas. The drop-off after those two is huge, as if they played in different divisions.

Indeed, checking Renaldas' stats against those two teams, we see how his scoring and percentages drop to 16.2 points with 39.5% from the field in the 6 games where he has played meaningful minutes so far this season. The other statistical departments remain rather stable.

Sakalai also plays in the Baltic League, a competition that features Lithuanian, Latvian and Estonian teams. There, Renaldas averages 19.5 points, 3.8 rebounds, 2.3 assists and 1.5 steals. But the situation is pretty much the same in this league, as besides Zalgiris and Rytas, only Ventspils can give them a good fight.

I think that for a player like him, young and still in the process of developing his skills, but already good enough to get big minutes and stats with his team, it would be good to find more difficult challenges in the coming seasons, in order to keep improving his game.



Outlook


Seibutis isn't a top level prospect with unlimited potential, that's pretty much clear. But he's an interesting player, a guy that could be used on many teams if he develops his game properly. That's why he might get some consideration for the second round when he'll become automatically eligible in the 2007 draft.



Comments


Renaldas is one of those guys that bases his game on skills and fundamentals rather than physical and athletic gifts. If he can't make it to the NBA (which barring serious improvement seems like the most probable situation even if he's eventually drafted), he may become a very good player for European competition. Given that Lithuania has entered the European Union, it wouldn't surprise me to see him signing with a healthy Euro club in the near future.



Facts


MVP of the 2005 U-21 World Championships in Argentina, after leading his team to the Gold medal.



[Read Full Article]

---