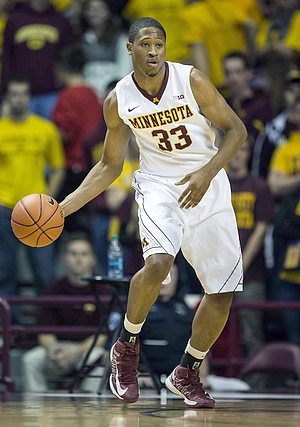 Derek Bodner
Now in his senior season at Minnesota,
Rodney Williams
has long been a tantalizing prospect. However, despite Minnesota's strong 15-2 start to the season, which
Rodney Williams
has been a key contributor in, Williams' deficiencies in his game and questions about it translating to the next level have yet to be resolved.
Playing both forward positions, but more at power forward this season, Williams is second on a deep Golden Gophers squad in both scoring (12.5 points per game) and rebounds (5.9). His 17.4 points per 40 minutes pace adjusted is an improvement over the 15.3 he averaged last year, and he's seeing similar incremental increases in rebounding (8.2 per 40 minutes pace adjusted, from 7.2) an free throw rate (5.6 free throw attempts per-40).
With Williams' incredible physical profile, such incremental improvements in his productivity may come as a disappointment to some. Standing 6'7" with a great wingspan and a lanky frame that looks capable of adding additional weight, Williams has few physical equals. Williams is an incredible run and jump athlete, with a lightning quick first step and arguably the most explosive leaping ability in college basketball.
Unfortunately, Williams has yet to develop his skill set to the point where he can come close to maximizing his physical potential. Williams stated in the preseason that improving his ball-handling ability and three point range were his primary focal points during the offseason, but so far this season he has yet to answer any of the abundant questions about those facets of his game.
Williams has made just 33% of his jump-shots this season, exactly the same rate as last year, and still in the bottom half of all college basketball players. His three point percentage (31.6% on 1.1 attempts per game) and free throw percentage (64.7%), while both career bests, are still well below average and troubling for a player who will be 22 years old when he suits up in the NBA and will likely need to see most of his time at the small forward position.
From a technical standpoint, Williams gets excellent elevation on his jump shot and appears to have solid follow through, but he struggles with consistency in both his footwork and balance. He also tends to take a lot of attempts out of rhythm, so improving his consistency and limiting his role in an offense might yield some improvement. Still, he doesn't appear all that natural even in simple catch and shoot situations, and his overall touch on jumpers is below average.
As a ball-handler, Williams still struggles to keep his dribble low, and shows very little ability as a shot creator, struggling to change direction when he meets resistance. Williams has an excellent first step and incredible explosion around the rim, but due to his mediocre ball-handling he is largely unable to use those physical gifts to create much offense, either for himself or his teammates, with the exception of when he is matched up against a slow footed big man when Tubby Smith goes to a small lineup.
Williams continues to get a solid portion of his offense in the post. His good length, solid touch, and excellent elevation and body control allow him to finish down there despite a relatively slender frame. While it's unlikely he will see much time in the post at the next level, the ability to take advantage of a size advantage when defended by a smaller wing would be a good trait to have for a player who otherwise might have struggle to score enough in the half-court to justify playing time.
Where Williams continues to provide sizable value for the Golden Gophers is off the ball. Williams does an excellent job using his immense physical gifts to provide scoring in transition, off of cuts, and off offensive rebounds. Williams moves very well without the ball and is one of the quickest leapers you'll find, making him a threat to convert anything around the rim. He has done a much better job attacking the offensive glass this season, pulling down 3.9 offensive rebounds per 40 minutes when adjusted for pace, a nice bump from the 2.1 per 40 pace adjusted he grabbed last season and one of the best numbers for a small forward prospect in our database this season. Thanks in large part to his insanely quick second jump, Williams does a good job on converting these offensive rebounds.
On the defensive side of the ball, Williams' length, lateral quickness, and overall athleticism has always provided a tantalizing defensive prospect, and he has started to put that package together this season. He has maintained better balance and consistency in his defensive stance, and makes good use of his length, generating 1.5 steals per 40 minutes pace adjusted to go along with 2.1 blocks. He still gets lost off the ball at times, but he has overall been an impact defender and should continue to be a plus defender at the next level.
While many would view
Rodney Williams
' college career to this point as somewhat of a disappointment, his combination of physical gifts and defensive potential are something that not many prospects can offer. Williams may not have improved his perimeter game to the point where he can fully take advantage of his unique physical talents, but he has improved enough to where he has consistently made an impact at the collegiate level.
With length and defensive versatility ever a premium in the NBA, he should continue to be on the radar come draft night, as there is certainly a role for energetic and bouncy combo forwards in the
Shawn Marion
or
Dominic McGuire
mold. The key for him will be to continue to maximize his intensity level on a nightly basis and show he's willing to do the little things to make up for his limited skill-set and help his team win games. There's always the possibility he could continue to improve his outside shot at some stage, as he's still only 21 years old, making him one of the youngest seniors in this class.