Rodney Williams
Recent Tweets
All Tweets
DraftExpress: More Undrafted Khalif Wyatt Elijah Johnson Will Clyburn Rodney Williams Jamelle Hagins Laurence Bowers Oleksandr Lypovyy Joan Sastre
2013-06-28 00:22:16
DraftExpress: Rodney Williams measured a 36 inch no-step and 42.5 inch max-vertical leap which would have ranked first and second best at the NBA Combine
2013-05-23 10:16:18
DraftExpress: DX Trending Prospects (1\/16\/2012) - Updated scouting reports on Spencer Dinwiddie Seth Curry and Rodney Williams.\nhttp\/\/t.co\/9MlhQjfi
2013-01-17 12:29:38
DraftExpress: DX Trending Prospects (1\/16\/2012) - Updated scouting reports on Spencer Dinwiddie Seth Curry and Rodney Williams http://t.co/uCkqVRKw
2013-01-16 22:16:07
DraftExpress: Rodney Williams with a 360 in transition http://t.co/a1yTalH2 - Reminds me a lot of James White in a good way.
2012-12-12 06:41:15
Team: Oklahoma City
Physicals
Positions
Rankings
Salary
Misc
H: 6' 6"
W: 204 lbs
Bday: 07/23/1991
(24 Years Old)

Current: SF
NBA: SF
Possible: SF

RSCI: 43

Agent: Kevin Bradbury

High School: Robbinsdale Cooper
Hometown: Minneapolis, MN

Predraft Measurements
| Year | Source | Height w/o Shoes | Height w/shoes | Weight | Wingspan | Standing Reach | Body Fat | No Step Vert | Max Vert |
| --- | --- | --- | --- | --- | --- | --- | --- | --- | --- |
| 2013 | Nets Workout | 6' 5.5" | 6' 6.5" | 217 | 6' 11" | 8' 8.5" | 6.5 | 36.0 | 42.5 |
| 2011 | LeBron James Camp | NA | 6' 6.5" | 204 | 6' 10" | NA | NA | NA | NA |
| 2011 | Kevin Durant Camp | NA | 6' 7" | 204 | 6' 10" | NA | NA | NA | NA |



Basic Per Game Statistics

- Comprehensive Stats - Statistical Top 25s
| Year | League | Name | GP | Min | Pts | FG | FGA | FG% | 2Pt | 2PtA | 2P% | 3Pt | 3PtA | 3P% | FTM | FTA | FT% | Off | Def | TOT | Asts | Stls | Blks | TOs | PFs |
| --- | --- | --- | --- | --- | --- | --- | --- | --- | --- | --- | --- | --- | --- | --- | --- | --- | --- | --- | --- | --- | --- | --- | --- | --- | --- |
| 2014/15 | DLEAGUE | Rodney Williams | 17 | 10.9 | 4.1 | 1.5 | 3.8 | 40.6 | 1.1 | 2.0 | 55.9 | 0.4 | 1.8 | 23.3 | 0.6 | 0.9 | 66.7 | 0.1 | 1.3 | 1.4 | 0.8 | 0.4 | 0.3 | 0.5 | 1.4 |

Player Page&nbsp&nbsp| Player Stats | Mock Draft History | Related Articles&nbsp&nbsp| Add to My Draft Express&nbsp
&nbsp
Trending Prospects (1/16/2012)
January 16, 2013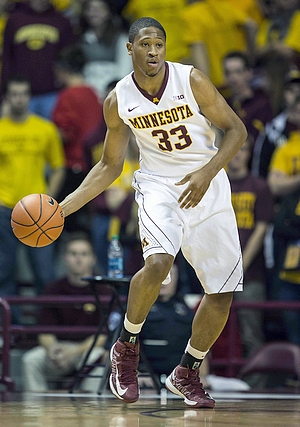 US Presswire



Derek Bodner

Now in his senior season at Minnesota, Rodney Williams has long been a tantalizing prospect. However, despite Minnesota's strong 15-2 start to the season, which Rodney Williams has been a key contributor in, Williams' deficiencies in his game and questions about it translating to the next level have yet to be resolved.

Playing both forward positions, but more at power forward this season, Williams is second on a deep Golden Gophers squad in both scoring (12.5 points per game) and rebounds (5.9). His 17.4 points per 40 minutes pace adjusted is an improvement over the 15.3 he averaged last year, and he's seeing similar incremental increases in rebounding (8.2 per 40 minutes pace adjusted, from 7.2) an free throw rate (5.6 free throw attempts per-40).

With Williams' incredible physical profile, such incremental improvements in his productivity may come as a disappointment to some. Standing 6'7" with a great wingspan and a lanky frame that looks capable of adding additional weight, Williams has few physical equals. Williams is an incredible run and jump athlete, with a lightning quick first step and arguably the most explosive leaping ability in college basketball.

Unfortunately, Williams has yet to develop his skill set to the point where he can come close to maximizing his physical potential. Williams stated in the preseason that improving his ball-handling ability and three point range were his primary focal points during the offseason, but so far this season he has yet to answer any of the abundant questions about those facets of his game.

Williams has made just 33% of his jump-shots this season, exactly the same rate as last year, and still in the bottom half of all college basketball players. His three point percentage (31.6% on 1.1 attempts per game) and free throw percentage (64.7%), while both career bests, are still well below average and troubling for a player who will be 22 years old when he suits up in the NBA and will likely need to see most of his time at the small forward position.

From a technical standpoint, Williams gets excellent elevation on his jump shot and appears to have solid follow through, but he struggles with consistency in both his footwork and balance. He also tends to take a lot of attempts out of rhythm, so improving his consistency and limiting his role in an offense might yield some improvement. Still, he doesn't appear all that natural even in simple catch and shoot situations, and his overall touch on jumpers is below average.

As a ball-handler, Williams still struggles to keep his dribble low, and shows very little ability as a shot creator, struggling to change direction when he meets resistance. Williams has an excellent first step and incredible explosion around the rim, but due to his mediocre ball-handling he is largely unable to use those physical gifts to create much offense, either for himself or his teammates, with the exception of when he is matched up against a slow footed big man when Tubby Smith goes to a small lineup.

Williams continues to get a solid portion of his offense in the post. His good length, solid touch, and excellent elevation and body control allow him to finish down there despite a relatively slender frame. While it's unlikely he will see much time in the post at the next level, the ability to take advantage of a size advantage when defended by a smaller wing would be a good trait to have for a player who otherwise might have struggle to score enough in the half-court to justify playing time.

Where Williams continues to provide sizable value for the Golden Gophers is off the ball. Williams does an excellent job using his immense physical gifts to provide scoring in transition, off of cuts, and off offensive rebounds. Williams moves very well without the ball and is one of the quickest leapers you'll find, making him a threat to convert anything around the rim. He has done a much better job attacking the offensive glass this season, pulling down 3.9 offensive rebounds per 40 minutes when adjusted for pace, a nice bump from the 2.1 per 40 pace adjusted he grabbed last season and one of the best numbers for a small forward prospect in our database this season. Thanks in large part to his insanely quick second jump, Williams does a good job on converting these offensive rebounds.

On the defensive side of the ball, Williams' length, lateral quickness, and overall athleticism has always provided a tantalizing defensive prospect, and he has started to put that package together this season. He has maintained better balance and consistency in his defensive stance, and makes good use of his length, generating 1.5 steals per 40 minutes pace adjusted to go along with 2.1 blocks. He still gets lost off the ball at times, but he has overall been an impact defender and should continue to be a plus defender at the next level.

While many would view Rodney Williams' college career to this point as somewhat of a disappointment, his combination of physical gifts and defensive potential are something that not many prospects can offer. Williams may not have improved his perimeter game to the point where he can fully take advantage of his unique physical talents, but he has improved enough to where he has consistently made an impact at the collegiate level.

With length and defensive versatility ever a premium in the NBA, he should continue to be on the radar come draft night, as there is certainly a role for energetic and bouncy combo forwards in the Shawn Marion or Dominic McGuire mold. The key for him will be to continue to maximize his intensity level on a nightly basis and show he's willing to do the little things to make up for his limited skill-set and help his team win games. There's always the possibility he could continue to improve his outside shot at some stage, as he's still only 21 years old, making him one of the youngest seniors in this class.

[Read Full Article]

---
Trending Prospects (2/3/2012)
February 3, 2012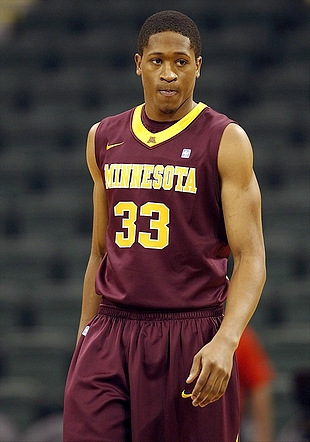 Icon SMI



Derek Bodner

With an elite combination of size and athleticism, junior forward Rodney Williams has long been a tantalizing prospect. Williams was a highly regarded recruit coming out of college (#34 Scout.com, #42 ESPN) who showed terrific flashes of talent in small spurts early on in his freshman season, then regressed significantly in a bigger role for the Golden Gohpers his sophomore year. Williams efficiency (true shooting percentage up to 61%, from 50% last year), production (23.2 player efficiency rating, up from 13.1) and skill level have bounced back as a junior, he still has plenty of room to continue to improve as a prospect.

The foundation of Williams intrigue as a prospect is readily apparent from the moment he steps onto the court. With a superb combination of size and athleticism, Williams has prototypical size for an NBA small forward. He is extremely long and with a frame that looks like it should fill out nicely as he develops physically. He's an incredible run and jump athlete who excels in the open court and is tremendously explosive athlete around the rim.

The basis of his offensive game is based around these excellent physical characteristics, which is both a positive and a negative at this point in his career. He's incredibly quick in transition, getting up and down the court much faster than virtually any of his defenders, especially when he playing at the power forward spot on the collegiate level. He's overall one of the best athletes in the college ranks, and his rare combination of speed and explosiveness makes this a staple of his game.

Williams also does an excellent job moving without the basketball in half court sets. Once he receives the pass his long strides and explosive leaping ability make it hard for defenders to recover. His body control, touch, and ability to finish through contact appear to be somewhat better than in previous years as well. He's drawing contact and getting to the line better, and his 4.4 free throw attempts per 40 minutes pace adjusted is solid progression over the 3.4 he averaged last year. Overall, his 1.622 points per possession on cuts to the basket rank him in the top 3rd percentile in college basketball, which is mainly a testament to his incredible leaping ability.

Another area where Williams gets a decent amount of his offense is off of offensive rebounds. While his 2.8 offensive rebounds per 40 minutes pace adjusted isn't an overly impressive number in and of itself, the rate at which he converts these opportunities is. Williams is often able to simply jump over opponents and get a shot attempt off before landing, whether that be off of a put back slam or tip in.

He's shooting a much better 40.7% from three point range as well this year, although with the limited amount of sample size (he's attempted only 27 threes on the year) and the general lack of progression in other areas as a jump shooter (namely his pull-up jumper and mediocre free throw percentages [54%]) make it questionable whether this progress is something that can be relied upon.

Overall, the lack of shooting touch we noted in previous write-ups still exists, and it's far and away his biggest question mark as a prospect, and one we had hoped to have seen more significant progress on to this point. With his first step and explosive leaping ability, Williams may have some untapped potential as a slasher at the next level, but the combination of his inconsistent perimeter shooting and his unrefined ball handling ability make it difficult for him to utilize his athletic gifts in this facet of the game. Williams has yet to develop any real shot-creating ability, as he doesn't possess any advanced ball-handling ability.

Another area Williams contributes in is as a passer, something relatively surprising considering his overall lack of ball skills in other areas of his game. His 2.7 assists per 40 minutes pace adjusted is a good number considering his overall low usage, likely a product of Tubby Smith's emphasis on ball-movement. Williams generally makes good, quick decisions with the ball and his height and ability to see over the defense gives him passing lanes that may not be there for smaller players.

The defensive side of the ball may be the area that causes teams to take a chance as him, as he has the physical abilities to be an elite defender at the next level. Extremely long and quick, Williams physical tools are in rare company for an NBA small forward. He uses his length well on the perimeter and shows very good lateral quickness. Williams has turned this into much more defensive productivity this year, averaging 2.1 steals and 2.0 blocks per 40 minutes pace adjusted. Williams has active hands defensively, and his length, exceptional explosive ability and good timing allow him to make his presence felt as a shot blocking threat.

Williams can at times get caught off balance on mis-directions defensively and can also get caught losing track of his man off the ball. However, with his physical tools and an apparent willingness to put in effort on this end of the court, these appear to be correctable flaws.

Overall, Rodney Williams is still largely the same tantalizing but incomplete prospect he was when he came to Minnesota, although he has turned himself into a much more impactful player than he was during his disappointing sophomore season. With his defensive potential, ability to finish, and passing ability, it doesn't seem like Williams is that far off from being a contributor at the next level. That being said, that same statement could have been made at any point over the last two years, and yet his consistency as a set shooter is still in question. If Williams can find a way to develop a consistent outside shot, he has enough unique physical tools to be a contributor at the next level.

[Read Full Article]

---
Trending Prospects (2/3/2011)
February 3, 2011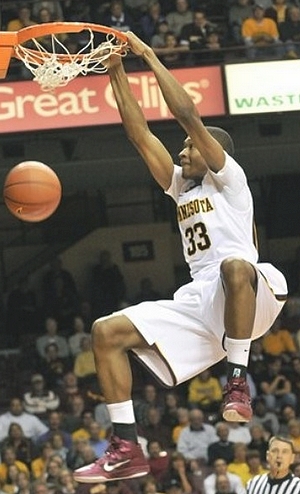 AP



Kyle Nelson After 22 games, it is safe to say that we may have jumped the gun on Rodney Williams. Regressing in virtually every statistical category on a per-minute basis, Williams currently rates as the least productive prospect in our top 100 rankings.

There are few perimeter players in the world, however, who share Williams's combination of elite size and athleticism. At 6'7 with a long and lean frame and incredible explosiveness, there is no doubt that Williams possesses the physical tools to excel in the NBA.

From a skills standpoint, however, Williams still has a long way to go before he is ready to produce at the NCAA level, let alone in the NBA, and he has struggled to expand his skill set in any discernable way as a sophomore.

While he finds most of his offensive possessions as a spot-up shooter, he has made just 8/45 jump shots this season, or a paltry 17.8%. His shooting motion is decent, but he simply cannot make shots from either a standstill or on the move, both due to an inconsistent release point and below average shooting touch. Furthermore, he shoots a dreadful 44.4% from the foul line, an indication of the significant improvement that he must make as a shooter.

Williams is still severely limited as a ball-handler, which limits his offensive repertoire and is likely responsible for his inability to get to the foul line, where he has attempted just 45 free throws in 22 games. At this point, he is best in transition or cutting to the basket, where he can finish while utilizing his breathtaking explosiveness and not have to worry about shooting or getting around opponents.

Though he is an ineffective scorer with a relatively low usage rate, Williams is a solid role player for Minnesota due to his ability to move well without the ball and his development into an above average passer. These intangibles allow him to stay on the floor, despite his inefficient offensive production.

Where Williams really excels, though, is on defense, where he is able to fully exploit his physical and athletic advantages. His excellent lateral quickness and length allow him to both contest jump shooters and stay in front of all but the quickest collegiate guards. He is less effective guarding the pick and roll, however, where he struggles to fight through screens and loses track of his man. There is little doubt, however, Williams can be an elite defender at any level with continued improvement.

Williams's lack of production and extremely raw skill set has sufficiently dampened his pre-season draft hype, but he remains an intriguing long-term prospect due to his size, athleticism, and defensive prowess. Scouts will nonetheless be monitoring his development, because if he can somehow develop into a respectable jump shooter, there is little doubt that he will play in the NBA.

[Read Full Article]

---
Top NBA Draft Prospects in the Big Ten, Part One (#1-5)
September 1, 2010
Jonathan Givony

Many would scoff at deeming a player who averaged 4.3 points in 11.9 minutes per game the #1 returning prospect in the Big Ten conference. Indeed, Rodney Williams didn't produce like a top NBA prospect in the limited minutes he saw on the floor for Tubby Smith last season. Once you consider how downright freakishly athletic Williams is, though, combined with his prototypical size and intriguing perimeter shooting ability, you begin to understand why his upside is deemed be so high.

Standing a legit 6-7, Williams has terrific size for a wing. His long arms and excellent frame further complete the profile, giving him an outstanding base to build off when you take his unbelievable athleticism into consideration. Williams runs the floor like a deer and is a highlight reel waiting to happen in the open court. He elevates around the basket in a way that only most NBA slam dunk contest participants can, making your jaw drop at times at the explosiveness he shows getting off the ground.

Offensively, Williams is very much a work in progress at this point, as most of his production comes either off shooting 3-pointers, finishing in transition or off cuts to the basket, with very little coming in between. He gets great elevation on his jumper, showing surprisingly smooth mechanics, a good follow through, and a reasonably soft touch.

He doesn't always shoot the ball at the apex of his jump-shot, though, which leads to some very inconsistent results. Williams elevates so high off the ground that it's tough for him at times to get the timing down perfectly of when exactly to release the ball, making it difficult for him to shoot ball the same way every time. He's still working on the consistency of his jump-shot (and his 54.5% free throw shooting), and it might take a couple of years even for it to fully steady out, but there is plenty of room for optimism here.

Operating in Tubby Smith's extremely methodical half-court motion offense, Williams is a fairly limited player. His ball-handling skills are still very raw, as he needs to improve his ability to change directions with the ball, and is only capable of playing at one speed at the moment. He can beat his man off the dribble with his terrific first step and get to rim in a straight line, but struggles to create shots for himself otherwise in more advanced situations.

Similarly, he needs to improve his ability to finish through contact, as he has problems taking hits around the basket. Learning how to contort his body and draw fouls more effectively will be very important for him moving forward, as he still lacks significant polish with these little nuances of the game that most scorers possess. His decision making isn't always where it needs to be on top of that, and you'd like to see him do a better job of using his size to post up, particularly once he puts some meat on his frame. He lacks a degree of strength and toughness that may or may not be solved with added time and experience, something we'll have to continue to keep track of.

Williams is nonetheless a terror in transition, often being the first one streaking the floor on the break and being capable of taking off from incredible distances away from the rim and still finish effectively. His sheer athleticism puts him in position to make plenty of plays around the basket, which earns him lots of garbage points in the form of offensive rebounds and such, as he's capable of getting to places on the court that others simply can't. His teammates know how to take advantage of this quite well, and you regularly see them just throwing the ball in the general vicinity of the rim when he's on the court, letting him elevate over the top of the defense to flush it down emphatically. His ridiculous 2-point percentages at 68% clearly back that up.

While his offensive game will probably take some time to develop, defensively is where Williams could really make a name for himself if he applies himself. He has all the tools needed to be one of the best defenders in college basketball with his terrific size, length and athleticism, and you already saw flashes of that last year with the way he smothered opponents on the perimeter in small doses. He has the lateral quickness to stay in front of almost any type of player and the length to contest everything, making him a very versatile, dynamic threat to have out on the floor. That already manifested itself last year in the form of 2.3 blocks per-40 minutes and 1.5 steals, to go along with 5.4 rebounds.

With that said, Williams' intensity level wasn't always where it needed to be for a guy that was fighting for every second of playing time he was given. He looked lost and somewhat lackadaisical at times—something that's not all that rare in players making the transition from high school to college—and seems to lack something in the ways of fundamentals and awareness on this end of the floor. It's pretty clear that like with Williams' entire all-around game, he doesn't know how to fully use his amazing tools just yet.

It will be very interesting to see what kind of progress Williams has made over the course of the summer, as the 19-year old clearly had plenty to work on. It was disappointing to see how little playing time he was able to garner down the stretch for Minnesota last season, and we'll have to see how much faith Tubby Smith has in him this upcoming year. Despite the fact that Williams is probably not in an optimal situation at the moment, there's little doubt that an athlete of his caliber is capable of helping a team out at the college basketball level. We'll just have to see to what degree in his sophomore season.

[Read Full Article]

---