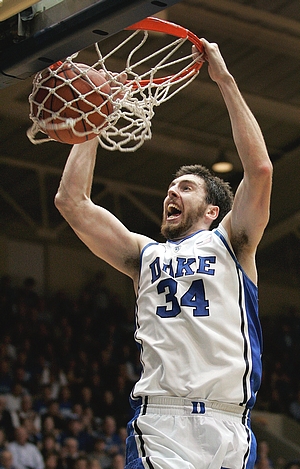 Kyle Nelson
Duke's impressive 2012 campaign fizzled down the stretch, culminating in a shocking NCAA Tournament upset at the hands of #15 seed Lehigh.
Ryan Kelly
was a key figure in both instances, providing a surprisingly versatile offensive spark before spraining his right foot against North Carolina and sitting out both the ACC and NCAA Tournaments. Before his injury, Kelly was finally starting to look like a McDonald's All-American-caliber player, as he was showing the potential to be a legitimate inside-outside threat with a penchant for hitting big shots in the clutch. Though he has emerged as a legitimate threat at the collegiate level, his NBA prospects remain uncertain.
At 6'11, Kelly has outstanding size for the power forward position with mobility and versatility to spare. He added nearly 30 pounds of muscle to his frame since entering Duke and, even at 234 pounds, looks like he can continue adding bulk to his frame. Maximizing his strength will be necessary as Kelly is a below average athlete with an average wingspan, as he lacks an ideal first step and the length or explosiveness to finish over his man around the basket.
On the offensive end, Kelly used nearly twice as many possessions as a junior and elevated his paltry sophomore production to an impressive 17.7 points per 40 minutes pace adjusted. He was an inconsistent scorer, however, logging 13 single-digit outings. He'll need to be more productive as a senior, but unlike in past seasons it was encouraging to see him employ his diverse skill set with increased comfort and settle into his role as a face-up power forward.
Kelly finds most of his offense, at this point, as a perimeter shooter. He lacks elevation on his jumper, but his consistent mechanics and a quick release, allow him to get his shot off without hesitation and with impressive accuracy. He was
one of the top perimeter shooters in the NCAA last season
, making an impressive 40% of his 4.7 attempts per 40 minutes pace adjusted. His shooting touch translates into an outstanding 81% shooting from the free throw line, as well.
Additionally, he has a diverse face-up game. Thanks to his above average ball-handling ability, he is able to operate very well out of the high post, taking his man off the dribble on his way to the basket. While he struggles to power the ball to the rim, he compensates with a finesse game including running hook shots, floaters, and layups. Furthermore, he has developed an intriguing mid-range arsenal based around his proficiency as a pull-up jump shooter.
While his lack of strength and explosiveness are glaring in the post, he actually displays very good instincts and developing footwork with his back to the basket. If he is able to carve out space on the blocks, then he shows a solid baseline spin move, at which point he can finish around the rim or launch a fade-away jumper. He is also a dual threat and proficient finisher out of the pick-and-roll, thanks to his mobility and shooting ability. He is a below-the-rim player, however, and so without getting stronger, it is difficult to see him contributing consistently in this capacity, let alone getting to the line 6.7 times per 40 minutes pace adjusted like he did last season, in the NBA.
Whether this offensive arsenal, in general, will work for him in the NBA remains to be seen, especially considering his mediocre 47% 2-point conversion rate and his tendency to get his shot blocked This, in particular, is an area of concern when projecting him to the next level: is he merely a shooting specialist or will he be able to find other ways to produce?
Concerns about his strength and athleticism are especially pronounced on the defensive end. Though Kelly is a very engaged defender with good instincts and awareness, his physical deficiencies stand out at this level and will most certainly be a problem at the next. In particular, his underwhelming lateral quickness and footspeed make him a liability away from the basket where he struggles to close out on perimeter shooters and is easily beaten off of the dribble by quicker players. At 6-11, he may be better off defending centers in the NBA, but does he have the strength to contain them in the post?
He is a below average rebounder for his size at 8.0 rebounds per 40 minutes pace adjusted, as well,
which stacks up very poorly in comparison to power forwards in our database
and certainly doesn't help his case when projecting him in an NBA rotation.
Kelly ultimately presents scouts with an interesting conundrum. Though he has an excellent feel for the game and NBA-caliber shooting ability out of spot-up, pick-and-pop, and isolation situations, his weaknesses likely relegate him to a very specific role at the next level. Therefore, any team that considers drafting him will have to be a perfect fit, able to mask his weaknesses and maximize his strengths. Despite his physical deficiencies, players with
Ryan Kelly
's skill-set are nevertheless very much in demand in today's NBA, which revolves heavily around spacing. It's not too difficult to see him landing on someone's roster when it's all said and done, but he will need to have a great senior year to ensure he gets drafted.