Shaq Goodwin
Recent Tweets
All Tweets
DraftExpress: Just too many big guys. RT @roll1697 are you surprised that Shaq Goodwin was released? Heard good reports on him from Saturday workouts.
2013-06-16 14:48:39
DraftExpress: Players released from @usabasketball U19 tryouts (cnt'd) Brandon Ashley Robert Carter Shaq Goodwin Devin Thomas
2013-06-16 14:44:15
DraftExpress: (video now public, apologies) - DX McDonald's All-American Video Profile: Shaq Goodwin http://t.co/bmfMuFvB
2012-04-05 10:27:38
DraftExpress: DX McDonald's All-American Video Profile: Shaq Goodwin http://t.co/bmfMuFvB
2012-04-05 01:00:33
DraftExpress: Pastner might have to next year. RT @SebastianPruiti: I fully expect to see Mike Brown sprinting into the arena just to bench Shaq Goodwin
2012-03-28 10:12:45
Team: Memphis, Senior
Physicals
Positions
Rankings
Misc
H: 6' 8"
W: 248 lbs
Bday: 09/01/1994
(21 Years Old)

Current: PF
NBA: PF
Possible: PF

Rank 47 in NCAA Seniors
RSCI: 33

High School: SW Dekalb
Hometown: Decatur, GA

Predraft Measurements
| Year | Source | Height w/o Shoes | Height w/shoes | Weight | Wingspan | Standing Reach | Body Fat | No Step Vert | Max Vert |
| --- | --- | --- | --- | --- | --- | --- | --- | --- | --- |
| 2013 | USA Basketball | 6' 7" | 6' 8" | 229 | 7' 2" | 8' 10" | NA | NA | NA |
| 2011 | Amare Stoudemire Camp | NA | 6' 8.5" | 248 | 7' 0" | NA | NA | NA | NA |



Basic Per Game Statistics

- Comprehensive Stats - Statistical Top 25s
| Year | League | Name | GP | Min | Pts | FG | FGA | FG% | 2Pt | 2PtA | 2P% | 3Pt | 3PtA | 3P% | FTM | FTA | FT% | Off | Def | TOT | Asts | Stls | Blks | TOs | PFs |
| --- | --- | --- | --- | --- | --- | --- | --- | --- | --- | --- | --- | --- | --- | --- | --- | --- | --- | --- | --- | --- | --- | --- | --- | --- | --- |
| 2015/16 | NCAA | Shaq Goodwin | 5 | 28.2 | 12.2 | 3.8 | 8.4 | 45.2 | 3.8 | 8.0 | 47.5 | 0.0 | 0.4 | 0.0 | 4.6 | 6.2 | 74.2 | 2.6 | 5.8 | 8.4 | 1.0 | 1.0 | 2.2 | 1.0 | 3.0 |

Player Page&nbsp&nbsp| Player Stats | Mock Draft History | Related Articles&nbsp&nbsp| Add to My Draft Express&nbsp
&nbsp
Top NBA Prospects in the AAC, Part 2: Prospects #2-5
September 17, 2014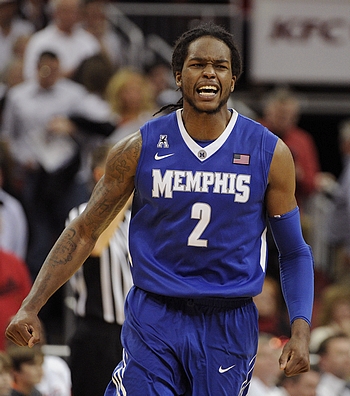 US Presswire



Josh Riddell

A top high school recruit, ranked 33rd in the 2012 RSCI rankings , Shaq Goodwin has been a positive presence in his two years at Memphis and returns for his junior season hoping to help the Tigers reach the NCAA tournament yet again. After being named to the AAC Second Team, Goodwin will be looking to improve on his sophomore season while building his draft stock.

Measured at 6'8", 228 pounds last year with a long 7'2" wingspan, Goodwin has average size for a power forward. He is still finding his most effective playing weight and can probably still add a good 10-15 pounds of muscle to his frame to help contend with stronger players. He has adequate upper body strength but needs to add lower body strength as he has a tendency to be pushed around by other power forwards on both ends of the court. Goodwin isn't the most explosive player around, but he does have a constant motor and provides the Tigers with regular energy.

Goodwin isn't a shot creator but feeds off his guards creating open shots at the rim for him. He shoots 57.9% at the rim, according to Synergy Sports Technology, but struggles to finish in traffic, as he doesn't have the greatest touch around the rim and his lack of freakish explosiveness prevents him from getting the ball above taller defenders. The majority of his offense comes from post-ups, as 25.9% of his total offensive possessions were categorized as such by Synergy Sports Technology. He is a capable post player but most of his success comes from carving out position or sealing off his defender instead of advanced footwork. When he catches the ball off the block or is forced to take his defender on, he struggles to get a viable look at the rim, which provides some concerns about his ability to be a useable post player in the NBA.

Goodwin doesn't extend his offense outside the paint often, taking only 19 jump shots according to Synergy Sports Technology. Although he made 52.6% of the small sample of jump shots, he showed very inconsistent form last season and was unable to replicate his form on his jump shots. He doesn't provide much else from a scoring perspective other than rim finishing, so finding another skill to help him become more involved in the offense will likely help his pro prospects.

Despite his physical tools, Goodwin is just an average rebounder on both sides of the court, averaging 3.4 offensive rebounds per 40 minutes pace adjusted and 5.0 defensive rebounds per 40 minutes pace adjusted. His length helps him track down some loose balls but he'll need to continue to add strength to hold off opponents and not. Considering his offensive limitations, NBA teams will certainly ask him to contribute as a rebounder, so making a more concerted effort in this area this year will definitely make him a more attractive prospect.

Goodwin is active defensively, which is reflected in his 1.7 steals and 2.3 blocks per 40 minutes pace adjusted. This is a unique combination of steals and blocks for a big man, as only ten other big men who played at least twenty minutes per game posted at least 1.5 steals and 2.0 blocks per 40 minutes pace adjusted last season. His physical profile gives him potential as a defensive player and he will need to provide value defensively this season to fill out his potential value to a NBA team. Again, adding some strength to contend with bigger players will be a big boost for him, as he can get pushed around and backed down when defending the post.

As Memphis enters its second season in the AAC, Goodwin will be an intriguing prospect for NBA teams to watch. He has a nice array of physical tools for a power forward, but it remains to be seen whether his basketball skills can match his physical traits. Goodwin fits the mold of a role player but needs to show he is committed to providing energy and rebounding on a nightly basis. If he does that while adding some strength to help become a more consistent finisher around the rim, a NBA team may decide to take a chance on him to round out their rotation.

[Read Full Article]

---
USA Basketball U19 World Championship Training Camp Report
June 17, 2013
One of the few surprise cuts from the ten players released, Shaq Goodwin had a solid showing in Colorado Springs, but may have been a victim of the numbers game considering the team only took five big men among a very deserving group of seven.

Goodwin looks to have trimmed down significantly from where he was at this stage last year, likely a product of Memphis' terrific strength and conditioning program. He may even be a little too skinny at this point, particularly in the lower body, which made it difficult for him to defend the low post at times and may have played a role in him being released from the roster.

Goodwin is not an overly skilled big man, mostly relying on his long arms and terrific athleticism to make his presence felt around the basket. He was very active on the offensive glass for example, often rising up in a crowd and coming up with some emphatic putback dunks. He's also an excellent target for lobs thanks to his solid hands and terrific leaping ability. Not showing much of a low post repertoire, or a polished perimeter game, Goodwin is mostly reliant on teammates to get him the ball in position to score.

Defensively, Goodwin is a live body when his motor is fully turned on, being a real playmaker thanks to his physical attributes, getting his hands on plenty of blocks, steals and deflections. He's a surprisingly poor defensive rebounder as he rarely boxes out and doesn't show the best instincts pursuing loose balls off the glass, something he needs to work on considering his other limitations.

All in all, Goodwin seems to have made progress from where he was last summer and certainly from the first time we saw him two years ago, which is a good sign for his development. He still has plenty of room to grow as a player in terms of his skill-level and knowledge of the game, but has an interesting frame-work to build off of long term.

[Read Full Article]

---
McDonald's All-American Video Profile: Shaq Goodwin
April 4, 2012
Video filming and production courtesy of Tad Hathaway of 312 Media
[Read Full Article]

---
adidas Nations: Top 2012 High School Prospects
September 7, 2011
Jonathan Givony

A long, strong, athletic big man with good hands and a developing skill-set, it's easy to see what both the football and basketball recruiting services like about Shaq Goodwin (#24 Scout, #26 Rivals, #19 ESPN). Although possibly a bit undersized at 6-8, he has the frame, wingspan and motor coaches love to have in their frontcourt rotation, and he has no qualms at all about what he is at this stage.

Goodwin gets most of his production running the floor (ferociously) in transition, crashing the offensive glass and finishing whatever his teammates are able to create for him around the rim with powerful dunks. His post game shows potential but is still a work in progress, and he doesn't attempt to do much of anything outside the paint.

Defensively, Goodwin gets by mostly with his physical tools at this point, and is able to be quite a presence on the glass when he's fully dialed in. His lack of experience and average feel for the game will reveal itself from time to time, but considering his age, that's not a surprise.

Scouts will likely be watching closely how the rest of Goodwin's game comes along in the next few years, as his physical tools are a commodity you don't find every day. Right now he's talking about playing both football (he's also a highly touted wide receiver prospect) and basketball in college, but it's difficult to see how that would be possible considering the demands of both sports.

[Read Full Article]

---