Sheldon McClellan
Recent Tweets
All Tweets
DraftExpress: Top NBA Prospects in Big 12 (#6-11) http://t.co/ac8fCVbX Rodney McGruder, Jordan Henriquez, Steven Pledger, Cory Jefferson Sheldon McClellan
2012-10-03 06:29:31
Team: Miami FL, Senior
Physicals
Positions
Rankings
Misc
H: 6' 5"
W: 205 lbs
Bday: 12/21/1992
(22 Years Old)

Current: SG
NBA: SG
Possible: SG

Rank 88 in Top 100 Prospects
Rank 28 in NCAA Seniors
RSCI: 42

High School: Bellaire
Hometown: Houston, TX




Basic Per Game Statistics

- Comprehensive Stats - Statistical Top 25s
| Year | League | Name | GP | Min | Pts | FG | FGA | FG% | 2Pt | 2PtA | 2P% | 3Pt | 3PtA | 3P% | FTM | FTA | FT% | Off | Def | TOT | Asts | Stls | Blks | TOs | PFs |
| --- | --- | --- | --- | --- | --- | --- | --- | --- | --- | --- | --- | --- | --- | --- | --- | --- | --- | --- | --- | --- | --- | --- | --- | --- | --- |
| 2014/15 | NCAA | Sheldon McClellan | 38 | 33.6 | 14.5 | 5.1 | 10.4 | 48.4 | 3.6 | 6.5 | 56.1 | 1.4 | 4.0 | 35.8 | 2.9 | 3.6 | 82.4 | 0.8 | 3.8 | 4.7 | 1.9 | 0.9 | 0.2 | 1.3 | 1.6 |

Player Page&nbsp&nbsp| Player Stats | Related Articles&nbsp&nbsp| Add to My Draft Express&nbsp
&nbsp
Top NBA Draft Prospects in the Big 12, Part Four
October 2, 2012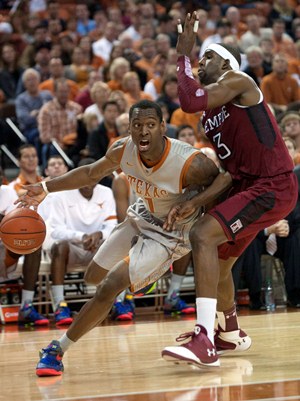 US Presswire



Joe Treutlein

After a strong freshman season in which he ranked second on the Longhorns in scoring, Sheldon McClellan could be poised for a breakout season as a sophomore, as last year's leading scorer J'Covan Brown has since departed for the NBA.

Standing 6'5 with very good length, a solid frame, and very good athletic abilities, Sheldon McClellan has ideal attributes for a shooting guard at any level. These attributes weren't always consistently on display in his offensive game as a freshman, however, as he was mostly asked to simply fill a role, specifically that of a spot-up shooter.

On the offensive end, McClellan made most of his contributions shooting the ball last season, as 67.4% of his half-court shot attempts were of the jump shot variety last season according to Synergy Sports Technology. McClellan has excellent mechanics both spotting up and pulling up off the dribble, showing good elevation and a high and consistent release point. McClellan took nearly twice as many jumpers spotting up as compared to off the dribble, but actually is more impressive with his ability to convert off the dribble, as his 0.944 points per shot pulling up is almost as efficient as his 0.99 spotting up.

McClellan does most of his damage off the dribble operating with simple moves in small areas, usually starting with a jab step or ball fake and taking one or two dribbles into a quick pull-up shot. He has no problems creating separation and doesn't need much space to get off his shot. On the down-side for McClellan, his 31% three-point shooting last season wasn't impressive, and is something he'll definitely want to improve on this year. He should be relied upon much more heavily to create offense for the Longhorns, however, so improving his efficiency while having to take more difficult shots won't be an easy task.

McClellan wasn't a very strong factor taking the ball to the basket as a freshman, seeing the vast majority of his offensive touches coming on the perimeter. He didn't show much in terms of advanced ball-handling, though it is something he utilized in his high school days so it will be interesting to see how much more he shows in this area this year. McClellan's lack of attempts taking the ball to the basket was a big boon to his overall efficiency as a freshman, as it played a big role in how he managed to average just 0.1 turnovers per possession, which is extremely low for a guard.
At the basket, McClellan wasn't a very good finisher as a freshman, but shows potential with his size and leaping ability. In addition to not taking the ball frequently to the basket himself, he wasn't utilized much on cuts either, so how he fares in this area as he expands his offensive role this season is certainly something to watch for.

On the defensive end, McClellan also has a lot of room to improve, as despite showing a good opening stance on most plays, he doesn't always put in the effort to really lock down his man, getting beat far more often than he should. While his tools allow him to be a solid collegiate defender without putting in maximal effort, really putting in the energy on this end of the floor could allow him to be a real force and is certainly something that could help his stock considerably.

Looking forward, it's tough to make concrete projections about McClellan from his freshman season given the relatively small and well-defined role he often played, though it's clear he has potential in many areas of the game. Improving his shooting numbers to match the expectations many have for him will certainly be key for his stock going forward, but taking his game to the next level defensively and adjusting well to a likely expanded shot-creator role this season will also be very important. While it's tough to take an accurate gauge of his draft stock now, things could be much different in a few months, and that makes McClellan one of the more interesting draft prospects to watch this year.

[Read Full Article]

---