Trending Prospects (3/31/2011)
March 31, 2011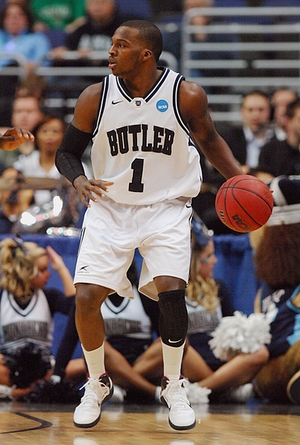 Icon SMI
Derek Bodner
After a mid-season slump,
Shelvin Mack
appears to be hitting his stride just in time. Behind terrific games against Pittsburgh and Florida, Mack and the Butler Bulldogs have made another improbable run to the Final Four, even after the departure of
Gordon Hayward
to the NBA draft last summer.
Shelvin Mack
is a 6'3" guard with an NBA caliber frame. He's a strong combo guard, with solid, but not spectacular quickness and average explosiveness. Mack would have good size and strength for the point guard position, but would be undersized if asked to spend substantial minutes at the shooting guard spot—a position he's often played at Butler.
With the loss of Hayward, Mack was expected to carry a high burden of the scoring load at Butler, an expectation that has come to fruition. Mack is now up to a career best 20.2 points per 40 minute, pace adjusted. His efficiency numbers have taken a significant drop, however, down to 40.5% from the field from 45.4% last year. His efficiency from three has also decreased, to 34.1% from the three point line, down from 39.1%. This is somewhat offset by taking a career high in both three point attempts and free throw attempts, but still ranks him
towards the bottom of the pack in terms of efficiency
amongst prospects in our top-100 rankings.
This drop in efficiency is more indicative of his changing role than any fundamental difference in his shot. Mack came to Butler primarily getting his offense in transition and as a spot-up shooter during his freshman season. That shot distribution has changed drastically during the past two years as he's shouldered a heavier burden creating in the half court offense. Mack is now getting less of his offense on spot-up and transition opportunities, instead being asked to create off the pick and roll and in isolation situations. In fact, according to Synergy Sports Technology, over 29% of his half court offense is now coming from pick and roll situations, up from 18.7% during his sophomore campaign and 13.3% as a freshman.
Mack's development into primarily being a pick and roll half court guard is part an evolution in his game, and partly because of
Matt Howard
's development into a perimeter threat. Mack shows a good feel for the pick and roll game, showing an ability to drive to his right off the pick and roll, as well as good patience in waiting for the big to recover to get an open look from deep. Mack has NBA three point range with an ability to hit long distance shots off the dribble.
Mack still plays a large majority of his minutes off the ball, as last year's starter at the point Ronald Nored, as well as Shawn Vanzant, who replaced Nored in the starting lineup earlier this year, share a lot of the ball handling and distribution responsibilities with Mack. Mack gets the majority of his assists off the pick and roll, and off dribble penetration in general, showing solid awareness in the lane and an ability to kick the ball out to spot-up shooters.
That being said, Mack still has a ways to go before proving himself as a pure point, and that's one of the primary questions decision makers will have about him as an NBA prospect. That's not to say Mack is ball dominant, as he gets most of his shots within the confines of Butler's fluid offense.
When looking to generate scoring opportunities for himself in the lane, Mack has good body control when finishing with his right hand, doing a good job of creating space with his left hand while displaying good touch around the rim and showing good change of direction to create space despite his average first step.
Things become a little bit more questionable when driving to his left, as he more often than not tries to finish with his right hand regardless, often times going across his body or into the defender. This shows up when looking at his efficiency, as while he's converting at an above average rate of 1 point per possession when driving to his right, that figure plummets nearly in half to 0.526 when going left. This leaves Mack much more likely to settle for a contested jump shot when going to the left rather than going all the way to the basket, opting for low percentage contested jump shots, while not getting to the line much in these situations.
Mack does have a variety of floaters, step backs, and pull-up jump shots he uses when getting into the paint, combating his lack of vertical explosion. Developing a very reliable pull-up jump shot, Mack does a good job of shooting off the dribble and making contested jump shots, showing an ability to come to a quick stop and get good elevation and balance on his attempts.
On the defensive side of the ball, while Butler plays primarily man to man defense, Mack is generally defending the shooting guard position, and often times the small forward position as Brad Stevens plays Nored, Vanzant and Mack together in a three guard lineup regularly. Mack's strength allows him to defend bigger players better than most guards of his size, but this makes it hard to gauge Mack's ability to defend the point guard spot. While not having great lateral mobility, Mack appears to have good length, solid fundamentals and is an attentive defender, but Nored and Vanzant are the primary defenders at the point of attack, more often than not taking the quickest guy on the opposition.
Mack will be in an interesting position this spring. With the combination of a tough out of conference schedule and deep NCAA tournament runs in back to back years, Mack has been in the public's eye for quite some time now, and if he stays for his senior year, he'll be 23 years old by the time of his draft. It's tough to expect him to lead Butler to a third straight Final Four next season, but anything less than that will be a step backwards relative to the incredibly high standards he's set.
That being said, decision makers are likely to have wanted to see Mack playing the point – on both sides of the ball – for substantially more time, and unless a team was really impressed with his NCAA tournament games against Pittsburgh and Florida, it's hard to be certain of Mack's chances to land in the first round. With Butler set to lose Vanzant, Howard, and Zach Hahn to graduation, that takes away much of Mack's kick out options, and still leaves fellow Junior Ronald Nored in line to receive a good portion of the precious point guard minutes Mack needs to prove himself in the minds of NBA executives.
[
Read Full Article
]
Top NBA Draft Prospects in Non-BCS Conferences, Part Two (#11-15)
November 2, 2010
Walker Beeken

Shelvin Mack enters his junior season at Butler as a well-known commodity following the surprise run by the Bulldogs to the national title game in 2009-2010. Mack was a key player and all around contributor for Butler as a sophomore, and he'll have the opportunity to play even a more featured role this season with the departure of Gordon Hayward to the NBA.

Standing at 6'3" and weighing in at about 215 pounds, Mack has good size for an NBA point guard prospect, but he played primarily as a two guard for Butler last season, sharing the ball-handling responsibilities with backcourt mate Ronald Nored. And while Mack displays a good feel for the game and solid decision-making, he is not a prototypical pass-first point guard. Some of this could be attributed to his role at Butler, and the team's lack of other creators offensively, but Mack plays with a scorer's mentality, focusing on finding shots for himself. This isn't to say that he appears to be selfish at all though, as he does most of his damage within the flow of the offense. He does a nice job making the correct read on pick & rolls, hits the open man on drive-and kick opportunities, and he doesn't hesitate to make the extra pass when needed. Regardless, NBA scouts will likely have questions about his ability to run a team from the point guard position and become more of a facilitator.

Most of Mack's game on the offensive end is built around his perimeter jump shot. His deep range makes defenders play him well out on the perimeter, which sets him up to take what the defense gives him and opens up opportunities for his dribble game. He shoots the ball with great confidence and a quick trigger, and showed during the Bulldogs tournament run that he's willing and able to knock down shots in clutch situations. Mack actually seems more comfortable shooting the ball off the dribble then with his feet set, as evidenced by the poor 30% he shot last season on catch and shoot jumpers. He hit 39% overall from behind the 3 point line last season, up from 33% as a freshman, but there is still room for improvement.

As a creator off the dribble, Mack has just average speed and explosiveness, and lacks a lightning-quick first step to blow by his man, but he plays the game at a nice pace and effectively changes speeds off the dribble to find openings for dribble penetration. He has a very good mid-range game, where he has the ability to smoothly pull up off the dribble going either direction. He also does an excellent job of utilizing his size and strength to create space and has a knack for finding ways to get his shot off in the lane and mid-range area, despite his lack of elevation.

Defensively, Mack is able to cover all three perimeter positions at the college level, and he was an integral part of Butler's stingy defense last season. While his athleticism is nothing to get excited about, he has a big, strong frame with broad shoulders and long arms that enables him to defend bigger players, as well as help compensate for quickness disadvantages he faces against more explosive point guards. When projecting him as a defender at the NBA level, Mack is the type of guard who could be used in different backcourt combinations, because of his ability to potentially defend either guard slot, depending on matchups.

After making a name for himself in last season's NCAA tournament and impressing many who saw him this summer with USA basketball, Mack will have plenty of eyes on him this season as a junior. He should be one of the most complete guards in the college game this season, and while he may not necessarily be an NBA caliber athlete or a pure point guard, he has a toughness and confidence to his game that enables him to be more effective on both ends than one would think at first glance. If he's able excel in his role as the go-to guy this season in Hayward's absence, and make teams believe that he's capable of running a team from the point guard position, Mack will no doubt earn some fans amongst NBA scouts and decision-makers.
[
Read Full Article
]