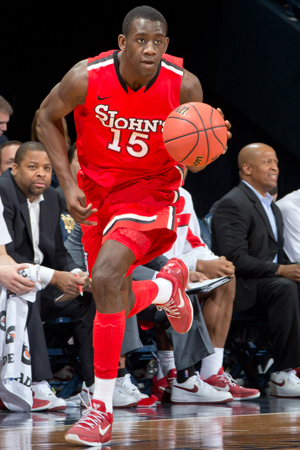 Kyle Nelson
Junior wing Sir'Dominic Pointer has largely flown under the radar thus far, despite entering St. John's
ranked 40th in his high school class
. Though Pointer is a versatile, two-way player, his lack of assertiveness and underwhelming scoring production have muffled the amount of attention he's garnered, despite playing an integral role for St. John's. After a very efficient sophomore season and finally surrounded by a good amount of experienced talent, is Pointer ready to take the next step in his development as a NBA prospect?
At first glance, Pointer does not look like a particularly impressive prospect at the small forward position he currently sees most of his minutes at, standing 6'5 with a 6'8 wingspan and a 198-pound frame. He is a very good athlete, however, showing the ability to run the floor in transition and
explode to the basket
, to compliment his solid strength, quickness and body control. Despite his average size, his physical profile allows him to distinguish himself at the NCAA level.
As noted above, however, he is anything, but productive, scoring in double figures in less than one third of his games while averaging a paltry 9.9 points per 40 minutes pace adjusted. His usage rate barely increased between his freshman and sophomore seasons, although his efficiency increased substantially.
Most of Pointer's offense comes playing off the ball, in transition, as a spot-up shooter, from cuts, and through the offensive glass. He is an impressive finisher, making 61% of his shots around the basket, with the ability to both run the break and play off of his teammates on his way to acrobatic finishes at the rim.
Equally notable, however is his ability to create shots for his teammates. Pointer completely transformed his game as a sophomore, racking up 4.1 assists per 40 minutes pace adjusted, versus just 2.0 as a freshman, and ranking among the most
prolific passers
among wing players in our database. He needs to improve his ball-handling ability to continue to emerge as a threat in one on one situations and off the pick and roll, but his athletic ability and strong feel for the game should help him in this regard if he continues to work on his skill-level.
It is worth pointing out that
his unselfishness borders on passivity
at times, and St. John's offense can be hampered at times because of his eagerness to pass the ball.
Pointer's inability to make shots from the perimeter hampers his productivity significantly, as he made just 9 3-pointers last season and a paltry 23% of his shot attempts off the dribble. His mechanics are inconsistent at best in pull-up situations, something he'll have to work on to continue to make the transition to the shooting guard position.
Pointer appears to be a decent shooter with his feet set, even if the very small sample size of 26 attempts in 32 games leave a lot to be desired. He made 38.5% of his attempts in these situations, while displaying fluid and consistent shooting mechanics with adequate time and space. With that said, the 66% he shot from the free throw line last season suggests that he has a lot of work to do still.
While Pointer is an unproven player on the offensive end of the floor, he is one of the Big East's most versatile perimeter defenders, with the capacity to guard four positions at the collegiate level. He has excellent lateral quickness and is a threat to both block shots (1.3 blocks per 40 minutes pace adjusted) and disrupt passing lanes (2.1 steals per 40 minutes pace adjusted). He also does a good job of crashing the defensive boards, a testament to the fact that he stays involved on defense throughout. Though his tendency to gamble occasionally compromises St. John's defensive rotations and he is foul prone at 4.3 per 40 minutes pace adjusted, he has the combination of aggressiveness and athleticism that NBA teams expect out of perimeter defenders.
Ultimately, Pointer is still flying under the NBA radar for very good reasons. He plays a large role, but he does very little at even an average level on the offensive end of the floor without being particularly productive or consistent. Improving as a ball handler and developing as a consistent perimeter shooter would be big steps in the right direction, as there is always room on NBA rosters for athletes shoot, defend and attack in transition and close-out situations. Additionally, playing on what should be a good team in the Big East means that he will have plenty of opportunities to prove to scouts that he is worth consideration as a legitimate NBA prospect.