Scouting Report by Jonathan Givony. Video Analysis by Mike Schmitz
Steven Adams
is a prospect we've been evaluating for the better part of three years now, having watched him for
the first time
in Los Angeles at the adidas Nations when he was 16 years old, and virtually a complete unknown. His profile increased substantially a year later when he
again returned to the adidas Nations
and had a very impressive outing against a number of top high school recruits, which kicked off speculation that he might skip college and enter the 2012 NBA Draft as a 19-year old early-entry candidate.
Video Analysis
More Video Scouting Reports
Adams eventually elected to honor his commitment to Pitt after moving to the US mid-season to attend Notre Dame Prep, a "school" with
a checkered past
which served as a holding spot to keep him in line to get eligible for college.
Adams had an up and down freshman season, looking fairly raw as was expected for those familiar with his background as a late-bloomer with limited basketball experience, but still dropping enough glimpses of potential to keep scouts interested in his long-term development. When the season ended, Adams
told reporters
he will be returning for his sophomore season, even sounding slightly annoyed to being asked about it: ""I don't know why you guys keep asking that question, man. I'm coming back."
Once Adams returned to New Zealand to visit his family for a week, things changed, as he returned to Pittsburgh and shortly after announced his intentions to enter the draft,
citing his desire
to help his family.
"It's time for me to help my family. There's certain family members who I feel need a bit more help than the others. I don't like seeing them struggle. It's quite sad to see your family struggle, you know what I'm saying. I don't want to see that anymore."
Adams' main virtues as a NBA prospect continue to revolve heavily around his physical profile, as he has rare size, a strong frame, and excellent athleticism. He runs the floor well, is extremely mobile, and has very good quickness for a player his height, also being capable of playing above the rim when called upon.
Offensively, Adams was a very limited player at Pitt, averaging 7 points in 23 minutes, or 12.3 points per-40 minutes, which is the fourth lowest rate of any of the 75 college players in our top-100 prospects. While he was efficient from the field in his limited attempts (57%), he struggled badly from the free throw line, making just 44% of his attempts, a pretty good indication of where his skill-level is at in this stage of his development.
Not a focal point of Pitt's offense, being responsible for just 11% of his team's overall possessions, Adams' biggest source of touches came from the offensive glass, where he was extremely effective. His 5.2 offensive rebounds per-40 minutes ranks 3rd best among collegiate top-100 prospects, as his combination of size, quickness, mobility and intensity were extremely effective in making his presence felt on the offensive glass.
He also saw some looks working off the ball, running the floor in transition, and even occasionally with his back to the basket, but struggled to make the most of such opportunities on a consistent basis.
Adams has very crude footwork in the post and little in the ways of countermoves if the defender is able to cut off his initial action. He often decides what he wants to do with the ball seemingly before he even catches it, not reacting to how his defender is playing him and struggling to improvise on the fly if his initial plan goes awry. He's very mechanical with his movements and not overly instinctive with his approach to the game, which leaves some concerns about how much he can improve on this end of the floor in time.
Even more concerning though is how poor of a finisher he appeared to be around the basket this year. Adams had a difficult time catching the ball cleanly all season long resulting in quite a few turnovers. He bobbles the ball on the catch regularly, as he seems to need to have it thrown to him perfectly so he can get two hands around it, at times using his chest to assist him. Because of his lack of control upon catching it, he tends to either hesitate going up strong for the finish, or just throws the ball up on the rim, seemingly just hoping for the best. The fact that he doesn't get great extension on his moves around the rim makes him fairly predictable and resulted in him getting his shot blocked a fair amount relative to his small number of touches.
Additionally, Adams has a bit of a subdued, non-chalant demeanor on the floor, rarely looking angry or in much of a hurry, which results in some relatively soft finishes. While he's very explosive, rarely did you see him getting angry and just powering up through a defender and jamming it home, which further hampered his effectiveness on this end of the floor.
Stepping away from the basket, Adams is not much of a threat, as you would probably guess by his mediocre free throw shooting percentages (44%). He shoots the ball with poor mechanics, locking his elbow, not setting his feet, and showing no follow through on his release. Combine that with his average touch and it seems he has a long ways to go to become a legitimate threat outside of the immediate vicinity of the basket.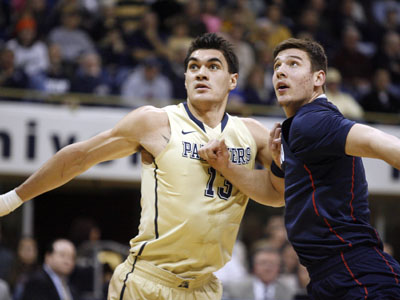 Where Adams looks much closer to being able to contribute to a NBA team is on the defensive end. His quickness and overall mobility is extremely impressive for a player his size, and allows him to make a significant impact on this side of the floor, particularly on the pick and roll. Adams can step out on screens and recover very effectively, even being able to switch out on guards at times and not look entirely uncomfortable. He'll get beat off the dribble at times, but is athletic enough to recover and still make a play at the rim, showing very good instincts as a shot-blocker.
Adams seems to have good potential as a rim-protector, already rejecting 3.7 blocks per-40 as a freshman, which ranks fifth among collegiate top-100 prospects.
In the post, Adams does a solid job, looking patient and not fouling too often, playing under control and showing a much better feel than he does on the offensive end.
With that said, Adams' technique and fundamentals still have a long ways to go, as he tends to give up deep post-position too frequently to stronger opponents, closes out wildly contesting shots on the perimeter, gets lost off the ball, and will make some ill-advised plays stemming from his lack of experience and coaching.
Adams also isn't as good of a defensive rebounder as you might hope, ranking second to last in that category among top-100 collegiate centers. He rarely boxes out opponents, mistimes his jumps, and has a difficult time coming away with loose balls in traffic because of his questionable hands, something he'll need to improve on considering the role he'll be expected to play in the NBA.
All in all, Adams is clearly a long-term project who a team will need to invest a few years of solid coaching in order to be able to expect to reap benefits from down the road. He may never develop into anything more than an average player offensively, but has excellent potential defensively thanks to his terrific physical tools, which could convince a NBA team to invest a pick on him somewhere late in the first round. Teams will first want to get a better feel for his mental approach and all-around feel for the game in private workouts, interviews and background checks.