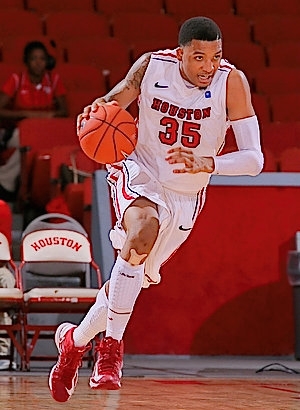 Joe Treutlein
Not a very heralded recruit coming out of high school, Tashawn Thomas has had an impressive first two college seasons for Houston, and he will have a good opportunity to take another step forward on a bigger stage in the newly formed AAC. Thomas was an extremely productive and efficient player across the board for the Cougars last year, and it will be interesting to see if that holds up against the higher level of competition he will soon face.
Standing 6'8 with very good length and a strong, well-built frame, Thomas is deceptively fast and rangy for his size, while having a good combination of nimble feet, coordination, and fluidity in his movements. While not an incredibly explosive player by any means, he has no problem elevating to finish with power around the basket, and does a great job maximizing the abilities he does have with his instincts and style of play.
On the offensive end, Thomas does most of his damage in the paint, where he boasts a formidable low-post and mid-post game. He switches easily from face-up to back-down situations, showing good command of spin moves, hook shots, and turnaround jumpers when the situation calls for it. He is capable of finishing with both power and finesse, scoring on a very strong 56.5% two-point percentage despite being an offensive focal point and creating much of his own offense.
Thomas also does a good amount of finishing on pick-and-rolls, cuts to the basket, getting out in transition, and crashing the offensive glass, being very good in catch-and-finish situations, taking advantage of his size, strength, and mobility well. He's aggressive moving off the ball and finding ways to stay involved, showing a very good feel for the game and knack for putting himself in high-percentage scoring situations.
Thomas doesn't boast much of a perimeter game at this stage, not having much of a dribble-drive game and not being especially consistent or effective with his jump shot. He has decent enough form on the shots he does attempt, and even tried nine threes on the season (making just one), while also shooting a passable 66.2% from the free-throw line. Further developing his jumper can only help his pro potential, giving him the possibility of being used as a safety valve or in pick-and-pop situations.
The biggest question with Thomas' offensive game at this stage is whether he can continue to do the things he does inside against bigger, more athletic opponents, something that will be partially tested against stronger conference competition this year. He often beat up on smaller, less formidable frontcourts in his first two seasons, making good use of his considerable strength advantage, but the range he shows on his mid-post moves combined with his feel for the game could allow him to adjust well to the tougher opposition.
On the defensive end, Thomas is an active player who uses his length very well, blocking a solid 1.7 shots per game while also contesting opposing shots very well in man-to-man post defense. His post fundamentals could still use some work, as he doesn't take advantage of his strength very much at all, rarely getting low and using good leverage, often being backed down more than he probably should be. On the perimeter, he actually looks somewhat competent when switched onto opposing guards, and shows good positioning and effort hedging pick-and-rolls, but his lateral speed can't be considered a strength at the power forward position at the next level, and he'll need to really shore up his back-to-the-basket defense to maximize his abilities on this side of the floor.
The other area Thomas really excels in is on the glass on both ends of the floor, being an active player with good hands and a good nose for the ball, pulling down a solid 10.9 rebounds per 40 minutes pace adjusted. He isn't elite in this category by any means, and he certainly has some room for improvement here, and this is probably the area where he'll really need to reach his potential to best increase his chances at the pro level.
Looking forward, Thomas is a very skilled and productive college player who very likely has a successful pro career ahead of him somewhere, but there are many question marks projecting to the NBA given his size and interior game. Undersized 4's in his mold have found niches in the NBA before, and he has the physical tools to follow in their path, but getting the most of his abilities on defense and the glass will be critical to his chances, along with continuing to improve his post game and developing a more consistent perimeter jumper.