We continue our coverage of the top returning NBA prospects in the AAC with part four, players ranked #11-15:
Danuel House
,
DeAndre Daniels
,
Tashawn Thomas
,
Wayne Blackshear
and
Omar Calhoun
.
Incoming freshmen have been excluded from these previews, as we'd like to wait and see what they have to offer on the NCAA level before we come to any long-term conclusions.
-
Top 30 NBA Draft Prospects in the ACC
-
Top 15 NBA Draft Prospects in the Big Ten
-
Top 10 NBA Draft Prospects in the Big 12
-
Top 15 NBA Draft Prospects in the Pac-12
-
Top 15 NBA Draft Prospects in the Big East
-
Top 15 NBA Draft Prospects in the SEC
-
Top NBA Prospects in the AAC, Part One
(#1) Montrezl Harrell
Video Scouting Report
-
Top NBA Prospects in the AAC, Part Two
(#2) Russ Smith
(#3) Joe Jackson
(#4) Chane Behanan
(#5) Michael Dixon
-
Top NBA Prospects in the AAC, Part Three: (#6-10)
(#6) Geron Johnson
(#7) Isaiah Sykes
(#8) Shaq Goodwin
(#9) Shabazz Napier
(#10) Sean Kilpatrick
#11, Danuel House, 6-7, Sophomore, SG/SF, Houston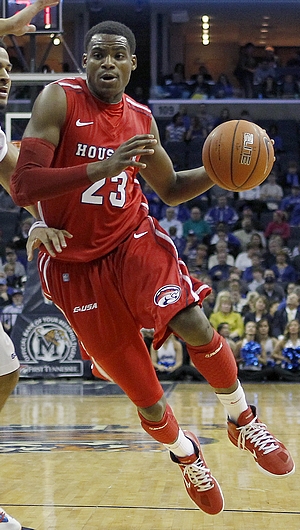 Jonathan Givony
A consensus top-30 high school recruit, Danuel House surprised many by electing to commit to his hometown school of Houston, passing up the likes of Kansas, Texas, Ohio State, Georgetown and Baylor.
While his first season in college slipped largely below the radar screen of the national media, playing for a team that finished below .500 in conference-play, he still had an excellent overall campaign, winning freshman of the year honors in Conference USA.
Now moving to the American Athletic Conference, where he'll see stronger competition alongside the likes of Louisville, Memphis, UConn and others, House has a chance to emerge in a much more significant way if he's able to improve on his strong freshman season.
Standing 6-7, with a lanky frame, House looks the part of a NBA wing player. He's a very good athlete on top of that, showing excellent speed in the open floor and the ability to play above the rim with ease.
Offensively, House shows an interesting framework of skills to work with. He's very good in transition, where his quickness and explosiveness make him extremely dangerous, but is also capable of making his presence his felt in the half-court.
House was not a consistent shooter as a freshman, making just 32% of his 3-point attempts on the year, but he shows good potential in this area with solid shooting mechanics and touch, both with his feet set and off the dribble. When he catches and shoots the ball in rhythm, he sees very strong results, but his release point tends to fluctuate at times, and his shot-selection isn't always great, which hurt his percentages last year.
House's athleticism and scoring instincts allowed him to find some success inside the arc as well. His quick first step helped him get to the free throw line nearly 7 times per-40, one of the top rates among freshmen prospects, even if he still needs to improve his strength in order to become a better finisher around the basket. His advanced ball-handling skills are also still a work in progress, as he struggles to change directions with the ball and isn't much of a threat in isolation or pick and roll settings—things that will likely come with added skill-development and experience.
The biggest weakness House possesses at the moment likely revolves around his play on the defensive end. With his size and lateral quickness, House has the potential to guard multiple positions and be extremely disruptive if he put his mind to it, but unfortunately that's hardly the case at the moment, as he shows poor fundamentals and a very low intensity level.
Showing a difficult time getting (and staying) low to the ground to contain shot-creators, House looks far too eager to relax in his stance, frequently allowing his opponents to drive right past him. He doesn't fight through screens aggressively, is often out of position in his team's zone or pick and roll coverage, contests shots lackadaisically on the perimeter, and gets overpowered inside the paint by stronger players on a regular basis.
To his credit, House's lack of interest in playing defense isn't an isolated issue on Houston's roster, as the team ranked second to last in this defensive efficiency among the twelve C-USA squads last season, ahead of just lowly Rice, who went 1-15 in-conference. This has been a consistent issue the last few years for Houston, so it will be interesting to see if things change at all playing against stronger competition in the AAC this season. Needless to say, the next coaching staff that House plays for will likely have a lot of work to do on this end of the floor.
Defensive issues aside, House is an extremely talented prospect that scouts will certainly want to keep an eye on. He has NBA size and athleticism, to go along with a budding skill-set on the perimeter that shows plenty of promise. With that said, his team played one of the weakest schedules in college basketball last season, so he still has a lot to prove to increase his notoriety in NBA circles.
#12, Deandre Daniels, 6'9, Junior, Small Forward, UConn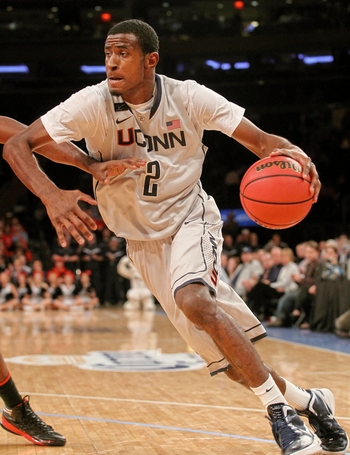 Josh Riddell
Up and down throughout his sophomore year, DeAndre Daniels ended his season on a high, averaging 21.2 points per game and 9.0 rebounds per game over his last four outings. He will look to ride this momentum into the 2013-14 season, as a 20-win Connecticut team returns all five starters and are now eligible for a postseason bid.
After playing only 12 minutes a game as a freshman, Daniels stepped into a bigger role in his second year, seeing 29.2 minutes per game. His production on a per-40 minute pace adjusted level also increased notably, but scouts will want to see more consistent production from him throughout the season. Daniels ended up scoring 12.1 points per game, shooting 51% on 2's and 30.9% on 3's while contributing 5.5 rebounds per game.
What has put Daniels on the map with scouts are his athletic tools and potential. Measuring 6'8 ½" with a long 7'0 ½" wingspan, Daniels has put on some weight while at Connecticut but still has some room to fill out his wiry 195 pound frame. He has great speed and is able to get up and down the floor quickly in transition faster than most players his size.
Offensively, Daniels has struggled to find one definitive skill he can hang his hat on to allow him to put up points on a nightly basis, besides filling the lane in transition. Daniels can be tough to matchup against, as he can shoot over smaller defenders in the post from the small forward position and beat bigger defenders off the dribble in isolation situations as a power forward. At this point in his career, his ball handling skills are merely average and he is not strong enough to back down post defenders, so it remains to be seen if he can find sustained success in either of these areas.
Daniels has decent shot mechanics, helped by his length to allow him to have a high release point preventing his shot from being blocked, but this hasn't translated into results yet. He shot only 35% on all jump shots last season, according to Synergy Sports. With his frail body type, Daniels projects as a perimeter player at the next level so he will need to become a more consistent shooter to show he can help stretch the floor.
Around the rim, Daniels improved from his freshman to sophomore season, both in the number of shots taken per game as well as his field goal percentage on these attempts (52.9% to 56.3%), according to Synergy Sports. As he continues to add strength, he will find it easier to finish, especially through contact. There are times when he is still unwilling to absorb contact which causes him to alter his shot in a negative way instead of drawing a foul. Scouts will want to see him be more aggressive on a regular basis, while using his explosiveness to play above the rim or creating free throw attempts by driving into the defense.
Defensively, Daniels has the physical tools to be an adequate defender but doesn't quite seem to have the fundamentals to match yet. While he has the speed to stay in front of ball handlers on the perimeter, he has the tendency to stand upright or be slow in moving his feet, which leads to him getting beat off the dribble. However, he then has the length and agility to recover and challenge the shot and his 2.0 blocks per 40 minutes pace adjusted
ranked 6th
among small forwards last season.
Bigger offensive players can take advantage of the strength discrepancy by posting up Daniels, as they are able to secure great position by backing him down on the block. Daniels' length allows him to mitigate this somewhat, as he can disrupt the shot attempt, but most good post players will be able to score on him until he adds some strength.
It will be interesting to see how Daniels fares in his second season as a major contributor for the Huskies. With all five starters returning, there should be some measure of cohesiveness that will hopefully improve an already efficient offense. Daniels' physical assets will always draw intrigue, but he will need to be demonstrate more consistent production on the offensive end to generate sustained interest and keep the attention of scouts as the season continues.
#13, Tashawn Thomas, 6-8, Power Forward, Junior, Houston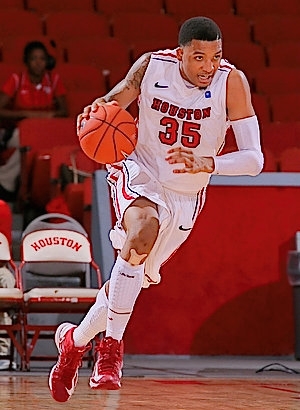 Joe Treutlein
Not a very heralded recruit coming out of high school, Tashawn Thomas has had an impressive first two college seasons for Houston, and he will have a good opportunity to take another step forward on a bigger stage in the newly formed AAC. Thomas was an extremely productive and efficient player across the board for the Cougars last year, and it will be interesting to see if that holds up against the higher level of competition he will soon face.
Standing 6'8 with very good length and a strong, well-built frame, Thomas is deceptively fast and rangy for his size, while having a good combination of nimble feet, coordination, and fluidity in his movements. While not an incredibly explosive player by any means, he has no problem elevating to finish with power around the basket, and does a great job maximizing the abilities he does have with his instincts and style of play.
On the offensive end, Thomas does most of his damage in the paint, where he boasts a formidable low-post and mid-post game. He switches easily from face-up to back-down situations, showing good command of spin moves, hook shots, and turnaround jumpers when the situation calls for it. He is capable of finishing with both power and finesse, scoring on a very strong 56.5% two-point percentage despite being an offensive focal point and creating much of his own offense.
Thomas also does a good amount of finishing on pick-and-rolls, cuts to the basket, getting out in transition, and crashing the offensive glass, being very good in catch-and-finish situations, taking advantage of his size, strength, and mobility well. He's aggressive moving off the ball and finding ways to stay involved, showing a very good feel for the game and knack for putting himself in high-percentage scoring situations.
Thomas doesn't boast much of a perimeter game at this stage, not having much of a dribble-drive game and not being especially consistent or effective with his jump shot. He has decent enough form on the shots he does attempt, and even tried nine threes on the season (making just one), while also shooting a passable 66.2% from the free-throw line. Further developing his jumper can only help his pro potential, giving him the possibility of being used as a safety valve or in pick-and-pop situations.
The biggest question with Thomas' offensive game at this stage is whether he can continue to do the things he does inside against bigger, more athletic opponents, something that will be partially tested against stronger conference competition this year. He often beat up on smaller, less formidable frontcourts in his first two seasons, making good use of his considerable strength advantage, but the range he shows on his mid-post moves combined with his feel for the game could allow him to adjust well to the tougher opposition.
On the defensive end, Thomas is an active player who uses his length very well, blocking a solid 1.7 shots per game while also contesting opposing shots very well in man-to-man post defense. His post fundamentals could still use some work, as he doesn't take advantage of his strength very much at all, rarely getting low and using good leverage, often being backed down more than he probably should be. On the perimeter, he actually looks somewhat competent when switched onto opposing guards, and shows good positioning and effort hedging pick-and-rolls, but his lateral speed can't be considered a strength at the power forward position at the next level, and he'll need to really shore up his back-to-the-basket defense to maximize his abilities on this side of the floor.
The other area Thomas really excels in is on the glass on both ends of the floor, being an active player with good hands and a good nose for the ball, pulling down a solid 10.9 rebounds per 40 minutes pace adjusted. He isn't elite in this category by any means, and he certainly has some room for improvement here, and this is probably the area where he'll really need to reach his potential to best increase his chances at the pro level.
Looking forward, Thomas is a very skilled and productive college player who very likely has a successful pro career ahead of him somewhere, but there are many question marks projecting to the NBA given his size and interior game. Undersized 4's in his mold have found niches in the NBA before, and he has the physical tools to follow in their path, but getting the most of his abilities on defense and the glass will be critical to his chances, along with continuing to improve his post game and developing a more consistent perimeter jumper.
#14, Wayne Blackshear, 6'5, Junior, Small Forward, Louisville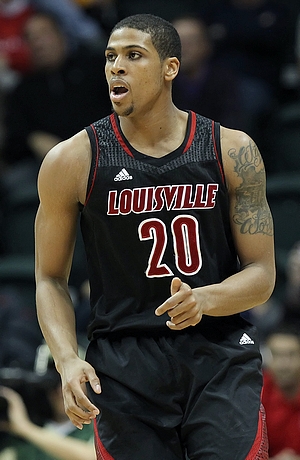 Matt Williams
Spending all but the final 15 games of his freshman year out of action while rehabbing a shoulder injury, Wayne Blackshear emerged as a key roleplayer for Louisville as a sophomore, contributing 7.6 points and 4.1 rebounds per-game as the eventual National Champions' starting small forward. A former top-25 recruit and McDonald's All-American, the Illinois-native will face a unique challenge this season as he'll need to continue growing as a player while helping fill the void left by the indefinite suspension of Chane Behanan.
Standing 6'5 with a 6'10 wingspan, Blackshear has solid size for a wing prospect, buts it is his athleticism and 230-pound frame that make him a prime candidate to slide over to the power forward spot at times in Behanan's absence. On the heavy side for a wing, his combination of strength, explosiveness, and perimeter skills should make him a mismatch threat when Louisville goes small.
Though Louisville's prolific guards will once again be the engine that drives Rick Pitino's offense, Blackshear should see more opportunities to make his presence felt on the offensive end than he did last season, when he used just 7.6 possessions per-game according to Synergy Sports Technology. Playing a role predicated on his ability to stretch the floor with his jump shot and use his athleticism in transition and as a finisher in the half court, Blackshear scored an impressive 1.003 points per-possession, but was seldom asked to create offense on his own as evidenced by his 1.2 turnovers and assists per-40 minutes pace adjusted.
Looking ahead, it will be Blackshear's ability to earn and make the most of opportunities to create his own offense that will play a key role in his long-term development. Last season, Blackshear averaged just 14.9 points per-40 minutes pace adjusted, ranking outside the top-50 small forward prospects in our database. He is a good, not great shooter, both off the catch and off the bounce in limited opportunities, though he still has room to improve his consistency. With 77% of his shot attempts in the half court coming from the perimeter, Blackshear doesn't create many opportunities around the rim, but his ability to take contact and finish inside the paint helped him shoot a terrific 65% in close last season.
With Russ Smith still around and Chris Jones entering the fold, it seems somewhat unlikely that Blackshear will be the Cardinals' first option at any point in the coming seasons, but if he can show improvement in his ball-handling ability and add overall polish to his offensive repertoire, he can still boost his stock in a complementary role. Blackshear's willingness to play within himself and fill a role for the betterment of his team will make it interesting to monitor where he stands within Louisville's scoring hierarchy in the coming years.
Blackshear showed improvement as a defender as a sophomore, looking more comfortable in Louisville's pressure-heavy man and zone schemes. Staying active, getting a good stance, and possessing good lateral quickness, Blackshear struggles to get over screens and stay in front of smaller players at times, but his effort and focus help him more than hold his own at the college level as well as make an impact crashing the boards. Blackshear is often too aggressive on this end of the floor,
ranking second among small forwards
in fouls per-40 minutes pace adjusted. He'll need to do a better job staying out of foul trouble so he'll be able to fill the more prominent role he'll be asked to fill as a junior.
Though Blackshear has yet to make the same splash some of his highly touted peers in the high school class of 2011 have, his efficient play has made him a valuable cog on one of the nation's best teams. Whether he gets the opportunity to play a significantly bigger role in the program's success in the coming two seasons remains to be seen. There's little questioning that he has the tools to play at the next level should he become a more polished player over that period, and it will be worth keeping a close eye on how his role evolved for the defending National Champions as a junior.
#15 Omar Calhoun, 6'6, Shooting Guard, Connecticut, Sophomore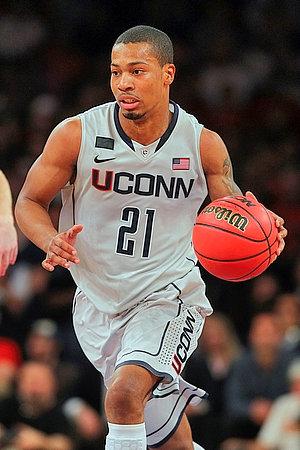 Kyle Nelson
Omar Calhoun was expected to make a big difference on the offensive end as a freshman and he did not disappoint. After all, the RSCI Top-50 recruit and the Gatorade Player of the Year in New York,
first piqued our interest as a sophomore in high school due to his scoring acumen
nearly four years ago. He started 29 games for Kevin Ollie and was named to the Big East All-Rookie Team.
Calhoun was inconsistent as a freshman, which is to be expected at his age, especially considering he was hampered by a series of injuries that limited him down the stretch. He first played through a sprained wrist, an injury largely responsible for his tentative play and 2/21 shooting to end his freshman season. Then, he underwent surgery to shave off parts of both of his hip bones in order to treat Femoral Acetabular Impingement, which was not only a source of constant discomfort, but also inhibited his movement and range of motion. After sitting out four months over the summer,
Calhoun is reportedly ahead of his rehabilitation schedule
and is looking to play by opening night. The question now is whether he is capable of taking another step forward in his development as a prospect.
Physically, Calhoun is a bit of a mixed bag. At 6'6, he has above average size for the shooting guard position, but has a mediocre 6'6 wingspan and a 200-pound frame that could definitely use some added muscle.
As we wrote in the past
, Calhoun is a solid athlete, smoother than he is explosive, and not possessing elite quickness in transition off of the dribble or in transition. It remains to be seen, however, just how much his surgery will affect his athleticism, either positively or negatively.
At 13.5 points per 40 minutes pace adjusted, Calhoun's numbers do not jump off of the page, but he actually fared well in terms of productivity
relative to other freshmen in our database
. Furthermore, he played a significant role on offense, seeing 32.1 minutes per game and shouldering 20% of Connecticut's possessions. He was very inconsistent, though, scoring 20 points against top-ranked Louisville on one night and failing to crack double-digits against Big East cellar-dwellers on another.
By the numbers, Calhoun had a fairly one-dimensional role as a freshman, finding 78.6% of his overall field goal attempts on jump shots according to Synergy Sports Technology and attempting more field goals beyond the arc than inside of it. Unfortunately, he made just 34.4% of his overall jump shots, including 32% of his 3-pointers. While Calhoun came into college with the reputation of a shooter, he still has a long ways to go in proving that, even if his late-season slump surely didn't help matters.
Calhoun displays unorthodox shooting mechanics, boasting a wide-base, splayed elbows, and a very quick, truncated release. This certainly seemed to work for him, at times, and for a stretch in January and February – before his wrist injury – he actually found a nice rhythm. That being said, and with an eye towards the future, improving his mechanics would go a long way in helping him develop into a more consistent shooter.
Outside of his jump shooting, Calhoun shows some flashes, but is unproven thus far. For one, his first step and ball-handling skills are just not good enough yet to emerge as a threat off of the dribble, outside of predominately straight line drives. While he shows flashes in this area, it remains to be seen just how much he can develop as a shot creator. Likewise, he will also have to become more aggressive attacking the basket, as evidenced in his subpar 4.5 free throw attempts per 40 minutes pace adjusted. He displays solid scoring instincts, though, which coupled with his above average court vision suggest that he has room to grow. Furthermore, he finished 50% of his overall field goal attempts inside of the arc and 58.6% of his shots around the basket, which is a solid rate for a skinny freshman in the Big East.
Though he can be a mixed bag on the offensive end of the floor, Calhoun proved himself to be a decent defender during his freshman season, showing solid lateral quickness and looking particularly effective in one-on-one situations. Yet, his focus seems to wane at times, and it would be nice to see him fight through screens more often while guarding the pick-and-roll. Likewise, whether he will be able to stay in front of NBA-caliber shooting guards remains to be seen. That being said, should he continue to develop physically, he should emerge as a good perimeter defender in the AAC.
In many ways, it is difficult to evaluate Calhoun too harshly based on his freshman season. For one, he is young and his injuries likely affected his play to a significant degree. It is entirely possible that scouts will see a different Omar Calhoun as a sophomore. He will be expected to contribute right away as a sophomore on a Connecticut team that is ready to return to the NCAA Tournament. In particular, scouts will be watching to see how he fares post-surgery against an aggressive out-of-conference slate that includes games against Florida, Maryland, Washington, Stanford and Harvard, not to mention against an AAC-conference slate that, while not the Big East, is still formidable with the likes of Louisville, Memphis, and Cincinnati. Thus, it is difficult to draw too many conclusions at this point, but it is safe to say that he is worth keeping an eye on in the next few years.