Tim Hardaway Jr
Recent Tweets
All Tweets
DraftExpress: With the #24 pick in the NBA Draft the New York Knicks select Tim Hardaway Jr.
2013-06-27 22:09:52
DraftExpress: Still on the board Sergey Karasev Dennis Schroeder Shane Larkin Mason Plumlee Reggie Bullock Gorgui Dieng Rudy Gobert Tim Hardaway Jr
2013-06-27 21:20:57
DraftExpress: Is Tim Hardaway Jr's rapid ascension up NBA Draft boards justified? The stats say no way. Here's how he stacks up http://t.co/GEjwMJWeWu
2013-06-19 16:34:02
DraftExpress: Tim Hardaway Jr. Workout Video http://t.co/0NCE4o0cq4 - Catching up with Tim Hardaway Jr in Chicago in the midst of his NBA Draft training
2013-06-03 12:06:38
DraftExpress: Tim Hardaway Jr workout video in Chicago from @312media
2013-05-31 19:46:51
Team: Hawks
Physicals
Positions
Salary
Misc
H: 6' 6"
W: 185 lbs
Bday: 03/16/1992
(23 Years Old)

Current: SG
NBA: SG
Possible: SG

Agent: Mark Bartelstein
Current Salary:$1,250,640

High School: Palmetto Senior
Hometown: Miami, FL
Drafted: Pick 24 in 2013 by Knicks

Predraft Measurements
| Year | Source | Height w/o Shoes | Height w/shoes | Weight | Wingspan | Standing Reach | Body Fat | No Step Vert | Max Vert |
| --- | --- | --- | --- | --- | --- | --- | --- | --- | --- |
| 2013 | NBA Draft Combine | 6' 4.5" | 6' 6.25" | 199 | 6' 7" | 8' 5" | 6.1 | 31.5 | 37.5 |
| 2012 | LeBron James Camp | NA | 6' 6" | 193 | 6' 7" | NA | NA | NA | NA |
| 2012 | Kevin Durant Camp | NA | 6' 6" | 193 | 6' 7" | NA | NA | NA | NA |



Basic Per Game Statistics

- Comprehensive Stats - Statistical Top 25s
| Year | League | Name | GP | Min | Pts | FG | FGA | FG% | 2Pt | 2PtA | 2P% | 3Pt | 3PtA | 3P% | FTM | FTA | FT% | Off | Def | TOT | Asts | Stls | Blks | TOs | PFs |
| --- | --- | --- | --- | --- | --- | --- | --- | --- | --- | --- | --- | --- | --- | --- | --- | --- | --- | --- | --- | --- | --- | --- | --- | --- | --- |
| 2015/16 | NBA | Tim Hardaway Jr | 4 | 11.0 | 2.5 | 0.8 | 3.3 | 23.1 | 0.3 | 1.3 | 20.0 | 0.5 | 2.0 | 25.0 | 0.5 | 0.5 | 100.0 | 0.3 | 1.0 | 1.3 | 0.5 | 0.0 | 0.3 | 0.3 | 0.5 |

Player Page&nbsp&nbsp| Player Stats | Mock Draft History | Related Articles&nbsp&nbsp| Add to My Draft Express&nbsp
&nbsp
Just By the Numbers: the 2013 Shooting Guard Crop
June 19, 2013
Hardaway Jr. had the third lowest usage rate in this group, and is also the third least efficient scorer overall, which certainly raises some question marks. This is hardly an outlier either, as he had an identical 53% true shooting percentage last season as well.

[Read Full Article]

---
Tim Hardaway Jr. Workout Video
June 3, 2013
Video film and production courtesy of Tad Hathaway of 312 Media
[Read Full Article]

---
Trending Prospects: Tim Hardaway Jr
May 30, 2013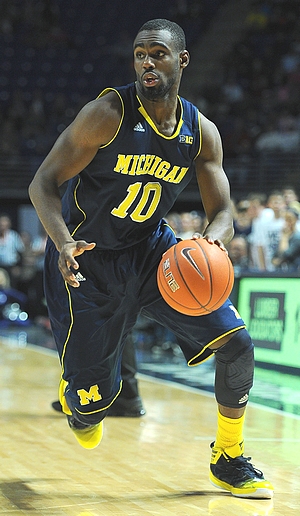 US Presswire



After getting off to a fast start to his college career as a freshman, Tim Hardaway Jr took a step back as a sophomore, falling into a shooting slump that lasted nearly the entire season. Returning to Ann Arbor for his junior year, the hope was that Hardaway would find his stroke and team with Trey Burke and talented crop of newcomers to help Michigan live up to its #5 preseason ranking.



Video Analysis



More Video Scouting Reports

Finishing as the Wolverines' second leading scorer, Hardaway indeed played a key role for a Michigan team that made it all the way to the National Championship game. Knocking down 37% of his shots from beyond the arc, Hardaway bounced back from the 28% he shot as a sophomore, but his two-point percentage dipped from 54% to 48%, something that has become a trend for the Florida native over the last three seasons. At different points in Hardaway's career he's been both a highly effective and below average finisher, midrange shooter, and spot-up threat, never really stringing together consistency in any one area for a prolonged period.


| SPLIT | FGM | FGA | FG% | PTS/SHOT |
| --- | --- | --- | --- | --- |
| '10-'11 Catch and Shoot | 55 | 156 | 35.3% | 1.032 |
| '11-'12 Catch and Shoot | 40 | 141 | 28.4% | 0.816 |
| '12-'13 Catch and Shoot | 55 | 139 | 39.6% | 1.173 |
| '10-'11 Pull-Up Jumper | 18 | 63 | 28.6% | 0.683 |
| '11-'12 Pull-Up Jumper | 37 | 83 | 44.6% | 1.012 |
| '12-'13 Pull-Up Jumper | 30 | 98 | 30.6% | 0.684 |
| '10-'11 Runners and Around Rim | 47 | 77 | 61% | 1.311 |
| '11-'12 Runners and Around Rim | 49 | 102 | 48% | 0.99 |
| '12-'13 Runners and Around Rim | 49 | 105 | 46.7% | 0.942 |


Some of Hardaway's struggles were due to his less than stellar shot selection. Others were the byproduct of the level of opposing defenses he faced on a nightly basis in the Big Ten. There were more than a few occasions though, where he simply had a hard time firing on all cylinders, including the 2013 Tournament where he made 38.2% of his three-point attempts but shot just 37.2% inside the arc.

Despite his inconsistency, there is no questioning Hardaway's overall size, talent, skill level, and the body of work he's put together over the course of his college career. He's a well-rounded weapon who can stretch the floor, get out on the fast break with his athleticism, make smart passes, and put the ball on the floor to score.

Most of his offense this season came in spot-up situations, with catch and shoot jump shots accounting for nearly 40% of his field goal attempts in the half court according to Synergy Sports Technology. Getting great elevation on his jumper and shooting the ball with fluid mechanics, Hardaway made 44% of his unguarded spot-up shots in 2013. Though he made just 31.5% of his pull-up jump shots as a junior, Hardaway has proven that he can also use his dribble to find open space and score off the bounce from the perimeter.

The Florida native's range and confidence as a jump shooter will serve him well at the next level, as his ability to spread the floor and be effective as a complementary option will align itself well with the role he'll likely be expected to play. A capable straight-line slasher who can attack holes in the defense and take the corner when he has a step on his man, Hardaway is a solid athlete, but isn't the type of shifty or explosive slasher who will be asked to consistently create one-on-one or on the pick and roll early in his career.

Around the basket, Hardaway is a fairly reliable finisher. He can play above the rim and finish with finesse around defenders. He does an adequate job drawing contact on the occasions he does attack the rim, though shots around the rim in the half court account for less than 14% of his attempts, a testament to his shot-selection and average advanced ball-handling skills. Hardaway does his best work as a finisher in transition where he finds contact more consistently, and was effective last season both pushing the ball himself and running on the wings. Connecting on 70% of his free throw attempts, a career worst, it would be nice to see Hardaway take fewer difficult pull-ups and be more aggressive in attacking the rim.

Defensively, Hardaway has the tools to be an effective pro. He lacks great length, possessing only a 6'7 wingspan, and won't create many turnovers, but his 6'6 near-200 pound frame, coupled with his very good overall athleticism and competitiveness, give him plenty of promise as a capable NBA player on this end of the floor. His ability to stay dialed in on this end of the floor and consistently deny dribble penetration one-on-one will be the keys to his ability to hold his own early on, as he tended to lose focus very easily at Michigan and didn't seem to put major emphasis on stopping his man in long stretches.

Tim Hardaway Jr will have plenty of opportunities to climb draft boards in workouts considering how up in the air the hierarchy at the shooting guard position is after Ben McLemore and Victor Oladipo. Already impressing teams with his performance at the NBA Combine in Chicago, Hardaway could certainly be the player to stake claim to that position in the coming weeks in workouts. There's little question that he is an NBA talent. The question for Hardaway moving forward is whether he can become the efficient contributor he's capable of on a consistent basis.

[Read Full Article]

---
NBA Combine Interviews: Muhammad, Rice, Bullock, Hardaway
May 17, 2013
[Read Full Article]

---
Top NBA Draft Prospects in the Big Ten, Part Five (#16-20)
September 15, 2012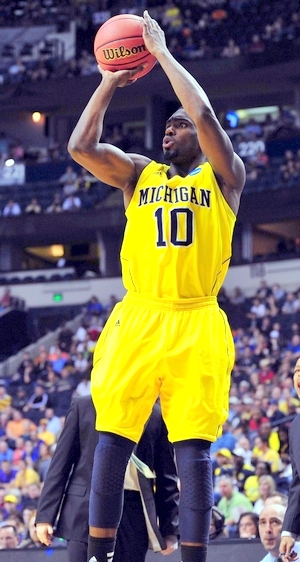 US Presswire



Joe Treutlein

After an impressive freshman season in which he significantly exceeded expectations, Tim Hardaway Jr was unable to take the next step in his development as a sophomore. Hardaway improved his shooting percentages inside the arc (48.3 to 53.5%), but regressed with his outside shooting (36.7% to 28.3%), otherwise posting an extremely similar stat line as compared to his freshman year.

Similar to his statistical output, Hardaway also looks like the same player from a skills perspective, though his drop in scoring efficiency from three-point range was the most noticeable and most concerning development in his sophomore campaign. After shooting a solid 36.7% as a freshman (buoyed by the high percentage of shots he takes off the dribble), Hardaway fell to a disappointing 28.3% as a sophomore, not entirely unsurprising given his inconsistent mechanics and style of play.

Hardaway continues to have the strange distinction of being a more efficient shooter off the dribble than spotting up, as he hits for a superb 1.012 points per shot on pull-ups as opposed to a below average 0.816 points per shot on catch-and-shoot jumpers. Improving his spot-up jumper is still the most important thing he can do to improve his game, as we pointed out the last time we profiled him.

While Hardaway clearly possesses strong shot-making ability and shows flashes of being a deadly shooter inside and outside the arc, he struggles to consistently display the same mechanics, though it's certainly something he can improve on. Hardaway establishes a much better rhythm shooting the ball when he's coming off the dribble and stepping into his shot, doing a better job to keep his body upright and his feet underneath him. He doesn't exhibit the same balance or get his lower body into the shot when he's spotting up, and trying to translate that aspect of his off-the-dribble shot to his catch-and-shoot shot is likely the key to becoming a more consistent and versatile shooter.

In terms of attacking the basket, Hardaway still does a good job creating separation and getting to the basket with the ball, but his ability to finish when contested by weak side defenders remains a sore point. While he shows good touch and the ability to finish difficult shots in the lane at times, he doesn't do a good job finishing through contact and seems to suffer from a still lanky build that hasn't yet reached its full potential.

Hardaway's ability to create separation for pull-up jumpers from the mid-range is his most useful offensive weapon at this stage, and he does a good job doing so out of both isolations and pick-and-rolls. Hardaway also made some slight strides this season with his passing game, increasing his pace adjusted per 40 minute assists from 2.3 to 2.7 per game and showing a good feel for making simple drive-and-dishes after penetrating into the lane and drawing the defense.

On the defensive end, the story was the same for Hardaway as a sophomore, as he has all the tools to be a very good defender at the shooting guard position, and even is at times, but he still needs to improve his consistency and play at a high level on every possession. He looks strong matching up in isolation, showing a good stance and lateral quickness, and even made some improvements fighting through screens on pick-and-rolls, but is prone to lagging off his man off the ball at times and not always putting in full effort on every play.

Looking forward, Hardaway clearly brings an intriguing package of tools to the table with his athletic tools, shot-making abilities, and defensive potential, but he needs to become more consistent in all aspects of his game. Hardaway has a lot of room to improve with his three-point shooting, and would benefit himself greatly not only return to, but also exceed his freshman shooting numbers from behind the arc this year. It would be a big boon to both his draft stock and to open up the rest of his offensive game, and will likely be critical to his chances at finding a long-term niche in the NBA down the road.

[Read Full Article]

---
Top NBA Draft Prospects in the Big Ten, Part Three (#11-15)
September 12, 2011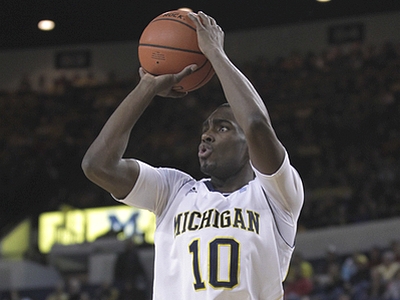 Icon SMI



Kyle Nelson

Michigan wing Tim Hardaway Jr. was not as heralded as many of his peers in the Class of 2010, but he nonetheless had an impressive freshman campaign. He was an essential component of Michigan's turnaround and eventual NCAA Tournament run before being selected for both the All Big 10 Honorable Mention and the All-Freshman teams. He then competed in the FIBA U-19 World Championship, an experience that revealed his talents and his weaknesses against some of the world's best young players.

At 6'5 with a long and lanky 185-pound frame, Hardaway has solid size for the shooting guard position along with above average athleticism. He must continue to get stronger, however, while learning how to better utilize his physical advantages on both ends of the floor.

He had a fairly large and diverse role in Michigan's offense, playing 30.7 minutes per game and scoring 19.3 points per 40 minutes pace adjusted.

Nearly one-third of his possessions were spot-up opportunities, and he proved to be one of the most prolific and clutch shooters among all NCAA freshman. He made 36.7% of his 8.2 three-point field goal attempts per 40 minutes pace adjusted and showed solid, albeit inconsistent mechanics, with NBA range. At this stage, he is far more effective shooting with a hand in his face off of the dribble, than with his feet set, where he makes just 29.3% of his attempts. Developing his spot-up shooting is essential, if he wishes to succeed at the next level.

While he must improve his shooting motion significantly, his questionable shot selection is a far bigger concern. 62.8% of his overall attempts are guarded and many of his attempts come fairly early in the shot clock. Considering his size, athleticism, and skill, he should be able to find better opportunities from beyond the arc and around the rim or find his open teammates.

His solid handles do allow him to find shots from the mid-range at this level, where he showed significant potential with his pull-up jump shot. He is also solid slashing to the basket making up for his lack of an elite first step with his crossover, explosiveness, and body control. His lack of strength and tendency to drive right limits him as a finisher at this stage, seen in his sub-50% 2FG, but he should only improve as he continues to develop his body.

Most of John Beilein's offense was running through either Darius Morris or Hardaway by the end of the 2010-2011 season. Now that Morris is in the NBA, Hardaway will have far more opportunities to create, especially out of the pick-and-roll, where he looked comfortable as a freshman. Even while he looks for his offense most of the time, he is a solid passer and turns the ball over at a low rate given his usage. Whether or not he can develop as a creator for his teammates is unknown, but it would certainly improve his standing with NBA scouts.

He is a solid perimeter defender with potential to improve due to his above average lateral quickness and length. He is a good on-ball defender at this stage, though he needs to improve his awareness, particularly when guarding the pick-and-roll. He struggles to fight through screens due to his lack of strength, oftentimes losing track of his man in the process.

Hardaway had the unique opportunity as a freshman to showcase his game against some of the best young talent that the NCAA and FIBA had to offer. Now, with scouts well aware of his strengths and weaknesses, he will have to prove himself as Michigan's top returning scorer and facilitator. If he can string together another impressive year while showing improved decision making and shot selection, then Michigan should be primed for another NCAA run and Hardaway's stock will continue to rise.

[Read Full Article]

---