Scouting report by Walker Beeken. Video analysis by Mike Schmitz
Perhaps no player in the country has garnered more attention for his improvement from last season to this than Indiana's
Victor Oladipo
. After a solid sophomore year in which he emerged as a defensive specialist and energy guy for the Hoosiers, Oladipo has become dramatically more efficient on the offensive end as a junior, leading
all top-100 prospects in effective FG%
.
Video Analysis
As we've mentioned before, Oladipo's intrigue as an NBA prospect starts with his abilities as a perimeter defender. An elite athlete with a chiseled frame and solid size and length for an NBA shooting guard, Oladipo combines his outstanding physical tools with a relentless motor, often overwhelming players at the college level as an on-ball defender and causing havoc off the ball.
Oladipo makes his presence felt all over the floor defensively, playing with tremendous intensity and always finding ways to get his hands on the ball for deflections and steals, or flying in from out of his area to block a shot or come up with a rebound, thanks to his seemingly endless energy and outstanding speed, quickness, and leaping ability.
Oladipo ranks second amongst all players in our Top 100 Rankings in
steals per forty minutes
, using his athleticism and anticipation skills to play the passing lanes, and also his quick hands to strip his man off the dribble. He has excellent lateral quickness and is able play his man very closely on the perimeter and still stay in front of him, while also being able to recover quickly in the event that he gets beat.
With the ability to guard up to four positions at the college level, Oladipo projects to be able to defend all three perimeter positions at the NBA level, depending on matchups. He has the speed and quickness to cover point guards, and his athleticism, strength, and toughness should enable him to guard most small forwards as well. Coaches will likely value the flexibility Oladipo gives them on the defensive end, as they can cross-match and hide weaker defenders while putting Oladipo on the opposing team's top perimeter threat, regardless of position.
While Oladipo's calling card as a prospect is his defense, it's the progression in his offensive game that has been the primary reason for his breakout season. After making only 18 of his 74 3-point attempts (24%) in his first two seasons at Indiana, he's connected on an excellent 19 of 37 so far this season (51%) from behind the arc, which ranks
second among all top-100 prospects
who attempt at least one 3-pointer per game.
Oladipo's shooting numbers are likely a bit inflated at this stage with such a small sample size, but it's clear that he's put in the work to improve his jump shot. He looks more fluid and comfortable with his release than last year, and the ball seems to come off of his hands softer, with better rotation and arc on his shot.
He's also done a very good job knowing his limitations as a shooter, as 74% of his jumpers this season have come off the catch with his feet set, and the pull-up jumpers he has taken have been good, open looks for the most part.
NBA teams will likely want to see more evidence that his early season shooting is not a fluke, as well as see how he might adjust to the longer NBA 3-point, but his improvements are very encouraging and should suggest that the potential is there for him to become an adequate spot shooter in time, assuming he continues to put in the work.
Oladipo still does much of his damage offensively when he can get out in the open floor, as over 28% of his used possessions this season have come in transition. He's an absolute blur leading the break with the ball in his hands or filling the lanes, where he's capable of finishing with highlight-reel dunks.
In the half-court, Oladipo is primarily an opportunistic scorer at this stage, utilizing his athleticism and energy to make plays off of cuts and offensive rebounds (his 3.4 offensive rebounds per forty ranks first amongst all shooting guard prospects in our database). Over two thirds of his shot attempts come in the basket area, and he's converting on an outstanding 71% of those attempts, as he attacks the rim very aggressively and uses his good body control and excellent elevation to finish.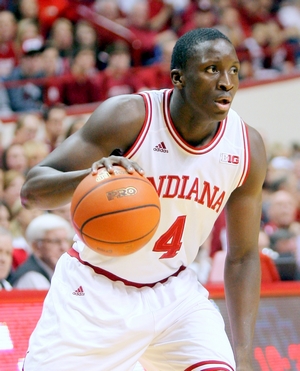 As we've touched on before, Oladipo is fairly limited as a ball-handler and playmaker, with most of his opportunities coming off of straight-line drives on close-outs or when he can catch the ball on the move. Indiana Coach Tom Crean seems to be getting more comfortable using him as a creator, however, as almost 20% of his possessions have come in isolations or as the ball-handler in pick-and-roll sets. He is far more comfortable dribbling and finishing with his right hand at this stage and doesn't show much in the way of advanced ball-handling skills, but he's still able to get the basket at times, as he is very difficult to stop once he's built up a full head of steam and is able to utilize his blazing speed.
Oladipo plays unselfishly and is showing a better feel for driving-and-kicking to open shooters, but since he's always playing at full speed, he has a tendency to be out of control and loose with the ball, as evidenced by the fact that he turns the ball over on almost a quarter of his used possessions.
Playing on a very talented Hoosier squad, currently ranked as the top team in the country, should give Oladipo plenty of time to showcase himself in front of NBA scouts over the next couple months. With all the buzz he's receiving this season, and the fact that he's on track to graduate in three years, he likely will be tempted to declare for the NBA draft this summer, something he's reportedly strongly considering according to what we've been told.
While Oladipo's offensive game is still a work-in-progress at this point and may limit his upside in the eyes of some NBA teams, but he brings tremendous value defensively and looks to have all of the makings of a solid role player, even with a lack of polish in his offensive skill set.
His emergence as an efficient offensive player this season is very encouraging, though, and he's shown tremendous growth at his time at Indiana so far, after barely being a top-150 recruit out of high school. He is by all accounts a very hard worker and a gym rat, and he'll be able to hang his hat on the fact that he has a combination of athleticism and energy that can be matched by very few, something that will surely be appealing to NBA decision-makers.