Tomislav Zubcic
Recent Tweets
All Tweets
DraftExpress: At #56, Toronto selects Tomislav Zubcic. Damn you @YaroneArbel. I owe you dinner. We had a bet if he gets picked. I said no way. Yarone won.
2012-06-28 10:44:13
DraftExpress: Scouting the Draft-Eligible International Prospects (Part Two) - Kostas Papanikolaou, Andrew Albicy and Tomislav Zubcic http://t.co/kTWop0TW
2012-05-17 09:46:33
DraftExpress: International Early-Entry withdrawals cnt'd: Tornike Shengelia, Abdel Kader Sylla, Jonas Wohlfarth-Bottermann, Tomislav Zubcic
2011-06-14 06:23:31
DraftExpress: RT @ChristopheEPcom: Tomislav Zubcic and Leon Radosevic extend their contracts with Cibona until 2014. http://bit.ly/hlvKRA
2011-03-06 02:59:04
DraftExpress: Two other legitimately draftable guys in Cibona's starting lineup as well. 6-10 Leon Radosevic at the 4 and 6-11 Tomislav Zubcic at the 3.
2010-12-28 02:28:37
Team: Cedevita
Physicals
Positions
Salary
Misc
H: 6' 11"
W: 229 lbs
Bday: 01/07/1990
(25 Years Old)

Current: PF
NBA: PF
Possible: SF/PF

Agent: Jeff Schwartz

High School:
Hometown: Zadar, Croatia
Drafted: Pick 56 in 2012 by Raptors

Predraft Measurements
| Year | Source | Height w/o Shoes | Height w/shoes | Weight | Wingspan | Standing Reach | Body Fat | No Step Vert | Max Vert |
| --- | --- | --- | --- | --- | --- | --- | --- | --- | --- |
| 2012 | Eurocamp | 6' 10.5" | 6' 11.25" | 229 | 7' 0" | 8' 11" | NA | 27.5 | 27.0 |
| 2011 | Eurocamp | 6' 10.28" | 6' 11.46" | 229 | 6' 10.68" | 8' 10.69" | 8.3 | 19.3 | 24.2 |



Basic Per Game Statistics

- Comprehensive Stats - Statistical Top 25s
| Year | League | Name | GP | Min | Pts | FG | FGA | FG% | 2Pt | 2PtA | 2P% | 3Pt | 3PtA | 3P% | FTM | FTA | FT% | Off | Def | TOT | Asts | Stls | Blks | TOs | PFs |
| --- | --- | --- | --- | --- | --- | --- | --- | --- | --- | --- | --- | --- | --- | --- | --- | --- | --- | --- | --- | --- | --- | --- | --- | --- | --- |
| 2015/16 | EURO | Tomislav Zubcic | 2 | 22.0 | 9.5 | 3.5 | 7.5 | 46.7 | 2.5 | 3.0 | 83.3 | 1.0 | 4.5 | 22.2 | 1.5 | 2.0 | 75.0 | 1.0 | 4.5 | 5.5 | 0.5 | 1.0 | 0.0 | 1.5 | 3.0 |
| 2015/16 | Adriatic | Tomislav Zubcic | 7 | 23.1 | 8.0 | 2.6 | 7.0 | 36.7 | 1.0 | 2.6 | 38.9 | 1.6 | 4.4 | 35.5 | 1.3 | 1.7 | 75.0 | 1.6 | 5.3 | 6.9 | 0.9 | 0.9 | 0.7 | 1.1 | 2.1 |

Player Page&nbsp&nbsp| Player Stats | Mock Draft History | Related Articles&nbsp&nbsp| Add to My Draft Express&nbsp
&nbsp
Scouting the Draft-Eligible International Prospects (Part Two)
May 17, 2012
Matt Kamalsky

After having a breakout season of sorts last season as Zagreb relied on its younger players in the midst of serious financial struggles, Tomislav Zubcic has not played as significant a role for the club this season. Starting some games, but also coming off the bench for stretches as well, the Croatian forward has seen his playing time and usage decline. His strengths and weaknesses remain largely unchanged, as he is yet to achieve the mismatch potential that caught our eye for the first time some six years ago.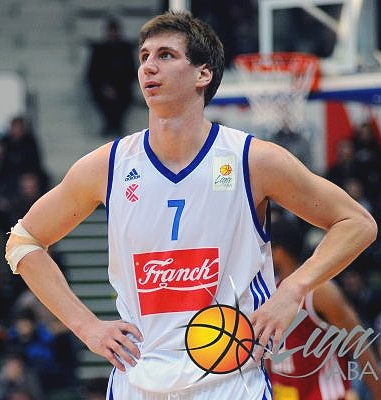 AdriaticBasket.com



At 6'11, Zubcic's size has always been a big part of his upside, especially when he would push the ball up the floor and take slower defenders off the dribble at the junior level. The Croatian forward has added some weight to his frame over time, but remains somewhat skinny. He does not have a big wingspan relative to his size, and is not explosive, but is a long strider and moves fluidly for a big man.

Zubcic's intrigue at this juncture of his career stems from his spot-up scoring ability. After playing a much more versatile role last year, more than half of his shots have come in catch and shoot situations from the perimeter. A reliable shooter with time, space, and his feet set, Zubcic can draw opposing big men away from the basket. He struggles to knock down shots under defensive pressure and needs to improve his consistency from the perimeter to reach his full potential, but sports a fairly smooth release for a near 7'footer and range out to the international 3-point line.

Unfortunately he's only managed to knock down 28% of the 3-pointers he's attempted this season in all the various leagues he's played in, which is likely one of the major reasons he's had a difficult time finding a consistent role offensively.

As an interior scorer, Zubcic shows soft touch and good hands. He's a solid, albeit unspectacular, finisher, only finishing plays above the rim when he has space to gather himself. He's capable of putting the ball on the floor for one to two dribbles to attack the basket in a straight line, but is still developing his polish and toughness to be an effective slasher.

The same can be said for his back to the basket game, as he tends to shy away from contact in the post, but is able to finish some of his touches with a soft right handed hook shot. He has not developed a polished post repertoire at this point, which is not surprising considering how much time he spent out on the perimeter early in his career, and needs to get stronger and do a better job drawing contact around the rim, but his skill level shines through at times.

On the whole, Zubcic is still a ways away from being a finished product offensively. He is a smart player and a solid passer, but is not always aggressive or consistent enough to contribute at a high level in any one particular area.

Defensively, Zubcic spends quite a bit of time defending the perimeter, even playing at the top of Cibona's 2-3 zone on the few occasions they throw something different at opposing offenses. Gambling aggressively in the passing lanes and sometimes pushing the ball up the floor himself, Zubcic lacks the lateral quickness and strength to be a great individual defender. His ability to maximize his frame, be more physical, and improve as a rebounder will be the keys to his development on this end of the floor.

After an impressive showing at the 2009 Nike Hoop Summit, Zubcic was at one time a potential early entrant for the NBA Draft. He seemed to be on the brink of turning the corner in his development last season, but has had large bouts of inefficiency this year, and is barely seeing more than 10 minutes per game in the weak Croatian league as of late.

Now automatically eligible for the draft, Zubcic remains a prospect with some intriguing tools, but may have worn out the extent of his upside with his lack of improvement over the last few years.

[Read Full Article]

---
2011 adidas Eurocamp: Day Three and Final Recap
June 14, 2011
Tomislav Zubcic had his best game of the camp in today's All-star game as well. He didn't force anything, but he didn't fade into the background and revert to being passive either—which has been a major issue for him in the past.

He shot the ball with confidence, nailing the two threes he took and shooting 6/7 overall. He was also dialed in to the other aspects of the game too, though, which was good to see. He really utilized his intriguing length grabbing 6 rebounds and swatting two shots.

Zubcic is someone who has intrigued us for as long as we can remember – he saw his first DraftExpress write-up five years ago back in 2006, and many still remember his excellent Nike Hoop Summit performance.

Standing 7-feet tall, with very intriguing perimeter skills, including the ability to lead the break or make shots from beyond the arc, he's a unique prospect that surely caught the eye of many teams here.

On the other hand, Zubcic has been a distinct underachiever throughout his career, easily rattled and dropping his head at the first sign of adversity. His physical and mental toughness leave a lot to be desired, and that reflects not only in the inconsistency he shows from game to game and even quarter to quarter, but also in his defense and rebounding ability, which are well below average for a player his size. The fact that his wingspan is shorter than his height surely doesn't help matters here.

With that said, Zubcic is still only 21 years old, and still has another year of eligibility after withdrawing his name from the draft at the deadline. We'll have to see how he follows up this fairly encouraging EuroCamp performance next season.

[Read Full Article]

---
Nike Hoop Summit, International Prospects
April 15, 2009
Throughout the week in practice, Tomislav Zubcic displayed extremely impressive tools for a player his size, but at the same time, seemed to struggle with both his role on the team and a lack of mental toughness. To our surprise, he overcame both issues Saturday night on his way to a very impressive showing in the game. The Croatian forward's strong performance certainly helped his draft stock, as he was a big key to the World Team's victory, particularly in the fourth quarter.

With the skills of a small forward, Zubcic has the size and athleticism to become a match-up nightmare at the power forward position. He remains somewhat skinny at this point, but has really improved his upper-body strength over the past year. He looked to be a soft player in the practices, but had no trouble fighting for an offensive rebound on his first possession in the game, and taking a hard hit to get to the free throw line. Zubcic followed this up by create a nice look for Kevin Seraphin after handling the ball on a pick and roll, and came down the court a few possessions later showing off his smooth stroke from the three point line. Later in the game, the forward showed very nice agility and ball-handling skills attacking the basket off the dribble, especially late in the game where he finished a drive while taking a hard hit on the head from Renardo Sidney.

On the glass, Zubcic lacks great fundamentals and must become better at using his body to create position. His defense must improve as well, though he does show good anticipation off the ball, and had a couple of impressive blocks during the game. If he continues to get stronger in his lower body, the Croatian big has a chance to become an asset on the defensive end of the floor.

Surprisingly, a number of scouts we talked to indicated that Zubcic has somewhat of a selfish reputation overseas, and might not play as effectively if he doesn't get an adequate number of touches on offense. We definitely saw signs of this during the practices, and Coach Beveridge got on his case about it early in the week. It worked out for the best, however, because it allowed Zubcic to find his role on the team, and he became a key cog for the first international victory since 1998.

Tomislav Zubcic possesses an incredible package of offensive tools and an impressive feel for the game for a player his size. Combined with his impressive athletic profile, he certainly helped his stock with a strong performance here. To make things more interesting, Zubcic does not have either a contract or an agent at this point in time. After the game, a group of agents were virtually tripping over each other on their way to introduce themselves. He says he plans on hiring an agent soon, and at this point would like to play one more season in Europe before declaring for the draft.

[Read Full Article]

---
Nike Hoop Summit, Day Two
April 10, 2009
The second prospect we'll take a look at today shows a number of unique tools for his size, yet leaves you wondering if the NBA will fit anywhere into his future. Tomislav Zubcic is an athletic Croatian forward with incredible talent on the court, but seems to be soft both physically and mentally at this point in his development.

Zubcic has bulked up since the last time DraftExpress was able to look at him, with most of the added bulk coming in his upper body. Though he has the skills of a three on the offensive end, his size (6'11" without shoes) will probably place him at the four before all is said and done.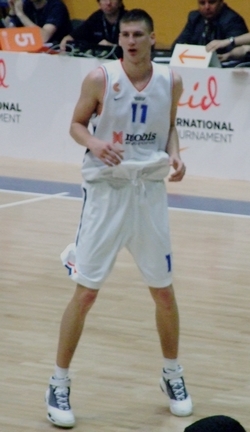 Jonathan Givony/DraftExpress.com



A very good athlete who gets up and down the court, Zubcic has good explosiveness to go with his size and length. A solid finisher at the rim, the Croatian has an excellent shooting stroke with range that should extend beyond the NBA three point line without a problem. The forward plays exclusively facing the basket at this point, but will be able to attack opposing 4s off the dribble, and his excellent feel for the game allows him to find the open shooters on the drive.

On the down-side, Zubcic doesn't really defend all that well at any position at this point. Physically, you hope that some added strength would toughen him up as a player, but there's no guarantee for this to happen. He tends to get frustrated when his perimeter shots aren't falling, and his lack of intensity doesn't help when it comes to defense and rebounding.

Zubcic has the skills to evolve into a very unique player, however it's tough to evaluate his draft stock until we see if he can make further progress with his body, and find a way to make an impact in European basketball. He currently plays for Croatian powerhouse Cibona Zagreb, which had a fantastic season but was unable to get him any playing time whatsoever.

[Read Full Article]

---
adidas Nations Experience 2008: European Prospects
August 16, 2008
This definitely wasn't as strong a performance for Zubcic as the Euroleague Final Four Junior Tournament was, showcasing a lot of the same concerns we've expressed on numerous occasions over the past few years while scouting him. The talent is still undeniable—in particular the athleticism and excellent hands, the excellent touch inside and outside, and the ability to score in a variety of different ways. That was mixed in with the same lack of toughness inside, the tendency to fade-away from contact rather than finish through it, the inability to take advantage of his superior size on mismatches, and the same soft, porous defense we've seen before. A lot to like, and a lot to dislike as well. Zubcic's rights are owned by Croatian Euroleague team Cibona Zagreb, and it doesn't appear that he is ready to contribute much at that level just yet, despite the fact that he's obviously oozing with talent.

[Read Full Article]

---
Euroleague Final Four: Nike International Junior Tournament
May 11, 2008
Arguably the most impressive performance of any prospect at the Nike International Junior Tournament might have come from 6-11 Croatian forward Tomislav Zubcic. It's not like this came by surprise—we've been talking about how talented this kid is since he was 16 years old, but he just hadn't quite put everything together in an international tournament yet like he did here in Madrid, at least not from a mental standpoint.

We've written about Zubcic's physical tools before—he's long, athletic, with great size (listed at 7-feet here), but with a game more reminiscent of a small forward. He did everything on the court for Cibona—breaking the press, moving the ball around unselfishly, knocking down 3-pointers and blowing past his man with a very nice first step—his versatility is pretty extraordinary for a player this age, particularly at his size. Zubcic can execute advanced moves that players much older than him struggle with until much later in their career—coming off screens and creating sharp separation off the floor with a fluid pull-up jumper for example, and banking the shot in from a tough angle off the glass for good measure.

Zubcic's feel for the game is what sets him apart at this point, along with his excellent skill-set, and he regularly showed that by making pinpoint passes from the perimeter into the post with absolutely no hesitation. He sees the floor extremely well at his height, and showed no problem moving the ball around the court fluidly, despite clearly being his team's most talented scorer. Zubcic likes to shoot the ball from the perimeter—he went 5/15 in three games from behind the arc—and also showed great touch from the free throw line knocking down all 16 of his attempts.

In the post, he doesn't have much footwork to speak of--mostly preferring to attempt turnaround jumpers, and looking too skinny and a bit too soft to use his size effectively enough here. He's an excellent ball-handler with either hand, particularly in the open floor, and is capable of creating his own shot from the perimeter with a nice first step and solid creativity. He does struggle finishing in traffic at times, partially due to his lack of strength, and partially due to his lack of toughness.

Zubcic's biggest issues have always been his rebounding and poor defensive play, along with the lack of intensity and assertiveness he shows to fully take advantage of his terrific talent. Rebounding definitely wasn't a problem here in Madrid—he averaged nearly 16 rebounds per game in this tournament—and we can attribute a lot of this to the improved intensity he brought to the floor. He made a conscious effort to crash the glass as much as he could despite his skinny frame, and showed really nice timing (and excellent hands) in the process to go along with his already promising quickness and length. Defensively he struggled at times, not doing a great job on the pick and roll and getting bodied up inside. He lacks the lateral quickness to effectively guard small forwards, but still isn't strong enough to function as a full-time power forward yet either. "Who is he going to guard exactly?" will be the operative question here, we can already predict.

NBA teams have seen European prospects in this mold (the perimeter oriented, but soft combo forward who does everything except defend) emerge over the past few years—Toni Kukoc comes to mind, but Andrea Bargnani's struggles are a lot fresher in people's minds. That's why people will be very skeptical about Zubcic moving forward, until he proves otherwise, which is why he'll probably have to have some real success in Europe first if he's to reach his full potential draft-wise. He could get drafted very high sometime down the road, but we'll have to wait and see how his frame and especially his all-around game develops first. It's a healthy thing to be carefully skeptical about players like this these days, and there is really no reason from his end also why he should be in any real rush.

[Read Full Article]

---
2008 Albert Schweitzer Tournament: Watered Down Mannheim
April 2, 2008
We had recent in our memory the performance of Zubcic in L'Hospitalet, and he really didn't provide much more meat to feed the profile of his well-known strengths and weaknesses. Usually starting as a small forward, he spent a lot of minutes in that position and officiated as a virtually full-time face-up player (he will most likely end up as a power forward, but it's nice to see him working on his perimeter skills). He regardless failed to emerge as a real go-to player for Croatia, lacking some aggressiveness to put the ball in the net that would have probably helped his team to overcome the dreadful backcourt that Croatia brought to Mannheim.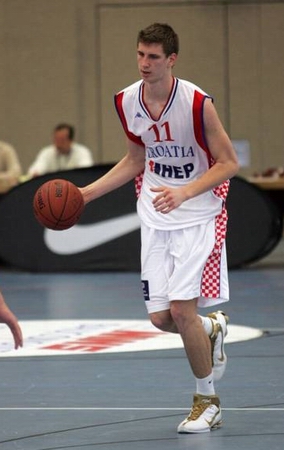 Photo: AST.Basketball.de


As a quick remainder, Zubcic showcased his long-range stroke (still a bit inconsistent), his very solid ball-handling skills for his size, but still improvable if he wants to become a slashing force, a nice first step, his tendency to pass the ball off the drive instead of taking it to the rim, his nice court vision from the high post and the three-point line, his very poor use of the left hand around the rim, and some softness that we could partially attribute to his underdeveloped long body.

Probably nobody seen in Mannheim enjoys the kind of potential Tomislav displays, and indeed the Croatian forward ended up being featured on the All-Tournament Team. His combination of size, skills and athleticism is truly remarkable. But somehow you miss some slightly more character playing the game, which invites us to remain moderately skeptical –just to stress the relative uncertainty of his future- and very alert to his development.

[Read Full Article]

---
L'Hospitalet 2008: Balkan Dominance
January 13, 2008
Dealing a lot better with the foul trouble that had short-handed his performance last year, Zubcic kept the intrigue high by showcasing his remarkable combination of size and skills, to the point that he spent extended minutes on the floor playing as a small forward.

Very long, also pretty skinny, Zubcic displays nice quickness for his size, and particularly enjoys an extremely solid first step to attack his opponents off the dribble, being able to go both ways, although he rarely finished himself his slashing attempts and opted to pass the ball. Indeed, he passed the ball much more and significantly better than he had showed in previous competitions, although he sometimes struggled when he was under pressure. At the same time, we perhaps missed a bit more aggressiveness looking for his own points. He was often unselfish to a fault, while his team didn't run any play for him for long stretches. However, he's a guy who has some troubles to consistently put the ball in the net at this point. His jumper is anything but solid; he shows nice range, it's mostly a spot-up effort, but he needs to polish up his mechanics, and find better balance on his release. He's not particularly creative and effective with his layups if he needs to finish in traffic, while he will rarely use his length to dunk the ball over his opponents. From the low post, he often settles for turnaround shots, indeed preferring to look for non-contact situations.

There's as much promise in his game as there is uncertainty. Zubcic is not the most aggressive guy around, and risks being eventually labeled a soft player. He also lacks a real position now, and maybe in the future. For a small forward, he displays very poor lateral quickness on the defensive end, while his perimeter skills need serious refinement. For a power forward, he's too skinny, and carries a questionable frame in order to add weight. He will probably end up playing as a modern face-up power forward, trying to take advantage of his quickness off the dribble and his ability to shoot the ball--even if he will need to seriously work on his long-range accuracy.

[Read Full Article]

---
L'Hospitalet 2007: Reflections of A Poor Class
January 11, 2007
It was quite commendable for Cibona to reach the semifinals. It's a very young team that came short of effectives to L'Hospitalet and left with three injured players, while suffering a foul-prone machine in Tomislav Zubcic.

Precisely Zubcic is one of the players that enjoy the biggest potential among all the tournament participants. We had introduced him following his performance in the U-16 European Championship last summer, and he didn't show anything we didn't know in advance.




The Croatian forward is a skinny player 6-10 and who likes to face the basket (in part due to his own physical immaturity). Able to beat his opponents off the dribble (thanks to a nice first step and crossover dribble), he enjoys nice athleticism and a decent, albeit very inconsistent, perimeter shot. Regularly outmuscled and suffering on defense from his poor lateral quickness, foul trouble didn't allow him to contribute as expected. His stat line, 9.3 points and 7.3 rebounds per game.

[Read Full Article]

---
U-16 European Championship: Rubio Rules
August 19, 2006
The Croatian frontcourt features a couple of talented and quite similar players that have helped the team advance to the semifinals. They are Mario Delas and Tomislav Zubcic. Their resemblance starts in their physical build, as both are long and skinny. Delas stands 6-9, just one inch under Zubcic, and both have nice, although not great wingspans. They lack some serious strength, due to the immaturity of their bodies. That's particularly exposed whenever they visit the low post or the surroundings of the rim, where they suffer a lot to score against opposition. Their frame is not bad, but neither great, still looking accurate for a forward. Anyway, both are athletic and have a world of body development ahead of them.

When it comes to their offensive repertoire, both are quite versatile, even if Zubcic might have the edge here, having played as a small forward for a few stretches during the tournament. Whenever he's in the perimeter, he shows a very nice three-point stroke, while also a remarkable ability to put the ball on the floor. He has a nice first step, surprisingly good handles for a guy his size, and can attack his rival going either way. As for Delas, he's a much less prolific and reliable shooter, and regarding the slashing game, just toning down a little bit what concerns Zubcic, would be a quite accurate description for him.



Tomislav Zubcic



In the low post, Delas shows the better moves. He's a bit more fluid, displaying nice footwork and footspeed. Still, both share similar problems trying to finish near the basket, whether off slashing or post moves. Lack of strength, an inconsistent right-handed semi-hook, and no ability to finish with their left hand, while they actually like to go left, those flaws are significantly limiting their scoring power in this tournament. Anyway, it's important to stress that both don't hesitate to mix it up inside looking for the basket.

They are also cashing in their size with nice rebounding and some decent shot-blocking production. Also their length is of great help on the defensive end, and while both show nice lateral quickness, they sometimes struggle to get the job done, mostly because of their lack of strength. Delas particularly is very foul prone.

All in all, Zubcic and Delas are a couple of intriguing youngsters to add to the productive Croatian pool.

[Read Full Article]

---