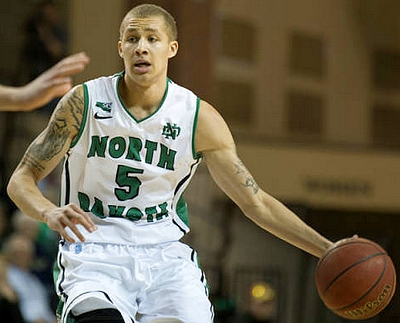 Derek Bodner
After somewhat of a down year offensively, North Dakota guard Troy Huff rebounded on a personal level, increasing his scoring average from 17.4 points per 40 minutes pace adjusted to a robust 23.5 (top-25 in the NCAA), while he continues to increase his minutes and his role within North Dakota's offense.
Standing 6'5", with a narrow frame, but very good athleticism, Huff does a number of things well, particularly on the offensive end. Huff is fairly quick in transition and gets good elevation in space, making him a threat in transition, where he gets nearly a quarter of his offense according to Synergy Sports Technology.
In the half court, Huff's biggest strength, or at least the one with the highest chance of translating to the next level, is shooting off the ball. Huff does a good job moving to find seams in the defense and spacing the floor, and is always ready to receive the pass and doesn't require much time to get the shot off. He gets good elevation and has a high release point on this shot, with good form on the majority of his shots, although he can at times rush shots, which leads to some breakdowns in balance and form. According to Synergy Sports Technology, Huff's 1.154 points per possession on catch and shoot opportunities ranks in the 77th percentile of college players, albeit in a fairly small sample size, mostly due to the role he plays within the North Dakota offense.
A good overall athlete, Huff is relatively quick with the ball in his hands and does a nice job changing pace and direction, with solid misdirection moves with either hand. This mostly manifests itself in pick and rolls, where Huff uses his ability to shoot off the dribble and ability to change direction with the basketball to generate scoring opportunities, both in the form of pull up jump shots and his most consistent form of dribble penetration.
Despite possessing solid ability to create his own shot, Huff struggles finishing at the rim, shooting only 48% in two point field goals and only 44% at the rim according to Synergy, yielding only 0.915 points per possession, which ranks in the bottom 25% in terms of efficiency. Huff lacks great strength and doesn't deal well with length and contact around the basket, which he'll have to improve on at the professional level, as he struggle to get to the free throw line at quite the same rate he does in college.
One area where Huff struggles to consistently generate offense is from isolation opportunities, as his 0.565 points per possession is very inefficient for a guard, especially considering the level of competition he went up against. While relatively quick, Huff lacks creativity as a ball-handler and struggles finishing in traffic as mentioned already. One thing that keeps his efficiency somewhat in check is his ability to draw fouls, particularly in transition, off isolations, and when cutting to the basket. Generating 7.1 free throw attempts per 40 minutes pace adjusted and a 37.4% free throw rate are both good numbers, although its overall impact is somewhat limited by the curiously low 66.2% he shot from the line, something that has been a recurring problem over his three year career at North Dakota.
Huff regressed somewhat as a passer last year, generating only 1.5 assists per 40 minutes pace adjusted, down from his already modest 2.7 the previous season. Huff has always been a shoot first player and somebody who never looked all that comfortable setting up his teammates, but the overall lack of offensive firepower on the North Dakota squad outside of Huff may have contributed to this somewhat. Still, this is something that Huff could concentrate more on as the focal point of the North Dakota offense.
The defensive side of the ball provides numerous challenges for Huff, even beyond the physical limitations he will see at the next level. Huff tends to like to play an aggressive, pressure style defense, but frequently doesn't have the food speed to keep up with his man on the perimeter, and the combination of his style of play and strength limitations leads to his man getting beyond the first layer of defense with alarming regularity. He also struggles to fight through screens and frequently fails to contest jump shots, a combination which leads to many question marks on this end of the court for somebody who will face a much different offensive role if he gets a chance to compete at the next level.
Stepping up and becoming the focal point of the North Dakota offense, Troy Huff successfully showed he could shoulder a larger offensive load at the collegiate level. That being said, it may be the further refinement of his off the ball skills – catch and shoot, shooting off of screens, cutting without the ball, defending his position – that determines his draft fate, as his role is likely to be vastly different than what it will have been his last two years at North Dakota.