Top NBA Prospects in the Big 12, Part 8: Prospects #17-20
September 16, 2014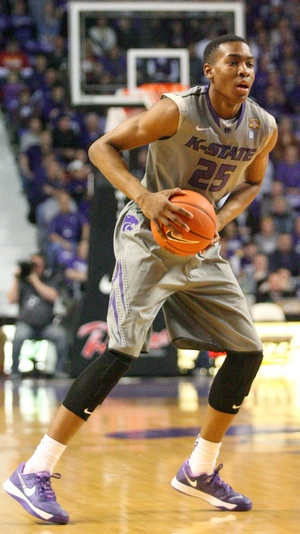 US Presswire
Jonathan Givony
A completely unheralded recruit according to the
high school scouting services
, Wesley Iwundu nevertheless emerged as a valuable contributor for Kansas State as a freshman, starting 32 of 33 games and playing 24 minutes per contest.
Iwundu stands out as a prospect primarily due to his physical attributes, as he has excellent size for a small forward at 6-7 to go along with a long wingspan and a nice frame that should fill out well in time. He's a very good athlete on top of that, showing solid quickness, good fluidity, and the ability to get off his feet quickly to attack the rim ferociously with a strong vertical leap.
Iwundu is a fairly limited offensive player at this point in time, seeing most of his possessions playing off the ball for Kansas State as somewhat of a hybrid combo forward charged with running the floor in transition, moving off the ball, crashing the offensive glass, and shooting the occasional jump-shot. He scored a relatively paltry 11 points per-40 minutes, and not on amazing efficiency, but shows some nice sparks of potential at times thanks to his terrific physical profile, soft touch, and solid basketball IQ.
His quick first step allows him to attack the basket in a straight line when given an open lane, where he can finish with authority or draw fouls at a solid rate, but his rudimentary ball-handling skills limit him significantly as a shot-creator in the half-court. His pull-up jump-shot is rather crude as well, as he made just 4 of his 18 attempts of this nature as a freshman and 63% of his free throw attempts. He doesn't force the issue, though, as he appears to be a willing passer with a solid feel for the game.
Iwundu's jump-shot shows potential with his feet set, as he knocked down a handful of catch and shoot jumpers last season in Big-12 play, displaying decent mechanics and nice shooting touch. He's still working on becoming more consistent in this area, though, as his release is somewhat on the slow side and he's prone to shooting on the way down at times when rushed. He obviously has a ways to go in this area, but shows just enough potential here to lead you to believe he can develop this part of his game in time, something that will play a significant role in how he's perceived as a NBA prospect down the line.
Iwundu's calling card at the moment revolves around his play on the defensive end, where he's already fairly effective and shows excellent potential to continue to improve. His excellent size, length, mobility and timing allows him to guard multiple positions, as he moves his feet well, does a great job staying in front of opponents and contests shots impressively on the perimeter. Iwundu needs to get stronger and gain more experience, as he can get taken advantage of at times by older players, but he has all the makings of a very solid and versatile piece on this end of the floor.
It's a bit early at this stage to be making too many observations about Iwundu's long-term potential as a NBA prospect, as he's still making the transition to being a full-time wing player and has a skill-level that is very much a work in progress. With that said, he has some very interesting characteristics that bode well for his future, so it will be interesting to see how he continues to improve as a sophomore and beyond.
[
Read Full Article
]