Top NBA Draft Prospects in the Big 12, Part Eight: Prospects 14-17
September 28, 2016
Julian Applebome

Senior Wesley Iwundu will be an integral piece of a Kansas State team that looks to bounce back from a disappointing season in which they finished 5-13 in Big 12 play, and missed the NCAA Tournament for a second straight year after five consecutive appearances from 2010 to 2014. A late bloomer out of Westfield High School in Houston, standing just 5'10 as a sophomore, Iwundu was a rather unheralded recruit who received only a few high level Division I offers, but has since turned himself into a dynamic player with intriguing professional upside.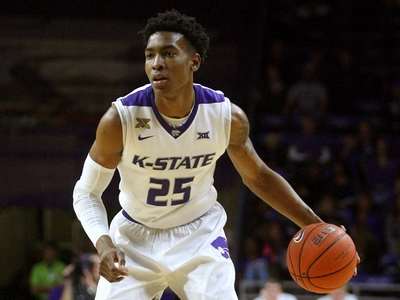 US Presswire
From a physical perspective Iwundu definitely passes the eye test. At 6'7" with a plus wingspan (possibly around 7'1), and an excellent frame that will continue to fill out, Iwundu has the physical tools to play either wing position at the professional level, and has the athletic ability to match his physical profile. He moves fluidly in space, has a quick first step, gets off the floor well, and has the ability to finish above the rim. He has the upper body strength to finish through contact, but his lower body is a bit on the thin side, somewhat limiting his verticality in traffic. It's possible that as his lower body strength improves, he could improve his just-decent explosiveness to form a terrific package of overall physical tools.
What stands out about Iwundu offensively is his playmaking ability from the wing position. He was one of only two players in the Big 12 last season to average more than 4.5 assists and 5.5 rebounds per-40 minutes. A major share of his half-court offense was centered around him being the ball handler in pick and roll situations. He is very comfortable handling the ball with either hand, and has a variety of shifty dribble moves including an in and out crossover that he uses to get by his defender. Iwundu is adept at handling ball screens for a player of his size, and does a good job keeping teams off balance by rejecting screens, and tilting the defense into difficult rotations. He uses his size well to make passes over the top of the defense, but also does an excellent job finding the open man once he has gotten into the paint and caused the defense to collapse. His turnover numbers (3.6 per 40, 21% TO%) are on the high side, but is somewhat to be expected from an aggressive player who handles the ball as frequently as Iwundu does. He is aggressive getting downhill, and flashes some impressive footwork on spin moves getting to the rim. Once he has gotten to the rim, he does a good job creating contact around the basket and averaged 5.8 free throw attempts per 40, but lacks consistency finishing at the rim when he is not able to initiate contact. He only finished 51% percent of his half-court field goal attempts inside the paint, (per Synergy Sports Tech) a number which you would like to see much higher given his size and physical profile.
While he's made significant improvement since arriving on campus at Kansas State, Iwundu can continue to refine his advanced ball-handling skills, as he isn't always quite in complete command of the ball on some of his drives to the rim, leading to some very difficult looks. He isn't blessed with outstanding touch, nor overwhelming explosiveness, to compensate for this, and tends to favor his right hand even when he's on the left side of the basket.
Despite Iwundu's unique playmaking skills for a player his size, he has yet to show that he possesses consistent perimeter shooting skills, which significantly limits him in the half-court at times. As a freshman he made a career high seven 3-pointers on just 17 attempts from deep, but has fallen off drastically the last two seasons, and hit only 12 of his 49 attempts from beyond the arc as a sophomore and junior. Iwundu's struggles as a shooting threat are not solely limited to his catch and shoot abilities. He shot only 3 for 21 on jumpers off the dribble last season, and showcases mechanics that need serious refinement. He releases the ball from the left side of his body, bringing the ball across and often looking extremely off balance on his attempts. He appears to lack confidence in his jump shot, opting not to take open looks and rarely being ready to shoot on the catch. He was quoted this summer in the media saying he has completely reconstructed his jumper, and has put in significant work on this part of his game, so it will be interesting to see if he gets better results as a senior. An improved jump shot would go a long way for Iwundu, if he forces defenses to respect his shooting ability, only opening up more playmaking lanes for the versatile swingman.
Voted to the 2016 Big 12 All-Defensive Team, a significant part of Iwundu's potential rests on his versatility on this end of the floor. With his size, length, and mobility, Iwundu has the tools to defend guards and wings, and can occasionally switch on to some small-ball power forwards, even if struggles with bigger and stronger players. He's an effective and aggressive on ball defender who averaged 1.7 steals per-40 last season, but also picks up some unnecessary fouls away from the basket which you would like to see him eliminate if he moved his feet more and relied less on his length. He shows some lapses off the ball at times, getting caught out of a stance, putting himself in difficult close out situations that he can only sometimes make up for with his length.
Iwundu is an effective rebounder from the wing position on both ends of the floor. He uses his length and athleticism well to attack the glass and is quick off his feet seeking second chance opportunities on the offensive boards. He is very effective grabbing rebounds and pushing the pace in transition, and is able to find a good deal of his offense in the open court by putting pressure on the defense with his ball handling, vision, and ability to get to the rim.
Wesley Iwundu's senior year will be an important one, as he looks to build on a solid junior season and get his name solidified in the NBA draft conversation. He has shown a great deal of potential as a playmaking wing with defensive versatility, but in order to boost his professional stock, he'll need to show an improved jump shot and continue to play with more efficiency on the offensive end of the floor. As the senior leader, he'll have ample opportunity to show NBA personnel that he has the overall skill set to match his physical profile. He appears to have significantly more upside than your average senior, and looks like a player who will continue to improve into his 20s due to his late blooming status out of high school. It shouldn't surprise anyone if a NBA team decides to invest in him to see if they can continue to refine his skill-set and try to develop his jumper due to the extreme lack of wing players in Iwundu's mold we're currently seeing available to teams.
[
Read Full Article
]
Top NBA Prospects in the Big 12, Part 8: Prospects #17-20
September 16, 2014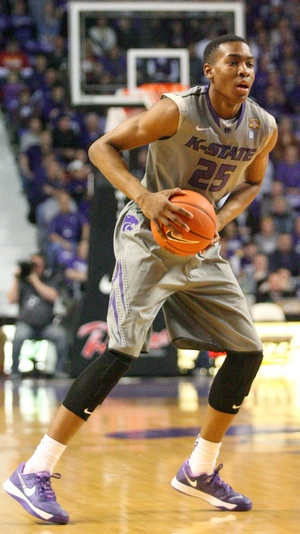 US Presswire
Jonathan Givony
A completely unheralded recruit according to the
high school scouting services
, Wesley Iwundu nevertheless emerged as a valuable contributor for Kansas State as a freshman, starting 32 of 33 games and playing 24 minutes per contest.
Iwundu stands out as a prospect primarily due to his physical attributes, as he has excellent size for a small forward at 6-7 to go along with a long wingspan and a nice frame that should fill out well in time. He's a very good athlete on top of that, showing solid quickness, good fluidity, and the ability to get off his feet quickly to attack the rim ferociously with a strong vertical leap.
Iwundu is a fairly limited offensive player at this point in time, seeing most of his possessions playing off the ball for Kansas State as somewhat of a hybrid combo forward charged with running the floor in transition, moving off the ball, crashing the offensive glass, and shooting the occasional jump-shot. He scored a relatively paltry 11 points per-40 minutes, and not on amazing efficiency, but shows some nice sparks of potential at times thanks to his terrific physical profile, soft touch, and solid basketball IQ.
His quick first step allows him to attack the basket in a straight line when given an open lane, where he can finish with authority or draw fouls at a solid rate, but his rudimentary ball-handling skills limit him significantly as a shot-creator in the half-court. His pull-up jump-shot is rather crude as well, as he made just 4 of his 18 attempts of this nature as a freshman and 63% of his free throw attempts. He doesn't force the issue, though, as he appears to be a willing passer with a solid feel for the game.
Iwundu's jump-shot shows potential with his feet set, as he knocked down a handful of catch and shoot jumpers last season in Big-12 play, displaying decent mechanics and nice shooting touch. He's still working on becoming more consistent in this area, though, as his release is somewhat on the slow side and he's prone to shooting on the way down at times when rushed. He obviously has a ways to go in this area, but shows just enough potential here to lead you to believe he can develop this part of his game in time, something that will play a significant role in how he's perceived as a NBA prospect down the line.
Iwundu's calling card at the moment revolves around his play on the defensive end, where he's already fairly effective and shows excellent potential to continue to improve. His excellent size, length, mobility and timing allows him to guard multiple positions, as he moves his feet well, does a great job staying in front of opponents and contests shots impressively on the perimeter. Iwundu needs to get stronger and gain more experience, as he can get taken advantage of at times by older players, but he has all the makings of a very solid and versatile piece on this end of the floor.
It's a bit early at this stage to be making too many observations about Iwundu's long-term potential as a NBA prospect, as he's still making the transition to being a full-time wing player and has a skill-level that is very much a work in progress. With that said, he has some very interesting characteristics that bode well for his future, so it will be interesting to see how he continues to improve as a sophomore and beyond.
[
Read Full Article
]