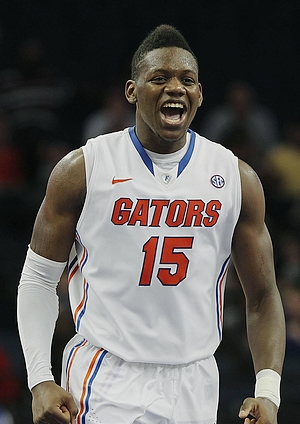 Kyle Nelson
While Will Yeguete's junior season was shortened due to a right knee injury, he nevertheless took a small step forward during his junior season, starting 10 games and finishing strong to the tune of 13 points and seven rebounds in a loss to Michigan in the Elite Eight. Yeguete followed his intriguing NCAA performance by undergoing surgery on the same knee, and
he is still awaiting clearance
from doctors to start practicing again. Never a can't-miss prospect before his injury, Yeguete faces the additional challenge of vying for playing time in a frontcourt that adds transfers Dorian Finney-Smith and Demontre Harris into the mix with the potential of adding elite freshman big man Chris Walker after the first semester.
Yeguete remains extremely undersized, standing between 6'7 and 6'8, but compensates somewhat with solid length and a rugged 230-pound frame. Additionally, he is an excellent athlete -- quick, agile, and explosive -- which allows him to play much bigger around the basket with the versatility to guard smaller players on the perimeter as well.
Yeguete's offensive profile remains more or less the same as when he wrote about him last year. While his 11.0 points per 40 minutes pace adjusted was a step up from his sophomore year, he scored in double figures just six times while using the 7th highest share of Florida's possessions. Almost all of Yeguete's offense came around the basket – even more-so than during his sophomore season—be it on post-ups, off cuts, as a pick and roll finisher, running the floor in transition or crashing the offensive glass.
Yeguete is an excellent finisher around the basket, making 64.3% of his attempts in these situations. While he doesn't have much in the way of shooting touch, he does a good job of utilizing his athleticism and aggressiveness to finish off passes and put back his teammates' misses, often capping off his efforts with emphatic dunks.
Outside of finishing plays created for him by others, Yeguete is fairly limited, as he doesn't have much of a post game or jump-shot, and is an average ball-handler at best. While his athleticism and energy-level allows him to get to the free throw line at a solid rate, he still makes a disappointing 57% of his attempts once there. That's a huge improvement over the 36% he shot as a sophomore.
While raw is an understatement when characterizing Yeguete's abilities on the offensive end, he remains one of the more versatile defenders in the SEC, and possibly in all of college basketball. While he loses ground to some of the bigger post players he defends, he does a great job of compensating for his physical limitations through his toughness and hustle. Nowhere is this more apparent than on the defensive boards, where he grabs 7.8 per 40 minutes pace adjusted –
11.7 overall
-- despite his lack of size.
Likewise, Yeguete does a good job of moving his feet on the perimeter, showing the lateral quickness to both stay in front of face-up big men and close out on spot-up shooters. In addition to quick feet, Yeguete also has quick hands, evidenced in his 2.3 steals per 40 minutes pace adjusted, which ranked fourth among all power forwards in our database last season. Ultimately, Yeguete is a versatile defender with the ideal combination of athleticism and relentlessness, but NBA scouts will likely have to wait until after his college career is over to see if he can guard small forwards consistently, which he's likely far better suited to do considering his size and body type.
Players' in Yeguete's mold are unlikely to appeal to most NBA scouts due to his offensive limitations, but there could be some cursory interest in his services to play a role similar to that of Luc Mbah a Moute or Andre Roberson—a combo forward with lockdown potential defensively.
He will have plenty of opportunities to show off his credentials playing for a Florida team that should challenge Kentucky for the SEC title. If his NBA dream ultimately does not pan out, his French passport and NCAA resume will likely yield him legitimate offers in Europe on his way to a solid professional career overseas.