We continue our coverage of the top returning NBA prospects in the SEC with part five, players ranked 5-9:
Jarnell Stokes
,
Johnny O'Bryant
,
Trevor Releford
,
Dorian Finney-Smith
and
Will Yeguete
.
Incoming freshmen have been excluded from these previews, as we'd like to wait and see what they have to offer on the NCAA level before we come to any long-term conclusions.
-
Top 30 NBA Draft Prospects in the ACC
-
Top 15 NBA Draft Prospects in the Big Ten
-
Top 10 NBA Draft Prospects in the Big 12
-
Top 15 NBA Draft Prospects in the Pac-12
-
Top 15 NBA Draft Prospects in the Big East
-
Top NBA Prospects in the SEC, Part One
(#1) Willie Cauley-Stein
Scouting Video
-
Top NBA Prospects in the SEC, Part Two
(#2) Patric Young
Scouting Video
-
Top NBA Prospects in the SEC, Part Three
(#3) Alex Poythress
Scouting Video
-
Top NBA Prospects in the SEC, Part Four
(#4) Jordan McRae
Scouting Video
#5, Jarnell Stokes, 6-9, Junior, Center, Tennessee
After watching Stokes intently at the USA Basketball U19 World Championship and training camp this past June, we offered up
the following
scouting report. We prefer to wait and see how Stokes performs as a junior before adding to his profile.
#6, Johnny O'Bryant, 6-9, Junior, PF/C, LSU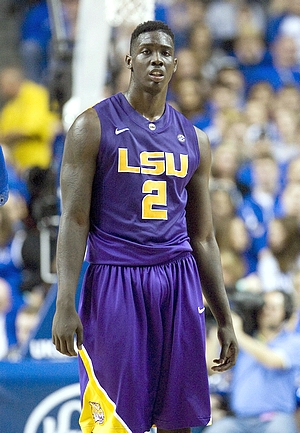 Jonathan Givony
A Mcdonald's All-American and two-time USA Basketball member in high school, Johnny O'Bryant developed a significant reputation early on in his career, but struggled to maintain that among concerns revolving around his conditioning and work ethic. His freshman season was highly inconsistent, as he shot just 40% from the field, but he was much better as a sophomore, increasing his scoring production while becoming much more efficient offensively, earning first team all-SEC honors in the process.
O'Bryant still has plenty to prove, though, after seeing his season end in the second round of the conference tournament following an 8th place finish in a very down SEC.
Measured at 6-9 in shoes with a 7-1 ½ wingspan and a very strong 260 pound frame, O'Bryant has solid physical attributes for a NBA big man. He's a good, not great athlete, though, which makes his conditioning all the more important in assessing his pro prospects, something he's begun to address in the past year and reportedly has continued to do so this past summer.
Typically being the strongest player on the floor, the majority of O'Bryant's offense at the college level predictably comes with his back to the basket, where he saw mostly mixed results last season. Despite possessing decent footwork and the ability to turn over either shoulder, O'Bryant is not efficient with his post game, turning the ball over at a high rate and converting just 44% of his field goal attempts in these situations.
While O'Bryant is strong enough to simply overpower many of the weaker opponents he encounters in college, his skill-level and decision making ability still leaves a lot to be desired. He doesn't have a great grasp of what his limitations are at the moment, settling for a lot of tough looks every game, and has a difficult time finding good angles to get his shot off, as he's largely a below the rim player. Barring significant improvement, it's difficult to see his post-game translating effectively to the NBA level at his size, which makes his conditioning and ability to contribute in other facets all the more important.
O'Bryant also sees a good amount of touches each game in other areas, running the floor in transition, crashing the offensive glass and finishing off cuts or on the pick and roll—all places where he seemingly has a much better chance of contributing at the next level. One of his best attributes are his extremely soft hands, which allow him to simply catch everything thrown his way, and also make him such an imposing rebounder.
Unfortunately O'Bryant is not a standout finisher around the basket in non-post-up situations either, converting a pedestrian 53% of his attempts here last season. His lack of explosiveness makes it difficult for him to finish over length in traffic, something he can likely continue to improve on with better conditioning.
Facing the basket, O'Bryant shows solid ball-handling skills and footwork for a player his size and is able to create his own shot reasonably effectively. His jumper is not a consistent enough weapon yet to threaten defenses with, though, as he hit just 11 of his 49 attempts last season, or 22%. This doesn't appear to be a fluke considering he converted just 60% of his free throws on the season, but it may be something he can continue to improve on as his career moves on, as he seems to have solid touch.
O'Bryant doesn't have great balance on his jumper, often fading away on many of his attempts and releasing the ball from different vantage points, sometimes on the way down. At times he seems to get frustrated and settles for difficult long 2-point attempts, which opposing defenses willingly concede to him considering his struggles in this area.
As a freshman, O'Bryant ranked as one of the worst passing big men in college basketball, dishing out just 11 assists in 600 minutes, compared to 66 turnovers. He improved considerably on that mark as a sophomore, more than tripling his assist rate last season, but still posted a very high turnover rate. On a talent-deprived LSU squad, he sees a fair amount of double teams, and is still learning how to deal with that effectively, something he'll likely continue to have to do this season.
Defensively, O'Bryant is somewhat stuck between the 4 and the 5 positions from a NBA standpoint, as he's undersized for a center at 6-9, but may be a little thick and not quite quick or agile enough for a power forward. The effort level O'Bryant puts forth here doesn't inspire great confidence in his ability to overcome his physical shortcomings, as he regularly gives up deep position inside the paint, and does a fairly poor job of stepping out and contesting shots. When O'Bryant is in shape and fully dialed in, he has the ability to be a very effective defender at the college level, so it will be interesting to see how he progresses in this area as a junior.
One of O'Bryant's biggest calling cards as a NBA prospect is his rebounding ability. He pulled down an impressive 5.7 offensive rebounds per-40 minutes as a freshman (12.3 total), and followed that up as a sophomore with 4 per-40 on the offensive end and 11.3 total. His long arms and excellent hands help him out significantly despite his average leaping ability, as he has terrific instincts for going out of his area for loose balls, something he does on a regular basis.
Not turning 21 until next summer, O'Bryant is one of the youngest prospects in the junior class, something that could ease some of the concerns over his uneven play his first two seasons in college with an improved showing this year. Undergoing a rocky transition between coaching staffs, LSU was not able to surround O'Bryant with very much talent the last few years, which certainly contributed to his struggles on both ends of the floor. This upcoming season should tell us quite a bit about his long-term NBA potential, as there aren't that many 6-9 big men in college basketball with his hands, touch and rebounding ability. If LSU can find a way to win some games with a more focused and efficient O'Bryant leading the charge, his draft stock could improve dramatically.
#7, Trevor Releford, 6'0, Senior, Point Guard, Alabama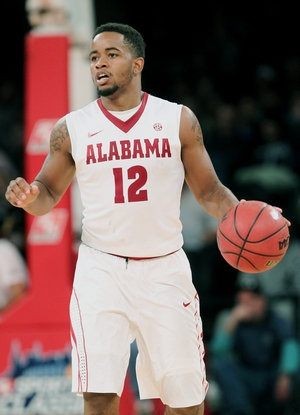 Matt Williams
A regular starter for Alabama since he was a freshman, Trevor Releford returns for his senior season in prime position to end his career ranked as one of the top-10 scorers in Crimson Tide history. Likely filling the same role he did a season ago as Alabama's primary ball-handler and first-option, Releford will once again take the reigns of Anthony's Grant's offense faced with an even bigger burden to carry resulting from the unexpected departures of the team's second leading scorer Trevor Lacey and former McDonald's All-American Devonta Pollard.
A tenacious, competitive scoring point guard, Releford made a few notable strides as a junior en route to All-SEC First Team honors, managing to improve his efficiency while using more possessions on a nightly-basis. Though he showed growth in a few notable areas, he has continued to do with best work in transition. As we noted after his freshman year, he's exceptionally good at pushing the ball up the floor and making plays with a head of steam in an up-tempo game. He's not a blur in the open court, but he attacks with purpose, gets out on the break as often as almost any player in the country, seldom coughs the ball up, and shoots a terrific 65% from the field when he does so according to Synergy Sports Technology.
Releford posted a true-shooting percentage of 60% as a junior, good for
3rd among all collegiate points guards
, thanks to his prolific fast break ability and the work he put into improving his shooting range. Knocking down 41% of his 3-point attempts last season, up from the 27% he shot as an underclassman, Releford did a much better job taking advantage of his opportunities from the outside, showing improved footwork and more reliable mechanics in the process. Shooting the ball with a quick release and solid range, Releford emerged as a formidable threat from beyond the arc last season, even if the sample size of 3.5 attempts per game leaves something to be desired Improving his percentages both off the dribble and when spotting up, his shot-making ability helped him seamlessly take on a bigger role in Alabama's offense after the departure of JaMychal Green.
Despite his improvement from the perimeter, Releford remains limited in some areas. Standing 6'0 with a compact frame, but compensating to some degree with a 6'6 wingspan, he lacks great size for a lead guard at the next level. He's also not overly explosive with the ball in his hands, relying more-so on his terrific handle and craftiness to create for himself in the half court at the college level. Lacking the burst to get all the way to the basket when he drives at times, he only converted at a 48%-clip in close in the half-court last season. He's capable of finishing creatively at times, but gets his shot blocked among the trees a fair among as well.
Some questions still remain about Releford's ability to play the point guard positions at the NBA level, as the 3.1 assists per-40 minutes pace adjusted he recorded last season were a career low and
rank him among the least productive passers among point guard prospects in our database
. Though he isn't a prolific distributor and looks to score first when he puts the ball on the deck, Releford isn't a selfish player by any stretch, and his ability to create on the pick and roll still gives him some upside as a primary ball-handler at the next level. He may not drive and dish regularly, but he flashes the ability to make decisive passes dribbling off ball screens on occasion. There's little question his team will need him to score at a high rate to help them win games this season and it will be interesting to see what kind of balance Releford is able to strike between scoring and passing as a senior.
Defensively, Releford is capable of making an impact at the college level,
ranking among the top-50 or so players in the country
in steals per-40 minutes pace adjusted. Playing a fair amount of zone, most of Releford's steals were the result of his active hands and ability to anticipate. Lacking great lateral quickness and leaping ability, Releford struggles to keep the ball in front of him and effectively contest shots at times, but plays with good energy on this end of the floor for the most part.
Looking forward, Releford's lack of size, elite athleticism, and to a lesser extent, pure point guard ability, remain concerns from a NBA perspective, but he's been a productive player in a BCS conference from the second he stepped on the floor as a freshman, makes things happen when he has the ball in his hands, and improved significantly as a shooter last season. There's little question he'll get plenty of looks at the conclusion of his senior season and seems like a prime candidate for the Portsmouth Invitational Tournament. A fierce competitor like his older brother Travis Releford, now playing in Belgium, there's little doubt Trevor Releford will find plenty of suitors in the international game if the NBA doesn't work out.
#8, Dorian Finney-Smith, 6-8, RS Sophomore, SF/PF, Florida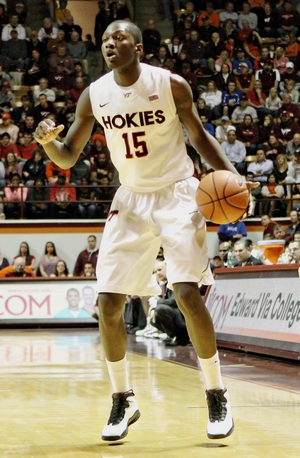 Josh Riddell
After being named to the ACC All-Freshman First Team, Dorian Finney-Smith decided to transfer from Virginia Tech to Florida when Head Coach Seth Greenberg was fired. After sitting out a season, Finney-Smith is poised to be a big contributor on a Florida team that has been hampered by injuries and suspensions to its returning players.
Finney-Smith has some excellent physical tools, as his 6'8" frame is complemented nicely by a reported 6'11" wingspan. He needs to add some strength to his lean 205 pound frame though, as he has a tendency to get pushed around by bigger players. Finney-Smith has excellent open court speed for a player of his size, as his long strides allow him to get up and down the floor quickly.
Most of the optimism revolving around Finney-Smith's pro prospects stem more from his physical tools and potential than his actual production as a freshman. He averaged only 6.3 points per game and he was not efficient at all from the field, as he shot an incredibly poor 31% on two point attempts, although he was able to convert 36.6% of his three pointers. His length did help him pull down 10.1 rebounds per 40 minutes pace adjusted, 4.0 on the offensive end (which ranked
5th among small forwards
and 6.1 on the defensive end.
Offensively, Finney-Smith did not excel in any single area during his freshman year, but he showed flashes of potential that will grab the attention of scouts if he's been able to improve his skill-level in his year off the court since transferring. The majority of his offense came from spot-up opportunities, where he shot only 31% on catch and shoot attempts. His mechanics are a bit flawed, as one or both of his elbows flare out on his jump shots, which hurts his accuracy. He'll have to improve his jump shooting if he wants to continue to be a perimeter player at the next level, as he saw most of his minutes at power forward at Virginia Tech.
Compounding his struggles on the perimeter, Finney-Smith did not have much success finishing at the rim, shooting only 36.8% on shots around the rim categorized by Synergy Sports Technology. He has shown the explosiveness to play above the rim at times but looked hesitant to show this in traffic. This contributed to his struggles at the rim, especially on offensive rebounds, as he looked unsure when attempting to finish with defenders surrounding him. This caused him to lay the ball up tentatively, which lead to either a block or missed attempt on what should be a relatively easy finish.
Defensively, Finney-Smith's physical tools give him the foundation to be a strong defensive player, but he was inconsistent on this end of the court in his freshman season. Quicker players were able to get past him off the dribble, although his length often allowed him to recover and block or alter their shots. He probably won't be able to erase these mistakes against craftier offensive players, so he'll need to focus on keeping his defender in front of him off the dribble with better footwork.
Also, he looked lost on times in rotations as he was often out of position on defense, either by being in the wrong position or being too slow on his rotation. However, his quickness and length allowed him recover nicely and challenge the offensive player. Scouts will want to see that he has a better grasp on team defensive concepts this season while using his physical tools to make an impact on defense.
It will be interesting to see how Finney-Smith fits into the offensive system of Florida. One of their main sets is a side pick and roll, which Finney-Smith was not too involved with at Virginia Tech. In the small amount of possessions he did play in the pick and roll, he had the tendency to rush through the screen to pop out for a three point attempt. Billy Donovan will want to see more discipline in setting a good screen to free up his teammates before looking for his own shot.
After a year off and now being thrust into a major role at Florida, Finney-Smith will be one of the more intriguing players in the SEC this season. Scouts will be looking to see how Finney-Smith improved during his year off and whether he has been able to add to his offensive repertoire. Finney-Smith has a great opportunity to be a major contributor this year and he has a nice foundation built on his physical features, but he will need to add some bulk and find an offensive niche to be taken more seriously as a draft prospect.
#9, Will Yeguete, 6'8, Power Forward, Florida, Senior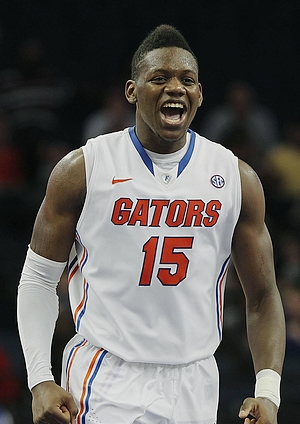 Kyle Nelson
While Will Yeguete's junior season was shortened due to a right knee injury, he nevertheless took a small step forward during his junior season, starting 10 games and finishing strong to the tune of 13 points and seven rebounds in a loss to Michigan in the Elite Eight. Yeguete followed his intriguing NCAA performance by undergoing surgery on the same knee, and
he is still awaiting clearance
from doctors to start practicing again. Never a can't-miss prospect before his injury, Yeguete faces the additional challenge of vying for playing time in a frontcourt that adds transfers Dorian Finney-Smith and Demontre Harris into the mix with the potential of adding elite freshman big man Chris Walker after the first semester.
Yeguete remains extremely undersized, standing between 6'7 and 6'8, but compensates somewhat with solid length and a rugged 230-pound frame. Additionally, he is an excellent athlete -- quick, agile, and explosive -- which allows him to play much bigger around the basket with the versatility to guard smaller players on the perimeter as well.
Yeguete's offensive profile remains more or less the same as when he wrote about him last year. While his 11.0 points per 40 minutes pace adjusted was a step up from his sophomore year, he scored in double figures just six times while using the 7th highest share of Florida's possessions. Almost all of Yeguete's offense came around the basket – even more-so than during his sophomore season—be it on post-ups, off cuts, as a pick and roll finisher, running the floor in transition or crashing the offensive glass.
Yeguete is an excellent finisher around the basket, making 64.3% of his attempts in these situations. While he doesn't have much in the way of shooting touch, he does a good job of utilizing his athleticism and aggressiveness to finish off passes and put back his teammates' misses, often capping off his efforts with emphatic dunks.
Outside of finishing plays created for him by others, Yeguete is fairly limited, as he doesn't have much of a post game or jump-shot, and is an average ball-handler at best. While his athleticism and energy-level allows him to get to the free throw line at a solid rate, he still makes a disappointing 57% of his attempts once there. That's a huge improvement over the 36% he shot as a sophomore.
While raw is an understatement when characterizing Yeguete's abilities on the offensive end, he remains one of the more versatile defenders in the SEC, and possibly in all of college basketball. While he loses ground to some of the bigger post players he defends, he does a great job of compensating for his physical limitations through his toughness and hustle. Nowhere is this more apparent than on the defensive boards, where he grabs 7.8 per 40 minutes pace adjusted –
11.7 overall
-- despite his lack of size.
Likewise, Yeguete does a good job of moving his feet on the perimeter, showing the lateral quickness to both stay in front of face-up big men and close out on spot-up shooters. In addition to quick feet, Yeguete also has quick hands, evidenced in his 2.3 steals per 40 minutes pace adjusted, which ranked fourth among all power forwards in our database last season. Ultimately, Yeguete is a versatile defender with the ideal combination of athleticism and relentlessness, but NBA scouts will likely have to wait until after his college career is over to see if he can guard small forwards consistently, which he's likely far better suited to do considering his size and body type.
Players' in Yeguete's mold are unlikely to appeal to most NBA scouts due to his offensive limitations, but there could be some cursory interest in his services to play a role similar to that of Luc Mbah a Moute or Andre Roberson—a combo forward with lockdown potential defensively.
He will have plenty of opportunities to show off his credentials playing for a Florida team that should challenge Kentucky for the SEC title. If his NBA dream ultimately does not pan out, his French passport and NCAA resume will likely yield him legitimate offers in Europe on his way to a solid professional career overseas.