Matt Williams
A largely unheralded player coming out of Plano East high school in 2014, Zach Smith was a part of the seven-man class Tubby Smith signed in his first full recruiting cycle as Head Coach at Texas Tech. A gifted athlete with decent size for the power forward position, Smith quickly emerged as a regular starter as a freshman for a Red Raiders team that started well, but struggled mightily in conference play. Returning to Lubbock with the rest of Tech's core last season, Smith averaged 10 points, 7.3 rebounds, and 1.8 assists per game while helping the program to its first NCAA Tournament appearance in over a decade, earning Honorable Mention All-Big XII honors and emerging as an interesting pro prospect in the process.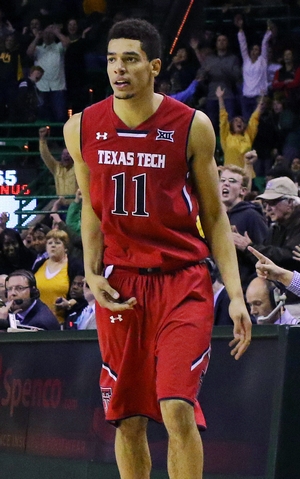 Standing 6'8 with an average wingspan and a lean frame that should fill out nicely over time, Smith is first and foremost an explosive athlete. A target for lobs and a threat to follow his own misses inside, the rising junior is a bouncy forward with a quick second jump. He may not have ideal size for a power forward at the next level, but he is a prototypical athlete for his position.
Smith's athleticism plays a major part in what he brings to the table offensively at this point in his career, a trait that was magnified by the cut and off-ball-action heavy system the Red Raiders played last season. Almost half of the Plano East (TX) product's offensive possessions came in cut, transition, or put back opportunities a year ago according to Synergy Sports Technology, as Smith did a nice job moving without the ball, running the floor, and crashing the glass within the structure of Tubby Smith's offense. These are things new Head Coach Chris Beard will surely be looking for the 20-year-old forward this coming season as well.
A strong finisher around the rim, who almost always goes up to dunk the ball with two hands, Smith shot a combined 70% on cuts and put backs a year ago, as he also possesses solid touch in close. Embracing contact and showing good timing catching the backdoor lobs built into Texas Tech's playbook, Smith was the most efficient finisher in the Big XII last season among the 24 players with over 80 attempts around the basket in the half court.
In the post, Smith saw limited opportunities, but tossed in a few hook shots. He isn't the strongest, or most polished interior scorer, but was often able to use his leaping ability to his advantage to convert inside of ten feet when he looked to be aggressive, showing decent touch with both hands in close and some potential as face-up slasher against slower-footed big men.
Aside from his ability to finish inside, Smith is a bit of a mixed bag offensively, as the finesse he flashes periodically inside doesn't translate further away from the rim. Just over one-third of his shots last season were jumpers, the vast majority of which came inside the arc. Shooting the ball with awkward mechanics that proved very unreliable at times, the explosive forward connected on just 22% of his perimeter attempts a year ago. Frequently finding himself open 15 feet from the rim, if Smith can clean up his release and stop shooting on the way down, he could see a significant jump in his scoring numbers.
Defensively, Smith plays with fairly solid energy and makes some plays protecting the rim by virtue of his terrific leaping ability and effort, swatting away 1.9 shots and coming up with 1.1 steals per-40 minutes pace adjusted last season. Possessing good, but not great lateral quickness, Smith looks comfortable defending at and away from the rim for the most part, but loses his man when defending off the ball at times, gets caught on screens, and would benefit from some additional muscle to help him hold position inside. An active rebounder who makes some spectacular plays when he's pursuing shots and loose balls with reckless abandoned, Smith figures to have nice potential on this end long-term, especially as his body fills out.
A productive, efficient role-player player on a balanced team that welcomes not just Chris Beard but a number of quality transfers for this season and next, Zach Smith is a terrific athlete who could raise his standing in the eyes of NBA scouts significantly if he can show improvement in his offensive skill level. One of the most athletic power forward prospects in the senior class, Smith's lack of tremendous size and skill limits his upside a bit at this point given his style of play, but he's a player worth keeping an eye on over the next two seasons.