We continue our coverage of the top NBA Draft prospects in the Big 12 with scouting reports on prospects 10-13:
Jawun Evans
,
Kerwin Roach
,
Landen Lucas
and
Zach Smith
.
---
More DX Conference Previews
-The Top NBA Draft Prospects in the Big East
-The Top NBA Draft Prospects in the Pac-12
---
Top NBA Draft Prospects in the Big 12
Part One
(#1) Josh Jackson
Part Two
(#2) Jarrett Allen
Part Three
(#3) Devonte Graham
Part Four
(#4) Monte Morris
Part Five
(#5) Johnathan Motley
Part Six

(#6) Carlton Bragg
(#7) Sviatoslav Mykhailiuk
(#8) Andrew Jones
(#9) James Banks
#10, Jawun Evans, 6'0, Sophomore, Point Guard, Oklahoma State
Jonathan Givony
Oklahoma State is coming off a highly disappointing season, going 3-15 in-conference play, leading to the dismissal of head coach Travis Ford and hiring of Stephen F. Austin's Brad Underwood.
The lone bright spot for the Cowboys was freshman Jawun Evans, who was named Big 12 Freshman of the Year while also receiving an All-Conference Honorable Mention nod. Evans' season ended prematurely due to a shoulder injury, causing him to miss the last 11 games of the year, with his team going 1-10 in his absence.
A McDonald's All-American in high school, Evans scored a solid 19 points per-40 pace adjusted last season on solid efficiency (58% TS%) while posting some of the best passing metrics in the country (certainly among freshmen) at 7.2 assists per-40.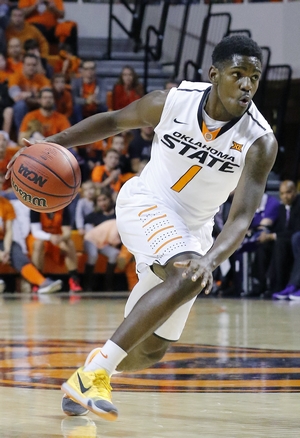 Standing around 6'0 in shoes, Evans is not an exceptional athlete to compensate for his lack of height, but does sport a chiseled frame and fairly long arms (6'4 wingspan) that allows him to play slightly bigger than his size. He handles the ball on a string and has an innate ability to operate at different speeds, which blends well with his strong basketball instincts and tough, unselfish style of play.
Evans saw the majority of his offense pushing the ball in transition or operating on the pick and roll. His strong ball-handling skills, crafty footwork, shiftiness and willingness to drive deep into the paint gives him nice potential in that area. He's a willing and creative passer who uses both sides of the court nicely and does a good job of kicking the ball to open shooters as the floor opens up on his drives. He shows a nice command of making many of the basic passes high level point guards need to have in their arsenal to run a team effectively, showing nice touch and timing on his feeds, which helps him compensate somewhat for his lack of size.
The fact that he was able to post such gaudy assist totals, while not being surrounded by a great deal of talent by Big 12 standards, is a testament to his ability to make plays for others. Scouts will want to see how Evans' decision making skills evolve as a sophomore, as he had some careless moments with the ball last year, a reflection of his lack of experience, which is normal for his age.
As a scorer, Evans is a mixed bag at this stage. He proved to be somewhat of a reluctant jump-shooter as a freshman, far preferring to drive right into the teeth of the defense or find the open man. The problem is that he doesn't have great size, and also isn't an incredibly explosive finisher, which causes issues for him in converting plays in traffic, despite his toughness and aggressiveness driving into contact. While he has some shiftiness to him, the fact that he isn't blessed with an elite first step makes it difficult for him to create the separation he needs from defenders to get clean looks off at the rim. Evans converted just 50/109 (46%) of his half-court field goal attempts inside the paint last season according to Synergy Sports Technology, and similarly struggled in transition as well. This could likely become even more of an issue as he moves up a level, where the big men are far more talented the ones he'll face in college.
Developing his ability to make shots from the perimeter will likely be a big key moving forward for that reason. Only 57 of Evans' 283 points (20%) came from beyond the arc last year, as the 3-pointer simply wasn't a major part of his game. He did make 47.5% of his 3-point attempts last year, but attempted less than two per game. He actually shows some potential in this area, though, as he has natural touch and shooting mechanics, as well as the ability to make jumpers both with his feet set and off the dribble, which leaves a lot of room for optimism in this area. The fact that he shot 83% from the free throw line is encouraging as well.
Like many young players, Evans is still working on becoming more consistent with this part of his game, as he has a tendency to kick his legs out or contort his body sideways unnecessarily on many of his attempt, leading to poor balance. He sometimes holds the ball for too long and in turn shoots his jumper on the way down as well.
Defensively, Evans shows nice competitiveness, strong fundamentals, and didn't appear to use his outsized role on offense as an excuse to take plays off on the other end of the floor. He has some peskiness to him and likes to get up on shooters and use his length to his advantage on the perimeter. His toughness is reflected in the amount of charges he takes each game, as well as the excellent 6.4 rebounds he averaged per-40 minutes, which is a huge rate for someone his size. He gets in the passing lanes at a nice rate as well.
With that said, Evans still has work to do on this end of the floor as well. He doesn't have elite lateral quickness, and wasn't immune from getting blown by off the dribble at times last year. He also will fall asleep at times in his stance off the ball when his teammate appears to be out of the play, losing his focus and making him a target for backscreens or cuts.
Evans had a strong freshman season, accentuated by the 42 points he put up in a narrow loss to Oklahoma, a team that eventually went on to make the Final Four. With the Big 12 seemingly taking a step back this season, having lost quite a bit of talent to graduation and the NBA Draft, it will be interesting to see whether Evans is able to lead his team to more success. Will he have enough help around him to do so?
#11, Kerwin Roach, 6'4, Sophomore, Point Guard, Texas
Josh Riddell
Known just as much for his track and field success in high school after
winning back to back triple jump titles in the state of Texas
, Kerwin Roach decided to stay in his home state to continue his basketball career with the Texas Longhorns. He was able to make his mark on the team in his freshman season by averaging 16.7 points, 6.5 rebounds and 2.7 assists per 40 minutes in his 18 minutes per game, and will look to build on those numbers as he returns for his sophomore season.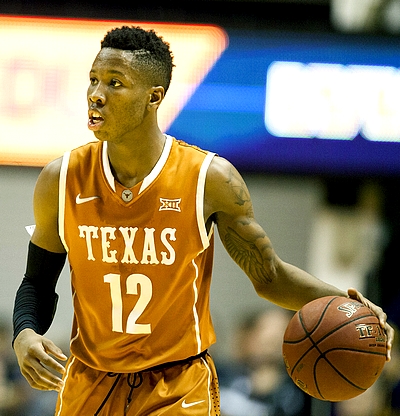 One of the most athletically gifted players in college basketball, Roach has elite speed and leaping ability that allows him to simply fly around the court. He has a great first step with the ball in the half-court and a high top speed in the open court with or without the ball, as he leads the transition break or runs the wing. He has solid size for a combo guard, listed at 6'4", but has an average wingspan and a thin frame at just 175 pounds. He'll have to fill his frame out as he matures to be able to handle the physicality of the NBA game, while retaining his two best physical attributes in his quickness and explosiveness.
After spending a good portion of his time off the ball as a freshman, with both backcourt starters Isaiah Taylor and Javan Felix moving on to the professional ranks, Roach will likely spend more time on the ball as a sophomore and projects as a combo guard at the next level. He can get separation from his man with his initial first step, followed by some nice change of pace moves and a quick crossover to get to his spots in the lane, but is just an average ball-handler overall in the half-court, particularly when forced to use his off hand.
Roach has shown an ability to get to the rim but needs to improve his finishing once he gets there as he made just 49.2% of his attempts around the basket according to Synergy Sports Technology. He will look to finish with either hand but is not a very composed finisher and lacks touch off the backboard to finish the shots he is able to generate in transition and the half court. Getting stronger will likely help him do a better job of utilizing his tremendous athleticism inside the paint.
While he did struggle to finish in the paint in the half-court, he was able to get to the line at a high rate to the tune of 7.8 free throw attempts per 40. Incredibly dynamic in the open floor, in the early offense, or attacking closeouts, thanks to his tremendous burst, he's an aggressive driver and is not afraid to barrel into contact when attacking rim protectors once he gets going operating downhill.
His shooting struggles showed up from the free throw line as well as he was only able to make 63% of his free throw attempts. He will drive right into the chest of opposing big men but against NBA level rim protectors, he will need to work on developing a floater or a pull-up jumper he can utilize to avoid such regular contact to preserve his body over a long season and help him score when he can't draw a foul or finish through contact.
Roach showed some potential as an offensive facilitator, with a willingness to make the extra pass, but will have to clean up some areas of his passing game as he attempts to develop into more of a point guard. He can get virtually wherever he wants on the floor by virtue of his dynamic first step, but once he draws the defense he isn't always able to make the right pass to the open teammate. He's still learning to see the entire court and make accurate, on-time passes to put his teammates in position to score. His passing metrics weren't great as a freshman with a 0.78 A/TO ratio and a -4.24 pure passer rating. Being able to find the balance of getting his own offense while creating for his teammates will help him see more actions as a playmaker and facilitator moving forward, which is a big key considering his size. He does show some potential in this area, though, so it will be interesting to see how he grows in this area with more repetitions in the coming years.
While not quite skilled or experienced enough yet to be trusted on the ball in Texas' crowded backcourt, Roach struggled at times off the ball as well, since he's not a great spot-up shooter yet, converting only 33.3% of his 45 catch and shoot jumpers according to Synergy Sports Technology. He has an inconsistent release point which can spray his shot all over the place and he has to improve his mechanics to become a better shooter across the board. While the results weren't always there as a freshman, Roach demonstrated enough potential as a shot-maker to leave room for optimism that his jumper isn't broken and can be honed into a more consistent weapon.
Roach was a bit of a mixed bag defensively as a freshman and scouts will be looking to see improvement as a sophomore. On one hand, he showed a willingness to guard multiple positions including bigger and stronger shooting guards while being engaged on the ball and looking to pressure his man. He also helped his team rebound by contributing 5.3 defensive rebounds per 40 minutes by leveraging his explosiveness and quickness to be first to the ball.
On the other hand, his on the ball defense needs improvement as he was easily beaten off the dribble at times before committing a needless foul trying to swipe the ball away. This caused him to foul at a high rate of 5.7 fouls per 40 minutes by committing careless off-ball fouls or reaching in after his man is past him. He'll need to improve his fundamentals and discipline to become a more impactful defender as a sophomore, but has the tools to do so with his tremendous athleticism.
Scouts will get a better feel for Roach's NBA potential this season as he is likely to see more minutes and offensive responsibility for the Longhorns. With his rare and elite level of athleticism he will stay on NBA radars for some time regardless due to his extremely high ceiling, and will be a player to monitor to see how he develops his physique, ball-skills, feel for the game, jump-shot and defense.
#12, Landen Lucas, 6'10, Center, Kansas, Senior
Kyle Nelson
After a redshirt freshman year and two seasons coming off the bench for the Kansas Jayhawks, big man Landen Lucas finally got his chance to start midway through his junior campaign. During this stretch, Kansas went 18-2 and earned in a top-seed in the NCAA Tournament before ultimately losing to eventual national champion Villanova in the Elite Eight.
Lucas is not the flashiest or most versatile player, but he quickly distinguished himself through his defense, rebounding, and intelligence, qualities that have earned him the
respect of his coaches and teammates
. While scouts likely didn't spend much time thinking about Lucas while he played alongside the likes of Joel Embiid, Jeff Withey, Tarik Black, and Perry Ellis, he now has the chance to build on his breakout junior season and prove himself as a legit NBA prospect in the process. Big 12 coaches certainly noticed his importance to the Jayhawks, voting to give him an All-Conference Honorable Mention nod.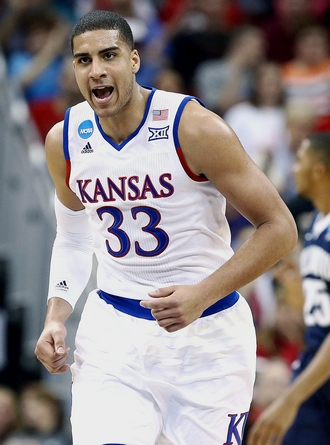 Lucas stands 6'10 with a 7'0 wingspan and a strong 240-pound frame, making him slightly undersized for the center position. While not overly explosive with his ability to play above the rim, Lucas is a highly fluid and mobile big man, light on his feet, and quick to get off the floor.
Lucas' contributions at the collegiate level are reflected in his strong basketball IQ and court awareness, as well as his ability to do the little things. He is not a particularly productive offensive player, averaging 11.8 points per 40 minutes pace adjusted while accounting for just 16% of Kansas' possessions in his time on the floor, but he is a savvy player who manages to make a difference regardless.
Simply put, Lucas is almost always in the right place at the right time, as he knows his role and executes it extremely well. He grabs a solid 4.7 offensive rebounds per 40 minutes pace adjusted, an equal product of positioning himself around the rim and crashing the offensive boards aggressively. Furthermore, Lucas also does an outstanding job of cutting to the basket, executing dribble-handoffs, and finishing around the basket, converting an outstanding 71% of his non-post-up attempts around the rim (SST), one of the best rates in college basketball. Despite seeing few opportunities in the pick-and-roll, he also shows promise, setting quick and solid screens and rolling hard to the basket.
Lucas sees a decent share of his limited offensive looks with his back to the basket, where he does a solid job of carving out space, sealing off opponents and catching everything thrown his way due to his extremely soft hands. While he is not particularly explosive elevating over opponents from a stand-still, he does show competent, albeit basic footwork and the ability to throw in a short-range hook shot with either hand and soft touch. While it's unlikely that Lucas will be called upon to be a major paint presence at the professional level, his ability to take advantage of weaker defenders playing alongside an All-American in Perry Ellis (who drew quite a bit of attention) was helpful for Kansas in Bill Self's post-heavy offense.
Lucas rarely ventures out of the post, offering little floor spacing with his mechanical looking mid-range jumper, which is somewhat of a negative in today's basketball. He did show a really nice feel for setting screens and executing out of dribble-handoff situations, though, almost always making the right read and doing a nice job of getting others involved thanks to his above average court vision.
While Lucas is a limited offensive player at this stage, his work on the other end of the floor is what gives him a chance to carve out a niche at the NBA level.
That starts with his work as a post-defender, where he possesses the strength, mobility, and willingness to absorb contact along with excellent patience, timing, and awareness to hold his own in the post. With that said, he doesn't offer an ideal presence as a rim-protector, as his lack of length and verticality is reflected in his paltry 1.6 blocks per 40 minutes pace adjusted, and he remains somewhat foul prone at this stage in his career.
Lucas' strong fundamentals, technique and timing allow him to offer some versatility defensively to compensate for that off the ball. He moves his feet well on the perimeter and does a great job of guarding different pick and roll schemes, covering ground and using his mobility and smarts to get the job done in his typical no-frills fashion. He's tough to take off the dribble, and does a good job of knowing his opponents' tendencies, often baiting them into difficult looks.
Another place where Lucas unequivocally shines is on the boards, where he pulls down 9.4 defensive rebounds per 40 minutes pace adjusted and 14.1 overall, which ranks him towards the top of prospects in our
database
.
After primarily backing up NBA prospects for three seasons, stoic Landen Lucas proved himself as an essential member of Bill Self's rotation and became a legitimate NBA prospect in the process. Lucas projects as a starter as a senior and scouts will be watching to see if he build on his junior momentum and show some improvement on the offensive end of the floor, while possibility ratcheting up his intensity level and aggressiveness. While the fact that he is turning 23 years old in the coming weeks likely limits his upside, the fact that he is ready to come in and play a similar role to the one he offered at Kansas as a highly intelligent defender/rebounder will help his cause.
If things don't work out in the NBA, the fact that he
speaks Japanese
will likely give him the ability to make an excellent living for as long as he wants in a league that already pays huge sums for players in his mold.
#13, Zach Smith, 6'8, Power Forward, Texas Tech, Junior
Matt Williams
A largely unheralded player coming out of Plano East high school in 2014, Zach Smith was a part of the seven-man class Tubby Smith signed in his first full recruiting cycle as Head Coach at Texas Tech. A gifted athlete with decent size for the power forward position, Smith quickly emerged as a regular starter as a freshman for a Red Raiders team that started well, but struggled mightily in conference play. Returning to Lubbock with the rest of Tech's core last season, Smith averaged 10 points, 7.3 rebounds, and 1.8 assists per game while helping the program to its first NCAA Tournament appearance in over a decade, earning Honorable Mention All-Big XII honors and emerging as an interesting pro prospect in the process.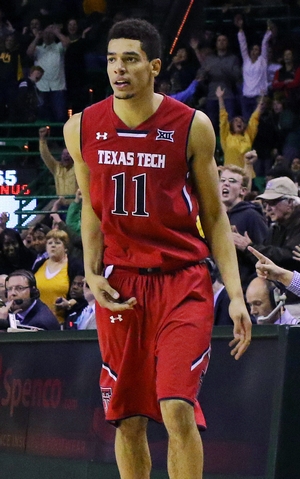 Standing 6'8 with an average wingspan and a lean frame that should fill out nicely over time, Smith is first and foremost an explosive athlete. A target for lobs and a threat to follow his own misses inside, the rising junior is a bouncy forward with a quick second jump. He may not have ideal size for a power forward at the next level, but he is a prototypical athlete for his position.
Smith's athleticism plays a major part in what he brings to the table offensively at this point in his career, a trait that was magnified by the cut and off-ball-action heavy system the Red Raiders played last season. Almost half of the Plano East (TX) product's offensive possessions came in cut, transition, or put back opportunities a year ago according to Synergy Sports Technology, as Smith did a nice job moving without the ball, running the floor, and crashing the glass within the structure of Tubby Smith's offense. These are things new Head Coach Chris Beard will surely be looking for the 20-year-old forward this coming season as well.
A strong finisher around the rim, who almost always goes up to dunk the ball with two hands, Smith shot a combined 70% on cuts and put backs a year ago, as he also possesses solid touch in close. Embracing contact and showing good timing catching the backdoor lobs built into Texas Tech's playbook, Smith was the most efficient finisher in the Big XII last season among the 24 players with over 80 attempts around the basket in the half court.
In the post, Smith saw limited opportunities, but tossed in a few hook shots. He isn't the strongest, or most polished interior scorer, but was often able to use his leaping ability to his advantage to convert inside of ten feet when he looked to be aggressive, showing decent touch with both hands in close and some potential as face-up slasher against slower-footed big men.
Aside from his ability to finish inside, Smith is a bit of a mixed bag offensively, as the finesse he flashes periodically inside doesn't translate further away from the rim. Just over one-third of his shots last season were jumpers, the vast majority of which came inside the arc. Shooting the ball with awkward mechanics that proved very unreliable at times, the explosive forward connected on just 22% of his perimeter attempts a year ago. Frequently finding himself open 15 feet from the rim, if Smith can clean up his release and stop shooting on the way down, he could see a significant jump in his scoring numbers.
Defensively, Smith plays with fairly solid energy and makes some plays protecting the rim by virtue of his terrific leaping ability and effort, swatting away 1.9 shots and coming up with 1.1 steals per-40 minutes pace adjusted last season. Possessing good, but not great lateral quickness, Smith looks comfortable defending at and away from the rim for the most part, but loses his man when defending off the ball at times, gets caught on screens, and would benefit from some additional muscle to help him hold position inside. An active rebounder who makes some spectacular plays when he's pursuing shots and loose balls with reckless abandoned, Smith figures to have nice potential on this end long-term, especially as his body fills out.
A productive, efficient role-player player on a balanced team that welcomes not just Chris Beard but a number of quality transfers for this season and next, Zach Smith is a terrific athlete who could raise his standing in the eyes of NBA scouts significantly if he can show improvement in his offensive skill level. One of the most athletic power forward prospects in the senior class, Smith's lack of tremendous size and skill limits his upside a bit at this point given his style of play, but he's a player worth keeping an eye on over the next two seasons.