Jonathan Givony
A surprise invite after a relatively poor showing at the Basketball Without Borders Global Camp in Toronto just two months prior, Ziming Fan played a big role for the World Team on game day, but struggled badly throughout the week.
Fan has good size for a center at just a hair under 7'0 and 250 pounds, but has a mediocre 7'0 1/2 wingspan and limited athletic ability.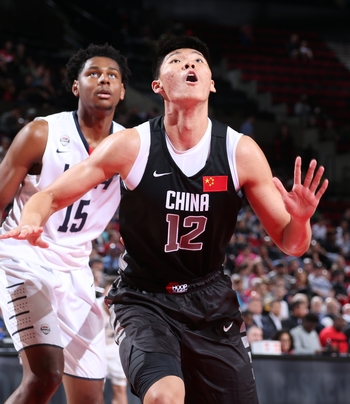 Offensively, Fan has good hands and doesn't mind physicality inside the paint. He likes to bang with his back to the basket, but is very robotic with his footwork and instincts and was mostly a black hole for most of the week with his inability to pass out of double teams. He shows soft touch on his mid-range jumpers, but was way too trigger-happy trying to show it off, finding limited results when doing so.
Defensively, Fan is mostly relegated to banging inside the paint with other centers, where his big body and toughness can make him somewhat effective. He really struggles trying to step out on the perimeter due to his average mobility and poor awareness and feel, and thus is very limited with his ability to guard pick and rolls. He is not much of a rim protector either due to his lack of length, explosiveness and timing.
Fan will have a long career in China playing in the CBA, where centers in his mold are highly coveted.