Scouting reports on
DeAndre Ayton
,
Jarrett Allen
,
Marques Bolden
,
Ziming Fan
and
Udoka Azubuike
.
---
More DX Nike Hoop Summit Coverage:
-Nike Hoop Summit Scouting Reports: Forwards
-Nike Hoop Summit Scouting Reports: Wings
-Nike Hoop Summit Scouting Reports: Guards
-Nike Hoop Summit Interviews: Harry Giles and Jonathan Isaac
-Nike Hoop Summit USA Junior National Select Team Measurements
-Nike Hoop Summit Interviews: DeAndre Ayton + Kostas Antetokounmpo
-Nike Hoop Summit: US Team Practice Day One
-2016 Nike Hoop Summit: World Team Practices Days Two and Three
-2016 Nike Hoop Summit: International Measurements
-2016 Nike Hoop Summit International Roster Breakdown/Preview
-2016 Nike Hoop Summit USA Basketball Roster Breakdown
---
DeAndre Ayton, 7'0, Center, Bahamas, 1998
Mike Schmitz
Strengths
-Elite physical profile for an NBA big man. 6' 11.75" with a 7' 5.5" wingspan and a 9' 3" standing reach. Tremendous frame – 243 pounds. Chiseled with a proportionate upper and lower body. Massive hands.
-Outstanding fluidity and agility for a player that size. Great body control. Can really run the floor when motivated.
-Big time defensive potential thanks to his tools and agility.
-Very quick off of his feet. Able to keep plays alive on the glass thanks to his quick leaping, strength and reach.
-Has some touch around the rim.
-Flat, inconsistent mechanics but has shown that he can make an open spot up 3, something quite rare for a 17-year-old, fairly raw big man. Could become a weapon in time.
-Can make basic high-low passes.
Weaknesses
-The game is too fast for him at this stage. Doesn't have a great feel for where to be on the floor, when to attack and when to distribute. Wants to float on the perimeter at times.
-Lacks basic moves in the post. Could use a more reliable jump hook and a counter move.
-Doesn't protect the rim despite his tools and quick leaping ability. Below average awareness and instincts.
-Shoots it very flat with a low release point. Mechanics seem to change by the day. Has potential down the road but it's not realized at this stage, especially considering how many jumpers he takes.
-Very agile but not quite a freak leaper.
-Competitiveness really comes and goes. Best when playing mad but doesn't always have that mean streak or will to compete.
-Very emotional.
-Has the tools and upside but has yet to show production.
Outlook
The second-youngest player on the World Team, Ayton proved to be more prospect than player at this stage of his development. With elite physical tools and potential offensively, it's easy to see why Ayton is so highly regarded, but he seems to leave NBA scouts and decision makers wanting more. Very little has been demanded out of Ayton at this stage, as he hasn't received very high-level coaching, and you can't teach some of the gifts that he has. But does he possess the drive to maximize his potential? If he's able to develop that competitive spirit, Ayton has No. 1 pick potential. The World Team's weak roster most certainly didn't do him any favors. The Bahamas native is one of the most intriguing long-term prospects in all of high school basketball, and it will be very interesting to see how he looks a year from now in the 2017 Nike Hoop Summit, should he accept an invitation.
Jarrett Allen, 6'10.5", Center, Uncommitted, 2016
Mike Schmitz
Strengths
-Outstanding physical profile for an NBA center – 6' 10.5" with a 7' 5.5" wingspan, 9' 2.5" standing reach, and 227-pound frame that will fill out really nicely. Huge hands.
-Very mobile. Can get up and down in transition. Long strides. Solid leaper in space.
-Super quick off of his feet. Impressive agility on spin moves.
-Tremendous instincts and timing as a shot blocker. Far and away the best rim protector at the Nike Hoop Summit.
-Able to get in a stance and defend pick and roll. Covers ground. Showed that he can switch some ball screens and hold his own.
-Competes on the glass. Reach and quick leaping ability allow him to snatch boards in traffic.
-Soft hands. Catches everything. Has some touch around the rim with his right hand.
-Can make a free throw jumper.
-Quick and accurate outlet passes to streaking teammates.
Weaknesses
-Not overly tall for a center at 6' 10.5", although he makes up for it with length.
-Doesn't have a ton of pop as a leaper, especially from a standstill.
-Basic offensive game. Very right-hand dominant. Doesn't have counter moves in the post. Has a ways to go as a scorer in the half court. Can also improve as a passer in the half court.
-Not very versatile on the offensive end.
-Can polish his defensive fundamentals. Will allow deep catches. Too high up guarding ball screens at times.
-Very quiet on the floor.
Outlook
Few prospects helped themselves as much as Allen. He continues to improve at every event and looks more and more like a one-and-done, first-round pick each time he takes the floor. With his length, mobility, defensive instincts, soft hands and touch around the rim, it's very easy to envision Allen playing a role in the NBA and eventually developing into something more than that. His game isn't flashy but centers like Allen don't grow on trees. He figures to be an impact defender from day one at the college level, regardless of which school he chooses. His overall upside will most likely be determined by how he progresses on the offensive end of the floor.
Marques Bolden, 6'11, Center, Desoto HS, USA, Uncommitted
Jonathan Givony
Bolden didn't make much of an impact on Saturday, picking up four fouls in just 13 minutes of action, but he made his presence felt throughout the week of practices. That started with his eye-popping measurements, which put him in an elite class of center prospects.
Bolden's tools are a little more impressive than his production at the moment, starting with his long arms, huge frame, soft hands and solid mobility.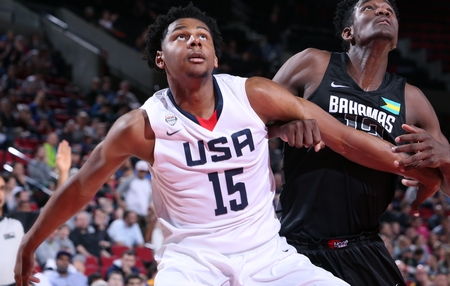 He's mostly a catch and finish guy offensively, sealing off effectively using his strength, being a super reliable target off cuts and pick and rolls, and capable of finishing above the rim impressively in space. He rebounds well, even out of his area at times, for the same reason, even if his intensity level comes and goes at times in that regard.
Defensively, Bolden will have somewhat of a transition to make at the college level, even if he has the potential to be very solid here in time, indeed already showing some flashes of effectiveness in small spurts. He is a little bit lazy getting back at times, running the court lackasidically, and doesn't always play on the balls of his feet in the half-court. Better effort will help, as will experience and coaching learning the many principles big men need to know. He's not as much of a rim protector as you might hope at times considering his length and reach, and is just an average defensive rebounder as well.
It's very difficult to find centers in Bolden's mold with his combination of physical tools, skills and solid basketball IQ, even if he's a long ways away from reaching his full potential. Some of that will come with learning how to play at maximum intensity on every possession, which will hopefully come in time with better coaching and the higher level of competition (and demands) of college basketball.
Ziming Fan, 7'0, Center, Liaoning, China
Jonathan Givony
A surprise invite after a relatively poor showing at the Basketball Without Borders Global Camp in Toronto just two months prior, Ziming Fan played a big role for the World Team on game day, but struggled badly throughout the week.
Fan has good size for a center at just a hair under 7'0 and 250 pounds, but has a mediocre 7'0 1/2 wingspan and limited athletic ability.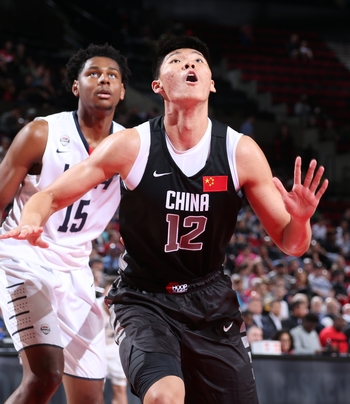 Offensively, Fan has good hands and doesn't mind physicality inside the paint. He likes to bang with his back to the basket, but is very robotic with his footwork and instincts and was mostly a black hole for most of the week with his inability to pass out of double teams. He shows soft touch on his mid-range jumpers, but was way too trigger-happy trying to show it off, finding limited results when doing so.
Defensively, Fan is mostly relegated to banging inside the paint with other centers, where his big body and toughness can make him somewhat effective. He really struggles trying to step out on the perimeter due to his average mobility and poor awareness and feel, and thus is very limited with his ability to guard pick and rolls. He is not much of a rim protector either due to his lack of length, explosiveness and timing.
Fan will have a long career in China playing in the CBA, where centers in his mold are highly coveted.
Udoka Azubuike, 6' 11.5", C, Nigeria, 1999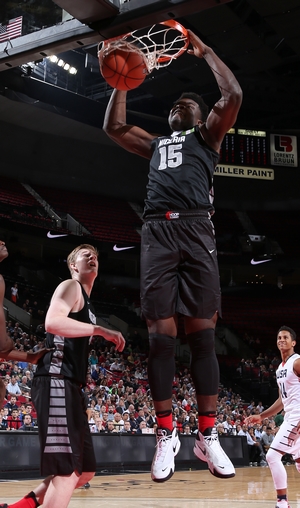 Mike Schmitz
Strengths
-Elite size, length and strength – 6' 11.5" with a 7' 5" wingspan and 265 pound frame. Very developed upper and lower body.
-Good offensive rebounder. Able to carve out space with his strength. Has potential on the defensive glass. Shows flashes of a high motor.
-Solid leaper in space given his size.
-Can make an open right-handed jump hook.
Weaknesses
-Very little feel for the game. Uncomfortable passer, especially vs pressure.
-Extremely raw offensively. Super rigid footwork. Lacks touch on jump hooks. All power, not much skill and finesse. No left hand.
-Doesn't have much pop from a standstill.
-Plays five feet and in. Shoots from his finger tips without much arc or touch.
-Defensive awareness and fundamentals aren't great.
-Very thick legs. Will have to monitor his body as his career progresses.
Outlook
Udoka is a big body with impressive length and not much else at this stage of his development. Given how little Cheick Diallo played for Kansas head coach Bill Self, it's hard to envision Azubuike seeing the floor very often during his first year as a Jayhawk. He has a chance to fill a role as an energy rebounder, defender down the road, but Azubuike is a ways away from being an impact player at the collegiate level.