Scouting Report by Jonathan Givony. Video Analysis by Mike Schmitz
Considered somewhat of a project coming out of high school, after enrolling at UNLV at 17-years old and just 200 pounds, expectations weren't particularly high for
Christian Wood
following a fairly quiet freshman season, where he played just 13 minutes per game. He exceeded them in a major way, developing into a second-team all-Mountain West player, despite the Running Rebels having a fairly disappointing campaign, going just 8-10 in conference play.
With an abundance of talent on both ends of the floor and tremendous physical tools, Wood decided to put his name in the 2015 NBA Draft class, being one of the last players to do so, after
initially appearing
to announce he's returning.
(Video may not load with Internet Explorer. Use Chrome or Firefox)
Standing 6-11, with a 7-3 wingspan, Wood has excellent size and length for a NBA power forward. His frame is somewhat on the frail side at the moment, particularly in the lower body, but will certainly continue to fill out as he matures physically, with the help of an NBA weight room. Athletically, Wood is impressive, as he's extremely fluid and agile for a player his size, running the floor very well when motivated, with long strides and the ability to get off the ground quickly and effortlessly.
Offensively, Wood is uniquely versatile, showing sparks of potential in many different areas that give him a nice framework of skills to build on long-term, both on the perimeter or inside the paint.
He is a threat to get out in the open court, either by running the floor or even grabbing a defensive rebound and handling the ball coast to coast himself.
He's also a capable option in a set offense, particularly as a finisher around the basket as a cutter or in pick and roll situations, where he's a threat to go up and catch lobs at any time. He gets off his feet quickly, converting 70% of his "around the basket" field goal attempts in the half-court this season according to Synergy Sports Tech, which is the 7th best rate among DX Top-100 prospects after Jahlil Okafor, Richaun Holmes, Sam Dekker, Seth Tuttle, Rakeem Christmas and Frank Kaminsky.
Facing the basket, Wood has a quick first step and is a good enough ball-handler to beat opposing big men off the dribble in a straight line. He attacks closeouts nicely, and can finish with soft touch around the rim, even using runners or floaters. His length and high release point gives him a variety of ways he can finish around the basket thanks to the extension he gets around the rim. Once he gets stronger and tougher, he should be able to utilize his superior size at the power forward position in post-up situations, even if he will have to get significantly more physical to do so.
Perhaps the most interesting area of Wood's offensive game is his ability to step outside and space the floor from the perimeter. He has nice shooting touch from beyond the arc, hitting 24 three-pointers in 31 games this season, and shooting 73% from the free throw line, which is much better than what many of today's NBA stretch 4s did while they were in college.
While Wood shot only 28% from beyond the arc this season, he should be able to develop into a capable jump-shooter in time with cleaner shooting mechanics and especially better shot-selection. He tends to dip the ball significantly on the catch, turning his body slightly sideways and splaying his feet out on his release at times—things can and should be corrected in time if he's open to instruction.
Defensively, Wood has interesting potential as well, thanks to his terrific size, length and agility, even if that's yet to translate into any real consistency at this stage of his career. He covers ground nicely in the half-court, allowing him to switch on ball screens on the perimeter and stay in front of smaller players. He can contest jump-shooters impressively, and still make it back into the paint to make a play at the rim with his rangy strides and impressive timing.
Wood blocked 3.2 shots per-40 minutes pace adjusted this season, the seventh best rate in our DX Top-100. That's despite the fact that he played heavy minutes alongside another shot-blocking big man in
Goodluck Okonoboh
(4.2 blocks per-40). Wood has extremely long arms and is very quick off his feet, which makes him a solid presence inside the paint, despite his lack of strength.
Wood is also a productive rebounder, grabbing 12 boards per-40 minutes, the eighth best rate in the DX Top-100. His length, agility and leaping ability help him go out of his area for rebounds, and his quick second jump helps him quite a bit on the offensive glass as well. He will only continue to get better in this area as his frame continues to fill out, as he tends to get pushed around quite a bit at the moment on box out attempts, having a difficult time holding his ground with his lack of lower body strength.
(Video may not load with Internet Explorer. Use Chrome or Firefox)
Strength is one of the biggest things Wood needs to work on, as he is nowhere near as good of a defender (or post-up threat) as he could become once his body fills out. But it's far from the only one.
Wood has poor fundamentals on defense, as he tends to bite on pump-fakes regularly, and shows limited awareness off the ball in terms of positioning. He struggles with the nuances of the pick and roll, not always executing his team's game-plan, instead looking hunched over in a stance, and getting blown by off the dribble.
Inside the post, Wood is not particularly physical, as he tends to just stand straight-up and allow stronger players to catch the ball with deep position without putting up much of a fight. Once they catch it, he doesn't do a great job of bodying up his matchup or trying to hold his ground to avoid getting backed down. He doesn't appear to be the toughest or most contact loving player around, and his intensity leaves a lot to be desired as well in terms of his ability to give a second effort. It's not rare for example to see him jogging back on defense and getting beat up the floor by the opposing big man.
His feel for the game leaves a lot to be desired as well, as he doesn't seem to have any real concept of what his limitations are offensively at the moment, which is a real issue considering his lack of polish. Reading the floor or making simple plays is not something that comes natural to him. Wood's 8.5% assist percentage is one of the lowest rates among players currently projected to get drafted—he not only does not have great court vision, but also has a tendency to play somewhat selfishly at times.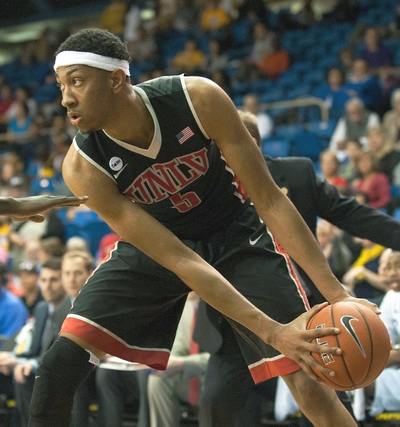 His shot-selection and overall decision making are fairly crude, as he tends to settle for wild shots early in the shot-clock without any regard for time, score or situation, and also forces the issue badly with his drives, leading to turnovers. He has a difficult time dealing with double teams, and is fairly predictable inside the post, making him relatively easy for opposing teams to scout and game-plan against. It's not rare to see his teammates or coaching staff becoming very frustrated with his antics on the court, and his body language can leave a lot to be desired.
UNLV as a whole struggled quite a bit with effort, intensity, unselfishness and chemistry, which is the main reason why they finished with a sub-500 record in conference play, despite clearly having the most talented team in the Mountain West, so this may have a lot to do with the environment he was in as well.
Wood shows sparks of ability in a lot of different areas, but there isn't really one place he can really hang his hat on at the moment, which may make it difficult for him to get on the floor early on in his career for most NBA teams. He's clearly not ready to contribute immediately from either a physical or a mental standpoint, but with all the many things he brings to the table, it's clear that he has a very high ceiling.
On paper, Wood should be drafted much higher than where he is currently slated (in the 20s), as he is clearly a lottery-level talent with rare tools and impressive two-way potential. The hardest thing to find in today's NBA is a long-armed power forward who can block shots and make 3-pointers, two things Wood proved to be able to, albeit inconsistently. The fact that he also rebounds and finishes well around the basket makes him even more attractive.
Another thing to take into account is Wood's age. At only 19 ½, he is at least a full year younger than most of the other sophomores who will be drafted this June, and is not even two months older than freshmen like Cliff Alexander, Trey Lyles and Karl Towns. He body will clearly improve in time, as he's only a baby still physically, the question NBA teams will have is whether his lack of polish, smarts and awareness is due to a lack of experience, or a more deeply rooted issue?
More than anyone possibly, Wood is one of the biggest boom or bust prospects in this draft, and it will be fascinating to see how things play out over the next two months, and then over the course of his career