Ask
Jamaal Tatum
about all of his success during the 2006-07 season and he will be quick to throw much of the credit towards his teammates. The Missouri Valley Conference Player of the Year is as humble as they come and is quick to make sure those around him get recognized just as much as he does.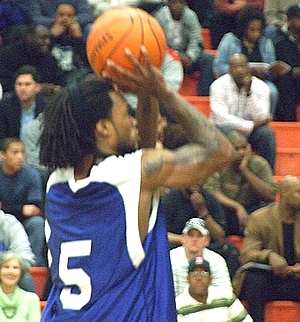 "I mean [winning player of the year], that's a good feeling in itself. Then knowing how hard my teammates worked to get me to that point, because if they didn't put in the hard work that they did, if they didn't come out to compete every game, I never would have gotten the award. So a lot of that award goes to them and how much hard work they put in to help me succeed, and to help us win the conference," Tatum said.
For Tatum and the Salukis, it was quite a ride this past season, as Southern Illinois finished with a 29-7 record overall and was ranked 14th in the final regular season AP Polls. Losing to Creighton in the MVC Championship Game didn't seem to slow down the momentum of the Salukis who earned a #4 seed in the tournament. Tatum wasn't looking at his team as just another mid-major conference team once the tournament started either.
"We didn't want to be one of those teams that are a Cinderella story, but a team that opponents are going to fear in the tournament when they know that they have to face us," he said.
On the same token, Tatum said he felt that Southern Illinois's success in the tournament was a representation of the entire Missouri Valley Conference. He mentioned some of the snubs that had befallen the MVC in the last couple of seasons and that the Salukis ability to compete with the best spoke well of the entire conference.
In addition to all of his success on the court though, Tatum has found just as much success in the classroom. His 3.57 GPA in Speech Communications not only earned him Missouri Valley Conference Scholar Athlete of the Year, but he was named an Academic All-American as well. While maintaining such a strong showing in the classroom and on the court may seem like a daunting task, Tatum is quick once again to simplify things and not draw an abundance of attention to himself.
"You can't let yourself get behind, that's the number one thing," he said. I'm in constant contact with my teachers; I'm making sure they know things as soon as I know them. If we're going out of town and I know the date and time we're leaving, I'm informing them, and I'm giving them the paper work they need to fill out for me so I know what I'm going to be missing."
Tatum further credited taking simple responsibility for his work as one of the keys to his success in the classroom.
With the college basketball season having come to an end, life certainly hasn't slowed down by any means for Tatum. The senior appeared in the NABC-All Star game on March 30th as a member of the National team. For Tatum, though, the best part of the whole experience wasn't the game, but the opportunity to spend time off the court with the game's other participants.
"I got to meet so many guys from so many different schools, and all of them were real cool guys to be around," he said. You think when you're at your school that you've got the best guys, but then you get outside of your school and you meet other guys that remind you so much of the guys that you go to school with. It makes you appreciate the guys you go to school with even more, as well as the guys you just met."
One of the perks of being chosen to play in the NABC All-Star game was the trip to Atlanta and the tickets for the Final Four that the players were given. Tatum said getting to go to the Final Four was a great experience, and that all college players dream about getting to play in an atmosphere of that magnitude. With only a few meetings and practices to attend however, the players were left with plenty of free time to socialize with one another.
"I had a conversation with
Jarrius Jackson
[of Texas Tech] about how Bobby Knight was as a coach," Tatum said. We all just laughed and told stories about our schools, our programs, crazy coaches we may have had, and crazy situations we've been in."
With the conclusion of his trip to Atlanta, it was on to Virginia for the Portsmouth Invitational Tournament, where he has been a member of the Cherry, Bekaert & Holland team for the duration of the tournament. For Tatum it was another opportunity to showcase his talents on the basketball court in front of scouts before the NBA summer pre-draft camps.
At the time of this interview, Tatum had completed his first practice with his team and was preparing for his first game later in the day. At the time of publishing, we know that Tatum led his team all the way to the championship game, putting up 17 points, 7 rebounds and 7 assists in the third game and averaging a total of 13.6 points per game and 8.3 assists for the tournament.
Tatum was once again teammates with
Justin Doellman
of Xavier, a player he has some experience with already.
"Justin was a guy that played on my team at the NABC All-Star game so I was familiar with him," Tatum said. "He was a great player and I knew what he was capable of doing. I mean there are other guys I've seen before, you know what kind of game they have, and of course its going to be kind of fun to play with new players after having played with the same players for so long. It's kind of fun to get out and play with different kinds of players and play different kinds of basketball."
Now the key for Tatum is to come out and impress the scouts enough to hear his name called on draft day this upcoming summer.
"I think the main thing and pretty much the only thing is I have to play my game," he said. "I can't worry about what scouts want or what people want to see, I have to play my game. I have to do the same things I've been doing to get to this point."
Tatum stated that the strengths of his game lie in his defense and his mid-range shooting abilities.
Between practices, games, and the constant pressure of performing in front of pro scouts, one would think that Tatum would get some time to relax once off the court; but that hasn't been the case. Like so many other players at Portsmouth, Tatum is in the process of searching for an agent.
"It's been a little bit of everything," he said in regards to the hiring process. "It's been exciting, it's been stressful, and it's been overwhelming; it's been everything you can imagine. It's like the college recruiting process, times ten. Now it's kind of like you're on the level of not just being an amateur deciding what college you want to go to, but being a professional and what agent you want to hire."
Despite the stresses of the search for someone to represent him at the next level, Tatum said it's a plus having agents approach him because it means he is doing something right.
Tatum said the agent hiring process has been made a little easier by the fact that he has his family helping him with the decision. At this point Tatum says he has narrowed his choices down to three or four possible options.
With all of the ups and downs and the uncertainty that comes with being a potential draft pick Tatum has managed to stay upbeat about everything, which has continued to be his style, not just with basketball, but with life.
"It's really been a great experience," he said.