Scouting Report by Jonathan Givony. Video Analysis by Mike Schmitz
Stanley Johnson
had a strong freshman season at Arizona, starting every game but one and playing 28 minutes per contest. The Wildcats lost in the NCAA Tournament Elite Eight to Wisconsin, with Johnson playing one of his worst games of the year, besides possibly his Round of 32 performance against Ohio State.
Johnson came into college with an absolutely chiseled frame, measuring around 6-8 in shoes at USA Basketball the summer prior, and tipping the scales at a rock solid 243 pounds. This is especially impressive considering that he reportedly had never lifted weights until arriving at Arizona. He has good length as well, with a 6-11 ½ wingspan, and has a great combination of speed and power which will be extremely difficult for opposing small forwards to contain when he becomes a more polished offensive player.
(Video may not load with Internet Explorer. Use Chrome or Firefox)
Although not the most explosive leaper, Johnson has a strong first step and is a handful to stay in front of in transition or when operating downhill in the half-court. He posted a solid 19 points per-40 pace adjusted as a freshman with a 56% True Shooting percentage, despite playing in an offense with minimal spacing and little to no perimeter shooting. Johnson can create his own shot effectively with his outstanding combination of quickness, size and power, even showing some ability to operate at different speeds with developing ball-handling ability, particularly in transition or attacking closeouts, or even on the pick and roll.
As the year moved on, Johnson did a nice job adding a floater to his arsenal to account for his struggles finishing directly around the basket, showing nice touch in that area.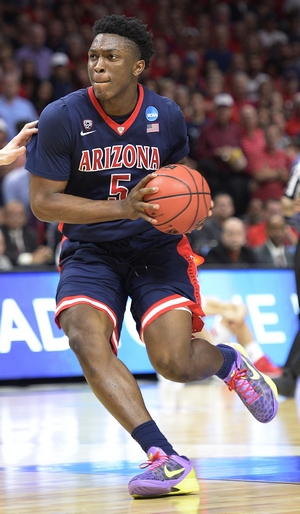 Johnson was not considered a great shooter coming into college, only making 82 of 279 3-point attempts (29%) in the nearly 2300 minutes of game-action we have on record for him prior to Arizona, including his play at the Nike EYBL, the Adidas nations, three FIBA events (at the U16, U17 and U18 level) and more. In spite of that, he impressed with his ability to make shots as a freshman, hitting 41 of his 111 3-point attempts on the season (37%), and showing a much quicker release and more compact mechanics than he had displayed earlier in his career, both shooting off the dribble (he converted 49% of his pull-ups in the half-court) and with his feet set (44% catch and shoot). Through hard work, Johnson turned himself into a player defenses need to account for at all times on the perimeter, including being capable of punishing opponents for going underneath screens on the pick and roll.
Johnson's biggest appeal as a NBA prospect likely lies with his potential on the defensive end. He has tremendous physical tools here, including great size for his position, a strong frame, solid length, and excellent anticipation skills. Although he wasn't always able to show it alongside
Rondae Hollis-Jefferson
, Johnson has the potential to guard up to three positions at the NBA level, as he should have no problem bodying up most power forwards thanks to his strength and toughness. He is extremely physical when locked in, displaying tremendous footwork on the perimeter, being capable of hounding smaller perimeter players, and also doing a nice job of getting in the passing lanes—averaging an impressive 2.1 steals per-40 minutes pace adjusted and a decent amount of blocks as well. He's also a terrific rebounder, grabbing 9 boards per-40 minutes despite spending heavy minutes at the shooting guard position.
With that said, Johnson's potential as a defender didn't always translate into production on this end of the floor. He has a tendency to take plays off at times, getting beat off the dribble a little more than you'd like, and not always quite showing that junkyard dog mentality he gives you in small doses. He's at times too focused on showing off his potential as a scorer, which appeared to be a source of frustration for his coaches and teammates at times, getting tunnel vision as a passer and not looking locked in consistently defensively.
(Video may not load with Internet Explorer. Use Chrome or Firefox)
Johnson was downright dreadful as a finisher around the basket as a freshman, hitting just 40% of his half-court shot attempts inside the paint this season, one of the worst rates among any prospect in our Top-100. He isn't very explosive from a vertical standpoint, and had a tough time adjusting to the physicality of the college game, simply trying to beast his way through defenders like he was usually able to in high school. He relies too heavily on his right hand, and isn't quite as physical as you might hope finishing through contact, although he did get to the free throw line at a very nice rate (6.6 times per-40p), which helped salvage his efficiency somewhat. As Johnson matures, teams will want to see him do a better job with his decision making, as he's not a bad passer when he commits to playing under control and surveying the entire floor, and is not particularly turnover prone either, coughing the ball up on just 15% of his possessions.
Johnson's poor finish to the season in the NCAA Tournament (7/26 FG in his last three games) likely dampened quite a bit of the enthusiasm around his draft stock, and may cause him to a least think about coming back for his sophomore year. Players with his size and frame who can shoot and defend and have a solid feel for the game are very difficult to come by, and with the increased spacing he'll enjoy in the NBA game (especially as a face-up 4-man in small-ball lineups), he certainly has a great deal of upside, especially when considering he is yet to turn 19 years old.