Twenty-three of the top high school players and a group of 10 college counselors (made up of current collegiate players and incoming freshmen) competed and learned the game from well-respected coaches and two-time NBA MVP
Stephen Curry
at his annual Select Camp in Walnut Creek, CA.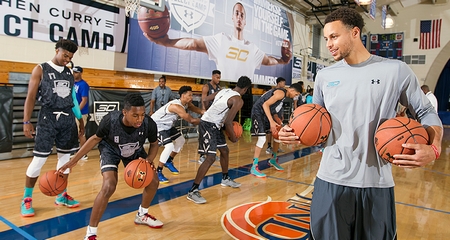 DraftExpress was one of only a few outlets allowed into the camp, and we were able to get a closer look at some of the top incoming freshmen and high school players in the country:
Markelle Fultz – Freshman – PG/SG – Washington
Just weeks after competing at the USA U18 Training Camp in Colorado Springs,
Markelle Fultz
continued his remarkable ascension with a strong few days at
Stephen Curry
Select Camp. Playing both on and off the ball, Fultz shot it extremely well from the perimeter, an area of his game that wasn't all that polished less than a year ago (career 34.3% from 3 via DraftExpress database). He's a trick shot wizard during water breaks, and he's able to translate that tough-shot making ability to actual game play.
Some shooters need to be perfectly square with little mechanical margin for error to make shots, but Fultz isn't one of them. His ability to contort his body in obscure ways and maintain touch regardless of shot trajectory allows him to make jumpers in a variety of ways, both off the catch and the bounce.
Per usual, Fultz showcased his tremendous court vision, instinctual creativity as a ball handler, and overall unselfishness while on the move. He can improve his ability to get by his man in the half court (especially if he wants to be more of a full-time lead guard long term) and do a better job of making the simple play rather than the flashy one, but all in all Fultz's improved shooting stroke is the cherry on top of his stellar all around basketball skill set.
At 6' 5" with a 6' 9" wingspan and an excellent frame to go along with his versatile skill set, Fultz is one of the most exciting talents in what is shaping up as a deep 2017 NBA Draft.
Josh Jackson – Freshman – SF – Kansas
Soon-to-be Kansas freshman wing
Josh Jackson
, who's rated by some recruiting services as the top player in the 2016 high school class, stood out thanks to his combination of explosiveness, toughness, competitive fire, and passing ability at 6' 8". When Jackson was on the floor, the level of play and overall intensity was elevated. Because of the edge he plays with, other players were forced to raise their level of play.
With good size, long strides, and quick feet, Jackson covers a lot of ground on defense and was able to ignite the break both in the passing lanes and on the defensive glass, where he's a regular contributor. He looked very comfortable whipping the ball ahead or pushing himself to find a teammate or finish above the rim himself. At this stage Jackson is more of a 'slash and pass' wing in the half court, where his strong first step, nice body control and ability to use both hands to finish and pass serve him well.
Jackson's jump shot is still a major work in progress, however – 28.6% from 3 (42 attempts) and 55.2% from the free throw line (58 attempts). As has been the case in the past, he's much more comfortable off the dribble than off the catch, and will regularly turn down open looks for tough contested pull-ups. While he gets solid rotation and has some natural touch, there's unnecessary motion in Jackson's 'windup', and it will be interesting to see how he can progress as a shooter at Kansas, as that will be the key to unlocking his NBA potential.
Jackson's frame hasn't changed all that much, and he also has room to improve his advanced handle on the perimeter, where he's mostly a straight-line driver, aside from an occasional crossover and spin move to get to a right-handed push shot.
Lastly, while Jackson's fire is certainly a positive, he can be a bit too emotional in his reactions and allows his passion to get the best of him at times.
All in all there's plenty to like about Jackson's physical profile, mentality, slashing, defensive impact, and passing ability. Jackson's progression as a jump shooter and overall shot creator will end up being the difference between whether he's able to emerge as a top 2017 NBA Draft pick, or projects as more of an elite-level role player on the wing.
Terrance Ferguson – Rookie – SG/SF - Adelaide 36ers of Australian NBL
Fresh off of
the announcement
that he will not attend Arizona next season, but rather go pro and play in Australia for the Adelaide 36ers, Ferguson had a good, not great, showing at
Stephen Curry
Camp.
From a physical standpoint, Ferguson looked a bit more developed, which is important given the fact that his likely NBA role is as a 3 and D style wing. In terms of on court skills, Ferguson hasn't added all that much to his game as perimeter defense, catch and shoot threes and opportunistic scores in transition are still his bread and butter.
Ferguson, who is a 39.4% 3-point shooter based on 259 attempts in our DraftExpress database, proved that he can be a bit streaky as a shooter. He can certainly get hot in a hurry as he catches on the hop, elevates and gets it off quickly without a lot of moving parts to his mechanics. But with that said, Ferguson has a bad habit of alligator-arming his release and not getting maximum rotation on the ball. Even with some inconsistency, Ferguson still has the stroke to be a high-level shooter with more and more repetitions.
The 6' 7" Dallas native does has a long way to go as a shot creator as he's limited to mostly straight line drives. A tremendous athlete in transition, Ferguson isn't able to use that explosiveness in the half court, because the ball slows him down at times, evident by his 46.1% career 2-point percentage. He did show some signs operating from the mid-post and pulling up in mid-range spots after one or two dribbles, but becoming more sound with the ball will be the key to Ferguson's overall scoring upside.
Defensively, Ferguson still has the tools and quickness to be elite, and given the shortage of size, length, athleticism and shot making ability on the wing in today's NBA, there's certainly a need for a guy like him. It will be interesting to see what role Ferguson will play for the 36ers and how much he'll be able to progress with his skill-level in Australia.
Trevon Duval – PG – 2017 – Uncommitted
Duval proved to be one of the best point guard prospects in attendance both in terms of his play and his physical profile. From a purely physical standpoint, Duval looks the part of an NBA point guard at 6'2" with a very mature 190-plus pound frame, and at least a 6' 7" wingspan. He possesses a tremendous first step and an ability to shift gears with force as well as the vertical explosiveness to play above the rim in space.

Maybe the most positive development for Duval revolves around the progression he appears to have made with his jump shot. While he still has a ways to go and the mechanics are a bit rigid, Duval has found some semblance of consistency as he's shooting the ball the same way every time both off the catch and on his mid-range pull up. Having shot only 2-of-27 from 3 (7.4%) and 50-for-94 from the free throw line (53.2%) according to our database, any signs of growth are a positive for Duval. His upper body is a bit locked and robotic but he's getting solid rotation and shooting a set shot every time. Duval appears to be adding more ways to get to his pull up game, using his quickness and strong footwork to create some space, it's just a matter of finding ways to use those developing skills in game play.

As for the rest of his game, Duval is still at his best when he's getting a piece of the paint. He can get into the teeth of the defense without a ball screen (or split the pick and roll instinctually) thanks to his burst and elite ball skills, and has the tools to finish acrobatically around the rim, although he oftentimes unnecessarily heightens the degree of difficulty at the cup. He does a great job of spoon-feeding big men around the rim, oftentimes in highlight fashion with no-looks or creative drop offs, which can also result in 'flash over substance' turnovers as well.

Duval is still improving his overall pick and roll play and knack for making his teammates better without getting into the teeth of the defense. While he's very good in penetration situations, he can sharpen his ability to read the game from the perimeter and make advanced passes – 18.9 assist percentage and a 16.7 turnover percentage according to 30 games in our database.

The New Castle, Delaware native is still searching for more ways to score in the half court – 14.8 points per 40 minutes on 48.8% from two-point range – but continuing to improve his jumper should open things up for him. Not the most vocal guard on the floor, Duval did have a tendency to fade in and out of scrimmages, but that's partially due to the nature of the camp.

On the defensive end Duval shows flashes of brilliance when the game got tight thanks to quick feet, strong frame, long arms and solid instincts. All in all Duval could still use some polish as a scorer, shooter and decision maker, but the groundwork is most certainly there for him to continuing to develop into a high-level lead guard prospect.
Paul Scruggs – PG/SG – 2017 – Uncommitted
If you put Scruggs next to
Stephen Curry
and ask a non-basketball follower who the two-time NBA MVP is, they would likely opt for the wide-shouldered, 6' 3.5" 200-pounder with a 6' 10" wingspan rather than Curry.
Scruggs is as physically impressive of a combo guard prospect as you'll find in the 2017 class, which directly translates to his defensive potential and ability to get into the paint at will once he gets downhill.
Defense figures to be Scruggs' initial calling card at the collegiate level, as he's strong and long enough to guard twos, yet has the quickness to guard ones when motivated. The Indianapolis native is also able to use that big body and quickness to get going downhill in transition, where he scored 1.297 points per possession in 12 games for the Indy Hoosiers 17U, as well as the half court. He changes speeds impressively for his size and is a load going to the rim as he doesn't shy away from contact, seen by his 57% conversion rate at the rim. Scruggs isn't overly explosive vertically but his power helps him make up for some of those limitations, at least at the high school level.
Aside from his physical profile, defensive potential and aggressive driving ability, Scruggs' game is still a work in progress. The key to maximizing his potential likely revolves around Scruggs' development as a shooter. While he has some touch and gets solid rotation on the ball, his lower body mechanics leave much to be desired and his confidence seems to waver a bit. Scruggs isn't a non-shooter by any means as he even shows flashes of crisp step backs going to his left, but the overall speed at which he gets to his jumper could use improvement as he tends to squat prior to his release.
Becoming a more dynamic shot-maker will also be aided by improving his handle, which can be a bit loose and rigid. He's not the most naturally shifty player and becoming tighter with the ball will allow him to get to the rim more frequently in the half court.
As a playmaker, Scruggs is more combo than lead guard right now. He can make the majority of basic passes and is unselfish in nature, but he's not quite an instinctual floor general and can do a better job finding a balance between over dribbling and killing his dribble too early. Scruggs can be a bit aloof as a decision maker – and in general – so it will be interesting to see if he can develop into a point guard in time or operate more as a physical, downhill slashing combo.
Even with some areas to work on, all in all there's a lot to like about Scruggs long term. He's a grown man physically, has tremendous defensive potential, sticks his nose in on the glass regularly, can get to the rim at will and shows potential as a shooter and playmaker. The 18-year-old should most certainly be considered a high major prospect and one worth tracking from an NBA perspective.
Nickeil Alexander-Walker – PG/SG – 2017 – Virginia Tech
Alexander-Walker took another jump in his progression since we last saw him at the 2016 BioSteel game in Canada. We've been evaluating Alexander-Walker as an NBA prospect for about a year now and he continues to impress with his combination of physical tools and versatile skill set. Although he's been prone to blending in and bouts of inconsistency in the toughness department in the past, the Toronto native did a little bit of everything at the Steph Curry Camp, and showed why he'll likely end up being considered a steal for Virginia Tech and head coach Buzz Williams.

Standing 6'5", with a 6' 8.5" wingspan, the versatile guard has done a nice job of maximizing his frame, as he looks more mature from a physical standpoint, which translated well to actual gameplay. His slightly improved frame mostly showed up on the defensive end, as he regularly sat down in a stance, used his body and feet to keep the ball contained, and came up with a couple of on ball steals while defending multiple positions.

In addition to his improved defense (an area where he hasn't been all that tough in the past), what stands out most about Alexander-Walker is his tremendous ambidexterity in everything he does. Not only can Alexander-Walker handle, pass and finish with both hands, he also regularly took left-handed jumpers (shoots righty in live action) with a high success rate during fairly intense drill work.

While more smooth than explosive, he uses his size and ability to drive either direction to get into the paint and his length and touch to finish craftily around length. Alexander-Walker also showed his value as a distributor. While he's not quite a pure point guard, especially with his struggles turning the corner against elite defenders, Alexander-Walker shows impressive vision while on the move and is a very willing passer to boot.

As a shooter, however, he still has some strides to make. He's far from a non-shooter, but Alexander-Walker doesn't have the quickest release and isn't all that adept at creating space off the bounce. Becoming a more consistent threat from the perimeter should open up the rest of his game and allow Alexander-Walker to fully utilize his fluidity, playmaking ability and crafty around the rim.

Continuing to play with toughness and confidence will be big for Alexander-Walker moving forward, and he'll likely have to in order to stay on the court for Buzz Williams. As 6' 5" versatile guards with length and skill don't grow on trees, Alexander-Walker is certainly worth tracking while at Virginia Tech and beyond.
Scottie Lewis – SF – 2019 – Uncommitted
While Curry Camp was full of high level prospects and two potential top picks in the 2017 NBA Draft, 16-year-old
Scottie Lewis
has a chance to be one of the better players to come out of this year's camp when it's all said and done.
The 6' 5" ultra athletic wing first impressed us at the 2016 Under Armour Association in Los Angeles, and made an even stronger impression in Walnut Creek. What first stands out about the New Jersey native is his length and fast-twitch explosiveness. He plays above the rim with relative ease and is equally as bouncy off of one or two feet. Lewis can fly in for tip dunks or take off without much of a gather and leap at a high level for his age. From a physical standpoint he's long and, while thin at the moment, has a nice frame that will fill out in time.
He's not all that polished offensively and has a ways to go with his feel for the game, but Lewis' motor, toughness and intangibles on the floor are extremely high for his age. The Ranney School (NJ) product is the first player to jump into every drill and is constantly taking on new challenges. He had no fear of defending incoming Kansas freshman and high-level prospect
Josh Jackson
and didn't back down from physicality one bit.
Lewis' toughness, energy and willingness to put his age and stature aside and compete were eye opening. Lewis also appears to have a genuine enjoyment for the game and is by all accounts an excellent teammate. All of those traits combined make him a very effective defender as he flies around off the ball, even blocking jump shots at times. He covers ground extremely quickly, and sits down in a stance on the perimeter, using his quick feet, long arms, and will to stop his man to be effective. Lewis does a lot of little things on the defensive end, and is an active cutter and offensive rebounder as well.
In terms of his offensive skill set, Lewis still has quite a bit of room to grow. He's not the most polished ball handler and can get sped up at times. While dynamic in transition (30.8% of his offense in 11 Under Armour games for Team Rio 16U), he scored only 0.63 points per possession in the half court while turning it over on 21.1% of possessions. Although he's certainly a willing passer, his energy level causes him to get out of control at times and he doesn't quite have the consistent skill level to fall back on.
With that said, Lewis shows some serious flashes, especially as a slasher. Thanks to his quick first step, long strides, ability to get low out of the break and his explosiveness around the rim Lewis is very dangerous when he gets going downhill. He doesn't shy away from contact and has the fast-twitch muscles to be able to change speeds and directions as his handle improves. Lewis also shows flashes as a jump shooter. While his mechanics aren't perfect, he gets excellent rise, solid rotation and shoots it with confidence. He made only 6-of-33 jumpers in eleven Under Armour Association games, but he shot it fairly well both off the catch and dribble at Steph Curry Camp and should be able to at least become respectable from the perimeter in time given the fact that his stroke is far from broken.
At 16 years old, Lewis isn't a ready made prospect (he still may be growing), especially skill wise, but it's rare to find a player at his age with his combination of physical tools, explosiveness, energy level, intangibles and flashes of skill. At the very least Lewis figures to be an energy athlete at the college level and beyond, but if his skill level develops as it should, he has a chance to be a well-known name sooner rather than later.
Bryan Antoine – SG – 2019 – Uncommitted
Like his high school and AAU teammate
Scottie Lewis
, 6' 5" two guard
Bryan Antoine
first caught our eye at the 2016 Under Armour Association in Los Angeles and continued his strong play at Steph Curry Camp in Walnut Creek as he cemented himself as one of the better long-term prospects in attendance.
Antoine fits the bill physically at 6' 5" with a developable frame, and above average length and athleticism, but it's his skill set, when combined with his tools, that separates him from other 16-year-old prospects. Antoine's best skill at this stage is his shooting ability, as he's a threat to knock down jumpers via spot ups, off ball screens and off the dribble. Although he can get off balance at times, Antoine has excellent mechanics and touch. The ball comes out cleanly and he shoots at the peak of his jump, the main ingredients that led him to score 1.35 points per possession off the catch (set shot) and 1.042 points per possession off the dribble (elevation-based pull up) in 11 Under Armour games. He can stop on a dime, rise and pull up going right or left and is much more than just a standstill shooter.
Antoine has a fairly polished handle for his age and is very comfortable playing with the ball, which he does quite a bit for his AAU team. He makes an effort to use
Jamal Crawford
-style hesitation dribbles and can change direction with crossovers or instinctual through the legs dribbles. It's rare to see a 16-year-old who can create space the ways that Antoine can, which bodes well for his long-term prospects as a scoring two guard who can play on or off the ball. His overall scoring instincts are extremely impressive and the fact that he's able to fill it up fairly efficiently (1.24 PPP in transition and 1.0 PPP in the half court) is a good sign moving forward.
The New Jersey product certainly has a score-first mindset, which gets him in some trouble at times going to the rim, as he can play with his head down, but he's also a fairly capable passer. He only turned the ball over on 9.6% of his possessions in 11 Under Armour games and showed some vision when he wasn't looking to get buckets. He can use his size to pass over the top of the defense, a useful skill given his ability to score playing out of pick and roll. Antoine does have room to improve his ability to finish around the rim, as the majority of his shots are jumpers. He can improve his ability to take contact around the rim.
On the defensive end, Antoine is fairly competitive and will pressure the ball, force turnovers or dive on the floor if necessary. His identity is more as a scorer at this stage but he certainly has the tools to be adequate on defense as he has nice size, length and footwork.
All in all there aren't a lot of holes in Antoine's game and he figures to be able to play at whatever school he'd like in time. High-level scorers with his physical profile aren't easy to come by, and Antoine is most a name to remember as he'll be on the national radar sooner rather than later.
Decorian Jeffries – SF/PF – 2019 – Uncommitted
16-year-old Decorian "DJ" Jeffries didn't have a huge impact at the camp but his combination of solid tools and a fairly unique skill set make him a prospect worth tracking as he continues to develop. At 6' 7" with solid length and a somewhat hunched, yet proportionate and developed frame, Jeffries shows flashes of an intriguing skill level. Although none of his skills are overly polished, Jeffries has solid body control and can handle in transition, find teammates when given space, and occasionally make shots from the perimeter despite a fairly low release point.

He's not overly explosive, but he's quite fluid at 6' 7" and regularly plays with the ball for Team Thad. A slashing combo forward at this stage, it will be interesting to see how Jeffries develops both physically and skill wise. He has quite a bit of room to improve as a perimeter defender, as he doesn't fully sit down in a stance. The game also moves a little bit too fast for him at times offensively. But all in all his budding offensive game at his size certainly makes him worth keeping an eye on moving forward.