Scouting reports on six of the most intriguing international prospects seen at the 2015 Jordan Brand Classic at the Barclays Center, Brooklyn. Players were born in 1999 and 2000.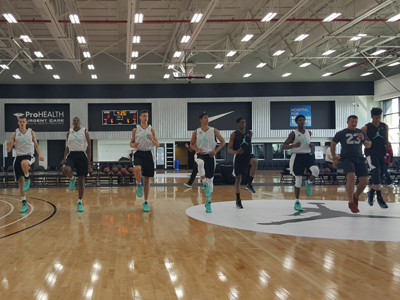 R.J. Barrett , 6-7 SG/SF, Montverde Academy, Canada, 2000
Strengths:
-Elite physical tools for a 15-year-old wing. 6-7 with good length, big hands, and a nice frame that will continue to fill out.
-Fluid athlete who can play above the rim in space. Long strides. Impressive body control. Tremendous in transition.
-Extremely polished offensively for his age.
-Comfortable playing on or off the ball. Uses in and out dribbles and crossovers out of ball screens. Plays with good pace.
-Can handle contact around the rim. Makes floaters with range.
-Not a non-shooter. Gets good rise on his pull ups. Has touch, just lacks consistent mechanics.
-Outstanding court vision for a wing. Very willing passer. Delivers the ball from different angles. Mixes in bounce passes with spin on the ball. Plays with some creativity. Can pass with either hand. Throws lobs. Facilitates in transition and the half court.
-Has the tools to lock down defensively. Quick feet, covers ground quickly, can get over the top of ball screens.
Weaknesses:
-Very streaky shooter at this stage. Elbow a bit locked. Doesn't come out of his hand the same every time. Inconsistent landing spot.
-Left-hand dominant as a slasher and around the rim.
-Gifted passer but can get a bit wild, forcing passes and going for the homerun play.
-Defensive effort comes and goes.
Outlook:
Barrett is a high-level prospect who's both polished and full of long-term upside given his physical profile. He can play on or off the ball, score or facilitate, and make plays on the defensive end with his size, length and quickness. In a group featuring at least a handful of NBA prospects, Barrett stood out as the clear-cut top player both in practices and games. While he's still only 15 years old, Barrett has all of the makings of an elite NBA prospect.
Charles Bassey, 6'10, PF/C, St. Anthony High School, Nigeria, 2000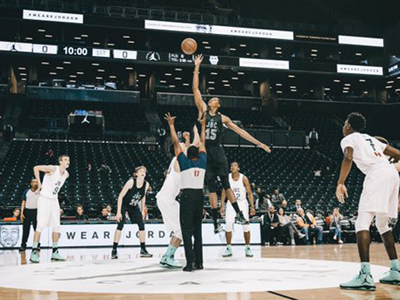 Strengths:
-Outstanding physical tools. Great frame. Extremely long arms. Huge standing reach
-Fluid athlete. Quick off his feet.
-Can handle the ball in a straight line
-Shows potential as a shooter. Stroke isn't broke. Has soft touch
-Terrific rebounder. Nose for the ball. Competitive and goes out of his area regularly on both ends of the floor
-Finishes impressively around the basket thanks to his length
-Has the tools to be an outstanding defender
Weaknesses:
-Hasn't reached his full athletic potential yet. More fluid than explosive at this stage.
-Skill-level is still catching up to his raw tools. Lacks experience even relative to other players his age
-Had a number of unforced errors in the game (6 turnovers in 24 minutes). Seems to still be figuring out his niche on the basketball court.
-Doesn't know how to play defense at this stage, like most players his age. Very upright in his stance. Doesn't give you much off the ball
-Very right hand dominant
-Does most of his damage around the basket at this stage. Plays primarily at the 5 but shows some potential to possibly playing facing the rim. Shoots somewhat of a push shot with a violent wrist snap. Has a ways to go to become a shooter
Outlook:
Had an up and down game, struggling badly in the first half before coming alive in the second and finishing with 14 points and 12 rebounds (2 turnovers, 6 assists). Has only been in the States for less than a year but is already getting quite a bit of attention on a national level. Extremely impressive on first glance. Oozing with raw talent. Has a long ways to go to bring it all together, but has great tools, a competitive streak, nice instincts, and a budding skill level, which is a great combination for someone his age who just emigrated from Nigeria.
Oton Jankovic, 6-8 SF, Cibona Zagreb, Croatia, 2000
Strengths:
-Great size for a wing prospect at 6-8. Solid frame that should continue to fill out in time. Appears to have some length.
-Very fluid. Long strides. Plweays above the rim in space.
-Impressive feel for the game. Good court vision. Uses both sides of the floor with skip passes. Can drive and kick with either hand. Smart cutter.
-Good instincts on the glass.
-Very capable shooter, especially in mid-range spots. Great footwork on pull ups.
-Plays with some swagger. Doesn't shy away from contact.
-Good feet defensively. Can make plays in the passing lanes. Good instincts.
Weaknesses:
-Good not great shooter at this stage. Capable but doesn't have the smoothest mechanics. Guides the ball a little bit. Can improve his range.
-Comfortable with the ball but not an overly advanced ball handler. Doesn't create much offense in the half court.
-Nice frame but fairly thin at this stage. Continuing to fill out both his upper and lower body should help him defensively and as a finisher. Hasn't reached his athletic potential just yet.
Outlook:
. Already practicing with the Cibona Zagreb senior team at age 15, Jankovic plays with a level of confidence and poise rare for his age. With excellent size for his position, fluidity, some explosiveness, potential as a shooter and great vision as a passer, Jankovic proved to be one of the better prospects both in the Jordan Brand Classic International game and the 2000 class as a whole.
Marko Pecarski, 6'10, Power Forward, Mega Leks, Serbia, 2000
Strengths:
-Very good size for a power forward.
-Outstanding frame. Big shoulders and strong lower body
-Very skilled for his age. Shows a great knack for putting the ball in the basket from different spots on the court.
-Makes shots from all over the floor. Has very soft touch. Can shoot with feet set or off the dribble. Shoots it like a wing player more than like a big man.
-Shows nice instincts on the glass. Tips balls to himself.
Weaknesses:
-Just an average athlete at this stage. Awkward running style. Somewhat hunched in his movements. Doesn't get off the ground very well.
-Does not have great length. Measured 6'8 with a 6'8 1/4 wingspan.
-Doesn't offer you much defensively. Upright in his stance on the perimeter. Not explosiveness enough to offer much rim protection. Not the most physical guy around. Rarely puts a body on opponents.
Outlook:
Highly productive big man who has been a big time scorer and rebounder everywhere he's been in Europe thus far. Had a quiet 8 points and 4 rebounds in 16 minutes, but showed his talent as a shot-maker.
Andrew Nembhard, 6'4, Point Guard, Vaughn Secondary School, Canada, 2000
Nembhard was one of the best players at the game and had a strong showing at the JBC International game. Our own Mike Schmitz wrote an extensive report on him just two days ago, which covers him in great detail. Read it
here
.
Paul Eboua, 6'5, Small Forward, Stella Azzura Academy [Italy], Cameroon, 2000
Strengths:
-Incredibly long. Wingspan much longer than height
-Big hands
-Very athletic. Shows impressive explosiveness already despite being nowhere near his peak physical potential
-Very aggressive offensively. Can put the ball on the floor and get to the rim in a straight line with long strides and a nice first step. Draws fouls.
-Has huge potential defensively as a multi-positional wing stopper with his tremendous tools
-Has only been playing basketball for a short time.
Weaknesses:
-Frame is very immature. Lack of strength affects him significantly on both ends of the floor.
-Extremely raw on both ends of the floor
-Ball-handling skills are a work in progress. Struggles to change directions with the ball.
-Shooting stroke is somewhat mechanical. Has a ways to go in terms of ironing out his jumper and making it more fluid and natural
-Release point doesn't look bad but splays his misses all over the place. Touch appears to be average
Outlook:
Eboua looks the part of a high-level prospect with his pterodactyl wingspan and frame that should fill out nicely in time. He's only been playing basketball for a few years now and that shows with how raw he is on both ends of the floor. Only had 2 points on 0-4 shooting in the game. With that said, he shows some natural aggressiveness, competitiveness and instincts that bode well for his ability to continue to improve and reach his very high potential down the road.
Carlos Alocen, 6-4, PG, CAI Zaragoza, Spain, 2000
Strengths:
-Solid size for a 15-year-old combo guard prospect at 6' 4". May still be growing (just turned 15 on December 30.
-Fluid with fairly long strides.
-Very creative passer. Whips the ball around the floor with excellent timing. Moves it ahead in transition. Throws one-handed bullet passes. Impressive vision. Comfortable as a primary playmaker.
-Has some wiggle with the ball. Uses sweeping crossovers to beat his man. Not the tightest handle but is quite advanced for his age. Good timing attacking closeouts.
-Tries to mix in floaters around the rim.
-Can make a spot up three. Not the quickest release but fairly sound mechanically.
Weaknesses:
-Very thin. Doesn't have a great frame. Average length.
-More fluid than explosive. Not overly quick with the ball. Average vertical explosiveness.
-Can be a bit wild with the ball. More flash than substance at times.
-Inconsistent shooter at this stage. Doesn't always get great rotation. A bit slow getting into his jumper. Doesn't look to pull up off the bounce all that often.
-Has a tendency to shy away from contact around the rim. Thin frame limits his ability to finish through contact.
-Doesn't have a ton of potential on defense. Gets overpowered by stronger guards. A bit upright in his stance.
Outlook:
Alocen isn't the most physically gifted prospect but he's creative with the ball, shows impressive vision on the move and has some potential as a shooter. He plays with flare and confidence, and it's easy to envision him developing into a facilitating lead guard in time. Continuing to work on his frame while becoming a better shooter and defender will help Alocen maximize his potential moving forward.