Matt Williams
One of the lesser known international prospects of the 1994-born generation that is automatically eligible for the 2016 NBA Draft,
Andrey Desyatnikov
is a classic late blooming 7-footer who has spent most of his career off the beaten path.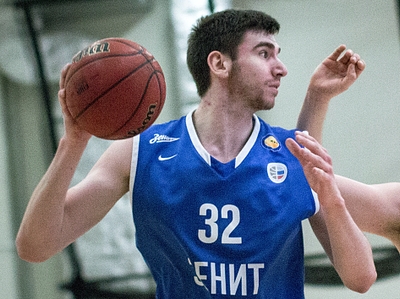 Growing up playing exclusively at the junior level for Triumph Lyubertsy, the successor of Dynamo Moscow, which has since changed its name to Zenit Saint Petersburg, the 22-year-old center first emerged as a fringe prospect earning a spot on the teams Russia sent to the 2012 Albert Schweitzer Tournament and FIBA U18 European Championship, as well as the 2013 adidas Nations experience and U19 World Championship. Playing sparingly at those events and even in Russia's U23 League, Desyatnikov didn't make any significant headway until the 2014 FIBA U20 European Championship, where he averaged 6.1 points and 4.9 rebounds, and 1.9 blocks per game over 19 minutes of action, as his body was simply too frail and he was just too big to make an impact against smaller, more experienced and coordinated players.
Subsequently getting a chance to make his VTB League and EuroCup last season following an encouraging summer, the Vladivostok native spent most of the season in the second division essentially on loan with Rossiya Novogorsk. Averaging 10.6 points, 6.5 rebounds, and 1.7 blocks per game against fairly weak competition, Desyatnikov was nonetheless selected to compete for Russia at the World University Games, and with a strong performance there, improbably earned a spot on the Russian senior national team at Eurobasket 2015 despite spending most of the season in the Superleague.
Scoring 8 points in 17 minutes against France in the only significant action he saw at Eurobasket, holding his own against
Rudy Gobert
(and even
dunking on him emphatically
at one point) for stretches, Desyatnikov earned some buzz among the NBA scouts in attendance. Despite that, he spent most of this season in playing for Zenit St. Petersburg's junior team in the VTB Youth League. Averaging an impressive 14.9 points and 10.5 rebounds amid sporadic appearances in the EuroCup and VTB United League where he averaged 8 minutes per contest over 26 games.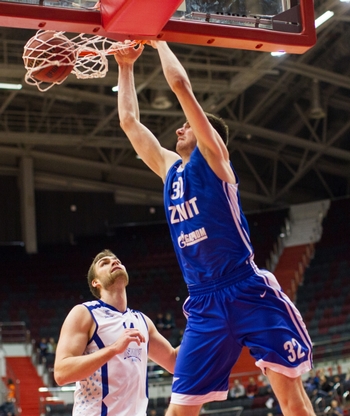 Despite his relatively modest performance this season, Desyatnikov's tremendous size and mobility, and his ever-improving ability to make an impact with it around the rim, is what makes him an intriguing draft and stash prospect. Standing a hair under 7'2 (218cm) without shoes, and a solid, but underdeveloped 253 pound frame that has improved steadily over the last few years and should continue to into his early 20's, Desyatnikov has great size for a center at any level, even if he still needs to pack on weight to his slender body. He's also impressively nimble for a 7-footer, running the floor well and hedging the pick and roll far better than one might assume.
Playing a small role at the senior level but seeing quite a few minutes late in the year in his team's playoff series loss to UNICS Kazan, Desyatnikov didn't figure prominently into what Zenit St. Petersburg did on either end this season, partially due to the fatigue caused by his unexpectedly long summer with the Russian national team heading into training camp. Asked to make an impact with his size when he was on the floor, Desyatnikov showed good hands and coordination as a finisher rolling to the rim, a solid motor crashing the glass, and offered some rim protection defensively in limited opportunities.
Offensively, there is more to like about Desyatnikov than one might expect to find from a 22 year old big man with limited experience at the senior level, especially one who averaged just 3.4 points per game. An active screen setter who isn't afraid to battle for position inside and has budding footwork, the Russian center shows good touch around the basket and a fairly strong base of fundamentals scoring on rolls to the rim and dump-off passes inside. He isn't quite as assertive or tough as one might hope on a consistent basis, and lacks a degree of instincts and strength on the offensive glass, but he shot an outstanding 63% inside at the senior level, goes up to dunk the ball with two hands when he has a lane, usually keeps the ball high when he catches it, shows some ability to score with both hands, and flashes good energy on the glass.
Not a particularly good passer and lacking much in the way of perimeter skills, Desyatnikov is a fairly raw offensive player at the moment. Despite that, he seems like a good long-term candidate to fill the kind of low-usage role so many backup centers fill in the NBA today, especially if he can improve his body and become a more tenacious rebounder. He doesn't try to do too much, and seems to have a decent understanding of what his limitations are, so there is some hope he can continue to add polish to his game as he bulks up and gains experience.
Defensively, the lean big man is a bit of a mixed bag at this point. Blocking a strong 2.9 shots per-40 minutes at the senior level, his size and mobility allow him to make some impressive plays protecting the rim. He shows impressive quickness for a player his size in spurts defending the perimeter, but also gets absolutely burnt off the dribble at times taking extremely poor angles. On the block, his lack of strength plays against him as he gets moved around by bigger, more experienced interior scorers. Amid flashes of potential stepping out to cover ground on the pick and roll and contesting shots inside, Desyatnikov has a lot of small things to clean up on this end, many of which have kept him off the floor at the senior level to this point.
Possessing far more potential than most prospects in the 1994 age group of international players that are automatically eligible for the 2016 NBA Draft, Desyatnikov could conceivably improve steadily into his mid to late 20s in the right environment. Highly intelligent, but lacking some confidence and assertiveness as many players in his mold do at times, Desyatnikov is considered by some to be almost "too smart for his own good" by those around him. Only picking up the game when he was 15 before subsequently moving from his hometown of Vladivostok on the far southeastern edge of Russia to join Triumph Moscow in 2011, his recent development and lack of high level experience could be viewed as much a reason for optimism as a short-term weakness.
A very viable draft and stash candidate, Desyatnikov is a player a team could certainly wind up taking a flier on somewhere in the second round. He has only two more years on his contract (no buyout this summer or next), so a team could elect to bring him over for free in 2018 as a 24-year old if he develops the right way. At the same time, he probably won't mind going undrafted, as being able to negotiate with all 30 teams could be a lot easier than being locked into just one. His size and mobility are a major plus, even if he has to improve his frame, as many of the things he needs to work on, especially defensively, could be overcome with consistent coaching attention.