1:00 AM
North Carolina thoroughly dismantles Michigan State on both ends of the court en route to a 89-72 victory and their first national championship since 2005. The Tar Heels jumped out to a 36-13 start right out of the game, stifling the Spartans with an incredibly intense half-court defense, and capitalizing on a huge amount of unforced errors (14 first half turnovers), while looking as unstoppable as ever offensively.
Wayne Ellington
scored 17 points in the first twenty minutes,
Ty Lawson
picked up an amazing 7 steals (many thrown right to his hands),
Tyler Hansbrough
made a living at the free throw line, and
Danny Green
did all the little things en route to a 55 point scoring effort in the first half.
The star of this game, and of the entire tournament really, was again
Ty Lawson
. He managed to draw an outrageous 18 free throws, helping him reach 21 points despite a poor 3-10 shooting night from the field, while also dishing out 6 assists compared with just 1 turnover, and picking up 8 steals.
Lawson came out looking incredibly poised right off the bat, running his offense steadily, pushing the ball in transition, looking extremely calm, and providing a quiet, yet soothing influence on his teammates that helped them run away with this game very early on. Michigan State put quite a bit of pressure on him in various points of the game, and Lawson never looked rattled in the least bit, always maintaining his dribble and only committing one turnover as mentioned.
What was on display more than anything tonight was Lawson's incredible ability to find seams in the opposing team's defense in which to penetrate before they are able to set up, as he was constantly probing with his dribble and not hesitating in the least bit to turn on the jets and blow by his matchup, which in turn forced them to foul. His sheer combination of speed, strength and explosiveness is unparalleled at the college level, and should continue to translate to the NBA level as well, where almost any kind of contact on the perimeter is forbidden.
In the second half Michigan State seemed to do a much better job getting back in transition, in part because they just weren't throwing the ball away on every other possession like they did in the first. Lawson was forced to operate in the half-court far more, and clearly showed some of his limitations in this much-slower pace, as he really struggled to create good shot opportunities for himself or others, even settling for a couple of bad pull-up jumpers, which is clearly not his strength. He obviously needs to improve his ability to operate at different speeds on the court, as he isn't quite able to take advantage of his excellent athleticism and ball-handling skills as much as you'd hope against a packed-in defense like Michigan State's.
Wayne Ellington
got off to about as good a start as you could hope for in the first half, similarly to the way he played in the first half against Villanova. He did an outstanding job coming off screens, showing his ability to make spot-up 3's with his feet set effectively as well as come off long staggers for difficult catch and shoot opportunities.
He again looked somewhat limited off the dribble due to his underwhelming athleticism, struggling to finish around the rim at times, and again getting to the free throw line just twice. His mid-range game was a phenomenal weapon once again, making shots with his trademark smooth pull-up, and also finding his way in the lane for floaters and short jumpers just outside the paint. He even showed a bit of versatility posting up the much smaller
Kalin Lucas
on one possession, which is how he managed to get to the free throw line for his lone attempts, his only points of the second half.
Ellington was largely neutralized in the second half by Michigan State's defense and his own disappearance—something that has been an issue for him throughout his career at Chapel Hill. When things are going well, he's a key cog and usually outstanding, but when they aren't, he's typically nowhere to be found. Defensively, to his credit, he had a solid showing, looking as solid and intense as the rest of his teammates, which was very important to this win.
Tyler Hansbrough
finished off his college career with a strong all-around showing, posting 18 points and 7 rebounds in 34 minutes on 6-14 shooting. He knocked down a couple of mid-range and turnaround jumpers, and also was extremely aggressive utilizing shot-fakes and simple moves to get his shot off around the basket or get to the free throw line.
Carolina also got strong contributions from freshman
Ed Davis
, to the tune of 11 points and 8 rebounds. David was extremely active on both ends of the floor, showing good toughness and solid physical tools in the paint. When he got the ball in position to score, he usually converted, displaying excellent touch and terrific extension around the rim due to his nice length. Despite the intrigue he's generated over the past month or so, there isn't much of a body of work for Davis to go off of in terms of showing what his true credentials are as a draft prospect, which is why he should definitely return to North Carolina next season and look to develop further under Roy Williams.
For Michigan State the only player that really showed up was
Goran Suton
, even though he also got off to a very nervous start in the first half, shooting an air-ball and committing a number of early turnovers. Later on he settled down and started showing his excellent jump-shot from the perimeter as well from the post in turnaround fashion. He made some basic post-up moves and crashed the offensive glass well, coming away with 11 rebounds in total. Defensively, he struggled badly trying to keep
Tyler Hansbrough
and
Deon Thompson
outside of the paint, which got him in a bit of foul trouble early on. His lack of athleticism really shows up the most on this end of the floor, although his smarts and toughness definitely help make up for that. It will be interesting to see if he gets on the plane tomorrow and heads to Virginia for Portsmouth.
6:15
Evening Rumor Mill
•Since the phone has been ringing off the hook all day, I figured people would be interested in hearing about some of the things we're learning.
-Despite reports to the contrary,
Al-Farouq Aminu
is highly likely to be entering the draft, for good, multiple sources with knowledge of the situation told DraftExpress today. Expect an official announcement shortly.
Sources also say that Aminu's brother Alade will reportedly be signing with Bill Duffy. A message left for Duffy was not immediately returned.
-On a related Wake Forest note, we've heard from multiple sources today that
Jeff Teague
will indeed be entering his name in the draft, without an agent initially. If Teague is not projected as a top-10 pick by the time the deadline rolls around a week before the draft, he will return to Wake Forest—or least that's what his plans are for right now.
-One of the biggest question marks remaining regarding potential underclassmen early-entrants revolves around
Stephen Curry
. Sources say he is heavily considering returning for his senior season in order to get his degree, and is truly torn about the decision.
-South Carolina junior Devan Downey will announce that he's testing the waters in the next few days.
2:45
Afternoon Links:
•
DraftExpress Rumor Mill
-
DeJuan Blair
will officially announce his intentions to enter the NBA draft in a press conference at Pittsburgh tomorrow, a source close to the situation tells DraftExpress. Blair will wait on officially hiring an agent for now, but is not expected to return to Pitt.
-
James Johnson
has officially ended his college career as a Wake Forest player by signing with Dan Tobin and Thad Foucher of Wasserman Media Group, according to sources with direct knowledge of the situation.
This comes on the heels of a report in the
Wyoming Tribune Eagle
quoting Johnson saying "my mind's made up; I'm going to enter. I think I'm ready now. If I sign with an agent and get into a training camp, it will help me out a lot. I just want to work hard and go as far as I can."
From what we've been told, Wake Forest head coach Dino Gaudio has reportedly expressed some concern on why Johnson is in such a rush to hire an agent without sitting down to discuss the matter with him first. From what we're hearing, though, Johnson is very likely to be a first round pick. Most NBA teams we've talked to have him ranked anywhere from the late lottery to early twenties at worst, and possibly higher. Considering that he already turned 22, even though he's just a sophomore, it's not the craziest decision we've seen, despite the very early timing.
-
James Harden
isn't expected to make a rushed decision regarding leaving Arizona State, according to sources familiar with his thought process. Harden's family is reportedly very strong on academics, and they want him to finish out the semester at Arizona State before anything else. They've reportedly already began the process of interviewing agents, which likely means that he'll be entering the draft eventually.
-26-point per game UCF scorer
Jermaine Taylor
has hired Michael Whitaker as his representation for this upcoming draft. Taylor will be participating at the Portsmouth Invitational Tournament starting on Wednesday and will be one of the most closely scrutinized seniors in attendance.
-All indications are that Tulsa 7-footer
Jerome Jordan
is leaning towards returning for his senior year, plugged in sources have informed us. "It's 75/25 that he's going back," the source said. Tulsa head coach Doug Wojcik is making a strong push for him to come back and try and make a run at the NCAA tournament in a John Calipari-less Conference USA, and it appears like he will get his wish.
-LSU junior
Tasmin Mitchell
will announce shortly that he's entering his name in the draft. Mitchell is not expected to hire an agent at this time and could very well return to LSU next season.
-Israeli forward
Omri Casspi
has officially made himself eligible for this year's draft, according to several media reports in his home country. Casspi tested the waters last year and decided to pull out, and has the option of removing his name from the draft again and waiting until he becomes officially draft-eligible next year if he so pleases.
He's currently getting lots of playing time and doing quite well as of late in the local Israeli league, coming up with 15 points and 9 rebounds in his team's easy victory over Ironi Ramat Gan last night. We spoke with Avner Yeor, who was both a head and assistant coach in the Israeli league this season, to get some thoughts on his progress:
"For me Casspi is definitely the most likely Israeli player to play in the NBA, since he's really adjusted himself to the Small Forward position this season, and definitely has the skills and talent to play there.
You don't see a lot of guys who are 6-9 and can legitimately play that spot, and he can. He can do a lot of different things—shoot the ball a little, put it down on the floor, move his feet—the ability is definitely there.
The best thing about him though is how aggressive he is. He's not your typical European player in that regard. He's not afraid to deliver a hard foul, and he really fights out there. Even though he's only 20 years old, he's not afraid of anyone-- he's got balls for sure.
He's not a great ball-handler, and his mid-range game isn't very good, but his ability to operate in transition, make shots from the perimeter and finish around the basket helps him a lot. The big key has been his improvement defensively, though—he has all the tools to be solid there down the road. "
The college basketball season finally comes to an end with the championship game tonight (9:21 EST) in Detroit. The ultra-physical, highly disciplined Michigan State Spartans will try to slow down the most potent team in the country – the North Carolina Tar Heels.
NBA Draft Roundup:
•
Andy Katz Early-Entry Speculation
Andy Katz of ESPN is one of the most plugged in journalists in the industry as far as college coaches are concerned, so it's always interesting to hear his take on who is staying or going, even if there aren't any surprises for now.
Katz hears from Tennessee head coach Bruce Pearl that Tyler Smith is declaring for the draft, which obviously isn't going to shock anyone. Smith turns 23 later this year and really didn't make very much progress in his junior season. Katz did not mention whether Smith will be hiring an agent or not.
Ben Howland of UCLA tells Katz that Jrue Holiday "is listening to folks who may steer him toward declaring," which if he indeed declares as expected, again isn't going to surprise any readers of this blog. He'll be strictly testing the waters for now. We're hearing an announcement from Holiday could be made in the next day or two.
Greg Monroe is leaning towards returning to Georgetown, which is what we've been hearing for the past few months as well.
•
After North Carolina, Hansbrough Faces a Skeptical N.B.A.
An interesting article from Thayer Evans of the New York Times, discussing the pro prospects of North Carolina senior Tyler Hansbrough, with quotes from ESPN's Chad Ford.
Despite the fun and success this season, Hansbrough has made a sacrifice by returning for his senior year, at least in terms of money.

In last year's N.B.A. draft, he would have probably been selected between No. 18 and No. 28 in the first round, Chad Ford, a draft analyst for ESPN.com, said. Hansbrough is now projected to be picked between No. 25 and No. 35, which would put him in the late first round or early second round in June's draft, which is considerably weaker than last year's.

Ford attributed the decline in Hansbrough's N.B.A. stock to what he described as "the curse of college seniors."

"The longer you stay, the more your draft position begins to slip, because people draft in part on upside," Ford said in a telephone interview. "Right now, the thing about Tyler is they don't see any upside to him. He is what he is. He'll play hard. He'll be strong and an aggressive player in the league, but the upside isn't there."
These days, you're not going to find that many NBA executives who disagree with Ford, even if some of them still think that Hansbrough will turn out to be a very solid role player whose production exceeds his draft position.
•
Tourney MOPs a mixed bag in NBA
Randy Hill of Fox Sports examines those awarded Most Outstanding Player honors over the last 20 years, and discovers that at least half of them made little or no impact in the NBA.
An NBA scout quoted doesn't seem to put that much stock into the tournament:
"We already know who can play and who can't," a scout hired by an Eastern Conference franchise said. "Or at least we think we know. Just look at any draft and you'll see glaring mistakes. But we've been watching most of these guys forever it seems. The tournament may raise an interesting issue or two about a player, but March Madness and the Final Four have little impact on how the draft is going to go."
As far as this year's MOP is concerned: if North Carolina wins tonight as expected, it would be pretty shocking if Ty Lawson didn't win the award. If Michigan State wins, the voters should give Travis Walton a look, but will likely ultimately go with Kalin Lucas, as long as he has a reasonably good game (which he'll have to if the Spartans are to stand any chance).
•
John Wall weighs hefty decision
Tim Stevens of the Raleigh News and Observer looks at the tough decision looming for the #1 point guard prospect in this year's high school class, John Wall. Wall was reportedly very close to signing with Memphis until John Calipari opted to leave for Kentucky, which may have forced him to reopen the process completely. Stevens cites "N.C. State, Duke, Miami, Baylor, Kansas and Memphis" as the leaders for his services, as well as Kentucky, who will obviously make a strong push through Calipari.
John Wall is among the handful of high school basketball players whose college decision could be worth millions of dollars -- to him and to the school.

Wherever the 6-foot-4 Word of God point guard goes, he is expected to help win games, sell T-shirts and possibly lead a team deep into the NCAA Tournament.

But Wall personally has a lot at stake, too.

The wrong college situation might drop him significantly in the draft order and, potentially, cost him millions of dollars.

Wall wants to go to a school that will help him develop into a player who is capable of succeeding in the NBA.
Memphis was the leader for Wall until coach John Calipari resigned and took the Kentucky job.

North Carolina coach Roy Williams added to the intrigue on Thursday when he contacted Wall, although the Tar Heels currently are not recruiting him.
--
The college basketball season finally comes to an end with the championship game tonight (9:21 EST) in Detroit. The ultra-physical, highly disciplined Michigan State Spartans will try to slow down the most potent team in the country – the North Carolina Tar Heels.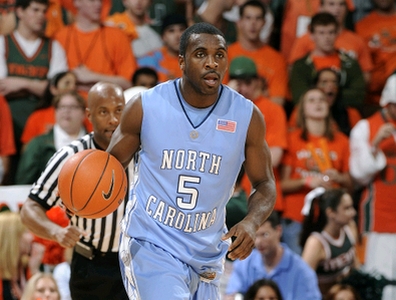 Questions that will be answered
Which stud point guard,
Ty Lawson
or
Kalin Lucas
, will be able to dictate his will on the pace of this game?
Can Lawson effectively guard the extremely quick Lucas, and vice-versa?
Will
Wayne Ellington
be able to get his shot off against the incredibly effective defense of Travis Walton?
Can
Tyler Hansbrough
establish his will inside the paint against
Goran Suton
?
Will
Raymar Morgan
be able to give his team another great game battling around the rim and on the glass?
Will
Goran Suton
be able to draw
Tyler Hansbrough
outside of the paint with the threat of his perimeter jumper and open up the paint for his well-oiled half-court offense to find good looks around the basket?