Jonathan Givony
Measuring in taller than 7-2 without shoes with a 245 pounds frame and a 9-4 standing reach at last summer's adidas EuroCamp,
Dusan Cantekin
was inevitably going to draw intrigue purely due to his incredible size.
This season, Cantekin has taken his play to another level as well, which could put him firmly in the mix to hear his name called in the second round as a 1990-born draft-eligible international prospect.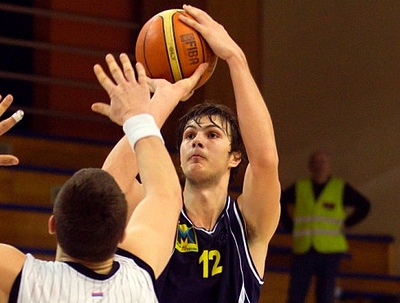 Born as Dusan Gavrilovic, he became a member of the Turkish national team by electing to receive a passport after being snubbed from the Serbian youth teams. He's signed to a contract with Turkish Euroleague powerhouse Anadolu Efes (Efes Pilsen), but has been on loan in his home country for the second season in a row at Mega Vizura, currently in second place in the Serbian league.
More than just a tower of a human being with a superb frame, Cantekin is a surprisingly mobile center who runs the court extremely well and shows impressive agility for a player his size. His conditioning looks much improved these days, allowing him to make his presence felt in a variety of ways on the court, something he's slowly learning how to do more and more of.
Offensively, Cantekin is not a very polished player at this stage, but he's been able to make an impact anyway against the relatively average level of competition he faces in the Serbian League. He scores nearly a point every two minutes he's on the court, converting a terrific 68% of his field goal attempts.
Cantekin does not show any real back to basket game, as his footwork is poor and he's not very physical backing down opponents to take advantage of his superior size. He gets most of his offense playing off the ball, as a pick and roll finisher, working off cuts, and running the floor in transition, sometimes beating opposing big men down the court.
Cantekin can finish with either hand around the basket and occasionally uses a jump-hook, but he's at his best when catching the ball in the paint on the move and elevating around the basket. His team has some lob plays in their half-court offense, which he can successfully execute. Cantekin can get off the ground better than you'd expect, but he doesn't always have to, as he's big and long enough to simply throw down dunks from a stand-still.
From the perimeter, Cantekin has the ability to make 15-foot jump shots inconsistently, something he should improve on in time judging by his solid shooting mechanics and decent 66% conversion rate from the free throw line. He also likes to attack his man off the dribble in a straight line, showing surprising agility getting to the basket from the mid to high post.
Still fairly raw in terms of overall polish, Cantekin is susceptible to the ups and downs within games that many inexperienced big men suffer through mentally. He'll miss some easy shots around the basket on occasion, and doesn't always show a great feel for the game in his decision making. Adding strength to his still developing frame and continuing to get consistent playing time should help, and so far this season he's clearly benefiting from playing 25 minutes for game for Mega Vizura.
Defensively is where Cantekin needs to improve the most right now, as it's clearly the weakest part of his game. With his size and mobility he should be a difference maker in the league he plays in, but that's hardly the case, as opposing big men tend to go right at him, and usually find success at a good rate in doing so. He doesn't use his body and height inside the paint well at all, giving up deep position very easily to inferior opponents, and getting pushed around without offering enough resistance.
Cantekin's fundamentals aren't great, as he never bends his knees and tends to defend with his hands instead of with his feet, which often gets him in foul trouble. He's very limited with what he can do on the perimeter—his coaches don't even ask him to step out on the pick and roll, and he does a poor job closing out on shooters.
To his credit, Cantekin will block shots on occasion (1.3 per-40), and he's a dominant rebounder in his league (12.3 per-40), tops in the Serbian first division.
Besides a very interesting showing in the Serbian Cup against Partizan, we haven't really had a chance to get a great read on how Cantekin stacks up against better competition, as the level of big men in the Serbian league is fairly poor. Once the Adriatic League ends at the end of March, the Serbian teams (Partizan, Red Star, Hemofarm, Radnicki) will join Mega Vizura in that competition, which will raise the level somewhat and maybe attract more scouts to evaluate him. Participating at the EuroCamp once again could be another way to be seen by NBA decision makers.
With his size, mobility and upside, Cantekin could be a player a team drafting in the mid to late portion of the second round decides to roll the dice on, just to see how he develops in the next few years.