Update 11/9:
Guangdong continued its winning ways with a 127-116 victory over Qingdao, once again playing well down the stretch.
Just 2 days after struggling against Shandong, Emmanual Mudiay posted a triple double en route to easily his best performance as a pro scoring 22 points (8/13 2P, 2/6 3P, 0/2 FT), pulling down 11 rebounds (7 offensive), and dishing out 13 assists without turning the ball over in 40 minutes of action.
Chinese National Team staple Zhu Fangyu added 28 points for Guangdong who finished with 6 players in double-figures and four players with 19 or more points.
Justin Dentmon finished with 38 points (10/13 2P, 3/6 3P, 9/9 FT), 9 assists, 5 rebounds, 4 turnovers and 3 steals to pace Qingdao who could not overcome a strong fourth quarter from the Tigers.
Highlights form Mudiay's performances:
Update 11/7:
Guangdong finishes with a strong fourth quarter to defeat Shandong 96-85.
Mudiay's line: 10 points (3/9 2P, 1/2 3P, 1/2 FT), 4 assists, 2 turnovers, 3 rebounds, 1 steal in 27 minutes.
Chris Daniels scored 27 points and pulled down 12 rebounds for Guangdong.
For Shandong, Pooh Jeter scored 22 points (5/9 2P, 2/5 3P, 6/6 FT) and secured 3 rebounds to go along with 3 assists.
Update 11/5:
Big bounce back road win for Guangdong over Jilin, winning 135-111
Mudiay's line: 29 points (9/12 2P, 3/5 3P, 2/3 FT), 7 assists, 6 turnovers, 9 rebounds, 4 steals in 33 minutes.
Yi Jianlian had 31 points, 13 rebounds for Guangdong.
For Jilin, Dominique Jones, had 44 points (11/19 2P, 5/10 3P, 7/14 FT), 5 assists, 4 rebounds, 2 turnovers in 38 minutes.
Full highlights:
Highlight of a great pick and roll play by Mudiay:
---
Update 11/1:
In Emmanuel Mudiay's first regular season game in China, his Guangdong team lost on the road 103-89 to Stephon Marbury and Beijing.
Mudiay, who did not start, had 18 points (on 5-16 2P, 1-3 3P, 5-8 FT), 5 rebounds, 2 assists, 2 turnovers in 30 minutes, while Marbury scored 32 points (12-16 2P, 1-3 3P, 5-7 FT), with 8 rebounds, 5 assists and 2 steals in 41 minutes.
Mudiay's teammate Yi Jianlian had 29 points and 11 rebounds.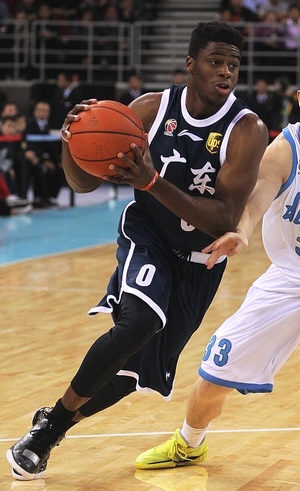 Some highlights from Mudiay's performance:
Update 10/20:
Emmanuel Mudiay's third preseason game:
18 points in 30 minutes. 5/15 2P, 1/6 3P, 5/10 FT, 3 reb, 2 assists, 3 turnovers. Guangdong won 90-87.
Metta World Peace: 26 points in 33 minutes, 6/11 2P, 4/6 3P, 2/3 FT, 5 rebounds, 1 assist, 1 turnover.
Highlights:
---
Emmanuel Mudiay's second preseason game:
7 points (2/6 2P, 0/3 3P, 3/4 FT), 2 rebounds, 1 assist, 3 turnovers, 5 fouls, 14 minutes in a 104-87 loss to Zhejiang Chouzhou.
Erick McCollum: 35 points in 27 minutes, 8/16 2P, 4/6 3P, 7/10 FT, 4 assists, 1 turnover
Highlights:
---
Former NBA player
Pooh Jeter
(杰特), fresh off an appearance at the FIBA World Cup with the Ukrainian national team, discusses
Emmanuel Mudiay
's (穆迪埃) first preseason game in China with Guangdong, against Jeter's Shangdong Hi-Speed squad.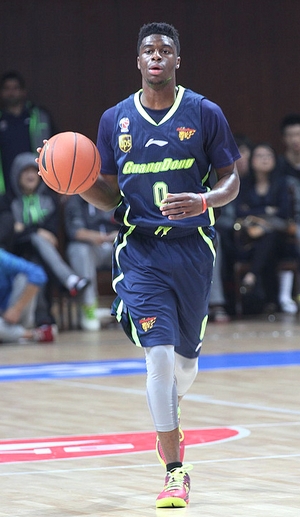 Mudiay's statline: 20 points (7/12 2P, 1/2 3P, 3/4 FT), 5 assists, 3 turnovers, 2 rebounds, 2 steals, 1 block in 27 minutes.
Jeter had 15 points in 19 minutes (2/2 2P, 3/4 3P, 2/2 FT) to go along with 4 assists and 1 turnover.
Video Highlights
Mudiay Post-Game Commentary
Pooh Jeter's (杰特) Comments—click on the link for audio
How did Mudiay look?
(
audio
)
"Emmanuel looked pretty cool today. He did well in pick and rolls finding the weakside. He attacked the Chinese guards. He looked solid. I told him to continue to have confidence, and to continue to play. In Guangdong they aren't going to be looking for him to score that many points, especially when Yi [Jianlian], Yi wasn't there. He looked good his first game. He looked under control. He had a few turnovers, but that was really his first day out there. When the Chinese players were guarding him he did well. His performance was cool."
How did he handle himself?
(
audio
)
"He handled himself pretty well. He wasn't scared. I was happy to see that. It was his first preseason game. He came out there and just played basketball. It's a big help to have, his mom was there and his brother and cousin, having them in the crowd I bet it made it feel easier. I think he handled himself well for his first preseason game. Of course when Yi comes back that's a different story. The best thing he's going to pick up on is pick and roll. These Chinese players play hard in those situations. Him finding that weakside, knowing when to throw that pass, I think Yi is definitely going to help him. Of course he has two of the best shooters of the Chinese national team. The best thing about this situation is he gets to play three games per week during the season. He's going to be getting around 30 minutes per game, trying to play an NBA style, he's going to be playing a lot of minutes and a lot of games to continue to stay in that rhythm. I think him and his team, his agency, I think they did a great job having him come to China to play, just to get used to the game and the feeling, because its NBA rules."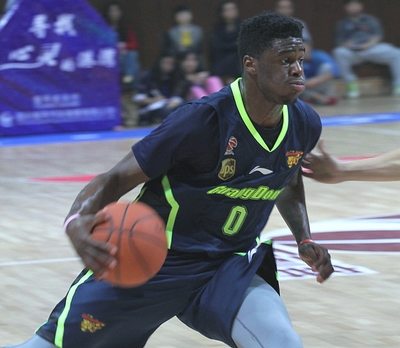 What will his success in China depend on?
(
audio
)
"I think it all depends on his confidence. I didn't play in the fourth quarter so I got a chance to really see him play, he was getting into his groove with some nice passes. He's athletic. He started making his threes. In this league they are going to go under the screen on him He has to be ready to make that shot. He really has to prove he can shoot that three. The international three isn't that different from the high school or college three. I think he's going to do good. I really do. He's going to be playing against guards like myself, Stephon Marbury, Bobby Brown, Jonathan Gibson, Lester Hudson, Jordan Crawford, Delonte West, Justin Dentmon. He's going to be playing against so many great point guards in this league that of course could be in the NBA also. This should be a real good test. I told him that players on the other teams are going to have more freedom to go out there and score, it's going to be different in his situation because he's playing with basically the Chinese national team. In Guangdong they don't really look for him to score like that. It should be exciting, especially going up against the guards I named, the Josh Akognon's, every team has a great point guard. It will be real cool. Real good thing for him, I really believe that.
How challenging will this be for Mudiay?
(
audio
)
"Playing in China will be a great test for him. Playing against point guards that should be in the NBA or were in the NBA like Stephon, myself, Bobby Brown, Lester Hudson, Jordan Crawford, Jonathan Gibson, Josh Akognon, Justin Dentmon, Mike Efevberha, so many good point guards that should be in the NBA. Since the NBA is his next step, this will be a great test for him. I'm excited to see the outcome, I wonder if more high school players will come to China. A lot of us will go under on that pick and roll so we gotta see if he can shoot, I know he likes to get into that lane, but I think this will be a great opportunity for him. "
Guangdong and Mudiay will play their first official game of the CBA season on November 1 when they travel to Beijing to take on Stephon Marbury. On November 7th, they host Pooh Jeter and Shangdong Hi-Speed at their home arena.