Jonathan Givony is on an 11-day trip through seven countries to evaluate and meet most of the top NBA Draft prospects in Europe.
On the fifth and sixth day of his trip, he was in Ljubljana watching and meeting Slovenian shooting guard Blaz Mesicek.
---
More European Dispatches:
Getting to Know: Furkan Korkmaz
Getting to Know: Paul Zipser
---
Situation:
Born in July of 1997, and in his first real season of professional basketball, it is clearly premature to discuss the NBA prospects of Blaz Mesicek. But considering he is one of the most talented and accomplished prospects in his very talented European generation, it does make sense to check in on where he is at as a prospect and begin to monitor his development.
Mesicek has been on the radar screens of European basketball junkies for a few years already, having represented Slovenia successfully at the U16, U18 and U20 level already. He was named MVP of the prestigious L'Hospitalet tournament last January, as part of the Euroleague's Adidas Next Generation qualifying tournaments. Perhaps his most impressive accomplishment was representing Slovenia at the U20 European Championship this past summer, despite just having turned 18 and playing almost exclusively against players two years older than him. He is still eligible to play at the next two U20 European Championships in fact, which is startling considering that he was already the second best scorer in the competition last summer.
With the financial difficulties nearly every team in the region is facing these days, Olimpija Ljubljana made the decision to pivot towards somewhat of a youth movement this season, which has helped Mesicek carve out an important spot in the rotation in both the Adriatic League and EuroCup. Olimpija gives significant minutes to a number of players under the age of 22, including tall and talented spot-up shooter Vlatko Cancar (1997-born), big man Vasilije Vujetic (1996), as well as Gregor Hrovat (1994), Miha Lapornik (1993) and Luka Rupnik (1993). Even their head coach, Gasper Potocnik, is very young by European standards, at age 35.
Very few teams in Europe would have the guts to give an 18-year old like Mesicek 15+ minutes per game, so it's clear he is in an excellent situation from a development standpoint.
He played significant minutes in the game we attended against Maccabi Tel Aviv (24 minutes, 7 points, 7 rebounds), a surprising win for Olimpija over a former Euroleague powerhouse, and also did some very interesting things in the highly competitive practice we attended the night before.
In His Own Words:
"I have two practices per day [in Olimpija]. I am in the gym six hours per day. I love basketball. This is my third year with this coach. He was also my coach in the juniors. He knows what I can do for the team and on my own. Practices are very hard. We practice really hard. We have some players who have played in the best teams in Europe and they say that this coach is really good, but practices are hard. It's a great opportunity for me to learn something new."
Strengths:
Mesicek has good size for a shooting guard, at around 6'6 ("197cm [6'5 1/2] without shoes he told us"), with a solid wingspan (measured 6'9 ½ last year according to him) and an underdeveloped frame (84kg/185 pounds) that will likely fill out nicely in the next few years. He's not an overwhelmingly explosive athlete at this stage by NBA standards, but certainly has some fluidity to him and will play above the rim at times. He does not appear to have reached his peak from a physical or athletic standpoint, and may have some room to grow here down the road.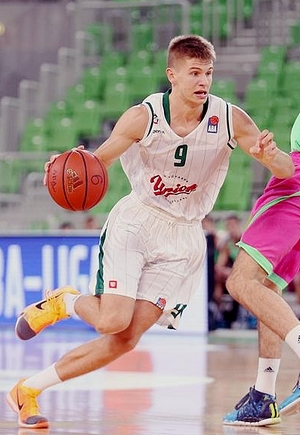 While not readily apparent in the game we attended due to the very high level of competition and the disciplined role he is asked to play, Mesicek dropped glimpses of very intriguing versatility and creativity in the different settings we've been able to watch him. He's a solid ball-handler who can drive in either direction and has some real flair as a shot-creator for both himself and others. He whips the ball all over the floor in the half-court, showing promising court vision in the process, and will mix in some advanced ball-handling moves like in and out dribbles, crossovers, and change of pace sequences in pick and roll and isolation situations to keep his defender off balance. He's a confident young player who knows when to stay in his lane (he's operating on a fairly short leash), but won't hesitate to step up and show off his character when given the opportunity to do so.
Mesicek held his own nicely defensively against Maccabi Tel Aviv, despite giving up 20-30 pounds to the likes of Elijah Millsap, Guy Pnini and others. He shows a nice feel for making the right rotations off the ball, and plays with a very high motor, which is likely a major factor in the trust he's earned from his very demanding head coach. He sprints up and down the court like a man possessed, always making sure to get back on defense, and contributed to a few very important stops late to help seal the victory. Throughout the night, he flew in for numerous defensive rebounds, showing off his athletic tools, toughness and intensity level in the process.
In His Own Words:
"I like to penetrate in pick and rolls. I like to create for myself and my teammates. I like to shoot. I like James Harden. I watch him very often. I like his step-back jumpers and his passing. Just his defense I don't like (laughs)."
Needs Improvement:
At 185 pounds, Mesicek's body is still a work in progress, and even if he's well proportioned, he is very much on the skinny side at the moment, which certainly affects him in many different aspects. He's not always strong enough to take hits and finish plays inside the paint in half-court settings, something that may come in time as his body matures, he continues to refine his ball-handling skills, and improves his explosiveness.
Mesicek's biggest weakness at the moment is clearly his jump-shot. He tends to hop way forward and hold the ball too long in his hand before releasing it, even shooting on the way down at times, which makes him very streaky. He's the type of player who is not afraid to take and make big shots, as he did in the Maccabi game nailing a pull-up jumper from 25 feet out with the shot-clock rolling down, but his 3-point percentages have not been consistent throughout his career (44/158 [28%] in FIBA, NJIT, EuroCup and Adriatic League action) and he certainly needs to improve this facet significantly to reach his full potential.
In His Own Words:
"Sometimes if I lose two balls in a row all the players [teammates] say come on, you are the youngest kid, you have to pass (laughs), but I don't have problems with this. I am a pretty good shooter. I need to work on my off the dribble shooting, and on staggers. "
Projections:
As mentioned earlier, it is certainly premature to be drawing any long term conclusions about Mesicek, besides stating the obvious: he's clearly talented, is in the midst of a very impressive season for an 18-year old, and is someone to monitor closely in the future.
With around 20 NBA scouts in attendance to watch Dragan Bender (who did not play due to injury), Mesicek acquainted himself nicely with those in the building, likely putting himself on some future scouting lists in the process. He is rumored to be a very strong candidate to be invited to the Nike Hoop Summit in Portland this spring, which would be a great place for him to further improve his name recognition among NBA folks who don't always have time to dig deep into the second and third layer of draft-eligible prospects that aren't deemed immediate priorities for the upcoming draft.
In His Own Words:
"Of course playing in the NBA. It is my goal. Every player that plays basketball wants to go play in the NBA one day. It might take me maybe 3-4 years to get to the NBA."
Full Video Interview: