Vladimir Dasic, 6-10, SF/PF, Buducnost, 1988
Jonathan Givony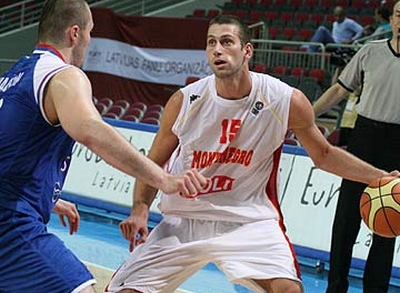 With the EuroCup (the second strongest inter-European competition after the Euroleague, formerly the ULEB Cup) group stage now behind us, and Montenegrin side Buducnost ousted after compiling a 1-5 record, this seems like a good time to check in on the progress of their top prospect
Vladimir Dasic
.
The 6-10 forward has been going through a very inconsistent season thus far, with plenty of highs and lows and a great deal of playing time in both the Adriatic League and EuroCup. Leading his team in minutes and second in scoring through 24 games, Dasic definitely is shouldering far more responsibilities than the average 20-year old in Europe.
The intrigue around Dasic still centers around his excellent physical profile, being a fluid and athletic 6-10 wing player with a great frame. He is seeing plenty of minutes at the small forward position this season, and surely has the skill-set to look comfortable out on the perimeter.
The best part about Dasic's game surprisingly might be his defense. He seems to have no problem guarding wing players from what we've seen this year, getting low in a fundamental stance, moving his feet extremely well and doing a great job containing penetration and contesting shots with his length. He's doing a solid job on both SFs and PFs this season, playing with good intensity, and sees production in the stat-sheet as well—as he currently
leads the Adriatic League
in steals per game.
Offensively, it's been mostly a mixed bag, as Dasic has struggled a bit in his role as go-to guy. His jump-shot seems to have abandoned him, as he's only made 26/100 3-point attempts through 24 games. His shooting mechanics look solid, but his shot-selection and overall decision making is very poor at times, as he tends to rush at times and force up ill-advised jumpers early in possessions. He needs time and space to get his shot off effectively, and he appears to be relying way too heavily on this part of his game, as nearly 40% of his attempts come from beyond the arc. For a player with his combination of size, skill and athleticism, that's probably too much considering how erratic his shot has been this season. Even from the free throw line he's been streaky this season, converting just 63% of his attempts on the year.
Quick, and highly skilled facing the basket, Dasic looks very good creating his own shot with his left hand and getting to the rim. He can pull down a rebound and take the ball coast to coast himself, and generally looks very effective operating in transition. You don't see many players his size who are capable of putting the ball on the floor like him, but there is still improvement to be made in this part of his game as well. Dasic lacks a bit of strength and toughness to finish his drives around the basket at times, and the fact that he prefers not to drive right makes him a bit predictable at times. He almost never executes a jump-stop or pulls up off the dribble once he puts the ball on the floor, which makes him a somewhat turnover prone against better competition. Capable of operating decently with his back to the basket, he doesn't utilize this part of his game very much at all, which is a shame considering the mismatch advantage he typically enjoys against smaller players.
Even though Dasic's season may not be going quite as well as hoped, he's still a big talent with a considerable amount of upside left to improve. It's likely that he will declare for the draft this upcoming spring, and he's more than capable of getting teams excited about the way he performs in private workouts—a setting in which he'll likely thrive. His style of play might actually be better suited for the NBA than for Europe, as he's much better in wide-open settings where his ball-skills and athleticism can stand out. The streakiness of his jump-shot is a major concern, though, and if he's not capable of spacing the floor from the perimeter, he's probably not nearly as interesting for the highest levels of competition.
Looking Beyond the Draft
Marcus Haislip, 6-10, Power Forward, Unicaja Malaga, 1980
Matt Williams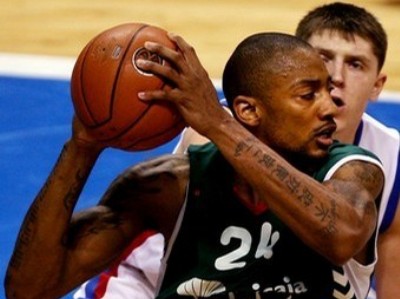 While
Josh Childress
has been the major attraction for scouts evaluating this year's overseas free agent crop,
Marcus Haislip
has provided quite a bit of intrigue in his own right. A former lottery pick of the Bucks in 2002, Haislip played only 79 games in his three year NBA career. Discouraged with his lack of development, Milwaukee cut ties with the incredibly raw 6'10 power forward only two seasons into his rookie contract. After spending a season in Indiana as an insurance policy off the bench, he found himself out of the NBA.
Four years later, Haislip has established himself as not only one of Europe's most exciting players, but his skill set is radically different than it was when he left Indianapolis for Istanbul. While Haislip definitely looks like an NBA player at this point, some of the things that kept him from being successful in the League initially are still present in his game.
With three years of European experience under his belt, Haislip is now is his second year with Spanish powerhouse, and Euroleague Final Four contender, Unicaja Malaga. With former Spanish Olympic Team Head Coach Aito Garcia Reneses at the helm, Haislip has led Unicaja's to arguably the most impressive start in club history. Despite playing next to a handful of other former NBA players in Boniface N'Dong,
Robert Archibald
,
Jiri Welsch
, and
Omar Cook
(as well as Spanish national team PG
Carlos Cabezas
), Haislip is unquestionably the team's top option and most dynamic presence.
Through twenty-five games this season (sixteen in the ACB where Unicaja is 12-4, and nine in the Euroleague where they are 7-2) Haislip has put together some very impressive statistical outings, especially in domestic play where he is averaging 16.1 points per game in only 27 minutes of action per-contest. While the athleticism that made Haislip a lottery pick is responsible for some of his success, it's the development of his offensive repertoire that earns him mention here.
Coming off of a three year career at Tennessee that was characterized by little except a big junior season littered with highlight reel dunks, Haislip lacked the polish to make an impact offensively on the NBA level. Over the last few years, Haislip has become a much more complete player on the offensive end. He has slowly but surely developed the perimeter shooting stroke, ball-handling ability, and scoring instincts that he desperately needed to make a productive NBA career.
This season has been a mixed bag for Haislip as a shooter. His stroke is significantly sounder than it was during his NBA career –now featuring great lift, good mechanics, and a pretty quick release. He shoots a very respectable percentage from three (40.0% in ACB play but only 28.6% in Euroleague games), and shows some inconsistency from the outside. After starting the season on a tear, he's cooled off significantly, due in part to a groin injury that has limited him since December. Haislip is the definition of a rhythm shooter –connecting at a great clip when he can step into his shot in transition or in drive and dish situations. However, his mechanics don't allow much room for error, and Haislip has struggled mightily since hurting his groin, which has limited his ability to elevate like he usually does. After spending the first few months of the season amongst the most efficient three point shooters in the ACB, Haislip has fallen back to earth –missing all eight of his attempts over Unicaja's last three games. Despite these struggles, Haislip has become a legitimate three point threat, and his current shooting percentage seems to reflect his true shooting ability better than it was early in the year. On the season as a whole, he is shooting 34/91 from beyond the arc, or 37%.
In addition to adding a perimeter shot to his repertoire, Haislip has also become more comfortable attacking the basket when he receives the ball on the outside. He's not a flashy ball handler, but his explosive first step makes it tough for the majority of power forwards to stay in front of him, which helps him draw plenty of fouls. The improvements in his outside shot force defenders to respect his range, and this allows him to take advantage and attack the rim. Aito Garcia Reneses does a very good job creating space for Haislip to go one-on-one against his defender in his offensive sets. Despite showing solid mechanics on his pull up jumper, Haislip prefers to take the ball to the rim when he puts it on the floor. He's a fantastic finisher at this level due to his athleticism, and does a nice job taking contact and getting to the line when he can't blow past the defense and create an easy look. His ability to recognize when he should and shouldn't drive has helped him significantly, and his perimeter shot selection appears much better for this reason.
While Haislip is significantly more polished in some aspects of the game, he still struggles in others. Despite being taller and vastly more athletic than the players attempting to defend him, Haislip struggles to score on the block. The mechanics on his jumper don't allow him to make many shots off balance or attempting to maneuver away from defenders. His tendency to force some shots from the post only makes this feature of his shot more apparent. While he'll knock down a periodic turnaround jumper or short-hook shot, he could stand to develop better shooting touch around the basket, face up more often, and look to pass out of the post more often.
While Haislip still struggles in some areas offensively, his lack of progress in other areas is more troubling. Averaging only 5.2 rebounds in ACB play (4.6 in Euroleague games), it is apparent that the athletically gifted forward isn't making a concerted effort to make an impact on the glass. Though some of this lack of production can be attributed to the presence of good rebounders such as Boniface N'Dong,
Robert Archibald
, and Unicaja mainstay
Carlos Jimenez
, Haislip often doesn't look to rebound outside of his area. In addition to not showing ideal effort on the glass, Haislip shows even less effort on the defensive end. His 7.8 rebounds per-40 minutes is an extremely poor figure, and is indicative of the type of rebounder he's been throughout his entire career.
Despite being able to come up with an occasional highlight reel block, Haislip usually looks disinterested on the defensive end. He has the tools to alter some shots each game, but doesn't show great awareness when defending the weak-side. His lack of bulk will get him into some trouble on the block, but he actually does a nice job going straight up and not fouling –though he doesn't do a great job keeping up with pump fakes and up-and-under moves.
Even though he isn't all that engaged on the defensive end, he is more than capable of defending perimeter oriented big men effectively. Given his lateral quickness, wingspan, and leaping ability, Haislip has all the tools to be at the very least a solid defender. However, it seems somewhat unlikely that he will begin to buy into that end of the floor at this point in his career. While this is something that he could definitely stand to work on, Aito has shown that Haislip's inconsistent defensive intensity isn't impossible to plan around with the right personnel in place.
Despite still having some nagging weaknesses, there is absolutely no question that Haislip has developed into an NBA player. With that said, he'll likely need to rebound from his shooting slump and carry his team deep into Euroleague play to draw serious enough offers to make the economics of a return trip across the pond worthwhile. If he shows a bit more defensive intensity and continues to produce as such a high rate, he should have no problem finding interest come this summer. Whether or not NBA teams can compete with the multi-million dollar offers that are likely coming his way in Europe remains to be seen, though.
Quick Hitters
-
Ricky Rubio
fans might be disappointed to hear that his team DKV Joventut was eliminated from the Euroleague today after losing to Tau Vitoria and dropping to 4-6 in their group. Joventut is actually playing quite well in the ACB recently, winning their last 7 games, which not surprisingly largely coincided with Rubio's return from a serious injury. Luckily for scouts and executive looking to evaluate Rubio, there will still be plenty of opportunities to do so. The Copa del Rey in Madrid being held February 19th-22nd looks like an ideal setting. Rubio is still considered highly unlikely to enter this year's draft according to almost every NBA executive we've spoken with, as his incredibly high buyout appears to be impossible to overcome by even the most creative legal and tax experts. It doesn't appear that he is all that interested in fighting tooth and nail for his release from Joventut either.
-Other NBA draft prospects that are still alive in the Euroleague include
Brandon Jennings
,
Omri Casspi
,
Emir Preldzic
,
Sergio Llull
,
Milenko Tepic
,
Jan Vesely
,
Milos Teodosic
,
Gasper Vidmar
and
Luigi Datome
, among others.
-
Nando De Colo
's French squad Cholet rebounded from a disappointing exit from the EuroCup qualifiers, going undefeated in six EuroChallenge games to advance to the Top 16 round. He will compete against Liege Basket from Belgium (similarly undefeated), Telekom Bonn from Germany and Eiffel Towers Den Bosch from Holland. In the French league Cholet is just 5-8 on the season, and De Colo is not having a great season after winning MVP honors last year. We'll have a much more in-depth report on him in the coming weeks.
-USA Basketball announced this week that the Nike Hoop Summit will be returning to Portland again this year, with the main game being played on Saturday, April 11th at 7 PM Pacific. The Hoop Summit pits the top high school seniors in America against a collection of international players from around the world aged 19 or under. 13 of the 60 players picked in the 2008 NBA draft were Nike Hoop Summit alumni. According to the press release, the 2009 USA Basketball Men's Junior National Select Team roster is expected to be announced in early February, with the 2009 World Select Team announcement to follow in March. More information can be found at
USA Basketball's official website.