For a guy who dropped double-doubles in nearly half of his games last season,
Gani Lawal
doesn't show much interest in statistics. Georgia Tech's super athletic forward will be the first to say that he doesn't care what his numbers look like when the game clock shows zeros, just as long as he was able to contribute to a win. Even though there weren't many of those for the Yellow Jackets during the 2008-09 season, those wins that they did manage to accumulate were due in large part to the efforts of Lawal.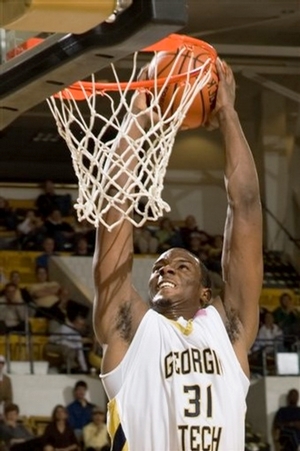 The sophomore saw his playing time double from a year ago and reciprocated by more than doubling his scoring production and nearly tripling his rebounding numbers. In doing so, Lawal announced himself as one of the more intriguing young players in an Atlantic Coast Conference chock full of future NBA talent. As an undersized post player, he will have his work cut out for him, but the combination of his athleticism and seemingly limitless energy on the court has been more than enough to draw the attention of a bevy of pro scouts.
Lawal has been hard at work preparing for individual workouts as well as the NBA's Combine taking place in Chicago in the near future. With his decision to keep his name in the draft still very much up in the air, Lawal took some time out after a recent workout to talk with DraftExpress about going through the draft process so far and what the future may hold for the promising young forward.
DraftExpress: Since the season ended what have you been up to?
Gani Lawal
: I'm out training in Las Vegas right now with Joe Abunassar, just putting in the work every day. Before that I was still in Atlanta. School didn't get out until May 1st, so I was just working on my game trying to stay polished and get in the best shape possible. It's important to have fresh legs for the whole process because it is going to be a lengthy one. I'm definitely taking this seriously.
DX: Who are some of the other players training with you right now?GL:
B.J. Mullens
,
Alonzo Gee
and
Robert Vaden
are a few of the guys out here right now.
DX: How has it been working out with them?GL:
It's been good. It's just nice to have some bodies out there to bring a sense of competition.
DX: What aspects of your game are you looking to improve during your training?GL:
Everybody knows me for me athleticism, my length and my motor. I'm trying to work on my polish, my jump shot any my ball handling. Those are really the biggest parts; I don't want to go into these workouts looking too raw. Obviously I still have a ways to go, but right now I'm just trying to get more polished overall.
DX: What are you hoping to show off about your game during individual workouts?GL:
I'd say my explosiveness, my length, how I run the floor, my non-stop motor and just playing hard. I want to be a warrior out on that floor. I pride myself on going hard and giving it my all every time I step on the floor. I think that's something I have to offer.
DX: Is there anyone in the League right now that you see yourself as similar to in terms of your game?GL:
One of the guys that come to mind is
Paul Millsap
. I like to think I'm a little more athletic than him; nevertheless he's a hard worker.
Al Horford
is another guy I like, he's got a couple of inches on me, but I go to a lot of Hawks games. I kind of see myself as having similar games to both of those guys. They play hard, run the floor well and finish above the rim.
DX: Do you see yourself fitting in better with a certain style at the next level? Are you better suited for the up tempo or half court game?GL:
I'm just a basketball player. At the end of the day, basketball is basketball. Whatever I have to do for a prospective team I'm going to do it to the best of my ability and as hard as I can. Whether it be rebounding, setting screens, or getting up and down running, I'm going to work hard. I just want to keep improving and becoming more versatile so I can play any style.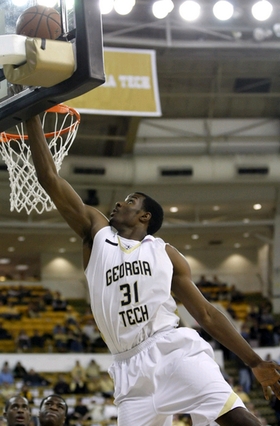 DX: You were a major part of the offense at Georgia Tech this season. Are you ok with not being as much of a focal point in the NBA?GL:
I wouldn't really consider myself as the type of player that has to have the ball in his hands. I'm just a basketball player. It doesn't matter what my stat line says; 15 boards, 3 points, 10 blocks, whatever. I don't have a problem doing that at all, I just play basketball. It's not about me and my ego, or being the focal point of an offense, I just play regardless.
DX: This past season your numbers took a huge jump, partly due to more playing time and more touches. What did you do in the off season that helped you take your to the next level?GL:
The biggest thing coming into my sophomore year was just gaining confidence in myself. My conditioning was better and there was a much greater sense of comfort with the game. Coming out of high school it was an adjustment for me that first year. Going into the second year though, I watched a lot of film and really just worked more on my game. Freshman year I thought a lot on the floor and it hurt me sometimes; so when I got to my sophomore year I was doing a lot more playing than thinking. I think that's where I was able to make the jump.
DX: You got off to a red hot start at the beginning of the season, but cooled off a little bit towards the back end of the ACC schedule. Do you think that the scouting report on how to guard you started to get out there more?GL:
I think what it had to do with was teams started to throw different schemes our way; there were a lot of doubles and triples. I don't think my production tailed off, I still played consistent throughout the whole conference schedule. Obviously I wasn't going out and scoring 30 points every night, but I was consistent. I think it just had to do with teams coming up with plans for me.
DX: Where are you in your decision process as far as staying in the draft or going back to school?GL:
Right now I'm just taking it day by day. I want to focus on the workouts I have coming up and the pre-draft camp in Chicago. I don't want to bombard myself and deal with thinking about that right now. When the time comes I'm going to sit down with my family and make a good, educated decision.
DX: Several other big men like Patrick Patterson, Craig Brackins and Jarvis Varnado have all opted to go back to school already. In addition, Derrick Favors is going to be arriving at Georgia Tech in the fall and he plays the same position that you do. How are those factors impacting your decision?GL:
I want to make a decision for myself and myself only. All of those are outside factors that I can't change, so at the end of the day I want to do what's best for me.
DX: What is your cutoff as far as where you are willing to be selected? Will you only stay in if you're guaranteed to be a first round pick?GL:
I really don't know where my stock is right now. I want to go through the process and get tangible feedback on how I do and how I perform. I'm just going to go from there.