Jarvis Varnado
Recent Tweets
All Tweets
West Coast Workout Swing Part 1: BDA Sports Los Angeles - Jarvis Varnado and Jerome Jordan: http://bit.ly/aKpUQa
2010-05-13 06:28:17
More NBA Combine Invites confirmed: Lazar Hayward, Jarvis Varnado, Damion James, Luke Harangody...
2010-05-05 13:22:05
Yes. Will get his chance. Maybe a Joel Anthony type? RT @MuzikMgmt: Is Jarvis Varnado NBA material? Who does he project out to be?
2010-03-14 15:07:02
Sultan of Swat: Mississippi State's selfless star Jarvis Varnado eyes shot-blocking record: http://bit.ly/9IWPLv (SI)
2010-02-10 02:31:08
Updated scouting reports on Stanley Robinson, Jarvis Varnado, W-Virginia's Kevin Jones & New Mexico's Darington Hobson: http://bit.ly/58GR59
2010-01-22 16:50:01
Top 25s - Full List
Team: NON-NBA College Team: Sassari
Physicals
Positions
Rankings
Salary
Misc
H: 6' 10"
W: 210 lbs
Bday: 03/01/1988
(27 Years Old)

Current: PF
NBA: PF
Possible: PF

RSCI: 77

Agent: Kevin Bradbury

High School: Haywood
Hometown: Brownsville, TN
Drafted: Pick 41 in 2010 by Heat

Predraft Measurements
| Year | Source | Height w/o Shoes | Height w/shoes | Weight | Wingspan | Standing Reach | Body Fat | No Step Vert | Max Vert |
| --- | --- | --- | --- | --- | --- | --- | --- | --- | --- |
| 2010 | NBA Draft Combine | 6' 8.25" | 6' 10" | 210 | 7' 3.5" | 9' 1.5" | 9.5 | 29.5 | 32.5 |



Basic Per Game Statistics

- Comprehensive Stats - Statistical Top 25s
| Year | League | Name | GP | Min | Pts | FG | FGA | FG% | 2Pt | 2PtA | 2P% | 3Pt | 3PtA | 3P% | FTM | FTA | FT% | Off | Def | TOT | Asts | Stls | Blks | TOs | PFs |
| --- | --- | --- | --- | --- | --- | --- | --- | --- | --- | --- | --- | --- | --- | --- | --- | --- | --- | --- | --- | --- | --- | --- | --- | --- | --- |
| 2015/16 | EURO | Jarvis Varnado | 7 | 17.9 | 6.9 | 2.9 | 5.0 | 57.1 | 2.9 | 5.0 | 57.1 | 0.0 | 0.0 | &nbsp | 1.1 | 1.4 | 80.0 | 1.9 | 3.1 | 5.0 | 1.3 | 0.1 | 0.9 | 1.6 | 4.1 |
| 2015/16 | Italian | Jarvis Varnado | 8 | 15.1 | 8.6 | 3.5 | 4.9 | 71.8 | 3.4 | 4.8 | 71.1 | 0.1 | 0.1 | 100.0 | 1.5 | 2.1 | 70.6 | 0.9 | 2.5 | 3.4 | 0.9 | 0.8 | 0.6 | 2.0 | 2.8 |

Player Page&nbsp&nbsp| Player Stats | Mock Draft History | Related Articles&nbsp&nbsp| Add to My Draft Express&nbsp
&nbsp
Interview & Workout Footage with Jarvis Varnado
June 14, 2010
[Read Full Article]

---
West Coast Workout Swing Part 1: BDA Sports Los Angeles
May 13, 2010
The leading shot blocker in NCAA history, Jarvis Varnado is also looking to diversify his game here in Los Angeles, while preparing himself for a likely necessary transition from the center to power forward position at the next level.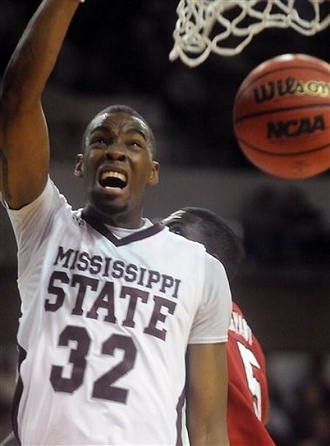 AP



Varnado is spending a lot of time here working on his jump shot, which looks to be showing some good progress, considering he took only 11 jumpers in his entire senior season. Varnado was hitting his shot pretty well from the 15-20 foot range on spot-up jumpers and pick-and-pops, while also showing pretty good form. The work heís put in on this in a short period of time is impressive, and adding this ripple to his game will go a long way in helping him find a niche in the NBA.

Varnado had a tough match-up in the post going against Jerome Jordan, which led to some mixed results for his back-to-the-basket offense. Varnado showed nice agility and range on his moves, using a good variety of running hooks and turnaround jumpers, but at times Jordanís length was just too smothering, not surprising given the 4 inches Varnado is giving up. This is a large reason while Varnado will likely have to move to the 4 in the pros, and the good agility he showed on his moves should help going against smaller defenders.

Defensively, this wasnít really the best setting for us to gauge much about what Varnado will need to do at the next level, as how he will be able to defend stretch fours will be his biggest concern entering the pros, and there werenít many opportunities for perimeter defense going against Jordan. He did a good job using his length to make things difficult in the post for him, however, and thereís little reason to believe Varnadoís shot blocking wonít translate to the next level.

Weighing just 195 pounds when he was a freshman, Varnado has done a great job adding weight to his frame in his four years of college, and it appears heís been doing some more of that in the offseason, looking to be in the best shape of his career, and working on continuing to add lower and upper body strength.

Like Jordan, Varnado will compete for a spot in the late first round, but his stock too could fluctuate greatly over the next few weeks, where he could impress in workouts by knocking down mid-range shots, showing defensive versatility, and playing hard-nosed, aggressive basketball. Varnadoís rebounding and shot-blocking give him two NBA-ready skills already, and adding to that by becoming a reliable mid-range jump shooter and a more versatile inside-out defender should make it pretty easy for him to find a niche in the NBA.

Interview with Jarvis Varnado

Richard Walker: How are you enjoying these workouts so far?

Jarvis Varnado: Itís going really good - just trying to make the change from college to the NBA style of workouts.

RW: Whatís the difference between those workouts?

JV: The intensity and the changing of pace. You have to be well conditioned for these types of workouts.

RW: Youíre working out with Geo (Aispuro) and Joe (Abunassar). How has that been working out for you so far?

JV: Itís coming along well. Iím trying to improve my shot and my conditioning and itís been going great.

RW: I was talking with Geo and heís said youíve made really great strides so far. He said that you were a little bit raw when you came in, you have a lot of physical tools, but youíve already become so much more polished than you were when you first walked in the gym. Do you think that is true?

JV: Yes. It was a struggle my first few weeks here, but I adjusted to it, took in the coaching and learned the moves and then Iím trying to perfect it in the games.

RW: Do you find yourself focusing mostly on your post game or your mid-range game?

JV: A little bit of both. I can go inside and out so thatís what Iím trying to work on.

RW: What do you feel your position in the NBA would be?

JV: A four right now.

RW: In college you were quite a shot blocker and defensive presence. Do you feel that those qualities will translate to the NBA?

JV: They will. Thatís what a team will most likely draft me for Ė my defensive ability. I canít stop playing defense, but my offense can also be a plus. Thatís why Iím here working out and trying to work hard on my offense.

RW: What kind of moves are you working on?

JV: Iím just trying to get my fifteen foot jumper down and pick and pops and post moves.

RW: Thanks for your time.

[Read Full Article]

---
NCAA Weekly Performers, 1/22/10
January 22, 2010
Kyle Nelson

When Mississippi State center Jarvis Varnado withdrew his name from last yearís very weak class of draft-eligible big men, without making much of an attempt to even see where his stock is at, some may have wondered if he acted in haste. This season has gradually proved critics wrong as Varnado has clearly benefited from spending an additional year in the SEC.

Though he is anything but a complete player at this stage, it is hard not to notice how much Varnado has improved in four years. While Varnadoís numbers are certainly inflated thus far due to the incredibly weak out of conference schedule (their SOS ranks 226th in the nation according to Ken Pomeroy) Mississippi State put together, there will be more opportunities for their star big man to prove his mettle against quality big men as the SEC slate progresses.

At 6í9, Varnado has average size for an NBA post player, despite his tremendous wingspan and good athleticism. His 230-pound frame is still a work in progress, even though he has bulked up significantly since he arrived at Mississippi State, weighing just 195 pounds. Though question marks remain about just how much more weight his narrow frame can carry and how that might affect his transition to competing against NBA level big men, he has worked hard to improve his strength and scouts surely have noticed the results in his play.

On the offensive end, Varnado is still a fairly raw player who doesnít project to be much more than a garbage man type in the NBA, but itís hard not to notice the improvement heís made from where he started four years ago. Averaging a career high 19.1 points per-40 minutes pace adjusted, Varnado is shooting a remarkably efficient 62% from the floor. His touch around the basket has always been solid, but this season heís been looking far more confident making moves around the basket.

Varnadoís lack of strength makes it difficult for him to establish deep position in the paint and finish through contact in traffic at times, an issue that will only be exacerbated against NBA-level big men. He still needs to work on his left hand and perimeter game as well, as you never see him put the ball on the floor or attempt a jump-shot outside of five feet. Varnadoís limited post game looks unlikely to translate to the next levelóheíll make a living primarily finishing drop-off passes around the rim, crashing the offensive glass and running the floor in transition, three areas that he excels in.

On the defensive end, Varnado is still the same incredible shot blocking presence that he has been throughout his entire career. This season, he is blocking an absurd 7.2 shots per-40 minutes pace adjusted, putting him on track to break the NCAAís all-time record for career blocks sometime in the next few weeks. As discussed extensively in past reports, Varnadoís length and timing are nothing short of spectacular, making him a game-changing presence at the college level.

He still underwhelms at times as a man-to-man defender, particularly with his ability to step outside of the paint, something he needs to improve upon significantly before he is considered to be anything more than a marginal NBA role-player. He looks like a fish out of water moving laterally on the perimeter, appearing somewhat stiff and upright, without great fluidity, something that may hamper his ability to making the transition from collegiate center to NBA power forward.

One major improvement in his game has been on the glass, where he averages 15.1 rebounds per-40 minutes pace adjusted, ranking him fourth amongst all prospects in our database in that category. His offensive rebounding figures have mostly remained stagnant throughout his career, but his defensive rebounding totals have improved significantly year after year.

While Varnadoís body language at times gives off the impression that heís a bit laid back and not always putting in the greatest effortósomething that is not exactly rare amongst players from the South--its tough to argue with the results heís getting.

Over his four years at Mississippi State, Jarvis Varnado has proved that he has what it takes to play in the NBA. This season he has done plenty to convince scouts that heís more than just a one-trick pony and that his ceiling is higher than the average long, skinny, athletic collegiate shot blocker. He still has plenty of work to do to continue to round out his game, but no one can say that Varnado is not improving.

Though Mississippi State has done him no favors with the disappointing schedule they put together, Varnado will have the chance to prove himself in coming weeks against some of the SECís top post players, primarily in matchups against Patrick Patterson and DeMarcus Cousins, JaMychal Green, Michael Washington, Murphy Holloway, and Vernon Macklin. Scouts will surely be watching closely.

[Read Full Article]

---
Top NBA Draft Prospects in the SEC (Part Two: #6-10)
September 20, 2009
Scott Nadler

Jarvis Varnado has had an interesting couple of months to say the least. He ended the 2008-09 season on a high note, leading his underdog Bulldogs to the big dance by winning the SEC conference tournament Ėa surprising feat that kept MSU's season alive. He then tested the NBA waters by entering his name in the draft but quickly withdrew several weeksí later, feeling as though he needed one more year of collegiate basketball.

Around the time he declared for the draft, Varnado gave up his scholarship for his senior season in order to give MSU more liberty in their recruiting, allowing them to sign heralded recruit Renardo Sidney. The fact that they had 13 scholarships for 14 players, means that Varnado, who was recently named as a candidate for the John R. Wooden Award recognizing the nationís top college basketball player, will be paying tuition for his final season in Starkville.

With all of that now behind him, Varnado will need to have a big season on the court for his decision to truly pay off. When we last checked in with him at the USA Junior National Team tryouts in Colorado, Varnado showed much of the same that weíve seen over the years Ė dominating on the defensive end and struggling on the offensive end.

To put into perspective just how dominating the two-time SEC Defensive Player of the year has been, his 394 career blocked shots puts him 18 shy of the SEC record held by Shaquille Oíneal and within reach of the all-time record held by Wojciech Mydra of Louisiana-Monroe (535). Varnadoís timing, patience, discipline, and quick second jump are among the reasons why heís so good at blocking and changing shots around the basket.

From a team standpoint, MSU held opponents last season to just 39.8% shooting around the basket and 33.1% on post up opportunities Ė which has everything to do with Varnado's presence down low. Furthermore, his low foul rate shows his control and attention to whatís going on out on the floor. With all of that said, scouts and NBA personnel will be looking to see if heís added any strength to his thin frame or improved his lateral quickness to handle versatile 4 men and when hedging the pick and roll.

His rebounding efforts have been solid as well, posting 11.7 rebounds per 40 pace adjusted this past season, giving him 3 consecutive seasons with double figures in that category. These numbers could be increased however, if Varnado plays with a little more bravado and maintains a high level of energy on a more consistent basis.

On the offensive side of things, Varnado has shown improvement over the years but nothing to get too excited about just yet. He still seems a bit uncomfortable and slow in the post Ė looking rather predictable with his moves. He turns over his left shoulder almost 75% of the time, showing no signs of a left hand.

He doesnít always catch the ball cleanly either, which delays his moves and makes him easier to defend. As mentioned in previous articles, Varnado gets pushed away from the basket regularly, further limiting his success rate. On a positive note, when he does get the ball around the basket, heís converting his opportunities at a 65.1% rate, which is rather encouraging.

Varnado has also shown signs of a decent jump shot, albeit on very few attempts. His lack of attempts is probably due in large part to his offensive role, but when watching him shoot he displays nice mechanics and 17 foot range. His free throw shooting also improved tremendously last season, jumping to 65.4% from 50.0% the previous season. While he still has a ton of work to do in that regard, he's at least moving in the right direction. By gaining confidence and adding a shot from the midrange to his arsenal, Varnadoís stock will rise considerably.

Mississippi Stateís success this season will rest squarely on the shoulders of Jarvis Varnado. Heíll be called upon to anchor the defense, as usual, but can he deliver on the offensive end in a way that will draw some interest? That will be the question he'll need to answer by next summer to solidy his stock.

[Read Full Article]

---
USA Basketball Junior National Teams Tryouts: Top Performers
June 20, 2009
Jarvis Varnado missed the first day of action but quickly made his presence felt in the second, completely stone-walling the opposing teamís big men with his terrific shot-blocking ability. He altered absolutely everything that came his way, showing amazing length and timing, both coming from the weak-side on team defense or on the ball frustrating his own man. Offensively he confirmed the notion that heís an extremely limited option, showing very poor touch on his hook shots and absolutely no ability at all to make a mid-range jump-shot. His body is still very much a work in progress, and there will be concerns about his ability to translate his defensive game until heís able to show he can put a little bit of weight onto his slender frame.

[Read Full Article]

---
NCAA Weekly Performers, 1/12/09
January 13, 2009
Arguably the best shot blocker in the country as a sophomore, Jarvis Varnadoís improvement as a junior leaves no doubt in anyoneís mind about that title this time around, with the margin being quite substantial statistically. With 7.5 blocks per 40 minutes pace adjusted, Varnado leads every other player in our database by 2+ blocks, while heís comfortably ahead in blocks per game as well despite playing under 28 minutes per game.

Aside from shot-blocking, Varnadoís stats are increased across the board, despite actually seeing a slight decrease in minutes, and his improvements clearly show in watching him play. His points (+5), rebounds (+2), and blocks (+.8) are substantially up, his fouls (-.8) noticeably down, and even with a significant increase in possessions per game (+5), his efficiency has remained the same with a 62% TS%. The most impressive part about that is looking at some deeper stats, as according to Synergy Sports Technology, heís getting 6.4 possessions per game posting up this season, up dramatically from 1.3 post up possessions last season, showing you just how noticeably his role has changed.

In analyzing Varnadoís game, the first thing to take notice of has to be his improvement on the offensive end, where he looks like a different player in the post, showing some pretty nice promise. Despite his slight frame and still apparent lack of strength (heís bulked up a bit and gotten stronger, but still has a ways to go), Varnado has developed a nice go-to move in the post: a right-handed hook shot that he hits with decent regularity out to 8 feet. He shows pretty good touch and accuracy on his shot, has no problems getting it off with his length, and converts fairly consistently despite not having the frame to take much contact, forcing him to dramatically fade away from the basket on most occasions.

In addition to his right-handed hook shot, Varnado shows flashes of other moves, namely a drop step, but itís still very much a work in progress. His post game in general is still very raw, relying mostly on his one move in combination with his physical attributes and touch, not having much polish otherwise. He struggles to get good position, isnít very good at finishing through contact, struggles powering up from awkward angles, looks extremely awkward when going to his right shoulder, has no left hand, and doesnít show great footwork. The fact that Mississippi State has played just the 234th toughest strength of schedule in college basketball also leaves something to be desired.

Still, thereís much to be impressed with, namely his solid composure in the post without those tools, his increased rate of getting to the free-throw line, his pretty good balance and coordination despite a lack of base strength, and the flashes of excellent range he shows on his moves at times.

Other than his post game, Varnado is limited in what he can contribute offensively, but heís improved in some little areas off the ball as well. With his size, athletic abilities, and very good hands, heís becoming more of a threat in the pick-and-roll game, and as a cutter in general, doing a good job of catching and finishing, even occasionally in traffic. His jump shot is still not a reliable weapon at all, but his improvement from the free-throw line (up to 65% from 50% last season) is a very encouraging sign for the future.

Varnadoís greatest asset is still on the defensive end, where his shot-blocking ability is nothing short of excellent, as weíve highlighted in his scouting reports in the past. Heís actually managed to increase his block rate this season while lowering the rate at which he fouls, which is very impressive for someone who was already arguably the countryís best shot blocker. His timing and anticipation are superb, while he shows good composure in not biting for pump fakes, while his overall awareness seems improved this season as well.

As a man-to-man defender, Varnado still leaves much to be desired, showing very little in terms of fundamentals-- like stance or leverage in the post. His post defense can best be described as easily giving up position and basically just daring his opponents to shoot over him, which works against most opponents at this level, but has shown signs of problems against bigger, stronger opponents, such as Washington Stateís Aron Baynes, who torched Varnado for 17 points on 10 shot attempts in an 11-point win for the Cougars.

Looking forward, thereís much to be optimistic about with Varnado, but heís still a raw player in many ways, while having a lot of flaws he can work on. His post game is coming along nicely, but is still incomplete, and itís tough to see him having much success with it at the next level in its current form.

The same can be said for his man-to-man defense, which relies too much on his physical tools. Almost every facet of his game could improve with some more strength and bulk added to both his lower and upper body, as well as continued work with the basic fundamentals of the game. He may be tempted to declare for the draft this season due to his potential, but given the way he improved this season, it would likely be in his best interest to spend another year in college honing his game.

[Read Full Article]

---
Top NBA Draft Prospects in the SEC (Part One: #1-5)
September 15, 2008
We took a look at Varnado late last season so there isnít much new to report on him at this point. What we do know is that with the departures of Charles Rhodes and Jamont Gordon, Varnado will be expected to shoulder a much bigger offensive load than he has in the past for the Mississippi State. The junior is the top returning scorer in the frontcourt and the teamís top returning rebounder.

As has been mentioned in the past, Varnado is a tremendous athlete. His length, leaping ability and timing make him a force on the defensive end where he is a nightmare for opponents in the paint. At 6í9Ē he is maybe a tad undersized for a post player, but what really hinders him is his tremendously narrow frame. The reports last season were that Varnado has bulked up to 210 pounds, but from what we were able to see from him at the Adidas Nations event in Dallas last month, he still needs to put on a good 20 pounds before he can consistently hold his ground on the block. His narrow shoulders donít appear as though they support the type of natural filling out that he needs to go through.

The real question mark offensively this season for Varnado will be how much he has developed his skill work with his back to the basket. Last season he rarely received the ball outside of open dump offs around the rim simply, because his moves were so underdeveloped. A lack of footwork and strength often left Varnado spinning and shooting wherever he was regardless of his angle to the basket, and he lacks the touch needed to convert on these type of difficult maneuvers.

Up to this point what has really made Varnado a threat offensively has been his tenacity as an offensive rebounder. While he was only credited with 2.2 offensive boards per game last season, he got his hands on plenty of other loose balls, even if it was simply tipping one up in the air to keep a play alive. Where his lack of strength came back to hurt him here was often rather than coming down with the ball and going back up strong with it, he would have to settle for trying to tip in rebounds over opponents. While he has been effective doing this, he would also be better served by coming down with the ball and getting himself a higher percentage shot.

Defense is still where Varnado is going to garner the most interest, having the ability to simply change a game at the collegiate level. As a sophomore last season he could easily lay claim to being the top shot blocker in the country, averaging 4.6 per game in only 28.5 minutes, and 6.3 per 40 minutes pace adjusted. Additionally, he recorded three games in which he blocked 10 shots. He has great timing and doesnít appear to be overly anxious to block shots, instead waiting for his opponents to go up before attempting a swat. Still, the rest of Varnadoís defensive game needs to improve. He often looks lost outside the paint, not running the floor well or providing effective help defense.

At this point, unless he makes huge strides this season, Varnado is likely going to need to be a four-year prospect. This season will be a good test for him, as he now must become more of a factor in the Bulldogís offense. While there have been hints of a developing mid-range jumper, he must first become a more effective low post scorer, and adding weight would be a step in the right direction for him. Showing more hustle as a perimeter defender too would only add to his growing reputation as a stopper on the other end of the floor. It is likely Varnado will draw interest this season simply because of his length and athleticism, as so many players of his make-up do. Showing improvements in his skill set this season will lift him from simply an intriguing athlete to a legitimate NBA prospect.

[Read Full Article]

---
NCAA Weekly Performers, 1/31/08-- Part Two
February 1, 2008
Mississippi State sophomore Jarvis Varnado is having somewhat of a breakthrough season this year. Individually, heís establishing himself as one of the best shot-blockers in the country this year, ranking 2nd in the country in that category per-40 minutes pace adjusted. Heís blocked 10 shots in a single game on three separate occasions this year, and already has one triple-double (against Kentucky) under his belt. On a team level, Mississippi State is 5-1 in their conference, good for first place in the SEC West. With all that in mind, Varnado is clearly looking like someone to keep an eye on over the next few seasons.

Standing 6-9 with freakishly long arms, Varnado is an extremely skinny power forward, with very narrow shoulders to boot. He came into Starkville listed at just 195 pounds, and is supposedly up to 210 this season. Athletically, Varnado is a quick player who is extremely explosive off his feet, although his lack of strength is a major hindrance for him in many different facets of his game.

Offensively, Varnado is barely an option in Mississippi Stateís offense, as his teammates just donít look to pass him the ball at all, likely out of a lack of trust. Amongst all NCAA players in our database averaging over 25 minutes of more per game, Varnado has the 3rd lowest usage rate. Most of the points he gets come from offensive rebounds, running the floor in transition, and cutting off the ball for a simple catch and high-percentage finish. When he does get the ball, he is largely unable to hold his spot on the block against any type of real big man, being hampered by his lack of footwork, touch, ball-handling ability and strength finishing through contact when he isnít being pushed around mercilessly. His hands might be a little suspect as well. He does show glimpses of developing a decent looking 15-foot jump-shot, although the fact that he shoots just 43.6% from the free throw line canít be considered a feather in his cap regarding his shooting touch either.

Varnado makes up for most of that to a certain extent with the work he does on the defensive end, at least inside the paint. His timing going after blocks is nothing short of incredible, being able to swat away shots with both hands equally effectively, but also keeping most of the blocks he gets in-bounds. Heís incredibly patient waiting for his man to go up with his shot (not being too trigger happy leaving his feet like many of his shot-blocking counterparts), and is so long that heíll often be able to compensate for biting on a pump-fake by still swatting his opponentís shot away on the way down. Itís not rare to see him block multiple shots away on a single possession actually, as he has superb quickness getting off his feet again and again.

Beyond his shot-blocking skills, though, Varnado leaves something to be desired with the rest of his defense. Heís surprisingly not a very active player, running the floor lackadaisically, hedging screens with little enthusiasm, and doing a very poor with his footwork out on the perimeter. He shows very little emotion in anything he does, looking very laid back, even somewhat lazy at times.

He does get the job done fairly well as a rebounder, though, currently ranking 14th amongst all prospects in our database in rebounding per 40 minutes pace adjusted.

All in all, Varnado is a player to keep an eye on considering the few very interesting tools he has at his disposal, but unless he gains a significant amount of strength, he is likely a 4-year collegiate prospect for now.

[Read Full Article]

---