Paul Millsap
Recent Tweets
All Tweets
DraftExpress: .@Cosmis is correct. The answer is six. DeJuan Blair Kenneth Faried Blake Griffin DeMarcus Cousins Andrew Bogut and Paul Millsap.
2013-02-13 14:26:35
DraftExpress: Not true. It's DeJuan Blair by a mile and a half. http://bit.ly/ijA83d RT @muertedeatenas: The best offensive rebounder was Paul Millsap
2011-02-28 10:22:34
DraftExpress: Some of the rebounds Jared Sullinger grabbed in this Florida game were Paul Millsap-esqe. Talk about a seamless transition to NCAA hoops...
2010-11-17 09:46:46
Top 25s - Full List
Team: Hawks
Physicals
Positions
Rankings
Salary
Misc
H: 6' 7"
W: 258 lbs
Bday: 02/12/1985
(30 Years Old)

Current: PF
NBA: PF
Possible: PF

RSCI: 66

Agent: DeAngelo Simmons
Current Salary:$9,500,000

High School: Grambling
Hometown: Grambling, LA
Drafted: Pick 47 in 2006 by Jazz
Best Case: Udonis Haslem
Worst Case: Reggie Evans

Predraft Measurements
| Year | Source | Height w/o Shoes | Height w/shoes | Weight | Wingspan | Standing Reach | Body Fat | No Step Vert | Max Vert |
| --- | --- | --- | --- | --- | --- | --- | --- | --- | --- |
| 2006 | NBA Pre-Draft Camp | 6' 6.25" | 6' 7.25" | 258 | 7' 1.5" | 8' 9.5" | 9.7 | 28.5 | 32.5 |



Basic Per Game Statistics

- Comprehensive Stats - Statistical Top 25s
| Year | League | Name | GP | Min | Pts | FG | FGA | FG% | 2Pt | 2PtA | 2P% | 3Pt | 3PtA | 3P% | FTM | FTA | FT% | Off | Def | TOT | Asts | Stls | Blks | TOs | PFs |
| --- | --- | --- | --- | --- | --- | --- | --- | --- | --- | --- | --- | --- | --- | --- | --- | --- | --- | --- | --- | --- | --- | --- | --- | --- | --- |
| 2015/16 | NBA | Paul Millsap | 17 | 33.9 | 18.5 | 6.4 | 13.2 | 48.2 | 5.2 | 9.8 | 53.3 | 1.1 | 3.4 | 33.3 | 4.7 | 6.0 | 78.4 | 2.5 | 6.9 | 9.4 | 3.5 | 2.1 | 1.1 | 2.5 | 2.8 |

Player Page&nbsp&nbsp| Player Stats | Related Articles&nbsp&nbsp| Add to My Draft Express&nbsp
&nbsp
NBA Scouting Reports: Filling in the Blanks- Power Forwards (Part 1)
August 25, 2009
Overview Steadily improving young big man who had a breakout season in 08-09, establishing himself as a legit cornerstone of the Utah Jazz. Extremely undersized for a power forward at just 6-6 without shoes, but has a nice 7-1 wingspan and a strong frame which helps compensate. Incredibly tough, aggressive player who finds a way to be productive. A crowd favorite thanks to the tenacity with which he plays. A complementary offensive player who understands his role extremely well and is very efficient. Made a name for himself first and foremost thanks to his rebounding skills, leading the NCAA in that category for three straight seasons. Not all that heralded coming out of high school, but still could have played for a high-major school should he have chose to. Decided to stay close to home at Louisiana Tech, thanks in large part to a family connection on the coaching staff. Left school a year early, but somehow slipped to the middle of the second round due to concerns about his size and potential weight issues. Immediately looked like a huge steal for the Jazz, leading them to lock him up on a three year rookie contract. Dedicated himself to maximizing his conditioning-level and improved his athleticism considerably. Had a breakout season on the last year of his deal, but was unable to secure a market-value contract due to his restricted free agent status. Signed an incredibly affordable deal with the Portland Trailblazers, which was matched without hesitation by the Jazz. Will be asked to transition into a bigger role once Carlos Boozer is traded or leaves in free agency next summer.

Offense: A role-player who doesnít need plays called for him, and still manages to be extremely productive. Gets most of his offense by moving off the ball, crashing the offensive glass, and running the floor in transition. Shoots a very high percentage from the field, as he appears to understand his role extremely well and plays to his strengths in a major way. Sets terrific screens and then aggressively dives to the rim, often being rewarded for his efforts by his unselfish teammates, particularly Deron Williams, who he has great chemistry with. Has excellent hands and finishes extremely well around the basket due to his smarts, terrific touch, body control, and ability to use both hands effectively. Runs the floor harder than anyone, often beating opponents down the court through sheer effort. Gets to the free throw line at a very good rate, and converts nearly 70% of his attempts once there. Not a masterful ball-handler, but a rapidly improving one. Shows flashes of potential with the ball from time to time, leading you to believe that he could become a very effective option to isolation facing the basket. Has a very quick first step and likes to spin and pivot sharply on his way to the rim. Will post on the block occasionally, but not isn't quite as effective in this area. Doesnít possess a tremendous skill-level at this point, and tends to get blocked more than you might hope at the rim. Not a high-flyer, gets by more-so with his smarts and aggressiveness. Beginning to expand the range of his jump-shot. Can make a 17-foot jumper every now and again, but still needs to continue to work on this part of his game. Rushes his shot, doesnít always set his feet, and appears to just fling the ball at the basket. Unselfish player who has improved his feel for how to operate in a half-court offense under Jerry Sloanís tutelage. Posts a positive assist to turnover ratio, and has gradually made strides in this area year by year. Tremendous offensive rebounder.

Defense: Very aggressive defender who puts a lot of effort in and takes pride in his play. Defends both the 4 and the 5 spots in Utah, which can lead to some mismatches. Not afraid to stick his nose in and take a charge. Has good lateral quickness and is effective stepping out and hedging screens. Could still stand to improve his perimeter defense. Will get caught flat-footed at times against quicker face-up power forwards. Struggles at times when being posted up by bigger power forwards or traditional centers, doesnít always have the size or the girth to push them off the block and contest their shots. Not going to give in without a fight though. Seems to lose his focus from time to time and get lost within his teamís defensive scheme. Will come up with the occasional steal and block, but isnít a real stat-stuffer in either category. Very good defensive rebounder, though. Traditionally very foul prone because of how hard he competes, but has learned to cut down on the amount of fouls he commits recently. Has room to continue to improve on this end of the floor.

[Read Full Article]

---
Player Report: Paul Millsap (with Interview)
February 3, 2008
Paul Millsap, 6-7, Power Forward, 1985, Utah Jazz
Season: 20.5 minutes, 8.3 points, 5.6 rebounds, 51% FG
Best game: 28 pts, 7rbs vs. Orlando Magic
Background: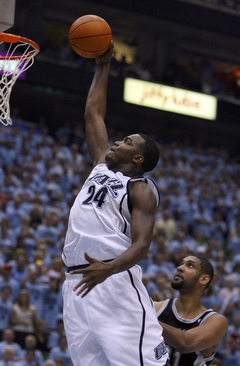 Icon SMI



Paul Millsap will be having a happy homecoming during All Star weekend this year. The Super second-year forward has been named to the Rookie/Sophomore Challenge, which will be played in New Orleans. The Louisiana native has gone from surprise late 2nd round pick to established quality backup power forward in just two seasons. His game has evolved between his first and second year and his teamís confidence in him has grown.

For those who arenít yet familiar with Millsapís game, the All Star weekend should be a coming out party of sorts for a player who will be around for years to come.

The Good:

Millsap has really worked to improve his game from season one. As a defensive sub off the bench, Millsap had already shown himself to be a reliable rebounder and opportunistic scorer. Millsap was at his best in season one scoring off of put-backs and taking advantage of his limited post opportunities.

Cutting will always be a huge portion of Millsapís game as long as he plays for the Jazz, but his effectiveness executing those cuts has increased substantially. Millsap has seen his usage go up in the Jazz offense, getting nearly double the spot up attempts in addition to his improved conversion on cuts.

Millsap currently ranks in the top 20 amongst power forwards in rebounding (17), steals (6), and blocks (18) per 40 minutes. He has also been asked to play multiple positions defensively while his minutes have increased.

The Bad:

While Millsap is seeing more possessions and getting more opportunities to expand his offensive game, his spot up shooting percentages are down from last year by a sizable margin. Much of this can be attributed to improved defensive scouting however. Last season Millsap saw more uncontested or poorly challenge shots, because the book on him stated that he had no range worth worrying about.

Millsap is also going to have to improve his face-up ability when on the block. He favors his left more than his right, and defenders are hanging on his post moves, both on help and on ball. Attacking with the threat of the shot out of face-up should make him a more effective option on the block going forward. His success is garnering more defensive attention down low as well, so making a quick play directly into the shot or with one or two dribbles will help to beat the help defense.

Outlook:

Overall, Millsap has come a long way since draft night two years ago. As his offensive game develops, both in set-shot and post situations, he should see his production increase if not his time. Millsap has shown a little promise as a situational small forward as well, though his minutes have been extremely limited. But against some of the SF/PF tweeners of the league, he may be able to steal some minutes as a power 3 at times.

Interview: Paul Millsap

Eric Weiss: Go back to last season. Coming out of college you were a 4-5, and there were questions about how your game would translate to the pro level, probably because you didnít have ideal height for a 4 in the NBA. What did you think it would take to be successful?

Paul Millsap: I really didnít want to change up anything. People were telling me that I was rebounding at an NBA level already, even as a freshman. So I just wanted to continue to do that and work on improving the other elements of my game.

Eric Weiss: Can you talk a little bit about being labeled a ďtweenerĒ coming out of school? There have been a lot of really good players that have slipped in the draft the last couple of years because they didnít have those ďidealĒ measurements. What do you think is the most important thing to look for in a player?

Paul Millsap: For me, Iíd look for determination and the heart a player has. Iíd do a thorough background check to see what type of person that guy is. Iíd want to see if heís willing to get better, see what heís willing to do to get to that level. Me personally, I donít look at the measurements, because they really donít prove anything. There are a lot of smaller guys who have a bigger heart than some of the larger guys, and actually do better than them. But measurements are where [scouts] usually start from, so itís going to continue to happen.

Eric Weiss: You were a pretty good shot-blocker and a great rebounder in college, but you werenít really known for your man defense. Fast forward to this year, and youíre asked to cover multiple positions, anywhere from small forward through center sometimes, and youíve become known for your defense. How did this change come about?

Paul Millsap: Itís a major change. In college I was the main guy, theyíd kind of hide me so I wouldnít pick up quick fouls. Now I play behind Carlos Boozer, so if I get in foul trouble, heíll just come back in the game. So while youíre out there, you have to give it 110 percent, and thatís what I try to do, foul trouble, or whatever the case may be.

Eric Weiss: Talk to us a little bit about being a rookie last year. You were a 2nd round pick coming onto a playoff caliber team who eventually went to the Western Conference Finals. How hard was it going into training camp and earning a spot in the rotation?

Paul Millsap: For me, I wouldnít say it was too hard. Knowing the kind of guy that Jerry Sloan was, people tell you stories. You just want to do everything his way-the right way. All he wants you to do is just go out there and play hard. Thatís what I tried to do, just tried to go out there and do everything right. Thatís what got me to where I am now. He showed confidence in me and put me on different players night in and night out. Once you show that you want to be out there, and you know what youíre doing, heíll show confidence in you.

Eric Weiss: Whatís it like playing for Coach Sloan? He was known as a tenacious and fiery competitor, and thatís really what a lot of people see when they see you play. Does he get fired up still when heís on the sidelines watching the action on the court?

Paul Millsap: Oh yeahÖI donít think heíll ever lose that tenaciousness. But to know the kind of player he was, gritty and diving on the floor and all thatÖthatíll help you be a good player too. Once you do, that I feel all the rest will just come along.

Eric Weiss: Your first year, you got most of your offense on hustle-type plays: offensive put-backs, dump-offs from other players driving, defensive rotations, etc. This season weíre starting to see quite a bit more from you. Improved ball-handling, some jump-shooting, feature post-up plays. Were you asked to work on this stuff by the team, or did you take it upon yourself?

Paul Millsap: Itís a bit of both. As a rookie, you really donít get to show all of what youíve got, because youíre kind of playing a specific role. So I just spent the summer trying to improve. The coaches told me what they wanted me to work on in the off-season, and I spent the summer trying to work on those things. When I got back up [to Utah] they had more confidence in me to try to make plays.

Eric Weiss: AbsolutelyÖit just seems like you could have carved out a pretty nice niche for yourself simply strengthening the things you were already good at. Did you surprise the coaching staff at all with some of the things that you could do coming into this year?

Paul Millsap: Not reallyÖyou know, they already knew that I could shoot a little bit, but they wanted me to work on that area. They knew that I could put it on the ground, but I just had to get better in those areas.

Eric Weiss: So, your game is really coming along, youíve been named to the Rookie/Sophomore game, and itís a homecoming of sorts for you as the game is being played in New Orleans. What does it mean to you to be a part of All Star weekend in front of friends and family?

Paul Millsap: It means a lot. I had fun last year, but itíll mean even more this year because Iíll have my family down there. I know a lot of people are going to come down to support me, even though itís an All Star game that really doesnít mean much in actuality. But it feels good just to get out there in front of them and play.

Eric Weiss: You should throw a couple threes up while youíre out thereÖno one will laugh at youÖor yellÖ

Both: (laughing)

Eric Weiss: So, youíve steadily improved over the last two years and your role on the team seems to be growing by the monthÖany personal goals set for this season or in future seasons?

Paul Millsap: Not really. I donít really believe too much in setting personal goals. I feel that whatever happens during the year, it could be higher than you expected. I just really go with the flow. Thatís my attitude with things, go with the flow and whatever happens, happens.

Eric Weiss: Just keep working hard, take it day-by-day, and see where it leads you?

Paul Millsap: ExactlyÖ.

Eric Weiss: You came from a small school. You were drafted in the late 2nd round onto a playoff team. You quickly carved a niche for yourself in the NBA. Do you have any advice for future prospects looking to make it in the league?

Paul Millsap: Donít believe the hype. Itís a lot harder than college. It gets harder, itís not going to get any easier. People will often just look at the outside and see that basketball players have nice cars and things like that, you know. But itís not that easy. They donít see the work thatís put in on the court. The practice we put in and how much we have to do off the courtÖJust stay humble and continue to work hard, thatís all I can sayÖ

[Read Full Article]

---
DraftExpress All-Summer League: First Team
July 23, 2007
Paul Millsap was arguably the most impressive player seen at any of the Summer Leagues this year, but there is no arguing in our mind the fact that what he showed is going to translate over to the NBA better than anyone.

Millsap was simply on another level compared to every other big guy he matched up against, terrorizing his way to 17.2 points in 25 minutes per game on a fantastic 61% from the field. He can create offense for himself both with his back to the basket as well as facing it, making smart decisions regardless of always taking what the defense gives him.

With his back to the basket, Millsap was just a man amongst boys at this level. He clears players out of his way dismissively with the flick of his wrist and then scores on them shamelessly. His touch is fantastic around the rim, and he has a few simple, but very effective moves that work for him without fail because of how patient he is with the ball in his hands. Within five feet or so around the basket, youíll very rarely see Millsap miss. He doesnít jump very high, but his body control is so good that he usually doesnít have a problem just guiding the ball into the basket with his massive paws. A more advanced move he appears to be working on is the turnaround jump-shot, and from what we can tell, itís coming around quite nicely.

Facing the hoop, Millsap can put the ball on the floor fairly well for a player his size. He spins into the paint in controlled fashion with a clear understanding of where heís at on the floor. If his man gives him space, he can knock down a mid-range jumper, or even an NBA 3-pointer as he showed on one occasionówhich just happened to be a shot that sent the game to overtime. As the week went on he even showed some advanced moves as well, for example pulling up off the dribble from mid-range or conducting an impressive step-back move from 16 feet. We scouted Millsap extensively at the college level and were as high as anyone on him (as you can read in his scouting report), but we never imagined him becoming this good this quick.

Millsap led the NCAA in rebounding in all three seasons he spent in collegeóso itís not really a shock to see him ďdevelopĒ into a phenomenal rebounder in the pros as well. That doesnít make it any less fun to watch in person, though. Millsap uses his body incredibly well to box his man out and has phenomenal instincts and impeccable timing using his limited vertical leap to get the loose ball. He measured out at just 6-7 ľ at the Orlando Pre-Draft Camp last year, but has a 7-1 Ĺ wingspan at his disposal to help compensate for that. His hands are phenomenal, which helps him come up with plenty of loose change around the basket in the form of tip-ins or put-backs. The fact that he never ever gives up on a play doesnít hurt him either. Millsap might have some kind of magnet for leather on his hands or something of that nature, because the ball has a knack for constantly ending up in his hands regardless of the situation. Youíd think it might be luck, but itís been happening his entire life now.

Defensively, Millsap is solid, as he competes very hard and uses his length extremely well to contain his man from getting good shots off. He also knows how to use his strength to keep his matchup away from the basket, and has the toughness needed to make his presence felt. His lateral quickness isnít off the charts guarding the perimeter, and this leaves him a bit vulnerable to big guys who like to face up and have the skill-set to do so.

One negative we can clearly point out revolves around his passing. Millsap is a bit of a black hole once he gets the ball, but even when he wants to find the open man, he just isnít very good at doing so. As positive as we might sound about how well Millsap beat up on the mostly undrafted players that were thrown his way at the Rocky Mountain Revue, his upside is still a bit limited. Heís 6-7, not particularly athletic, and has just an average skill-set offensively as far as his position in the NBA is concerned. With that said, Millsap works as hard anyone youíll find on the glass and is in an absolutely perfect situation in terms of his playing style with Utah. Considering where he was picked (#47 in a weak draft), the Jazz got an incredible steal.

[Read Full Article]

---
DraftExpress All-Orlando Pre-Draft Camp Teams
June 15, 2006
As one of the players with the highest expectations coming into the camp, Millsap was somewhat disappointing here, although he played solid at times. His athleticism did not look as good as it once did playing in the WAC conference, and his body carries too much weight for his size. To reach peak physical condition, he will have to drop about 15 pounds and work on becoming quicker and more explosive around the hoop. On the offensive end of the floor, Millsap lacks touch around the rim, though he has a few nice moves. His footwork is slow but solid, but it does no good when you are unable to finish inside. On one occasion, he backed his player down and tried to spin the other direction to finish a hook with his left hand. It was a nice move, but the hook was so off that it barely hit the right side of the backboard. Right now, Millsap is good at drawing fouls, and knows when he has his man off balance enough. This led to a number of free throw attempts, but his shooting stroke needs a lot of work. During one game, he went 1 of 8 from the free throw line. In addition, Millsap doesnít have the face the basket game that a power forward needs. If he had the size to play center, he would be fine, but at 6-7 he will have to develop some touch from the mid-range area.

On the defensive end, Millsap played fairly well, but was burned a few times when players took him away from the basket. He does understand how to use his body and position himself in the best way to prevent the offensive player from scoring. This does not compensate for a lack of lateral quickness, however, and he will need to improve his defense to become a regular rotation power forward in the NBA.

The best part of Millsapís game was clearly his rebounding, which was what he was best known for in college. On both ends of the floor, Millsap used his body to push players around, and was always able to keep his position long enough to get his hands on the ball. In addition to solid rebound fundamentals, he possesses the will to grab every single rebound. He was so active on the glass and was able to get many rebounds that he had no business being near. This is clearly Millsapís strength at this point, and the skill he has the translates best to the next level. If he can improve his body and continue to improve offensively, Millsap has the potential to be a rotation big man on the next level.

[Read Full Article]

---
Orlando Pre-Draft Camp: Day 3 (Last Update: 10:46 AM)
June 8, 2006

Paul Millsap played better than he did in his initial showing, proving his worth as a rebounder, but overall the performance must still be rated as lukewarm. He beat his man for offensive rebounds the entire game (I counted at least 6), and clearly has a very impressive nose for the ball. Despite this, Millsap isnít showing the same type of lift and explosiveness that we had expected. There were no exclamation point-style putbacks on those offensive rebounds, and he generally had to settle for initiating the body contact and heading to the line where he was terrible. There was one nice spin move and finish in the lane, but he doesnít look like a premier back to the basket option at this camp.

[Read Full Article]

---
Paul Millsap NBA Draft Scouting Report
February 16, 2006


Strengths


Bruising big man who is on track to led the NCAA in rebounding for a record third time consecutively.

Millsap has an NBA body minus an inch or two, an excellent frame and some of the longest arms in the NCAA relative to his height. He has decent quickness, good leaping ability and excellent strength; especially in the lower body. Heís also highly coordinated and possesses a very wide base and low center of gravity which allows him to control his body with ease.

Millsapís biggest virtue as far as the NBA is concerned is easily his rebounding ability. He has suction cups for hands and is aided greatly by his outstanding motor and terrific reach. Like all great rebounders, he not only has excellent technique boxing out and the physical gifts needed to make his presence felt on the glass, but also combines that with outstanding anticipation skills to help him predict where a missed shot will end up and get there before his opponent is able to react. Millsap will clean up any missed shot in his area with ease, but will also go well out of his area to come up with rebounds. He is extremely active and absolutely relentless when he sets his eyes on the target. Seeing him coming up with a rebound after his 2nd or 3rd bounce after a tip or the ensuing scramble is something you get used to quickly when watching him play. He just refuses to give up on any play.

Offensively, Millsap is able to do a lot of damage at the mid-major level thanks to his bulk, athleticism, tenacious attitude and the way he runs the floor. He wanted to be the man in college (the reason he plays for Louisiana Tech) and that is exactly what he is, to the tune of over 20 points a game. He relishes contact and will finish in the toughest of situations even when being fiercely contested. Defenders at the mid-major level just seem to bounce off of him, and itís not even clear that Millsap notices them.

He uses his body extremely well to establish position deep inside the paint and then seal off his man. Once he has him pinned he will extend and outstretch one of his super long arms to make tough catches and then finish strong at the basket. He watches the trajectory of the ball much like a wide receiver would in football, anticipating the lob, following it with his eyes and adjusting accordingly, corralling it with his extremely soft hands and then finishing with aggression.

Millsap has a fairly soft touch around the basket and knows how to use the glass, even though he clearly prefers to make a statement by throwing down powerful dunks. He can finish with the jump-hook or baby hook shot in and around the paint area, and shoots a very high percentage from the field at 57%.

That is mostly the extent of his offensive game at this point except for some basic spin-moves and a nice baseline jump-shot he will show on occasion, but not nearly enough. He gets his points quietly, within the flow of the offense and doesnít show anything close to a superstar attitude when heís not getting enough touches.

Defensively, Millsap blocks a decent amount of shots thanks to his wingspan and leaping ability, but not quite enough (2.2 a game) to make us think that this will completely translate over to the NBA considering his height.

Donít expect anything flashy out of him, heís a lunch pail type who will get the job done and go home without making much noise.



Weaknesses


Measurements will be key. Millsap is listed at 6-8, but itís always hard to tell exactly with players of his size and bulk just by eyeballing them. Anything less than 6-8 (despite his tremendous wingspan) could cause his stock to drop.

Millsap has one position and one position only at the NBA level: power forward. He is too wide and not skilled or athletic enough to consider making him a 3, and is a couple of inches too short to keep him at the center position which he currently occupies.

Heís clearly uncomfortable operating outside of 12 feet, possessing very basic ball-handling skills and not enough range on his jump shot, at least not on a consistent basis.

Millsap hasnít really been challenged to improve his offensive skill level in college because of the competition heís gone up against. He can bully his man in the paint and get 2 points almost whenever he pleases, so there is no reason for him or his coach to make things more difficult on him. His footwork is therefore not nearly as polished as many recent undersized, but highly talented big men we recall coming out of college such as Sean May or Ike Diogu, and therefore questions will linger about how much of his offense will translate over to the NBA game. He is athletic, but not an explosive freak, so there aren't many outs there either. Millsap has worked hard to expand his range and has even hit a couple of 3-pointers this year (4-12 in 25 games at the time of this report), but still has plenty of work ahead of him in this area to expand his expand his offensive game.

On the other end of the floor, Millsap definitely is not an amazing man to man defender. His lateral quickness is just decent guarding big men on the perimeter, and he has a tendency to take possessions off as many players in his situation in college are forced to do because of the way their team relies on them on the other end of the floor. When he is playing with full intensity on this end he has a tendency to pick up cheap fouls, which is a clear recipe for disaster for Louisiana Tech if he has to sit out more than 5 minutes at a time. Like many good shot-blockers, Millsap has issues at times with trying to block every shot that comes his way and therefore being vulnerable to pump-fakes, head fakes and exposing his team on the glass once he bites.

Heís isnít a very good free throw shooter, and has not improved on this part of his game in his three years in college. He shot 64% as a freshman, 60% as a sophomore, and 61.3% as a junior at the time of this report.



Competition


Millsap plays in the WAC conference, widely regarded as one of the top mid-major leagues in the country. This year the conference is as strong as ever, with 6 teams vying for the top spot and a place in the NCAA tournament and a couple of decent big-men to pit Millsap up against. Nevada is clearly the most talented team to be found here, but Utah State, Hawaii, New Mexico State and Fresno State all also have legit talent on their team. Louisiana Tech led the conference for much of the season but recently relinquished the top spot back to Nevada by being swept by them at home and on the road.

Millsap has been one of the most consistent players in the NCAA since he first stepped out on the court as a freshman. He announced his presence immediately to the country by averaging nearly 16 points and 12.5 rebounds per game in his first season, beating out Emeka Okafor for the title of top rebounder in the country. He repeated that feat as a sophomore in 2004-05, pulling down 12.4 rebounds per game and upping his scoring to 20.4 points. Millsap has remained consistent as a junior, with nearly identical scoring numbers and a whopping 13.2 rebounds , despite playing 3 minutes less per game. His season high came in February against San Jose State, where he gobbled up an amazing 28 rebounds in just 31 minutes of action. Heís on track to be the first player in NCAA history to lead the country in rebounding for three consecutive seasons.

Coming out of high school, Millsap narrowed down his college choices to Arizona, Georgia (then an SEC powerhouse), and Louisiana Tech. He eventually chose the Bulldogs because he wanted to be the man and right away, their campus is right in his backyard, and a family member of his was already on the coaching staff.



Outlook


Millsap has already publicly announced that he will be entering the draft this year, and it would not be a surprise to see him stay in since heís basically done everything he can at the collegiate level except for lead his team deep into the NCAA tournament. With the personnel around him, that does not appear to be a realistic goal.

His stock will fluctuate greatly depending on how he finishes up the season at La Tech, whether he can help them get the automatic bid to the NCAA tournament, how he measures out in Orlando and how well he performs in private workouts. His upside is not off the charts, but itís very obvious that Millsap is going to be a rebounding force no matter where he ends up, which is something that has to be attractive to NBA teams.




Facts


WAC Freshman of the Year.

Preseason and midseason Wooden Award candidate.


-Profile photo taken by Liz Margerum, Reno Gazette Journal.



[Read Full Article]

---
In Case you Missed It: the Best NCAA Performances 2/22-3/1
March 19, 2005
Who do you think led the NCAA in rebounding last year? No, it wasnít Emeka Okafor or Jaime Lloreda. It was actually a freshman from the WAC, Paul Millsap. Even though heís only 6-8, Millsap is once again the top rebounder in the country this year, at a little over 12 per game. This past week he really outdid himself, scoring 29 points and pulling down a ridiculous 25 (!) rebounds against Boise State, with 13 of them being on the offensive end. Millsap almost outrebounded the entire Boise State team by himself

Millsap has already been drawing some serious attention from NBA scouts in his sophomore season. He may be missing an inch or two to really be a serious NBA prospect, but if there is one stat that translates extremely well from the NCAA to the NBA for big men, itís rebounding. Expanding his offensive game a bit more from beyond the paint next season will help him a lot, but Millsap is a guy who will have scouts flocking to Ruston for as long as he decides to stay there. There are very few players in the country right now that can keep this kid off the glass.

[Read Full Article]

---